Let's Take the Oldest Tram in Japan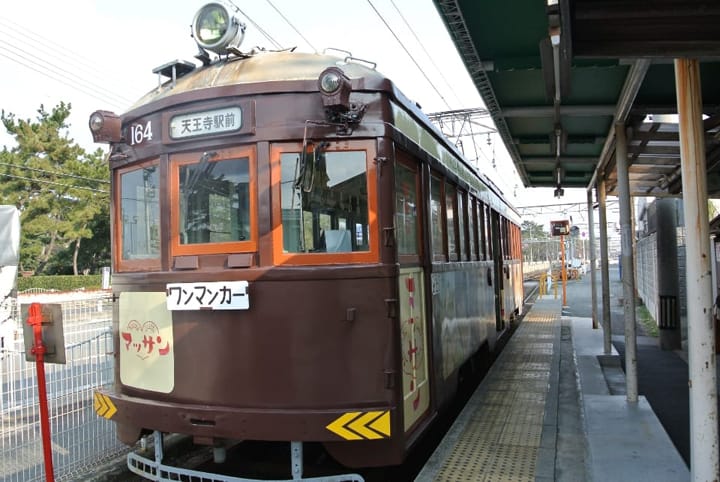 In Japan you can still find the occasional steam train being used in commutes. Let's take a look at the oldest train in Japan right here!
Railway systems in Japan have international reputations. People from all over the world are amazed at bullet trains and facts that trains always come on time.
But in this article, I would love to introduce the old and nostalgic tram which you might have not imagined them running in Japan. Here is a tram called Hankai Tramway  (阪堺電車) which runs from Osaka city (大阪市) to Sakai city (堺市).
The appearance of tram cars called "Mo 161 Kei" (モ161形)"
We used to have trams all over in Japan. But we have only 20 of them left now. Hankai Tramway was opened in 1900 which means that they run trams for more than 100 years. There is a tram made in 1928 which still run on this line. Don't you want to take a ride on the oldest trams?
The tram (Mo 161 Kei) stopped at Hamadera Station (浜寺駅前). There is an advertisement of Japanese Drama, "Massan(マッサン)" on the car.
You might think that Hankai tramway is for sightseeing. But it is not. Actually many students and workers use this tramway every time.
The tram started to run in 2013, which is called "1000 Kei Sakai Tram (1001形 堺トラム)"
The oldest tram named "Mo 161 Kei" has 7 cars. This doesn't run everyday since it need to get maintenance. So you need a luck to get on this tram. If you really want to take it, you should go and ask staffs at a station about the time schedule of the day. They usually know if this tram runs or not by 8 in the morning of the same day. (You can also call them.)
You feel specious inside of the car since a ceiling is high. Doors and bars by the windows are pretty old but you can not believe that it was made over 80 years ago. There is a IC card machine which tells you that a lot of people use it in a dairy life.
The bars by the window give you to feel history of this tram car.
Hankai Tram Line passing through old towns in Osaka gives you to get close to local lives in Osaka. It runs slowly and even have traffic lights which make the tram stop for a while. You will get to see the way of living in Osaka as you experience the oldest tram ride.
There are some spots on the Tram line which are good places to visit such as  "Sumiyoshi taisha (住吉大社)", people in Osaka call "Sumiyossan", "Myokoku-ji temple (妙国寺)" which is famous for Japanese garden and  "Hamadera park (浜寺公園)" which has more than 5,000 pine trees.
" Sumiyoshi Torii Mae Station (住吉鳥居前)" is the closest station to Sumiyooshi Taisya(住吉大社).
How to take this Tram is easy. You will get on from a back door and get off from a front door.  But you can get on whichever you want at the first station of the line. The price for a ride is 210 yen for adults and 110 yen for children. The price doesn't change depending on the length of your ride. When you get off the tram, you will put money in the fare box which is next to a driver. If you have transportation IC cards like ICOCA, you can tap it on machines when you get on and get off. But You can not put some money into your card on the Tram.
This is the fare box by the driver where you will pay when you get off.
If you are planning to take it three times or more, it's better to buy a one day pass called TAKE TAKE Ticket(全線1日フリー乗車券てくてくきっぷ). It costs 600 yen for adults and 300 yen for children. You can buy it on a Tram and also at Tennoji-Ekimae Station (天王寺駅前), Shin-Imamiya-Ekimae Station (新今宮駅前), Abikomichi Station (我孫子道) and Hamadera-Ekimae Station (浜寺駅前).
The one day pass which you can get on and get off the team as many times as you want in a day. The date when you use would be scratched off.
All of the station names are written in Alphabets on a map. It must make you a lot easier to get around.
It will take you 50 minutes to ride a whole line which is from either Tennoji-Ekimae or Ebisucho, which is colose to Tsutenkaku, to Hamadera-Ekimae. Let's get to experience the oldest tram line in Japan and get to find out things you've never known before!!!
Information
Hankai Tramway (阪堺電車)
Offical HP:Hankai Tramway

The information presented in this article is based on the time it was written. Note that there may be changes in the merchandise, services, and prices that have occurred after this article was published. Please contact the facility or facilities in this article directly before visiting.