Take A Break In Harajuku - Casual Vegetarian And Vegan-Friendly Food At Chipoon
Take A Break In Harajuku - Casual Vegetarian And Vegan-Friendly Food At Chipoon
Located in the center of Harajuku, Chipoon is a casual restaurant serving picture-worthy vegetarian and vegan-friendly ramen, noodles, and Asian cuisine-inspired dishes. This shop welcomes all diners with its bright interior and delicious menu.
Stylish and Simple Meals in Harajuku
Tokyo's Harajuku is known for its youthful visitors and trend-setting areas. Laforet HARAJUKU, a shopping, entertainment complex minutes away from Harajuku Station, has many trend-setting stores and restaurants inside. Chipoon, a shop painted in pink, with plant-based burgers and noodles on its menu, is on the second floor of this shopping haven for visitors interested in fashion.
Learn more about this cute restaurant, its tasty, well-presented food, and taking a shopping break in the heart of Harajuku.
Chipoon - Chef-Created Asian Cuisine with Vegan Options
Chipoon is located inside GOOD MEAL MARKET, the dining area of Laforet HARAJUKU on the second floor. Started by a well-known chef of a modern Chinese restaurant in Ginza, the shop opened December 2018, aiming to provide diners with simple, delicious, and additive-free, casual food options.
The menu contains noodles, burgers, and desserts, that are inspired by Chinese cuisine. Each creative dish is prepared to bring out the natural flavor of the high-quality ingredients used.
Chipoon's menu is enjoyable by many diners. All the noodle dishes and a portion of the burger and side options are plant-based, making them suitable for vegetarians and vegans. 
Also, the restaurant is friendly to international travelers, as the staff members can communicate in English, and the menu is available in English and Japanese. Anyone hungry for flavorful vegetable-filled dishes in the Harajuku area should make a stop here.
Adorable Interior and Carefully-Prepared Meals
In addition to its inspired menu, the bright interior and appearance will draw your eye. Painted in bright pink and yellow, the restaurant is stylish, playful, and ideal for sharing on social media.
The charming flamingoes are a major motif in the shop's design. The beak of the flamingo is in the shape that resembles the wide soup spoon used traditionally in Chinese cuisine. The restaurant's name, "Chipoon," is a play on the word Chinese spoon, fitting with the menu and restaurant's theme.
There is only counter seating available, making this an ideal place to come with a friend or small group. Admiring the adorable interior design and watching your meal cooked in front of you will be fun to share with a dining partner.
Ordering at Chipoon
Go to the front counter to order your meal. You can choose from different combinations of noodles and burgers, drinks, side dishes, and desserts. Note that the items on the menu are on the smaller side, so ordering a combination if you are hungry is an ideal option. 
Menu choices depend on the season, and each dish, made with simple, high-quality ingredients, comes in cute dining ware or adorable packaging, making mealtime here entertaining year-round.
Vegan Chipoon Ramen with Seasonal Veggies
A flavorful choice is the Vegan Chipoon Ramen with Seasonal Veggies (700 yen before tax), which is vegetable-based ramen, seasoned only with salt. The bright vegetables in the soup add beautiful color to the dish, which tastes as delicious as it looks. The bamboo shoots in the ramen pictured above, in particular, were full of flavor and texture.
Vegan Dandan Ramen with Soy Cheese
Another option is the Vegan Dandan Ramen with Soy Cheese (800 yen before tax), a slightly-spicy dandan noodle dish. Like the Chipoon ramen, this dish includes seasonal vegetables. It is topped with soymilk-based cheese made in-restaurant, which adds a mild, creamy flavor that contrasts with the heat. The chili oil used to add flavor is also made at Chipoon.
Vegan "Yuba" Burger with Sweetbean Sauce and Tofu Mayo
Customers can also order Chinese cuisine-inspired burgers. Pictured above is the plant-based option at Chipoon: Vegan "Yuba" Burger with Sweetbean Sauce and Tofu Mayo (480 yen before tax).
The buns are white and fluffy, similar to Chinese and Taiwanese dumplings, and the inside contains plenty of fresh, crunchy vegetables, and Taiwanese yuba. Savory Tianmian (sweet bean) sauce and eggless, tofu mayonnaise add flavor to the burger. The mix of tastes and textures is exquisite.
There are also burger options that include meat, so diners craving something besides vegetables can enjoy their meal, too.
Don't Forget Drinks and Desserts!
Chipoon has a drink menu that contains special drinks, teas, soft drinks, and also beer, for customers to enjoy. Pictured above is the Hoshiko Ume Syrup with Water (350 yen before tax). It is sweet with a tangy, slightly sour taste.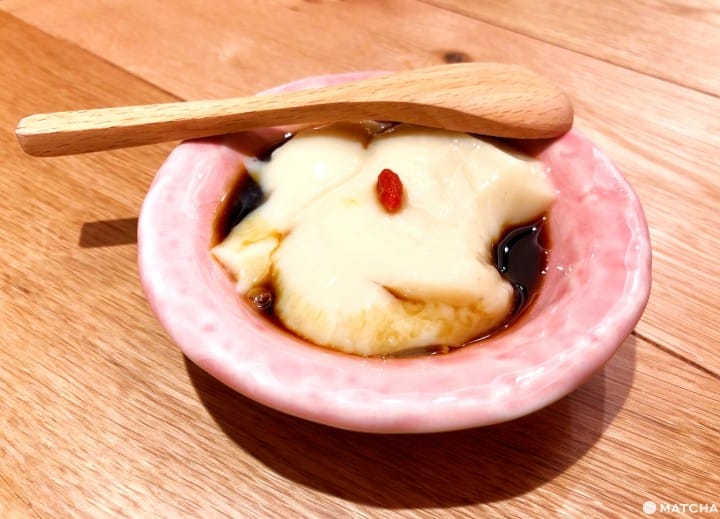 For dessert, there are vegan-friendly options, like the Almond Flavored Pudding (Maple Soy An'nin Tofu; 350 yen before tax), which is a Chinese-style dessert pudding made with tofu and sweetened with maple syrup. The maple flavor is pronounced, adding the right amount of sweetness.
Take a Break from Shopping at Chipoon
Chipoon is a convenient restaurant in the center of Laforet HARAJUKU, one of Harajuku's most prominent shopping areas. Be sure to stop by when you are shopping or people watching in the area. The cuteness of the store will draw you in, and the great taste of the choices here will make you come back for more!

In cooperation with Chipoon

The information presented in this article is based on the time it was written. Note that there may be changes in the merchandise, services, and prices that have occurred after this article was published. Please contact the facility or facilities in this article directly before visiting.