Maiko Event at "Gion Rinken" - Tourists are Welcomed!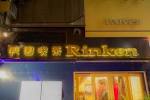 This is "Cafe Rinken" in Gion, a comfortable place where you can enjoy coffee and lunch.
Not only is it perfect when you want to rest in a calm atmosphere, but also it's a very exciting place as you can have a typical Kyoto experience.
The 'experience' is the "Oasobi ('to play')" communication with real Geiko-sans and Maiko-sans.
Enjoying a Kyoto Night
[embed]https://www.youtube.com/watch?v=QPllEdVUC9s[/embed]
You rarely encounter real Geiko-san and Maiko-san in Gion, nor are you able to invite them easily. The process is unclear, and the price is too expensive and unreachable - ten thousands of yens for about half an hour.
However, this Cafe Rinken irregularly hosts events to invite Geiko-sans and Maiko-sans!
In these events, you can enjoy their dance for several songs, and two kinds of Oasobi in a couple of hours.
Basically, if you want to invite Geiko-san or Maiko-san to your place, or if you want to meet them outside, first-comers who weren't introduced cannot do so and the price ranges from ten thousands, but this place is very kind as it only costs 5000 yen for two drinks.
They give explanations on Kimono, Obi and Odori, so first-comers have no problems enjoying the event.
Actually, almost half of the participants in these events are visitors. However, Maiko-sans themselves speak English very fluently, so there's no trouble in communicating.
It depends on the day of the event, but on this day I could eat five pieces of sushis on one dish. The price is only 500yen. For the Gion area, it is super cheap.
People experiencing the "Oasobi"(to play). In this picture, they are enjoying a game called "Konpira Funefune". This is a game using things on the table. Men have to drink Japanese sake no matter if you win or not. Just enjoy yourself!
Extraordinary, and perhaps an once-in-a-lifetime experience. Everyone seems to be enjoying it.
If you want to encounter traditional entertainment, have a chat and take pictures with Geiko-san and Maiko-san, as well as enjoying the real "Oasobi", the experience offered here is very precious. If you spend a night in Kyoto, you should definitely visit this place.
Information
Address: 1F/BF Courreges Part II bldg, 347-10 Gion-machi Kitagawa, Higashiyama-ku, Kyoto City
Phone Number: 075-561-9016
Opening Hours:
[Mondays~Wednesdays] 12:00~23:00
[Fridays, Saturdays] 12:00~26:00
[Sundays, Holidays] 12:00~17:00
Events: irregular. Please check the official website and Facebook page for the dates.
Holidays: Thursdays
Wi-fi: provided on 1F
Credit Cards: Not acceptable
Languages: Japanese, basic English
Closest Station: Hankyu Line "Kawaramachi", Keihan Line "Gion Shijo"
Access: Go straight to the west direction on Shijo Dori, and turn left when you encounter Higashiyama Dori. When you find Yoshimoto Gion Kagetsu, turn left. A 15-minute walk from Hankyu Line "Kawaramachi" Station, 10 minutes walk from Keihan Line "Gion Shijo" Station.
Price Ranges: 400 yen ~1400 yen, the Oasobi Event with Geiko-san and Maiko-san is 5000 yen
Official Website: http://gionrinken.com/
Facebook Page: 祇園喫茶Rinken

The information presented in this article is based on the time it was written. Note that there may be changes in the merchandise, services, and prices that have occurred after this article was published. Please contact the facility or facilities in this article directly before visiting.