New Shinagawa Line: Better Access Between Haneda Airport And Tokyo
Haneda Airport is becoming an important hub for visitors with its increase in international flights and access to other parts of the country. More good news! There's also a new tunnel that decreases travel time between Haneda and central Tokyo.
Due to a boost in the number of its international flights, Haneda Airport has seen a corresponding increase in the number of visitors to Japan landing there, rather than at Narita Airport.
There's also been an increase in the number of international visitors going to other parts of Japan from Tokyo. So Haneda Airport, which has an extensive network of connections to other airports in the country, is increasingly becoming an important transportation hub for visitors to Japan.
When going by bus to the main part of Tokyo from Haneda Airport, it's more than likely that you'll experienced traffic jams, which makes it a longer than expected trip.
But from now on those worries will disappear. That's because on March 7th, 2015, a new section of the Metropolitan Expressway opened, ensuring more convenient and comfortable access from Haneda to the center of Tokyo.
Haneda Is Now Even Closer With the Shinagawa Line!
The new section of the highway is called the Shinagawa Line (Metropolitan Expressway's Central Circular Route), and consists of a 9.4 kilometer long tunnel (the pink portion in the above picture). The tunnel was finally completed after a lengthy construction period lasting eight years.
The good news is that the opening of this new section has dramatically improved access to Haneda Airport from Tokyo's subcenter areas of Shinjuku and Shibuya. Up until now, the link between Tokyo and both Narita and Haneda Airports was infamous for its poor access.
According to an official announcement, the Shinjuku-Haneda Airport route which formerly took about forty minutes by limousine bus, has now been reduced to a mere twenty minutes.
Tokyo's Transportation Network: Now More Comfortable Thanks to the Shinagawa Line
With the opening of the Shinagawa Line, the Metropolitan Expressway circles the Tokyo area in a doughnut-like fashion (see the yellow portion in the picture above). This is referred to as the Central Circular Route.
Its role is to disperse the high volume of traffic heading for Tokyo, which helps to alleviate some of the city's traffic congestion headaches faced by bus and car commuters.
See How the Expressway Looked Before It Opened!
MATCHA staff took some pictures of the Shinagawa Line before it opened, so today we'll show you how the tunnel looks. Civil engineering fans probably won't be able to get enough of these fascinating photos!
In the vicinity of Ooi Junction there are factories, office buildings and the train yard for the shinkansen (bullet train) cars
This is Ooi Junction. If you follow this route directly, it will take you in the direction of Shibuya and Shinjuku. Head in the other direction and you're just a hop, skip and a jump away from Haneda Airport!
An unusually wide tunnel
Here it branches out into into two separate routes: the Shibuya Line which leads to Shibuya and Roppongi, and a straight-through route leading to Ikebukuro.
This tunnel sort of resembles oval-shaped eye glasses, doesn't it?
In order to make these two original lines merge into one, the excavation procedure for each tunnel was carried out side by side, and this shape is the end result of the hollowing out of the new section.
This unique kind of construction in which all the excavation work was carried out underground, is the first of its kind in the world (referred to as the non-open-cut construction method).
The area that's brightly lit up in orange, is the section where the traffic merges.
Now for a bit of trivia. Among Japan's many expressway toll gates, the Gotanda toll gate inside the Shinagawa Line tunnel, is the country's one and only underground toll gate.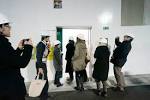 In the event of an accident, disaster prevention measures are firmly in place along the full length of the tunnel area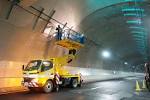 Thanks in part to its highly skilled Japanese engineers and technicians, Tokyo's city planning is moving forward in a safe and sound manner
Though this article announces the opening of the expressway's new route, by words alone it's hard to appreciate how much of a welcome addition this tunnel has been. But by actually hopping aboard a bus going from the airport to the city center, you'll soon be able to see just how comfortable this route is.
You'll be able to get to Shinjuku and Shibuya from Haneda Airport in only twenty minutes, making this your fastest transportation option.
So on your next visit to Japan, how about experiencing firsthand the convenience of the Metropolitan Expressway's Shinagawa Line?
©Metropolitan Expressway Company Limited.

The information presented in this article is based on the time it was written. Note that there may be changes in the merchandise, services, and prices that have occurred after this article was published. Please contact the facility or facilities in this article directly before visiting.