Tokyo 2020 Olympics Guide - Getting Tickets, Where To Stay, And Nearby Sightseeing
The Tokyo 2020 Olympics are less than one year away, with the events beginning July 24 and ending August 9, 2019. This article covers how to buy tickets, venue locations and things to do nearby, and suggested areas to stay. Read to learn how to make the best out of this history-making event.
Tokyo Olympics and Paralympics Guide - Dates and Tickets, Venues, and Where to Stay
Photo by Pixta
The Tokyo Olympics starts with softball and women's football games on July 22, 2020, followed by the commencement ceremony on July 24. The closing ceremony will be on August 9. Meanwhile, the Tokyo Paralympics begin on August 25 and close on September 6.
This article is a guide for those wanting to see and experience this exciting, once-in-a-lifetime opportunity. Learn about how to obtain tickets, where to stay, and information about the games. Read on to find out all the necessary information to make the most of your Tokyo 2020 visit.
About the Tokyo Olympics in 2020
How to Buy Tickets
The Tokyo Olympics website lists two ways to obtain tickets. The purchase method depends on where you reside, so make sure to choose the ticket that applies to you.
Tokyo Olympics and Paralympics Official Ticket Website
Website: https://ticket.tokyo2020.org/ (English page can be toggled)
1. Buy on the Official Website
Photo by Pixta
For those living in Japan*, you can purchase your tickets through the official Tokyo Olympics website. This method requires a a membership beforehand, and admission is decided lottery.
A second round of the ticket lottery will be in fall 2019 (ticket lottery is currently suspended). Official ticket stands will sell and resell tickets starting spring 2020. However, the seats for more popular sports will probably be sold out. We highly recommend applying for the lottery.
*People with addresses in Japan. If you have residence overseas, you can still buy tickets as long as you indicate a valid address in Japan.
2. Buy From an Authorized Ticket Reseller in Your Country
You can only purchase tickets through the official website if you have a Japanese address.
For everyone else, buy at an authorized ticket reseller (ATR) in your country of residence. Purchase methods and sale periods vary depending on the country, so check the official website first.
Where to Stay During the Tokyo Olympics
Picture from Hotel 1899 Tokyo - Sip, Eat, And Lodge With Authentic Green Tea
Hotels in Japan typically begin accepting reservations six months to 11 months in advance. If you plan on traveling around during the Olympics, 11 months ahead of your stay is the best time to start looking for lodging.
Less-Crowded Areas with Easy Access to Stadiums
The Olympic and Paralympic stadiums are spread out around Tokyo. However, we recommend lodging outside the main area to avoid crowds and paying expensive rates. Hotels in the Tokyo metropolis are in high-demand and prices can be two to three times the average accommodation. Consider lodging in neighboring prefectures from which you can easily access Tokyo.
Yokohama and Kawasaki in Kanagawa Prefecture and Makuhari in Chiba Prefecture are only an hour train ride away from the heart of Tokyo. Also consider Omiya and Urawa in Saitama Prefecture, where several stadiums will be used for the Olympics.
If you choose to stay in Tokyo, we suggest Ikebukuro or Akabane, both of which are lesser-known areas with an abundance of public transportation. There are a range of lodging options based on your budget.
Venue Locations and Things to Do Nearby
There are a total of 42 venues prepared for the games, including the New National Stadium, or National Olympic Stadium, in which the the commencement ceremony will take place.
For example, table tennis will be held at the Tokyo Metropolitan Gymnasium in the heart of the city, archery at the Yumenoshima Park Archery Field in the bay area, and badminton at the Musashino Forest Sport Plaza in Tokyo's suburbs.
Furthermore, some games will be held outside the city. Check the location of each venue on the official website.
The Main Stadium - National Olympic Stadium
Scheduled completion December 2019 (Photo by Pixta)
The 1964 Tokyo Summer Olympics and Paralympics stadium has been rebuilt to become the National Olympic Stadium, or New National Stadium. This stadium will host the commencement ceremony, track, and select football games.
The stadium can fit 70,000 people, incorporates traditional wooden construction, and is designed to harmonize with the surrounding greenery.
National Olympic Stadium (New National Stadium)
Address: Tokyo, Shinjuku, Kasumigaokamachi 10-1 Google Map
Website: https://tokyo2020.org/en/games/venue/olympic-stadium/
Yoyogi National Gymnasium - See Handball and Other Events
Photo by Pixta
The venue for handball games, the Yoyogi National Gymnasium is a five-minute walk from Harajuku Station and walking distance from the National Olympic Stadium.
Designed by Japan's chief architect Kenzo Tange for the 1964 Tokyo Summer Olympics and Paralympics, the gymnasium has been a beloved landmark of Tokyo through the years.
Able to fit 10,000 people, the Yoyogi National Gymnasium is the venue for wheelchair rugby for the Tokyo Paralympics.
Places to Go Nearby
The New National Stadium and the Yoyogi National Gymnasium are located near Shinjuku and Shibuya, areas filled with history, nature, and places to shop.
Picture from Getting The Most Out Of Your Shinjuku Gyoen Visit!
Near the New National Stadium are Meiji-jingu Gaien Park, famous for its rows of ginkgo trees, and Shinjuku Gyoen National Garden. Meanwhile, Yoyogi National Gymnasium faces the beautiful greenery of Yoyogi Park and Meiji-jingu Shrine.
Yoyogi National Gymnasium is a short distance from Harajuku Station. The area is a hub of contemporary Tokyo culture--from the eclectic stores of Takeshita Street to the edgy and high-fashion brands of Omotesando.
With a plethora of coffee shops and restaurants in the area, be sure to take time to explore on foot around while in Tokyo.
Nippon Budokan - Watch Judo and Karate
Photo by Pixta
The venue for judo and karate matches, the Nippon Budokan hosts more than just sporting events, such as concerts and other live performances.
The arena, which can hold 10,000 people, has an octagonal shape with seats encircling the stage, ensuring a comfortable viewing experience wherever you sit.
The closest station, Kudanshita, is a direct fifteen-minute train ride from both Tokyo Station and Shinjuku Station.
Places to Go Nearby
The area surrounding the Budokan is rich with history and culture of Tokyo. The Imperial Palace has several areas open to visitors. For example, the East Gardens within the Imperial Palace grounds is the site of Edo Castle ruins, where the main castle tower's foundation still remains.
Chidorigafuchi Park, which runs along the palace moat, has cherry blossoms in full bloom during spring and lush greens during summer. Take a boat ride for a view of the Imperial Palace, Tokyo Tower, and the National Diet from the water.
Moreover, you can easily ride into Tokyo Station from Kudanshita Station and go shopping in Ginza or Nihonbashi.
Venues Outside Tokyo and Other Places to Go
As mentioned earlier, venues for the upcoming Olympics and Paralympics are not limited to just Tokyo.
1. Baseball
Photo by Pixta
Stadiums in Kanagawa and Fukushima will be used for baseball games.
Yokohama Stadium in Kanagawa is a large stadium housing a Nippon Professional Baseball team. Nearby are Yamashita Park, where you can admire the nighttime view of the harbor, and the large Chinatown.
Fukushima Azuma Stadium in Fukushima is accessible via Shinkansen (bullet train) from Tokyo Station. It is a one hour and 40-minute ride to Fukushima Station. A shuttle service from Fukushima Station to Azuma Stadium will be running for the Tokyo Olympics.
While you are in Fukushima, definitely plant to spend a couple days touring around the prefecture. Tsurugajo Castle and Lake Inawashiro in particular are great ways to see Japan's history and gorgeous nature.
2. Basketball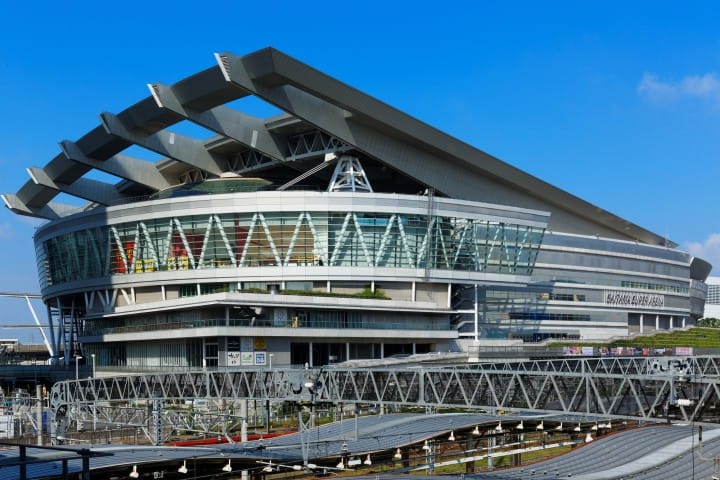 Photo by Pixta
Basketball games will be held at the Saitama Super Arena in Saitama. As the largest multi-purpose facility in Japan, the arena is also used for concerts and galleries. Next to the arena is the Keyaki Hiroba building, where you will find various restaurants and shops.
Saitama-Shintoshin Station is conveniently right across the street from the stadium. The area is easily accessible from the Tokyo metropolis; it is only a half-hour ride on the JR Utsunomiya Line from Tokyo Station.
If you arrive early, you can do some shopping at the mall Cocoon City (Japanese) on the opposite side of the station.
3. Taekwondo
photo by Pixta
Taekwondo matches will be at Makuhari Messe, Japan's largest convention center in Chiba. From fencing to wrestling, a total of seven different games will take place here.
The closest station, Kaihimmakuhari Station, is a direct half-hour train ride from Tokyo Station. You can also visit Tokyo Disneyland and Kasai Rinkai Park, both of which are twenty minutes by train.
Anticipating the Tokyo Olympics
From the thrilling games between top-class athletes to the evolving cityscape of Tokyo, experience a new Tokyo during the 2020 Tokyo Olympics and Paralympics! This once-in-a-lifetime event is a must for anyone coming to Japan, and some preparation and planning will make it all the more memorable.

The information presented in this article is based on the time it was written. Note that there may be changes in the merchandise, services, and prices that have occurred after this article was published. Please contact the facility or facilities in this article directly before visiting.