Dreamlike Winter! 5 Hoshino Resorts Lodgings With Exciting Snow Activities
This service includes sponsored advertisements.
Stay at a Hoshino Resorts accommodation and enjoy the beauty of winter in Japan to the fullest! These five lodgings offer exciting snow-themed activities amid dreamlike winter scenery. We introduce seasonal events, activities, and spectacular views that can't be found anywhere else.
Fabulous Snow Scenery and Winter Activities at Hoshino Resorts
Hokkaido and the Tohoku Region are so-called "snow countries" in Japan, because the entire area is covered in snow throughout winter.
Winter-bound visitors to Japan can savor the season by staying at a Hoshino Resorts accommodation located in areas with plenty of snowfall.
Guests can enjoy exclusive events and activities in the winter while admiring the enchanting snowy scenery.
We introduce five lodgings managed by Hoshino Resorts that are an excellent choice for anyone wishing to enjoy the beauty of winter in Japan.
1. HOSHINOYA Fuji - Glamping by Snow-capped Mt. Fuji
HOSHINOYA Fuji, located on the shore of Lake Kawaguchiko in Yamanashi Prefecture, was the first accommodation facility in Japan to offer glamping (*1).
Mt. Fuji provides guests with gorgeous views, and the winter activities in the nearby forest are also very popular.
*1 Glamping: a combination of the words "glamor" and "camping." This style of camping with accommodations and facilities is more luxurious than traditional camping. Sometimes also called boutique camping.
Enjoy Glamping and Wine in the Great Outdoors!
Yamanashi Prefecture is a famous wine-producing region in Japan.
HOSHINOYA Fuji combines Japanese wine and glamping for a unique experience called activity pairing. A glamping master who has a sommelier license will introduce guests to how to savor wine with nature in a special way.
Savor an Elegant Dinner of Wild Game Meat
Be sure to try the Hunter's Game Meat Dinner, which is offered exclusively in winter. The meal is a hands-on dining experience featuring venison and wild boar meat caught by local hunters. The game meat is prepared and cooked by guests with the guidance of a glamping master.
While staying warm under the outdoor kotatsu, lodgers can have the unique experience of savoring exquisite wild game and other delicacies.
Cabin Kotatsu - Unwind at the Livingroom Terrace
During the winter, the living room terrace in the guestroom cabins also comes equipped with a kotatsu.
Indulge in delicious cuisine and sake while gazing out at the beautiful snowy landscape for remarkable, unforgettable memories.
HOSHINOYA Fuji
Address: Yamanashi, Minami Tsuru, Fujikawaguchiko Oishi 1408 Map
HOSHINOYA Fuji Official Website
2. Hoshino Resorts KAI Alps - Playtime inside an Igloo!
Hoshino Resorts KAI Alps is a hot spring ryokan in Nagano Prefecture. Here you can sample snow-themed cuisine during the winter months while snowflakes fall outside.
The ryokan has an earthen floor with an irori. Guests can experience rural Japanese customs by cooking simple meals and trying activities found only in the countryside.
Have Fun in a Snow Hut Wearing Traditional Clothes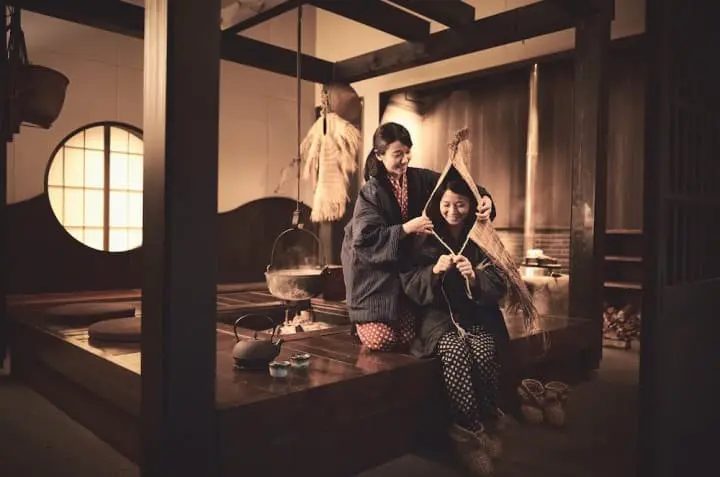 During winter, you can enjoy various activities with snow at KAI Alps.
One of them includes dressing up in the traditional outfit worn by a regional folklore character named Yukinko (Snow Child). You can also build a snow hut.
Yukinko's seasonal clothing is made from woven straw and shields the wearer from the snow and cold in winter (see photo above).
The igloos at KAI Alps have a kotatsu, so you can relax in comfort.
Have fun in the snow, and relive your childhood memories!
Hoshino Resorts KAI Alps
Address: Nagano, Omachi, Taira 2884-26 Map
Hoshino Resorts KAI Alps Official Website
3. Oirase Keiryu Hotel - Illuminated Frozen Waterfalls!
Oirase Keiryu Hotel is a resort hotel located along the Oirase Keiryu, a mountain stream that is one of the foremost scenic spots in Tohoku, northeastern Japan.
The resort is located in Aomori. Snow piles high in winter and guests can take in the splendid snow-covered landscapes here.
Frozen Waterfall Hotspring - A Special Winter Outdoor Bath
The Oirase Keiryu area has several waterfalls and is famous for its frozen waterfalls that can be seen during the wintertime.
This unique scenery has been recreated into a rotemburo (outdoor bath) called Hyobaku-no-Yu. Guests can soak in a tub and gaze out at nature's spectacular ice artwork (see photo above).
Frozen Waterfall Light-Up Tour - Don't Miss This Magnificent Sight!
The hotel operates a tour in which guests can see Oirase Keiryu's hyobaku (frozen waterfalls). Makadoiwa and Samidare, two of the area's well-known waterfalls, are beautifully illuminated for the tour.
Hyobaku Sweets - Fantasy-like Confections
Visitors are recommended to try Hyobaku confections—a re-creation of the Oirase Keiryu in winter.
Hyobaku (frozen waterfall) confectionery uses a bluish-gray meringue, arranged with mousse containing apple, a specialty of Aomori Prefecture.
There are only ten servings available daily. Interested parties are encouraged to secure their portion early.
Oirase Keiryu Hotel
Address: Aomori, Towada, Okuse, Tochikubo 231 Map
Oirase Keiryu Hotel Official Website
4. Aomoriya - A Fantasy World of Snow and Lights!
Hoshino Resorts Aomoriya is a hot spring ryokan in Aomori. Guests can enjoy relaxation along with Aomori's local cuisine and festival culture.
Experience Neburi Nagashi Toro in a Rotemburo (Outdoor Bath)
Performances highlighting the region's famous Aomori Nebuta Festival are held at Aomoriya's restaurant throughout the year.
During the winter season, however, there's an exceptional event at the rotemburo (outdoor bath). A reproduction of Neburi Nagashi, the origin of the Nebuta Festival, is displayed in front of the hot springs.
Hotel guests write their wishes on miniature lanterns and send them afloat on the water. This fantasy-filled event offers an exquisite sight created by the lanterns' faint glow amid the fallen snow.
Enjoy Aomori Treats inside a Yukinko House
During the winter, a corner of Aomoriya becomes a Yukinko (*2) house where guests can enjoy Yukinko Konbiri. Konbiri translates to "sweets" in the Aomori dialect.
You can enjoy local confectioneries made with beans and mochi while relaxing in a room filled with rustic charm. The staff playing the role of Yukinko will warm your heart with their generous hospitality.
*2 Yukinko: a character from Aomori folklore that represents the spirit of snow in the form of a child. The child usually wears a traditional piece of clothing made of woven straw that covers the person's head and upper body, shielding them from the snow and cold winter.
Hoshino Resorts Aomoriya
Address: Aomori, Misawa, Furumagiyama 56 Map
Hoshino Resorts Aomoriya Official Website
5. Hoshino Resorts TOMAMU - Visit a Town Made from Ice!
Hoshino Resorts TOMAMU is a vast accommodation complex in central Hokkaido.
Popular activities at this facility include viewing a sea of clouds ("unkai") between spring and fall, and a unique hands-on ranch experience.
Farm Christmas - Celebrate the Holiday Season with Animals
One of the popular winter activities at Tomamu is Farm Christmas, an event where visitors can celebrate the festive season with ranch animals.
A five-meter tree made from hay is the symbol of the event. It is adorned with Christmas motifs of a miniature farm.
On the grounds, the Farm Christmas concert is held and animals join in on the performance. Celebrating Christmas with cuddly animals makes this experience all the more special.
Ice Village - A Town of Winter Fantasy
Ice Village is another winter attraction in Tomamu. The village is lined with buildings made of ice. These include an ice hotel and ice church, and eleven ice domes.
At the newly-opened Ice Crystal Park in 2019, visitors can bask in a lovely fantasy-like world of ice with tables and chairs featuring ice crystal-shaped designs!
Terrace of Frost Trees - Admire the Snow Covered Mountains
Tomamu is completely surrounded by nature and offers splendid views of the local area.
During the winter, you can see hoarfrost (muhyo) and snow-covered mountains from the observation points called Cloud Bar and Cloud Walk.
Hoarfrost is the natural phenomenon in which airborne moisture is converted into ice crystals. These then get deposited onto objects such as trees and branches. Trees become shrouded in white, resulting in entire landscapes covered in snow and frost.
These trees are illuminated in the evening, transforming the area into a mystical world. The stunning natural scenery is an unforgettable sight for everyone to enjoy.
Hoshino Resorts TOMAMU
Address: Hokkaido, Yufutsu, Shimukappu, Naka-Tomamu Map
Hoshino Resorts TOMAMU Official Website
Hoshino Resorts in Winter - Exciting Events and Activities!
If you visit Japan during the winter, How about experiencing the wonders of the snow country in Japan by staying at a Hoshino Resorts facility?
The breathtaking winter scenery, the exciting snow-themed activities, and the special winter events are only available at this time of the year. Stay for a night and you'll want to come again during the winter season.
Written by Kazuma Takahashi
Sponsored by Hoshino Resorts
All pictures courtesy of Hoshino Resorts
Written by

MATCHA's promotional account for corporate and local government advertising. We aim to provide useful information to our readers in an enjoyable manner.

The information presented in this article is based on the time it was written. Note that there may be changes in the merchandise, services, and prices that have occurred after this article was published. Please contact the facility or facilities in this article directly before visiting. Some of our articles contain affiliate links. We kindly ask our readers to exercise careful judgement when making a purchase or booking a service online.