Ghibli Winter Wear- Totoro, Jiji And Calcifer Scarfs, Hats And Gloves
Donguri Republic is Studio Ghibli's official goods store. For winter 2019, they released a huge collection of wearable items to keep you warm with Totoro, the Catbus, Jiji, and Calcifer. They are only available until sold out. Don't miss out!
Donguri Republic is Studio Ghibli's official goods store. While having stores in several locations throughout Japan you can also purchase through their online shop Donguri Sora.
Donguri Republic offers many general Studio Ghibli related collectibles such as towels, decorations, jewelry, and home goods. However, they often also release seasonal goods like fans and wind bells for summer.
For 2019, they have announced a big winter release including everything to keep you warm featuring your favorite Studio Ghibli characters from "My Neighbor Totoro", "Kiki's Delivery Service" and "Howl's Moving Castle".
All three movies mentioned above will be featured on a scarf. The scarfs retail for 4200 yen plus tax.
All scarfs measure 63 cm in width and 2 meters in length.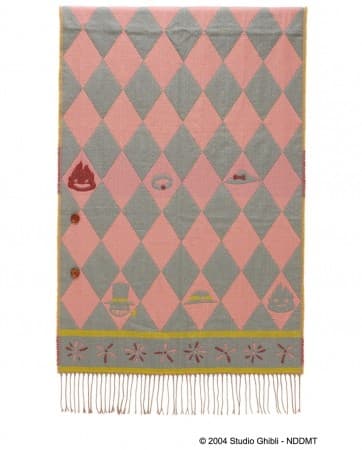 While "Totoro" and "Jiji" are very commonly seen on Donguri Republic goods, "Howl"s Moving Castle" goods are rather rare. "Howl's" scarf features the pattern of Howls cape and te cute fire demon Calcifer.
All these scarves will feature buttons. They can be worn as a poncho or as a scarf.
The Donguri Republic will also offer Totoro scarves, knit caps, and gloves and even knitted drawstring bags. The adult versions will feature Totoro himself as well as the adorable soot sprites. 
The scarf is 13cm wide and 106 cm long. They cost 2300 yen plus tax.
The Totoro hat has a circumference of 52 cm which can be stretched to 56 cm. It retails for 2200 yen plus tax. It is decorated with a green and brown colored pompon and a soot sprite at the top.
The gloves feature soot sprite pompons on the wrist as well. They retail for 2000 yen and are 8 cm wide and 19 cm long.
The Totoro knitted drawstring bag retails for 1800 yen. It is 20 cm wide and 18 cm high.
The Catbus collection is meant for children but if you are a big fan of the cute yellow bus as an adult, you might be able to at least wear the scarf. It is 13 cm wide and 98 cm long and costs 2300 yen.
The Catbus gloves feature ears and a paw print shaped grip. They are mitten style, measure 8 cm in width and 15cm in length and retail for 1900 yen.
There is no Catbus hat but a cute drawstring bag with ears and a tail. 
It is smaller than the Totoro bag with a measurement of  14 cm in width and 13 cm in height. It is sold for 1600yen.
Totoro and Catbus will also be sold as cute fluffy pouches. The zipper grip is a tail.
The Totoro pouch features little hidden soot sprites. Can you find them?
Both retail for 2300 yen plus tax. They can be used for all kind of small items you want to carry around with you or even as mak- up bag
Both of them are 20 cm in width, 13 cm in height and 7 cm in depth.

All these limited-edition Studio Ghibli winter items are available in Donguri Republic stores and online from now until sold out. Make sure to get them quick if you have your heart set on one of them!

Studio Ghibli Online Shop Donguri Sora: https://www.donguri-sora.com/

Written by Chiara Mischke

The information presented in this article is based on the time it was written. Note that there may be changes in the merchandise, services, and prices that have occurred after this article was published. Please contact the facility or facilities in this article directly before visiting.