Make Your Travel Photos Pop! Tokyu Hands Has It All
You have all of these pictures from you trip to Japan, but what will you do with them? We have some ideas that could help you out, right from Tokyu Hands!
Everyone that comes to Japan is sure to find at least one point that they just can't get enough of - be it the differing landscapes, preserved historical buildings, modern culture, beautiful food or the people themselves. And with practically everyone having access to a camera in one form or another, visitors here are sure to want to take the memories of these sights back home with them.
In this article, we show you some fun ways to take and decorate photos with 5 select products available at Tokyu Hands!
Fast and Easy Instant Cameras

Thanks to the Instax mini camera, you can instantly shoot cute, small photo cards with ease. These photos measure 5.4cm x 8.6cm, and can be printed on a variety of film papers. This camera is extremely popular because it's handy, easy to use and because it prints the photos instantaneously. You and your travel companions can have fun watching the photos you just took develop right before your eyes. Wouldn't it be great to take photos with your friends and be able to hand them out right on the spot?
The camera also comes with a built-in flash, so you have nothing to worry about if you want to take photos in lower light conditions. Superb, isn't it?
This camera is also quite popular thanks to its rounded shape, pastel colors, and overall adorable design. It's sure to brighten your travels no matter where you go.
Product:Instant Camera instax mini 8(original hand strap included)
Colors available: white, blue, pink, yellow, black
Reference Price: 7600 yen + tax
Doodle on Your Photos

Have you ever wanted to write something on a photo? Not so easy, is it? Don't worry, the uni-ball Signo Angelic Color pastel color pens are just what you need - thanks to their high-tech ink, you can easily write on film.
Moreover, the ink is resistant to water and light, so whatever you add to your photos won't bleed or fade away. Isn't it reassuring to know that the messages you put on your important photos will last? These pens come in a variety of shades, including white, a refreshing pink and a cool blue. What color do you like best?
Product: Uni-ball Signo Angelic Color
Reference Price: 120 yen each + tax
A Photo Album that Won't Fail You!
Unlike most stick-on photo albums, the Pittato photo album allows you to stick on and peel off your photos as many times as you like. Rest assured you can adjust your best shots to the nicest angle and the perfect spot, or change them around and add others to make your own scrapbook of your trip.
You can write on the album with pencils and ballpoint pens too, so you can write about your travels, what's in the photo itself, or anything that you want to remember about it on the same page. Plus, insert a photo into the album cover and make the album unique and easily recognizable too.
Product: Pittato photo album fabric FS
Reference price: 1680 yen each + tax
Use 3D Stickers to Decorate Your Photos

Stickers are indispensable when decorating photo albums or scrapbooks. Tokyu Hands has a whole section for stickers of various shapes and sizes and themes, but of this selection, we recommend the Paper craft museum series.
Unlike ordinary stickers, these three dimensional motif stickers are designed to stand out vividly on paper. The intricate details of an airplane and each individual petal of a flower are carefully designed on the stickers. The quality of these illustrations is so high that they'll make you wonder whether they're actually stickers or not.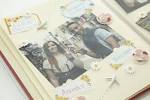 A few simple stickers will make your album that much more vivid and unique too, and make for great gifts as well!
Product: Paper craft museum motif stickers
Reference price: 300 yen each + tax
Photo Frame Greeting Cards
Try to use one of these photo frame greeting cards when you want to send a special photo to someone.
After leaving a message on the back of the photo and putting it in the frame/card, you are ready to send it. The recipient simply has to open the card and they can easily use the photo for decoration. This is the perfect thing to use if you want to give a photograph to someone of you two together, or to share family photos.
Product: Photo frame greeting card "For you"
Reference price: 360 yen + tax
Bonus Service Only from Tokyu Hands:Turn Your Photos into a Jigsaw Puzzle
At Tokyu Hands you can find a machine called Puz-Puri (Puzzle Printer) that can turn your favorite photos into a jigsaw puzzle on the spot.
Simply load your photos onto a memory card, USB or infrared device into the machine, and with a few button clicks, your very own personal jigsaw puzzle will be finished!
It takes only 3 minutes from start to finish and costs just 300 yen. This is an excellent way to customize and personalize your photos, not to mention a great souvenir for yourself or a friend back home.
For everyone from the amateur snapshot taker to the professional photography, Tokyu Hands is a great place to shop to find the latest in photography related goods. Why not take advantage of the products we mentioned here and really make your pictures stand out?
To learn more about Tokyu Hands, please check out our special feature and read the Complete Guide To TOKYU HANDS too.