Created In Japan! The Surprising Story Of Häagen-Dazs Crispy Sandwich
The Häagen-Dazs Crispy Sandwich, which is popular all around the world, is an ice cream dessert invented in Japan. Limited edition flavors of this classic treat come out annually. Learn the story behind this delicious ice cream with history that spans over nearly twenty years.
Crispy Sandwich by Häagen-Dazs - A Treat Full of Flavor and Crunch
The Crispy Sandwich, ice cream wedged between light, crunchy wafers, is a classic treat from Häagen-Dazs. It is easy-to-eat and just right for dessert, making it popular with many.
The Crispy Sandwich also happens to be a product that was created in Japan. It was an instant success in 2001 when it was first introduced to the market and has been a top seller ever since.
A Casual Snack with a Surprising Texture
Crispy Sandwich is known for its freshly crisp wafers, which were created to "surprise the consumers."
Another appeal is that it can be consumed casually, even on-the-go. While ice creams in cups are eaten seated at a table, one spoon at a time, the Crispy Sandwich can be enjoyed "anywhere, anytime."
As shown in the photograph above, the inner package can also be used as a wrapper.
A Wide Variety of Flavors
More than thirty new Häagen-Dazs flavors are released each year in Japan, which is a huge number compared to other countries and regions in the world.
While caramel is the staple flavor for the Crispy Sandwich, there are also limited-edition flavors. Japan-made ice creams are vibrant, as even the wafers are colored in some products.
The Evolution of Häagen-Dazs Caramel
Caramel Classic features fragrant wafers and caramel ice cream with a delicate balance of sweet and bitter taste, covered in caramel-flavored coating.
While this flavor has been around for nearly twenty years, changes have been made to further improve the taste, and also to keep pace with the times.
In January 2020, "The Caramel," a new Crispy Sandwich, will go on sale. Consumers can take delight in sweet, rich caramel ice cream, emphasized by crispy, fragrant wafers.
Limited-Edition Flavors
There are three limited-edition flavors to indulge in as of December 2019.
Murasaki Imo Tartelette is made with purple sweet potato, which is used in various Japanese confections. Consumers can enjoy the gentle sweetness of potato, along with flavorful custard cream. The vivid-colored wafers, reminiscent of a purple sweet potato make the dessert look even more enticing.
Mascarpone and Fig with Rum delights all who try it with sweet-sour fig sauce and ice cream wrapped in chocolate coating. Both the ice cream and coating have the mascarpone flavor, along with a delicate aroma of rum.
Fondant au Chocolat comes with chocolate cream sauce, as its name suggests, and the wafers have a bittersweet cocoa taste. This is a product for the chocolate lovers.
From a Fad to a Staple Item
Crispy Sandwich was a big hit after going on sale, becoming a staple Häagen-Dazs treat for many. MATCHA interviewed Mr. Ohashi Genta, who played a key role in its creation.
A History Filled with Obstacles
Mr. Ohashi Genta was in charge of creating Crispy Sandwich.
Mr. Ohashi said that they were considering about twenty different new product concepts at the time, and the Crispy Sandwich was one of them.
"Through various food tasting and searching for clues, we took notice of the texture of tacos, which eventually led to a breakthrough."
At the time, most monaka and wafers for ice cream were soft. To maintain the crunchy texture of the wafer, the project team had to go through much trial and error.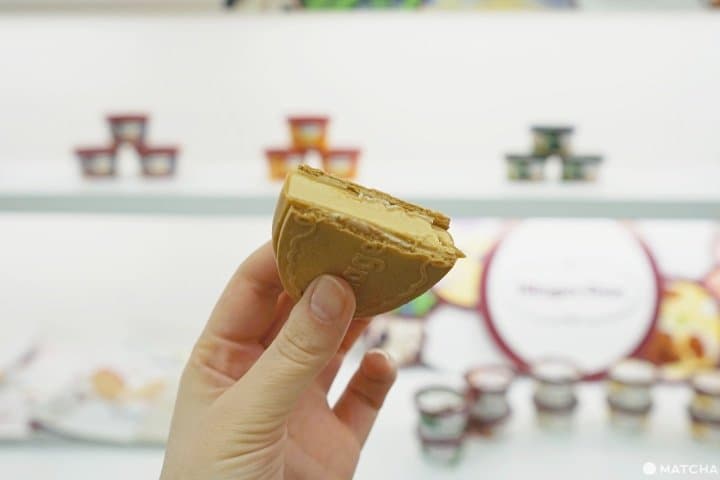 "Both ice cream and chocolate coating are easily affected by temperature changes. To produce wafers that would keep fresh regardless of these factors, we had to keep trying."
Research continued, even as the deadline was approaching. The seven-year project was about to come to fruition, as a factory was built solely for the purpose of producing the Crispy Sandwich. However, there were still obstacles. Just as the production was about to start, final market research revealed that the Crispy Sandwich did not achieve enough popularity––a result which would have stopped the entire project.
Caramel Flavor to the Rescue
The ice cream sandwich was saved by the caramel flavor. While the trial product used vanilla ice cream, the vice president of General Mills, the parent company of Häagen-Dazs, suggested that the caramel flavor might go well with the appetizing wafers.
Mr. Ohashi immediately made a caramel-flavored sample, and served it to the General Mills executives. They loved it and allowed the project to continue. The following market research came back with a qualifying mark, and the production finally started. Mr. Ohashi was overjoyed and relieved, as the new Crispy Sandwich factory did not turn out to be a waste of money.
A Long-selling Item
Crispy Sandwich became a huge success. The production could not keep up with the sales, and a TV commercial had to be temporarily canceled, for the first time in the history of Häagen-Dazs.
Although the project team did their best to create a popular product, Mr. Ohashi never imagined that it would become a top-seller.
"The succeeding staff kept improving the product. Changes are also made to the package so that the consumers take notice of the fact that the product has been further improved. Those efforts are the reason why Crispy Sandwich stays so popular."
The will to keep on trying, and to keep improving has made Crispy Sandwich a long-seller.
An International Product
Crispy Sandwich was highly praised and achieved the top award from General Mills. It is now sold in both European and Asian countries and regions.

The project overcame obstacles to create a new type of ice cream, which has now become a staple item to all who enjoy ice cream. When you visit Japan, be sure to try the limited-edition flavors as well.

The colorful package is another appeal. The Crispy Sandwich is sold at supermarkets and convenience stores all over Japan, so be sure not to miss trying one for yourself.

Written by Mami Wakamatsu
Sponsored by Häagen-Dazs Japan, Incorporated.

The information presented in this article is based on the time it was written. Note that there may be changes in the merchandise, services, and prices that have occurred after this article was published. Please contact the facility or facilities in this article directly before visiting.