R-za Dokushokan, a quiet cafe in Koenji
R-za Dokushokan, a quiet cafe in Koenji
To be alone without feeling lonely come check out the relaxing, deep atmosphere of R-za Dokushokan!
When you are alone, sometimes you want some peaceful space just for yourself - to ponder over things, when something is bothering you, or just to read a book quietly without being interrupted. Then Koenji is the place recommended for you!
Take Chuo line, get out of Koenji Station and walk about 4 minutes, you will find 「R-za Dokusyokan」Cafe.
「R-za Dokusyokan」is a small Cafe for people to read books. Here, conversations are not allowed, you have to keep a low voice even when you are making an order.
Entrance is on the second floor.
The notice to ask its customers to restrain from speaking loudly. Then let's go inside!
You couldn't image how big the inner space is until you step inside.
This is a reading cafe so you can find many books on the shelves.
Older ones, newer ones, whatever you like.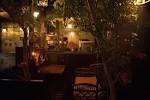 Chairs, tables, small tanks, every item is unique.
The tank close to the seat offers a soft light.
The menu ranges from the standard such as coffee and  Earl Grey to drinks from China, Korea and Mongolia.
The sound of water and the soft music from speakers bring you a comfortable environment. Different seats will give you different atmosphere along with different background music.
The Cafe opens till 10:30pm. This is a place for people who want to relax after a long-day work. You will be surprised when you feel the unique atmosphere here.

The information presented in this article is based on the time it was written. Note that there may be changes in the merchandise, services, and prices that have occurred after this article was published. Please contact the facility or facilities in this article directly before visiting.