KitKat Japan - Chocolate Orange, Matcha Milk Chocolate And Ruby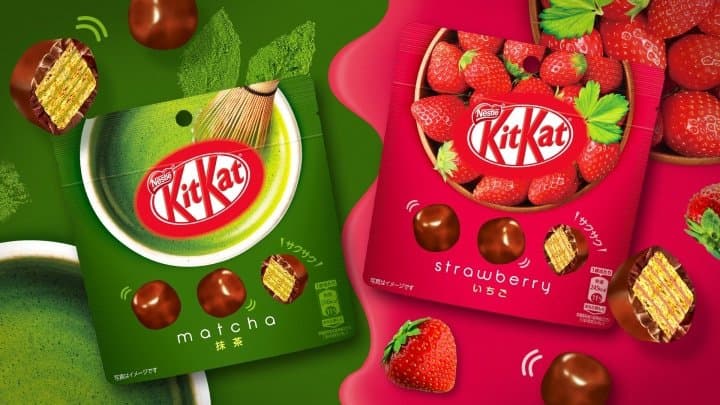 KitKat Japan has some new and delicious flavors to offer. They include a new spin of everyone's favorite, Matcha KitKat
KitKat Japan is known for releasing different kind of limited editions each month. We recently spotted a couple of new limited-editions available in Autumn 2019 at convinience stores and supermarkets.
1. Bite-sized Matcha Milk Chocolate and Strawberry Kitkat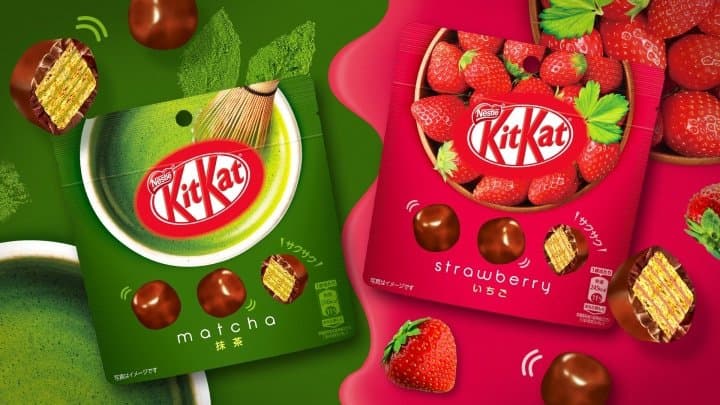 Picture courtesy of Nestle Japan
Matcha is the most beloved KitKat flavor in Japan as well as to bring as a souvenir from Japan. While there are many varieties, most of them are white chocolate based which can be a little sweet for some people's liking.
The new bite-sized matcha KitKats have a milk chocolate coating and are filled with matcha cream. They are very reminiscent of original KitKat with an added matcha kick.
The bite-sized strawberry KitKat are made with the same concept. The white strawberry chocolate coating is replaced by milk chocolate and they are filled with strawberry cream.
Each flavor retails for about 200 yen for a small bag.
2. KitKat Chocolate Orange Flavor
Picture courtesy of Nestle Japan
KitKat Chocolate Orange is a covered in dark chocolate laced with orange flavor. The inside contains orange cream as well. The tart and bitter flavors go very well together.
The small box for three KitKat minis retails for about 150 yen, while a bag of Orange Chocolate mini KitKat retails for about 400 yen.
3.  KitKat Party Ice Cream Flavor
Picture courtesy of Nestle Japan
KitKat Party Ice Cream is a white chocolate based KitKat with vanilla ice cream flavored chocolate and cream. The chocolate is also mixed with crunchy waffle bits to make it taste like ice cream in a cone.
A bag of mini KitKat retails for about 400 yen.
4. Ruby One Stick KitKat
Picture courtesy of Nestle Japan

Ruby chocolate is a special kind of chocolate. The color of the chocolate is bright pink and the taste is creamy, smooth, tart and fruity. No artificial colors or flavors are used to create it.

KitKat Chocolatory Sublime Ruby, exclusive to the Japanese KitKat Chocolatory, released back in 2018. It was followed by everyday ruby KitKats containing nuts and fruits available at supermarkets everywhere in Japan.

Just for a short time, Seven-Eleven Japan will offer exclusive one stick ruby chocolate KitKat. A pack of six retails for about 300 yen.

KitKat Japan Official Website: https://nestle.jp/brand/kit/

Written by Chiara Mischke

The information presented in this article is based on the time it was written. Note that there may be changes in the merchandise, services, and prices that have occurred after this article was published. Please contact the facility or facilities in this article directly before visiting.