McDonalds Japan Cream Korokke Burger And Strawberry Sankaku Pie
Creamy korokke burger and sweet chocolate pies and melts are on the winter menu of McDonald's Japan.
Korokke, or croquette, is a popular Japanese fried snack. It usually contains mashed potatoes that are breaded and deep-fried. Another popular kind is cream korokke, which is a crunchy outer filled with creamy white sauce.
McDonald's Japan new season Gurakoro Burger has been introduced as new seasonal item, replacing the popular Spicy Teriyaki Burger. "Gurakoro" loosely translated to "wobbly croquette", which basically describes the texture of cream korokke.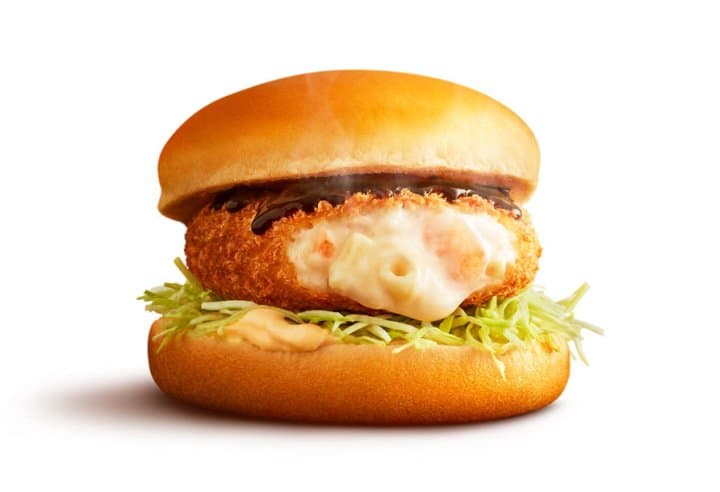 Two burgers will be part of the cream korokke line-up, the Gurakoro Burger (340 yen) and the Beef Demi Cheese Gurakoro Burger (390 yen). The Gurakoro Burger features white sauce with shrimp and macaroni inside the korokke shell. It is served with korokke sauce and lettuce between two steamed buns.
Beef Demi Cheese Gurakoro Burger features the same base but topped with cheddar cheese and beef stew. Red wine is used in the beef stew sauce to enrich the flavor.
If you are in the mood for a dessert, make sure to pick up the new Sankaku Pie or one of the two McDonald's Melts. Besides the Sankaku Pie Black (130 yen), the new Sankaku Pie Amao (150 yen) is also available or limited time. Amao strawberry is one of the highest regarded in Japan. The pie is filled with strawberry and white chocolate flavor.
If you love McDonald's melts, right now there are Cinnamon Melts (300 yen) and Double Chocolate Melts (330 yen) on offer as winter limited item. The Cinnamon Melts feature sweet pastry pieces covered in cream cheese sauce and cinnamon sugar. The Double Chocolat Melts are small chocolate buns covered in chocolate sauce.

Each item is available at Mcdonalds Japan right now. An end date has not been announced, yet.

McDonald's Japan Official Website: http://www.mcdonalds.co.jp/

Written by Chiara Mischke

The information presented in this article is based on the time it was written. Note that there may be changes in the merchandise, services, and prices that have occurred after this article was published. Please contact the facility or facilities in this article directly before visiting.