Okonomiyaki Makka, Sapporo Okonomi Yaki and More!
Looking for a taste of the north in Tokyo? Head to Nakameguro and pull up a seat at Okonomiyaki Makka!
Tokyo is the city where you can enjoy all kinds of international cuisines; and even within this Tokyo, Nakameguro in the Meguro ward is famously known for its delicious restaurants.
From luxury restaurants to causal ramen shops, Nakameguro has it all. This time, we are going to introduce a place called "Okonomiyaki Makka".
Okonomiyaki is usually associated with Osaka and the rest of Western Japan ("Kansai"). However, the Okonomiyaki here is originated from Hokkaido. Jumping out of the frame of "Kansai", it provides Okonomiyaki that is loved by thousands.
Okonomiyaki is a Japanese cuisine made by mixing wheat flour and ingredients on a hot iron plate ("teppan").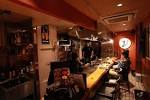 Inside the restaurant, there are comfortable seats facing the counter. This is the seating area where staff make Okonomiyaki right in front of you. For foreigners who are new to Japanese hot plate cuisine ("teppan"), even the experience of watching how Okonomiyaki is cooked is fun.
The other seating are of Japanese style where you can get close to other customers, a typical atmosphere of a Okonomiyaki restaurant.
Oil Cake, the Precious Ingredient from Osaka
This is the recommended dish from the restaurant - "Makkayaki" (1,150yen). This is the standard menu where pork is added on the juicy okonomiyaki to add flavor and volume to the dish. To those who has never eaten Okonomiyaki before, you can get to know "what is a okonomiyaki" by having this.
The characteristics of the Okonomiyaki here is that they are using "Abura Kasu", a traditional Osaka ingredient that is made with cow intestines. The taste of the whole oil cake will melt on your tongue; and in an instant, the taste is everywhere in your mouth.
Also, the oil cake is chewy and it adds layers to the okonomiyaki when you bit on them.
The is a cross section of "Makkyaki". Mixed with tender raw egg, it melts in your mouth. The taste of the thick source is also enhanced by the green onions.
"Genki tama" (The pearl of energy)(1,000yen) is a dish where you can have a taste of authentic Kansai cuisine enhanced by crunchy sweet garlic chips and red ginger.
Not just Okonomiyaki! A Rich Variety of Teppan Cuisine
The charisma of "Makka" is not just confined to Okonomiyaki. With carefully selected ingredients, there is also a whole selection of Teppan Cuisine.
"Zu-chi-mo-"(550yen) is as popular as "Makka Yaki". With the melting cheese wrapped by biscuit, the dish is extremely popular among female customers.
Directly imported from Hokkaido, the fresh "Taraba Crab Steak".
Again different from the normal Kansai Okonomiyaki specialty restaurant, there is a rich menu of "flour-gourmet" like "Monja Yaki" and "Hiroshima Okonomiyaki".
If you come to "Okonomiyaki Makka", you can fully experience the culture of Japanese flour. It is conveniently located just next to Shibuya, please come by when you are visiting Japan.
Information
Okonomiyaki Makka
Address: Kitaure Building, Kamimeguro, Meguro-ku, Tokyo 2-7-10
Opening Hours: 17:00 - 02:00 am
Holidays: NO
Station: Toyoko Line, Nakameguro Station
Access: 3-min walk from Nakameguro Station
Price range: 2000~3000 yen
Tel: 03-6303-0862
Bonus Information: TERIYAKI, an App to Find Delicious Restaurant


"TERIYAKI", the App to find delicious restaurants
Price: Free/ 480yen per month
Distribution: iTunes Store , Google Play
*To find the app on the store, please search by the keyword "TERIYAKI"
[iTunes Store]
https://appsto.re/i6gv8tL
[Android]
http://teriyaki.me
[Official Facebook]
https://www.facebook.com/gourmet.teriyaki
[Official Twitter]
https://twitter.com/teriyaki_tweet

The information presented in this article is based on the time it was written. Note that there may be changes in the merchandise, services, and prices that have occurred after this article was published. Please contact the facility or facilities in this article directly before visiting.