Shopping in Asakusa: Beautiful Tableware in "Toushougama"
Kappabashi Street (かっぱ橋道具街, Kappabashi Dōgugai) is a street full of stores that sell every kitchen and tablewares. At the northern part there is "Toushougama", a store displaying colorful tablewares.  
Their tableware comes from the potteries of Mino-Yaki[美濃焼(*1)] and are all handmade. And the concept for their original products is "Japanese Modern". Its stylish design attracts many people, including foreign visitors.
 *1  Ceramics originated in Gifu prefecture. It developed from Sueki (Chinese Ceramics) made in the Heian-period(794-1192 A.D.)
They have two stores in Kappabashi Street. The first store sells Japanese tableware, while the second store sells western tableware.
This is the first store, Japanese tableware.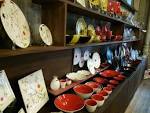 They make new designed tableware every year.  I like their Japanese motif subdued color. I find their products cool.
The "Shuku 祝 (celebration)" series which you see in the next picture, were made last year.  Because they're made by hand, as you can see, each fish has its own expression, doesn't it?  These fishes can be used for decoration or be gifts for celebrations!
They also sell many kinds of chopsticks and Hashioki (chopstick rest).  Some of them are beautifully crafted out of glass.  You can get a real feel of "Japan" in your daily tableware.
You can see the western tableware store in the following picture.  Just looking at all this colorful stuffs makes me happy!
This "Maison Stripe" which you see in the next picture is their new design for this year. It was outstanding. Even though they are simple, they really grab my interest somehow. I would love to buy both colors as a set.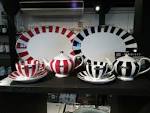 You can order your original tableware from either store. Choose your favorite shape from all the various kinds of tableware they have. Even choose the color and pattern, too!
And of course they have color samples, making it easier to imagine what it will look when it's finished. In the middle of this big city, you can order your own design Mino-yaki tableware!
If you give them away as a gift, you will absolutely spark up a good conversation!
Information
Toushougama とうしょう窯
Address:2-35-12 Matsugaya Higashi-ku Tokyo-to
Access:5 minute walk from Tsukuba express Asakusa station
Phone:03-5830-7752
Hours:Mon-Sat 10:00~19:00, Sun&Holidays 10:00~18:00
Website: http://www.tousyougama.com/ (Japanese)

The information presented in this article is based on the time it was written. Note that there may be changes in the merchandise, services, and prices that have occurred after this article was published. Please contact the facility or facilities in this article directly before visiting.