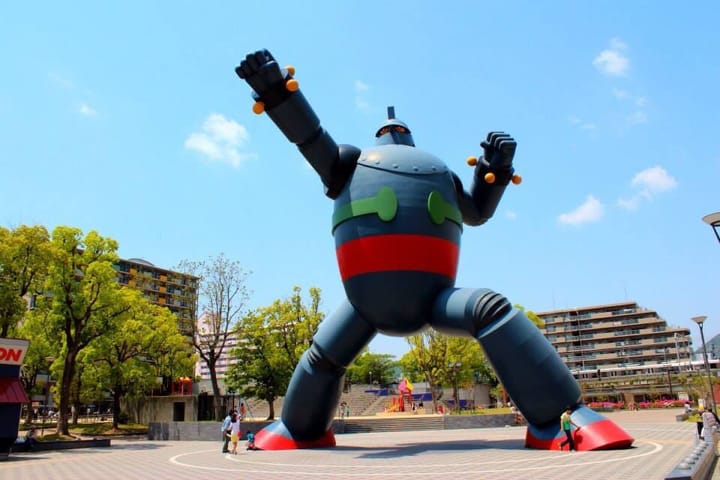 Tetsujin 28 at Shin-Nagata, Kobe
There are various anime museums in Japan, such as the Ghibli Museum in Mitaka City, Tokyo, or the Fujiko F. Fujio Museum in Kawasaki City, Kanagawa. They have become a must-visit site for the anime fans abroad.
But how many fans know about "Tetsujin 28"?
Tetsujin 28 [Gigantor] started as a manga in the 1950s, and was later made into a television animation. A giant robot, it is remote-controlled by a young boy to fight for justice against criminals and evil robots.
The author, Mitsuteru Yokoyama comes from Shin-Nagata in Kobe City; and there is a monument of the Tetsuji 28 at Wakamatsu Park on the south side of the JR Shin-Nagata station.
A Huge Monument
This monument is 15.6 meters in height, and 18 meters in width. It weighs about 50 tons, and the cost was a staggering 135 million yen. It is about the same size as described in the manga, and you will surely be overwhelmed.
You can't go inside the monument, but just visiting it should be a lot of fun.
The Akashiyaki
After the visit, try the famous Akashiyaki.
Different from the Osaka specialty takoyaki in which sauce is used, broth is used for Akashiyaki. Inside a Takoyaki, besides octopus, there are Welsh onion and red-pickle ginger; but inside an Akashiyaki, there is only tako.
The shape looks flat compared to a takoyaki, and it's also softer.
When in Kobe, try the Akashiyaki, which is a little different from Osaka's takoyaki.
Information
The Gigantor Monument
Adress: Wakamatsu Park, 6-3, Wakamatsu-cho, Nagata-ku, Kobe City
Access: Five-minuts walk from the Shin-Nagata station of both the JR line and the Kobe Municipal Subway Kaigan line.
Official HP: KOBE Tetsujin Project
The information presented in this article is based on the time it was written. Note that there may be changes in the merchandise, services, and prices that have occurred after this article was published. Please contact the facility or facilities in this article directly before visiting.