GREEN TEA RESTAURANT 1899 OCHANOMIZU - Enjoy Matcha Flavored Draft Beer
The GREEN TEA RESTAURANT 1899 OCHANOMIZU in Tokyo offers a beer garden where you can savor green tea and roasted green tea draft beer and a variety of flavorful dishes such as sausages, potato salad, and roast beef flavored with matcha green tea as well.
Enjoy the Mysterious Matcha Beer at a Restaurant of Japanese Tea
On a day in June, the editors at MATCHA received a piece of interesting information: at Ochanomizu, the city of musical instruments and students, you can drink a mysterious product called "Matcha Beer". Since it is related to "Matcha", of course we would like to find out more information. We, editors at MATCHA, went there quickly.
Located in Ochanomizu, the restaurant we visited is called "GREEN TEA RESTAURANT 1899 OCHANOMIZU". It is located a bit further from the main streets where the students usually are. It is in the office area with a more mature atmosphere.
In the terrace, you can enjoy your beer leisurely in the open-air space. From the logo of tealeaves and chopsticks, you can have an idea of the theme of the restaurant: "to eat tea leaves".
Summer Limited!All-you-can-drink Matcha Beer
The Beer Garden is only open during dinner time. You can order six types of beer including Matcha beer, Matcha dark beer, and even non-alcoholic Matcha beer. It costs 3,780yen (tax included) for two hours all-you-can-drink.
Let's challenge Matcha Beer first. The deep green color resembles vegetable juice more than beer. It may take a bit of courage to bring the mug to your mouth...so how does it taste?
Once you bring the mug to your mouth, you can smell the aroma of tea. While it shares the same freshness as other beers, it tastes smoother with its matcha flavor. The aroma of matcha remains as aftertaste - simply delicious!
Next, we challenge the new product Matcha Dark Beer.
Compared with the Matcha beer, this dark beer is stronger in taste and like caramel, you can taste both the bitterness and sweetness. Of course, you will definitely taste the tea element as well. You will get hooked by this combination: the bittersweet beer and bittersweet matcha.
Not Only for Drinks, a Side Menu of Japanese Tea
To have some snacks to go with the beer, you can order a set at 1500yen (tax included). We ordered a set for ourselves and as expected, the whole set is based on Japanese tea.
Among the five little dishes, the one that attracts you right away is this one. This is in fact potato salad. While it may look huge, you will simply enjoy its delicious flavour and its aftertaste of Japanese tea.
This is boiled pork with a paste of green tea miso on the top. The meat is so tender that it feels like it is melting. The secret is that it had been boiled in Japanese tea. The taste of tea can bring out the flavor of the ingredients.
Besides the above, there are French fries that you can choose from three flavors (matcha, green tea, and roasted tea), vegetable sticks that you can dip into green tea mayonnaise, and "tea beans" that are produced in Japan. It is expected with both being made from Matcha, but we would like to stress how well the Matcha beer match with this snack set.
How much we enjoyed the delicious matcha beer and its snack set!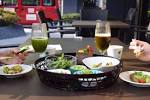 Spread the Culture of Japanese Tea through Matcha Beer
"GREEN TEA RESTAURANT 1899 OCHANOMIZU" is run by "Ryumeikan", a hotel based on the Japanese culture known as "Wa". To promote "Wa", this Japanese restaurant is open to introducing ideas such as "eating tea" and "drinking brewed tea from a teapot". This restaurant would like to add an element of stylishness to the Japanese tea that is gradually disappearing from the lives of the Japanese. Base on this idea, it was open just last year.
The restaurant is decorated with tea utensils. And on each table, you will find a "tea incense burner", the Japanese version of aroma candles. You can enjoy the culture of Japanese tea visually.
Of course, they sell tea leaves and tea utensils as well.
During cafe time, you can enjoy brewed tea from a teapot.
In this restaurant, you can taste the extraordinary Matcha beer and learn more about the culture of Japanese tea.
Ochanomizu is just next to the famous Akihabara and Jinbocho; and since it is linked with a hotel, it is convenient for overseas visitors to come.
Besides the "snack set" we have just introduced, there are other tea cuisines as well. Of course, an English menu is also available. Please come by and experience the culture of Japanese tea!
Lunchtime is from 11:00-14:00 (L.O.13:30), Cafe time is from 14:00-16:30 (L.O.16:00) and Dinner time from 17:30-23:00 (L.O. 22:00). Dinner time is very popular so we recommend a reservation, which can be done by phone or email.
RESTAURANT 1899 OCHANOMIZU Official Website: https://1899.jp/ochanomizu/

The information presented in this article is based on the time it was written. Note that there may be changes in the merchandise, services, and prices that have occurred after this article was published. Please contact the facility or facilities in this article directly before visiting.