Gorgeous Persimmon Desserts At The Fukushima Fruit Fair In Tokyo
The Fukushima Fruit Fair will be held at the Futaba Fruits Parlor in Shinjuku, Tokyo. Their anpo-gaki sandwich is the perfect combination of rich flavor and smooth texture!
Fukushima Fruit Fair Returning to Shinjuku!
Following the previous peach fair and the grape fair, the popular Fukushima Fruit Fair is returning to Shinjuku, Tokyo, from February 18 - March 1!
This third fruit fair is all about persimmons. Of particular interest are the desserts made using Fukushima anpo-gaki, a type of dried persimmon. Just like at the previous events, you will find plenty of photogenic foods and sweets! The venue is once again Futaba Fruits Parlor Shinjuku Marui Main Store.
You can enjoy delicious persimmon desserts, made in collaboration with the popular Futaba Fruits Parlor.
Anpo-gaki: Japanese Dried Persimmons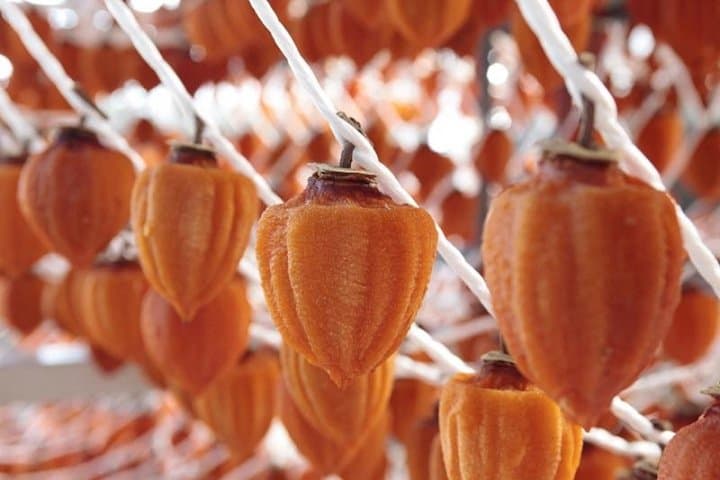 In the countryside, persimmons can be seen being hung out to dry. Pictured above are anpo-gaki persimmons.
Are you familiar with Japanese dried persimmons? Dried persimmons made from special Japanese varieties have continued to be loved for their sweetness since long ago. Their sweetness and firm texture come as a pleasant surprise for many overseas visitors.
The vibrant orange color of anpo-gaki makes them almost too beautiful to eat.
Anpo-gaki is a famous type of dried persimmon. It is also a local staple of Fukushima Prefecture.
Anpo-gaki are beloved across the country for their silky, jelly-like texture and rich flavor.
With a moisture level of 50% (compared to 15% in regular dried persimmons), they are also extremely juicy! Anpo-gaki are a must-try fruit when visiting Japan!
Desserts Featuring Anpo-gaki Persimmons
Below are the special anpo-gaki persimmon desserts you can savor at this limited-time event.
1. Anpo-gaki Fruit Sandwich
If you want to experience the smooth texture and juiciness of anpo-gaki, this sweet sandwich is a great choice!
This fruit sandwich uses a whole anpo-gaki and soy milk cream. The cream and the bread are plant-based, making this a vegan-friendly sandwich.
The soft bread delicately brings together the sweet persimmon and soy cream. Each bite blesses your palette with sweetness! (1,180 yen before tax.)
2. Anpo-gaki Tea Tiramisu
Enjoy the refined flavors of tea and anpo-gaki in this tiramisu. This delectable dessert is also vegan, using only plant-based ingredients.
Savor the anpo-gaki persimmon as it melts in your mouth (700 yen before tax)!
If you want to learn more about the Fukushima Fruit Fair, please read our previous article!
Information on the Third Fukushima Fruit Fair
Venue: Futaba Fruit Parlor Shinjuku Marui Main Store
Address: Shinjuku Marui Main Store 5th Floor, 3-30-13 Shinjuku, Shinjuku, Tokyo (Map)
Hours: 11:00 - 21:00 (Mon. - Sat.); 11:00 - 20:30 (Sun., holidays)
Fair Dates: February 18 (Tue.) - March 1 (Sun.)
Fukushima Prefecture: Japan's Leading Fruit Paradise
Located relatively close to Tokyo, Fukushima Prefecture is accessible in an hour and 30 minutes via the Shinkansen (bullet train). It is also the leading producer of fruit in Japan.
Some of the fruit Fukushima is famous for are grapes, pears, and apples.
Fukushima also produces 30 juicy varieties of peaches of different tastes and features.
Fukushima is ranked number two in the country for the production of peaches, accounting for over 20% of the domestic market. The prefecture's peaches are in season from early July through late September. During this period, the seasonal variety of peaches continue to change in what is coined a "peach relay."
Pictures courtesy of Fukushima Prefecture
Sponsored by Fukushima Prefecture


The information presented in this article is based on the time it was written. Note that there may be changes in the merchandise, services, and prices that have occurred after this article was published. Please contact the facility or facilities in this article directly before visiting.