Starbucks Sakura Sakuranbo Frappuccino And New Spring Goods
Starbucks Japan offers the Sakura Sakuranbo Frappuccino (cherry blossom cherry frappuccino) and the second line of spring 2020 goods right now. The merchandise usually sells out fast, so get it while you can!
Starbucks Japan just released its first line of Sakura beverages and goods for 2020. However, just like last year, this is only the start. The second line of sakura-themed beverages and goods as available at Starbucks Japan right now.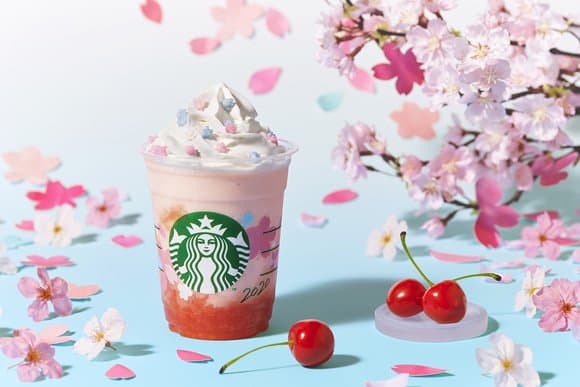 Picture courtesy of Starbucks Japan
Sakura Sakuranbo Frappuccino means Cherry Blossom Cherry Frappuccino and it is available in tall size for 590 yen. It contains cherry pulp which is blended into a sakura-flavored milk base. The drink is also infused with fruity strawberry notes.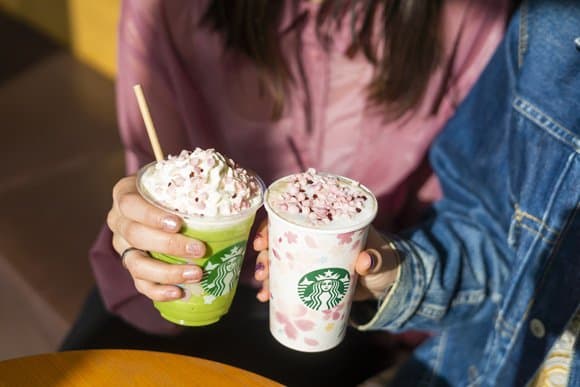 Picture courtesy of Starbucks Japan
Starbucks Japan helps you to get into the cherry blossom mood even if you are not ordering the new sakura frappuccino. A free sakura topping is available for any other beverage. Pink colored roasted rice and dried cranberries will make the drinks look like they are showered in cherry blossom flowers.
The Sakura Sakuranbo Frappuccino and the free topping option will be available from February 26 until March 12, 2020.
Picture courtesy of Starbucks Japan

A new limited line of sakura goods is part of the second cherry blossom release of the year. The line up includes the following items:

1. SAKURA 2020 Silicon Lid Stainless Steel Cup Charm (355ml) for 3,200 yen
2. SAKURA 2020 Rain Charm Bottle (473ml) for 2,400 yen
3. SAKURA 2020 Stainless Tumbler Bottle (355ml) for 3,500 yen
4. SAKURA 2020 Sparkle Bottle (355ml) for 2,200 yen
5. SAKURA 2020 One Touch Bright Stainless Bottle (450m) for 4,400 yen
6. SAKURA 2020 Stainless Sparkle Bottle (500ml) for 4,500 yen
7. SAKURA 2020 Stainless TOGO Logo Sparkle Tumbler (355ml) for 3,700 yen
8. SAKURA 2020 Bright Stainless Bottle (355ml) for 3,600 yen
9. SAKURA 2020 Pearl Tumbler (473ml) for 2,200 yen
10. SAKURA 2020 Stainless Bottle Pearl (355ml) for 4,000 yen
11. SAKURA 2020 Sparkle Mug (355ml) for 2,100 yen
12. SAKURA 2020 Snowglobe and Mug (89ml) for 3,900 yen
13. SAKURA 2020 Starbucks Card Gift for 1,380 yen
14. Starbucks Card SAKURA Misty Rain for 1,000 yen
15. SAKURA 2020 Heat Resistant Sparkle Glass Mug (355ml) for 2,500 yen
16. SAKURA 2020 Muglucent (355ml) for 1,800 yen
17. SAKURA 2020 Mini Cup Gift for 950 yen

Starbucks Coffee Japan Official Website: https://www.starbucks.co.jp/ (Japanese only)

Written by Chiara Mischke

The information presented in this article is based on the time it was written. Note that there may be changes in the merchandise, services, and prices that have occurred after this article was published. Please contact the facility or facilities in this article directly before visiting.