Useful Maps to Asakusa's Hospitals, Evacuation Areas, and More!
Asakusa: a premier Tokyo tourist spot. Bustling with travelers every day, here we highlight where to find: hospitals, evacuation areas, bathrooms, and more.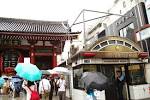 It goes without saying that trips are accompanied by problems. Be it getting injured, or losing something, or getting caught up in some kind o f natural disaster.
But, it's fairly difficult to come across police and hospitals in an unknown land. Even more so in lively sight-seeing areas.
With that in mind, we've put together a list of restrooms, smoking areas, police boxes, hospitals, and evacuation ares you'll be able to find in the super busy Asakusa area. 
Sudden Stomachache!? The Public Restrooms are Here!
Free, public use restrooms are scattered throughout Asakusa. Amongst those bathrooms though, there are some that only feature Japanese-style toilets. Here, we filter through the multitude of Asakusa's bathrooms to deliver those bathrooms featuring Western-style toilets.
Reference Article: The World's Best Toilets? How to Use Public Toilets in Japan!
Reference Article: High-Tech Japanese Toilet: Want to Wash Your Bottom in A Toilet?
Sensoji North Public Restrooms
This restroom is located north of the main temple. It's really useful if you need to go the bathroom during your visit. This bathroom features Western toilets, and is a multi-purpose restroom featuring wheel-chair access.
Sensoji South Public Restrooms
Sensoji also has restrooms promoting a "user-friendly" concept. The restroom has many features to help maintain cleanliness. There are Western-style toilets and multi-purpose restrooms available
Restrooms in front of Mokubakan
These are public restrooms located to the West side of Sensoji. They're convenient for when you need to go in the middle of an visits to various restaurants, and shopping. There are Western-style toilets and multi-purpose restrooms available.
Sumida Park Restrooms No.1
These restrooms are located in Sumida Park, near the Water Bus boarding dock. Stop by here when you're doing some cherry-blossom viewing in Sumida, or just going for a little walk in Ryogoku. There are Western-style toilets and multi-purpose restrooms available.
Toei Asakusa Station South Subway Underground Passage Restroom
These restrooms are located inside the Toei Asakusa Subway Station. Restrooms in stations are often located within the ticket gates, but these restrooms are located outside the ticket gates, in the underground passage (near exits A1, A2). There are Western-style toilets and multi-purpose restrooms available.
Must-See for Smokers: Smoking Areas
In Asakusa, located in Taito City, it is recommended that you don't smoke while walking around. Also, if you get caught littering cigarette butts, then you could get a slap on the wrist from some the city counsel. In a town bustling with tourists such as Asakusa, try your best to locate smoking places before you smoke.
There are plenty of smoking areas set up around Sensoji, so make sure to use those areas when smoking.
A lot of the smoking areas in Asakusa look like the picture above. There is a map on top of the ash bins, so you can make some plans for touring the city while taking your smoke break.
Sensoji South Smoking Area
Located south of Sensoji's public restrooms, this smoking area is the easiest to spot when sightseeing. Due to its location though, it is also seems like the most crowded smoking area.
 Sensoji North Smoking Area
This smoking area is located near Sensoji's North public bathrooms; it's north of the main temple.
Smoking Area Located in front of Hanayashiki Street
This smoking area is located in front of Hanayashiki Street, and to the west of Sensoji's main temple. There's also a smoking area in the bus parking lot that's located nearby.
Smoking Area Located in front of Sensoji Main Temple
Near Sensoji's main temple, there'll be a smoking place with a large "Restroom" sign above it; this sign will act as a landmark.
Azuma Bridge Smoking Area
This smoking area is can be found near the entrance of the Tokyo Metro Gina Line Asakusa Station close to Azuma Bridge. We recommend this smoking area if you are close to the Water Bus boarding docks, or station.
Here's Where You Should Go, Should You Fall Into Any Trouble: Police Station/Police Box (Neighborhood Police Station)
The first thing you should do if you're lost, or in any sort of trouble, is to talk to somebody at the police box. There are a lot of police boxes set up around the Asakusa area.
Kaminarimon Gate Police Box
This police box is located right next to the Kaminarimon Gate. There are a lot of people that pass by here so, if you're lost, there are plenty of people to ask directions.
Hanakawado Police Box
This police box can be found at the TOBU Asakusa Station entrance, facing the Azuma Bashi Bridge Intersection. Head for this police box if you're near the station.
Shoutenchou Police Box
This is the police box facing the Kototoibashi West Intersection. If you're sightseeing around Imado Shrine, this police box will be convenient.
Koenrokku Police Box
There is a police box located to the west of Sensoji Temple, which also has some performance halls. The Tsukuba Express Asakusa Station is also located nearby.
Kannonmae Security Police Station
Located inside the Sensoji grounds is the Asakusa Welfare Center; there is a police station inside the center.
Foreign Traveler Accessible Hospitals Offering First-Aid, Support in English
Here we'll introduce some hospitals and pharmacies you can go to if you start feeling unwell.
Sensoji Hospital
This general hospital is located north of Sensoji. This is also the hospital closest to Sensoji.
Closed: Sundays/National Holidays/Year End Holidays
Multi-lingual support: None (Some help in English is possible)
Yamada Eimei Shitamachi Clinic
This hospital features an internal medicine, and surgical department. It is located close to Asakusa Station (Tsukuba Express).
Closed: Wednesdays/Saturdays/Sunday afternoons
Muli-lingual support: Conversational English/Korean
Asakusa Clinic
This clinic is located north of Asakusa General Hospital. There is quite a lot of medical departments in this clinic, so they can take on a lot of cases at any given time. Appointments are not necessary, except for specialty outpatient care.
Closed: Thursdays/Saturday afternoons/Sundays/Holidays
Multi-lingual support: Available (Conversational English)
Matsumotokiyoshi Asakusa Store
This drug store is located nearby Kaminarimon-dori. When you don't necessarily need to go to the hospital, but you need to get your hands on some medicine, or first-aid tools.
Telephone: 9:00-22:00
Tokyo Metropolitan Medical Institution Information Center
In the Tokyo Metropolitan area there is a medical support call center. Please use this call center if you can't find any hospitals near your area.
Telephone: 03-5385-8181
Operating Hours: 09:00-20:00
Multi-lingual Support:  English/Chinese/Korean/Thai Language/Spanish
 Emergency Translation Services
If you go to a hospital and are having a hard time making yourself understood, then please call this number. The staff on the phone will act as a translator for you.
Telephone: 03-5285-8185
Operation Hours: 17:00-20:00 (Weekdays)/09:00-20:00(Saturdays・National Holidays)
Multi-lingual Support: English/Chinese/Korean/Thai Language/Spanish
Here's Where You Can Evacuate to in Case of an Earthquake! Asakusa's Designated Evacuation Areas
In Japan, it's recommended that you head to designated evacuation areas if you're caught in an earthquake.
It's not recommended that you just try and evacuate yourself though, as there may be some situations where you will have to take instructions from the Japanese people around you. First, you need to remain calm; next, you should ask those around you what the current situation is looking like.
Here we'll introduce some evacuation areas you can go to if you ever find yourself in need of one.
Asakusa Elementary School
This is the evacuation area closest to Sensoji temple.
Tawara Elementary School
This evacuation area is located close to Tawara Station. If you're staying in lodgings nearby, this would be your go-to evacuation area.
Tokyo Metropolitan Asakusa High School
If you're sightseeing around Imado Shrine, then this'll be your closest evacuation area.
 Lifelong Learning Center
This evacuation center is located to the west of Sensoji Temple, and while it's a little farther than the center of most sightseeing spots, it won't hurt to remember the location of this center.
Ueno Park
Ueno Park is an evacuation area where you can ensure your safety in case of a large scale disaster, as designated by the Tokyo Metropolis.

Those residing in the Asakusa area can evacuate here when there is a large scale earthquake, or in case flooding of the Sumida River occurs.

The information presented in this article is based on the time it was written. Note that there may be changes in the merchandise, services, and prices that have occurred after this article was published. Please contact the facility or facilities in this article directly before visiting.