"MatsuGen Ebisu": Soba & Japanese Cuisine from Selected Ingredients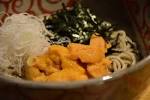 For foreigners, perhaps your image of Japanese cuisine is the standard like sushi, tempura and soba.
For visitors, while you can locate restaurants to dine out, but maybe not in the way the Japanese do. For Japanese, they tend to classify "this is a chain" or "this is a luxury restaurant".
You would like to avoid wrongly entering a regular chain while you would like to try out authentic Japanese cuisine.
This time we would like to introduce "MatsuGen Ebisu", a restaurant where you can enjoy Japanese cuisine.
MatsuGen is located at Ebisu, a station away from Shibuya. Ebisu is famous for its trendy and delicious restaurants.
A mere 4-minute walk from the station, you can already get away from the crowd and find yourself in the sophisticated area where "MatsuGen Ebisu" is located. Let's have a look inside.
The Sophisticated Interior Loved by Females
Table Seats
Private Room
Counter Seats
This calm and sophisticated atmosphere attracts many female customers, a rare thing for Soba place. Including private room and counter seats, there are altogether 76 seats.
There are many foreign visitors who come from the nearby hotels, and for this reason, there is English menu.
For smokers, please note that smoking is not allowed; except in private room after 3pm.
Let us introduce the recommended dishes at "MatsuGen Ebisu"
Recommended Dish 1 Sea Urchin Soba
The first dish is Sea Urchin Soba(2,800yen)with sea urchin imported directly from Hokkaido. As fro the soba, the ratio between flour and wheat flour is 2:8  - this is called "28 (nihachi) soba" in Japan. By bending the rougher flour, the aroma of the soba is enhanced.
Pour the soup into the dish. This way of eating is called "Bukkake". This kind of cold soba is perfect for the summer.
Toppings only include urchins, seaweeds and white onions. The rich taste of urchin, the refreshing smell of seaweeds and white onions. This simpleness allow all the ingredients to be eaten at their best.
Please experience how the huge portion of urchin melt on your tongue!
Recommended Dish 2 Tempura Plate
Tempura Plate(1,850yen)includes two big shrimps, one conger and three portions of seasonal vegetables. Here, the finest sesame oil is used, so you won't have an oily aftertaste. The ingredients are luxurious like the fresh shrimps and a thick conger.
There are sauce for the tempura, and if you like, you can put seaweed salt to enhance the taste of the soba.
Recommended Dish 3 Wagyu Beef Sabusabu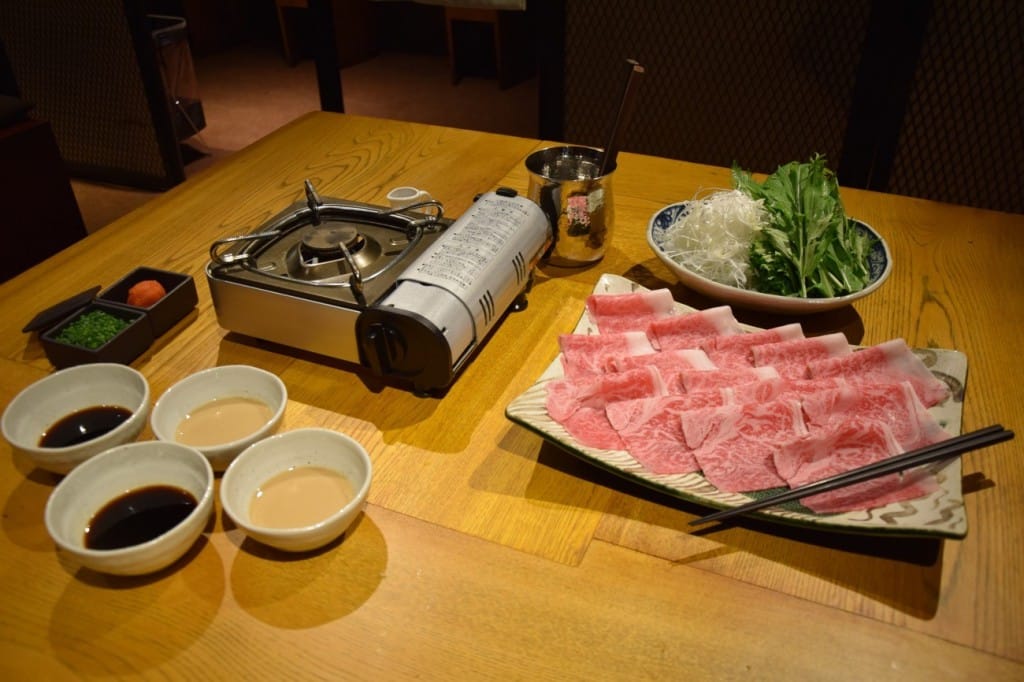 In the Special Wagya Beef Sabusabu(4,000yen), the finest beef is used and served with long onions and mizua (Japanese mustard).
※The price is for one person; and order starts from two people.

In the boiling soup, put in the meat until its colour is changed. For those who do not know how to eat, you can ask the staff, so no worries there.

Citrus Vinegar
Sesame Sauce
Like Japanese Sabusabu; for the sauce, you can choose between the refreshing citrus vinegar and the rich sesame sauce.
The tender meat, the juice; please try them with onions and mijioroshi (spice mixed with white radish).
Ice Cream Saichu (Matcha)
For dessert, please try MatsuGen Specialty "Ice Cream Saichi (meaning "inside") "(390yen). You can choose between matcha flavor or vanilla flavor.
The fine sweetness of red beans, waranbi (Japanese chewy jelly), kinako (from the flour of soybean), Matcha ice cream - it is a dessert that condenses the Japanese charisma of "Wa".
Starting from Soba, Tempura and Sashimi, it is a place where you can enjoy carefully made Japanese cuisine. And whatever you choose, it is something authentically Japanese. We recommend the place to travelers who would like to eat delicious Japanese cuisine.
Information
MatsuGen Ebisu
Address: 1F Hagiwara Building 1, 1-3 Hiroo, Shibuya-ku, Tokyo
Opening Hours: Mon-Thur 11:30 ~ 15:00; 17:00: 00-24: 00
[Fri] 11:30 ~ 15:00; 17:00: 00-25: 00
[Saturday, Sunday and public holidays] 11:30 t~ 23:30
L.0. 30 minutes before closing time
Holidays: None (No dinner served on Monday)
Reservations: dinner only
Access: Ebisu Station
Nearest station: a 4-minute walk from the east side of JR Ebisu Station West Exit
A 5-minute walk from Exit 1 of Ebisu Station, Hibiya subway
Walk on the Komazawa street towards Hiroo district, cross the Shibuya Bridge footbridge, on the Meji Street turn right and walk for 50m.
298m from Ebisu Station
Price range: noon 1,000-2,000 yen
5,000~6,000 yen night
Tel: 03-3444-8666
Official HP: MatsuGen Ebisu
Bonus Information: TERIYAKI, an App to Find Delicious Restaurants


"TERIYAKI", the App to find delicious restaurants
Price: Free/ 480yen per month
Distribution: iTunes Store , Google Play
*To find the app on the store, please search by the keyword "TERIYAKI"
[iTunes Store]
https://appsto.re/i6gv8tL
[Android]
http://teriyaki.me
[Official Facebook]
https://www.facebook.com/gourmet.teriyaki
[Official Twitter]
https://twitter.com/teriyaki_tweet

The information presented in this article is based on the time it was written. Note that there may be changes in the merchandise, services, and prices that have occurred after this article was published. Please contact the facility or facilities in this article directly before visiting.