Wander Through Kyoto In A Kimono! Yumeyakata: A Kimono Rental Store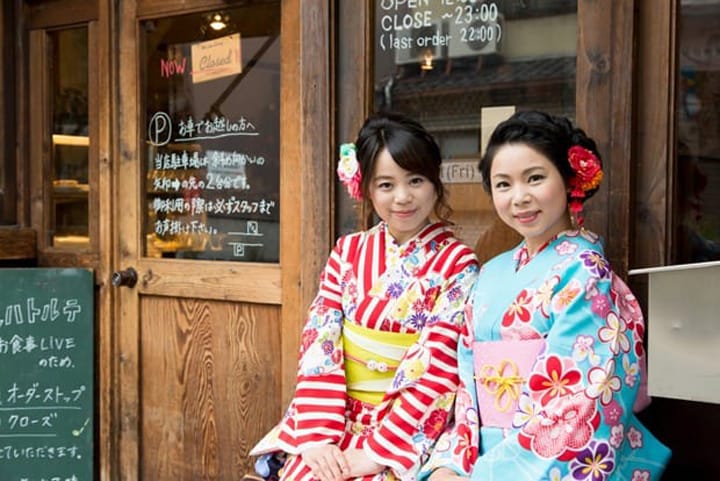 There are many people who visit Kyoto and would like to try wearing a kimono as they sightsee. Yumeyakata is a kimono rental store that will help your dream of getting to wear traditional Japanese clothing come true.
Kyoto is a city that is gaining attention as a popular tourist destination around the world. In the American magazine 'Travel + Leisure', Kyoto came in at number 1 in both 2014 and 2015, being given the 'World's Best Travel Destination Award'.
On the other hand, in 2014 the informational British magazine 'Monocle' ranked Kyoto as being the 9th out of 25 cities where it is convenient to live in. It's not just great for sightseeing: Kyoto is also a very livable city. It's a city where traditional culture and lifestyles are still very much alive. Without a doubt there are many people who will want to experience wearing a kimono in this culturally rich city.
Yumeyakata, which is not too far from Kyoto Station, is a kimono rental store which will help your dream of being able to wear traditional Japanese clothing come true.
A Convenient Location to Sightsee
Yumeyakata is just one stop away from Kyoto Station via the Karasuma line on the subway. It only takes 3 minutes to get to from Gojo station. It's a very convenient location, from there it takes just 15 minutes by bus to get to the popular tourist destination, Gion Higashiyama.
Also, Gojo is only one stop away from Shijo, the center of Kyoto. There you will find both the Nishiki Market and the Shinkyogoku shopping arcade, two perfect places for buying souvenirs. While heading for the Yumeyakata store and deciding on which sightseeing route to take, there's no doubt that you'll feel your excitement growing just by having a look at all the other people who are wearing kimonos here.
Over 500 Kimonos to Choose From! You Can Match Any Designs You Like Together!

When you enter this store, you'll notice kimonos in a variety of different colors all neatly lined up. There are over 500 different kimonos and over 200 different obi or belts that you can choose from. By mixing and matching various colors and styles, there's no doubt that you'll be able to select the kimono that best suits you.
Whether it be with friends, with your boyfriend or girlfriend, or even your family, consulting with those with you to select a kimono is also fun. We recommend going on a bit of an adventure and searching for colors and styles that you wouldn't normally select for a kimono. For those of you who find that there's too much and are unsure of which kimono to select, don't worry! The staff here will help to select the kimono for you.
At Ease With Experienced Professionals - Wearing a Kimono That Fits Just Right
Once you've selected a kimono, the staff here will help you put it on. There are many people who wear a kimono and worry that 'it'll come loose' or that 'the obi is too tight'. There's no need to worry, though, the staff here who'll help you put on a kimono have all passed a strict examination run by the Yumeyakata company. The staff here all work hard to ensure that the kimono doesn't come loose while taking a stroll somewhere and also ensure that the obi isn't too painful for when you eat. The staff all interact with customers politely and with a smile on their face too.
After visiting Yumeyakata, you won't seem to have any problems enjoying the long awaited city of Kyoto.
Once you've selected the kimono for you, many will also want to ensure that their hair is just right as well. For those who do, for 1500 yen, you can select from 6 different hairstyles. When your hair is tied up neatly in a style that matches the kimono you picked, you'll feel as if you're a model.
They even sell accessories for your hair starting at 500 yen. Why not try selecting something for your hair that matches your kimono and hairstyle?
It's not just your hair, but here you can also experience professional makeup with ease.
Whether you're looking for something cute, beautiful, natural or whatever, the staff here will apply makeup to your desire. Without a doubt you'll be able to take photos that will remain treasured memories forever.
Other Fulfilling Services - A Photo Shoot

Yumeyakata is complete with its own photo studio. Since your dream of getting to wear traditional Japanese clothing has come true, why not get your picture taken by a professional cameraman? Items such as a Japanese style umbrella, a Japanese sword, and a Japanese folding fan can be used for free when having your picture taken. It might be fun to dress up as a samurai or a machi-musume (a town girl) and have your picture taken.
They'll sell you the photos that have been taken on a CD, so we recommend taking the photos home with you and using them to make nengajo (a New Year's greeting card) or postcards.
Going Around Kyoto in a Kimono!
With all these various options and services, it seems as if you may be fully satisfied without even doing any sightseeing. Once your ready, it's time to head off around Kyoto. The areas of this traditional landscape that is Kyoto that will match the kimono you selected are just waiting for you visit it.
It's not just Kiyomizudera, Fushimi-inari Shrine or the other temples and shrines, nor is it just the traditional townhouses that line the streets of the Gion and Nishijin districts, but the stylish designs of the  cafes built in the Meiji and Taisho periods also suit a kimono perfectly.
You have until 7:30 p.m. before you need to return the kimono you rented, so after having wandered around Kyoto you can enjoy eating dinner too in traditional Japanese clothing. For those events in where they light up various temples and shrines at night at different times of the years, you can enjoy visiting them in a kimono too.
Popular with the Locals Too - Having a Date in Kyoto Wearing a Kimono
At Yumeyakata they don't just have kimonos for girls, but also have plenty of kimono for men as well, so they're popular with couples. Having a date in a kimono is different than the typical date; it will be a new and fresh experience. By selecting kimonos together and taking lots of pictures while wearing them, you'll be able to have many fulfilling memories.
Seasonal Clothing - Enjoying Kyoto in a Yukata
Enjoy summer in a yukata! Let's head out and stay nice and cool!
When it's the summer you can not only rent a kimono, but you can also rent a yukata (an informal and light cotton kimono) as well. It goes without saying, but a yukata is perfect when viewing a fireworks festival, viewing the Gion Festival, watching the ceremonial fires of the large Japanese kanji characters on the mountains in Kyoto, and a number of other summer festivals. But it's not just festivals, when visiting somewhere specializing in sweet foods and eating a matcha (powdered green tea) based parfait or shaved ice, wearing a kimono is part of the fun of doing so in Kyoto.
There are special benefits that are offered when festivals such as the Gion Festival and the ceremonial fires of the large Japanese kanji characters are taking place, so be sure to check the Yumeyakata website. They don't just offer rentals, you can also buy the traditional Japanese clothing here. So if there's anything that you are particularly fond of you can take it home with you.
Have an Even More Special Experience in a Long-Sleeved Kimono

For those of you who feel that a typical kimono just isn't enough, there's a premium plan offered in where you can go for a stroll wearing furisode (a type of kimono that has long sleeves) or wearing tomesode (a type of kimono for married women that contains five crests and a pattern embedded around the skirt).
Let's go somewhere special and take part in a tea ceremony or watch a play while wearing a luxurious kimono that catches everyone's attention. Of course, there are hakama (a pleated skirt worn over a kimono) containing a crest for men too. We recommend this ensemble for couples.
Let's Make Some Incredible Memories While in Kyoto!

Since you're wearing a beautiful kimono, you'll want to take as many photos as you can. For those of you who are troubled by where you should take a photo, the sort of poses to make for a photo, and who should take your photo, you need not worry. The on location photo plan will take away all your troubles.
This is a service in where a pro cameraman will travel with you and take photos for you. The cameraman is able to take photos that you'll want to show off to your friends.
While wearing a beautiful kimono and posing expertly at the best locations recommended by the cameraman, you'll really feel as if you were a model.
How many times have you been with a group of people trying to take a photo and one of the people in your group wasn't in the shot because they were acting as the cameraman? With this service you don't need to worry about anyone not being in the shot and you can enjoy sightseeing.
In the spring in Kyoto there are the cherry blossoms, camellia, azalea, Japanese wisteria... There are number of different flowers in a variety of colors that are waiting for you.
In the summer in Kyoto there is, of course, the Gion Festival and ceremonies when large Japanese kanji characters are drawn on the mountains using controlled fire. With the sound of the festival music which can be heard in a number of places, the elegance of the platforms built over the rivers and so on, there is so much to be enjoyed.
In the fall, there are the enticing autumn leaves that are so beautiful they'll take your breath away. This is by far Kyoto's most lively season.
If you're looking to enjoy the atmosphere of Kyoto, then we recommend visiting in the winter when snow flutters about. It's also fun to look stylish while wearing a haori (a short over-garment).
Families and Event Participants Are Welcome to Use These Services!
From bright and vivid modern designs to calmer older style designs, there are a variety of different kimonos to choose from; not only for women but men and even children too, so families and other groups can enjoy wearing traditional Japanese clothing together.
Being in a set or wearing a different color than everybody else, when you're with a group wearing a kimono, it is even more fun!
This is a kimono rental store that's also popular with visitors from overseas. If you don't take advantage of the services offered at Yumeyakata and enjoy this opportunity to wear traditional Japanese clothing in Kyoto, then you'll be missing out!
Information
Yumeyakata
Address: Kyoto, Shimogyo, Manju, Teramachi 128
Other Languages: English, Chinese, Korean, Indonesian
Credit Cards: Visa, Mastercard, JCB, Amex, Diners Card
Nearest Station: Gojo Station (Karasuma line), Kiyomizu-Gojo Station (Keihan line)
Access: 3-minute walk from Exit 1 of Gojo Station, 8-minute walk from Exit 3 of Kiyomizu-Gojo Station
Phone: 075-354-8515
Website:Yumeyakata

The information presented in this article is based on the time it was written. Note that there may be changes in the merchandise, services, and prices that have occurred after this article was published. Please contact the facility or facilities in this article directly before visiting.