Japanese Guided tour of Asakusa, in English... for Free!
In Asakusa, you can try out a free Tour Guide in English that'll take you around to some Asakusa hot spots.
If you're a foreign visitor doing some sightseeing in Japan, there's one tour plan you absolutely have to check out. Getting information directly from someone, and not just from the pages of some guidebook, will make your sightseeing experience that much more exciting. You can also ask the guide any inquiries you may have.
You can try out this guide tour service for free in Asakusa.
A Tour Guide Made for Foreign Visitors
Jizen Translator Organization's Tokyo SGG Club is offering this free guide service. Volunteers get together and tour foreigner visitors on a tour of Asakusa in English. This service is available twice a day, every Saturday and Sunday: the first tour starting from 11:00 and the second tour starting from 13:15.
Let's Get This Tour Started! Starting from Asakusa's Tourist Information Center
You don't need to reserve tour guide beforehand. Just arrive at the gathering place in Asakusa Tourist Information Center's 1F lobby up to 10 minutes before the start of a tour.
Today I was able to join in on a tour for of male tourists from the Philippines. We immediately receive an explanation about Asakusa using the miniature map located inside the Information Center.
Firt Stop: Kaminarimon
You'll arrive at the entrance to Sensoji, Kaminarimon, as soon as you exit the center, and then cross the street. The guide wastes no time in guiding the tour participants. You wont feel as though you're just visiting, but more like you're being educated and informed on Kaminarimon.
Getting Aqcuainted with Japanese Culture on Nakayo-Dori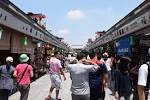 Nakayo-Dori, the street lined with souvenir shops is also part of the tour route. While walking around the various shops, the guide teaches the participants about Japanese history through different items at the shops.
You can also learn about Asakusa's history, and even the history of Buddhist temples and interesting tidbits such as the fact that the Tokyo Sky Tree was built with the same technology that was used to build 5-story pagodas.
Proper Etiquette When Visiting Sensoji
The guide teaches you the proper etiquette when visiting a shrine such as "showering" yourself with incense, or purifying your hands and mouth before entering the temple.
Quietly put your hands together and make a request.
The Last Stop on This Tour: Asakusa Shrine
The last stop on the tour in Asakusa Shrine, which is next to Sensoji. Bow twice, clap twice, bow once: these are the proper steps to take when visiting a shrine.
The participants would throw out questions that leave most Japanese befuddled such as "What's the difference between a temple and shrine?" You can really get a sense of these foreign travelers' strong sense of curiosity.
The Japanese guide was not at all phased though, and immediately answers the participants' questions.
SGG Club's Guide Tour offers foreign visitors the opportunity to learn about Asakusa's history and culture, directly from Japanese people. If you want to learn more about Asakusa, then we recommend you take part in this tour.
Information
Asakusa Tourist Culture Information Center
Address: 2-18-9 Daito-ku, Kaminarimon, Tokyo
Business Hours: 9:00-20:00 (Cafe is open from 10:00, Observation Terrace is open until 22:00)
Holidays: Open Year Round
Access:
Train
Isesaki Line (TOBU Skytree Line)              5-minute from Asakusa Station on foot
Tokyo Metro Ginza Line             1-minute from Exit 2 Asakusa Station on foot
Toei Asakusa Line                  2-minute walk from A4 Exit Asakusa Station
Tsukuba Express                   10-minute walk from A1 Asakusa Station
Bus
Toei Bus: Asakusa Kaminarimon (bus stops vary according to bus route)
Daito-ku Circulation Bus Megurin: North Megurin→5-minute walk from Number 1 Asakusa Station
Toei East-West Megurin→1-minute walk from Number 31 Kaminarimon mae
Telephone: 03-3842-5566
Offical HP: 浅草文化観光センター
The information presented in this article is based on the time it was written. Note that there may be changes in the merchandise, services, and prices that have occurred after this article was published. Please contact the facility or facilities in this article directly before visiting.