Travel Smart: Going From Ueno To Asakusa By Train
When traveling through Tokyo's historic downtown, you may find yourself wanting to go from culture-rich Ueno to historical Asakusa - but what's the best route to take? Refer to this guide on train transfers and you'll reach Asakusa in just 5 minutes!
How to Get to Asakusa from Ueno
When asking friends from abroad "what do you find most difficult about Japan?" the answer is usually something along the lines of "I can't figure out how to change trains!" or "The subway system is too complex and hard to understand!"
And it's true. Tokyo's transport system is spread and organized like a tangled spider web. It's confusing enough that even Japanese people who come to Tokyo from other regions have difficulty understanding what's happening.
If your first experience of Tokyo transport is from the airport to Tokyo Station, there are a lot of signs and guides. It's easier than usual and hard to get lost. But what about when you're trying to get from one sightseeing spot to another? Isn't it quite hard to get directions?
Today we'll explain how to go from Ueno to Asakusa, two famous destinations in Tokyo. Ueno is part of Tokyo's classic downtown; there you will find numerous museums and art galleries covering a wide variety of interests in Ueno Park, as well as some amazing shopping and dining spots too. Asakusa is another downtown spot, well known for Sensoji Temple, Nakamise-dori, and a host of other historical shrines and other sightseer-friendly spots.
There are two main separate stations in Ueno. First, there's the one that most people use when coming from Narita airport. It is called Keisei Ueno Station. Second, there's the one which is used the most, called JR Ueno Station. We'll show you how to get to Asakusa from both of these stations.
The following passes and tickets are convenient and will save yen on travel between Ueno-Asakusa and the rest of Tokyo: Tokyo Subway Ticket (24, 48, and 72-hour passes available), Japan Rail Pass, Suica IC Card Reservation
1. Directions from Keisei Ueno Station to the Tokyo Metro Ginza Line
Upon exiting the ticket gate (seen in the upper photo), you'll see a sign right away (in the lower photo).
Once out of the ticket gate, look up first. This sign has all the transfer information for the subway. To get to Asakusa, you'll need to ride the Ginza Line.
The Ginza line is marked on the sign with the letter "G" inside an orange circle. Like the sign says, you need to go diagonally to the right.
There are also these simple signs pointing to the subway.
Proceed according to the guide, and you will see these stairs. You need to go down them.
As soon as you're down the stairs, you need to turn left. Remember to check the sign with the orange-circled "G".
Proceeding along the left, you will see this dark, narrow road. You might feel a bit worried because it's a very long road, but please don't worry, just go forward. It will take about 3 minutes to reach the end.
If you walk for a while, you'll see the sign indicating that you're at the subway in Ueno Station.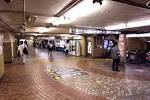 At the end of that dark road, you will be out in this broad space. If you look to the right of this photo, you will see the ticket gate to the first platform of the Ginza line.
Since Asakusa is in the other direction, you need to go to the second platform. Please be careful because the first platform leads to Shibuya!
2. Directions from JR Ueno Station to the Tokyo Metro Ginza Line
First, please go out the center gate of the station. It's the biggest ticket gate.
If you go out the main gate and turn to the left, you'll see a sign like in this photo. You'll see an orange circle indicating the Ginza Subway Line, and an arrow pointing down and to the right.
Follow the sign and go down the stairs. The staircase looks like this:
Once the stairs end, continue along a little and there'll be some more stairs.
After you've gone down the second staircase, you'll see the ticket gates to the Tokyo Ginza Metro Line.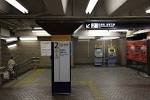 Once you've gone through the ticket gate, please proceed to the second platform. You'll see a sign like this showing you the way.
The platform of the Tokyo Metro Ginza Line looks like this (as of July 2015).
Once the train departs from Ueno, the next stations will be Inaricho → Tawaramachi → Asakusa. You will arrive at Asakusa Station in about 5 minutes.
In Conclusion
It should be much easier to make your way from Ueno to Asakusa now! Since there are multiple train lines that pass through Ueno Station transferring trains can be quite complex, but the two routes presented in this article will hopefully help you to make your way from Point A to Point B in a comfortable, timely fashion. Please use this article for reference whenever you want to visit Tokyo's classic downtown areas.

The information presented in this article is based on the time it was written. Note that there may be changes in the merchandise, services, and prices that have occurred after this article was published. Please contact the facility or facilities in this article directly before visiting.