Visit Fuefuki in Fall to Enjoy Delicious Grapes and Wine Tasting
Fuefuki, a city in Yamanashi easily accessible from Tokyo by direct train in 90 minutes, is famous for its fruit and wines. We introduce a day trip itinerary to Fuefuki in the fall, the best season to enjoy fresh grapes and delicious wine!
Enjoy the Fall Fruit in Fuefuki on a Day Trip from Tokyo
Fuefuki is a city in Japan's Yamanashi prefecture known for its bountiful fruit and wine production. Easily accessible from Tokyo's Shinjuku Station via the JR Chuo Rapid line, it's the perfect place to enjoy sightseeing, fruit picking, and wine tasting in the fall!
While Fuefuki is sometimes called the "Peach City," in the autumn, its main attractions are grapes and wine. The city hosts many of Japan's vineyards, as well as some of the country's most famous wineries.
This article introduces an itinerary to help you experience the best of Fuefuki's fall attractions as a day trip, as well as some recommendations for places to spend the night.
8:30 - 10:00 -- Getting to Fuefuki from Tokyo
We recommend starting your trip to Fuefuki from Shinjuku Station. A reserved seat on the JR Chuo Rapid line to Yamanashishi Station from Shinjuku costs 3,890 yen. Fuefuki is easily accessible from two stops on the rapid line: Yamanashi Station and Isawaonsen Station. For our route, it's best to start from Yamanashi Station.
Consider buying your tickets in advance, since JR EAST travel centers can become crowded. For more information on buying tickets, you can check JR's website. (English)
The trip itself takes 90 minutes and is a fantastic chance to enjoy the mountain scenery of Yamanashi. Look out for Mt. Fuji; on a clear day, it's easily visible from train, as well as a few spots in Fuefuki.
Our first destination is Fuefukigawa Fruit Park (Japanese). Public transportation from Yamanashishi Station is somewhat limited, so consider taking a taxi.
If you want to enjoy Fuefuki at a more leisurely pace, especially if you're planning to spend the night, you can also rent a bicycle from a shop just outside the station.
10:45 - 12:00 -- Fuefukigawa Fruit Park: Great Scenery and Gorgeous Grape Parfaits
Fuefukigawa Fruit Park, or Fuefuki River Fruit Park, is a sprawling park that is full of amazing natural scenery, as well as a number of restaurants and attractions.
Opened 25 years ago, the park's goal is to celebrate the variety of fruits and flowers grown in Yamanashi. The park grounds include 50 different types and 190 varieties of fruit and flowers, so they're always a kaleidoscope of seasonal colors.
Once you enjoy the scenery, make your way to the Budoya Kofu Park Café! They serve a number of seasonal treats, like this gorgeous grape parfait (1,620 yen). The café is one of several restaurants at Fuefukigawa Fruit Park.
The park also includes a small museum, which has a number of models depicting the history of fruit in Japan, as well as antique winemaking equipment.
At around 12:00, let's hop back in our cab and head to Misakanoen Grape House to pick some grapes, and then enjoy lunch!
12:30 - 14:30 -- Grape Picking and Lunch at Misakanoen Grape House
Misakanoen Grape House (Japanese) is a combination of vineyard, orchard, and restaurant. This popular travel destination offers both peach and grape picking courses, some of which include lunch.
Misakanoen Grape House's most famous fall activity is grape picking. From June until August, they offer peach picking, but starting in August, peach season wraps up and it's time to enjoy the grapes.
The grape house grows several grape varieties that ripen during different periods of the grape season, which runs from the end of August until the start of November.
When we visited in mid-October, the grapes ripe for picking were Muscat Bailey A, a variety commonly used to make red wine.
While Misakanoen's peach picking course is limited to two peaches, the grape picking course is all-you-can-eat! While you can't take any of the grapes from this course home with you, there are delicious bunches available for sale in their shop.
Grape picking courses including lunch cost 2,500 yen.
Don't eat too many grapes, because next up we're going to eat lunch! Misakanoen Grape House has a charming lunch area, where you can eat under the shade of the grape vines!
They offer a number of lunch options, including another of Yamanashi's regional specialties: hoto noodles! These broad-cut noodles are similar to udon, and are usually served in a miso-based broth with a large helping of local vegetables.
The grape house produces their own miso paste, so their hoto noodle lunch is the perfect way to experience this fresh, rich regional specialty.
15:00 - 16:30 -- Tours and Wine Tasting at Lumiere Winery
The last stop on our trip is Lumiere Winery, one of the oldest family-owned wineries in Japan! Established in 1885, this famous winery offers guided English-language tours of their vineyards and facilities, as well as wine tasting.
Picture courtesy of Lumiere Winery
Our tour of Lumiere Winery was a fascinating experience. The tour, which includes wine tasting, costs about 1,600 yen per person (depending on the wines tasted). Our guide (who spoke very good English) told us all about winemaking in Fuefuki, from the conditions that help the grapes grow, to Lumiere's rare grape varieties, and the history of the winery itself.
The tour included a chance to see Japan's unique Koshu grapes in Lumiere's vineyards. Despite their beautiful pink skins, these grapes are actually used to make white wines!
Inside the winery, we were shown Lumiere Winery's famous stone fermentation tank. This cavernous stone tank, which is the oldest European style fermentation tank in Japan, has a capacity of 10,000 bottles.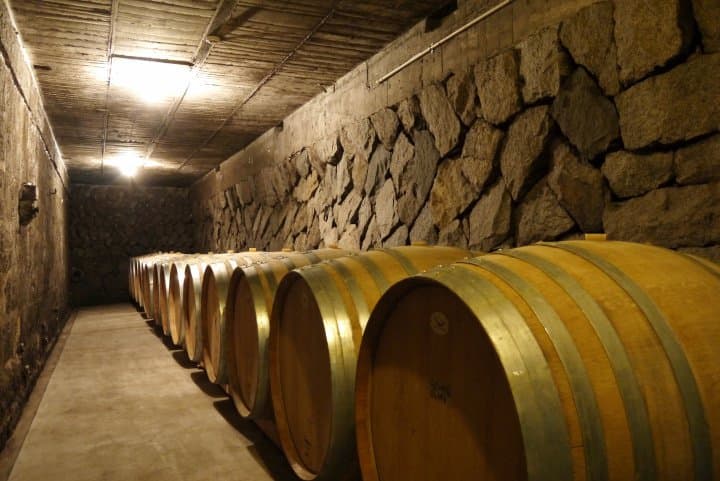 Picture courtesy of Lumiere Winery
Next, we saw some of the oak aging barrels in the underground cellar. These are quite a tourist attraction; some people have even held their wedding ceremonies in the cellar!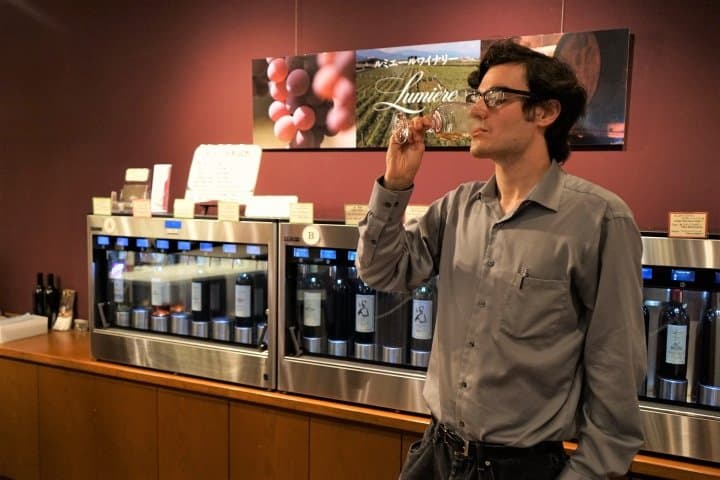 The last stop on our tour through Lumiere Winery was their shop and wine tasting area. We were able to taste several of Lumiere's distinctive wines, including a white wine made with Koshu grapes, and a red wine made from Muscat Bailey A grapes, fermented in Lumiere's famous stone tank.
The white wine was crisp and dry without being too sour or bitter. The red was surprisingly light but very dry without tasting overly tannic. Both of these wines were delicious and easy to drink regardless of one's general taste in wine.
Our guide mentioned that Lumiere's wine is uniquely suited to pairing with Japanese food. Since Japanese cuisine is often quite light and delicate, the lighter body of these wines makes them an excellent choice to enjoy with your favorite Japanese meal.
Spending the Night in Fuefuki
Now that we've enjoyed our day in Fuefuki, it's time to head back to Tokyo, or head to our accommodations for the night. Fuefuki boasts excellent hot springs in the Isawa Onsen area where there are several ryokans (traditional Japanese inns) that make a fantastic place to stay overnight.
We recommend Kikori (pictured above), a ryokan loved by international visitors, Kagetsu, a stylish ryokan with exquisite service, and Hana Isawa, which is located right near Isawaonsen Station.
If you're interested in historical buildings or Japanese culture, we recommend staying at one of these! Enjoy your explorations of Fuefuki on the following day. The Shakado Museum of Jomon Culture, Kikyoya Honsha - a famous factory of Shingen Mochi sweets, and Edoya, where you can learn how to make photo noodles, are just a few recommended destinations for your second day in Fuefuki.
Getting Back to Tokyo
When you're ready to head back to Tokyo, the most convenient way back is from Isawaonsen Station. From the station, you can get a ticket back to Shinjuku (3,890 yen), as well as do some last-minute souvenir shopping and wine tasting inside the station itself.
Enjoy Fuefuki in the Fall
Fuefuki is a beautiful place to visit regardless of the season. A paradise of fruit and flowers, there's always something new to explore and experience. If you're particularly interested in grapes and wine, make sure your next fall trip is to Fuefuki, which can be easily reached from Tokyo in about one hour and a half!

For more information on traveling, sightseeing, and activities in Fuefuki, please refer to this website: https://www.peach-city.com/.

Route summary
Shinjuku Station → Yamanashishi Station → Fuefukigawa Fruit Park → Misakanoen Grape House → Lumiere Winery → Isawaonsen Station → Shinjuku Station

Expenses
Transportation: 7,780 yen + taxi fees (*Isawa Taxi tel: 0120-612-277)
Snacks: around 2,000 yen
Activities: 4,100 yen

The writer visited these facilities on October 14, 2020.

Sponsored by Fuefuki City Tourism Department

The information presented in this article is based on the time it was written. Note that there may be changes in the merchandise, services, and prices that have occurred after this article was published. Please contact the facility or facilities in this article directly before visiting.