Day Trip to Chichibu: Ancient Shrines, Outdoor Adventure, and Hot Springs
Chichibu, just 80 minutes from Tokyo, is a fantastic destination for nature, history, and outdoor activities. Take a day trip using the convenient Seibu 1-Day Pass (1,000 yen) to explore one of Japan's most famous power spots, test your limits at Geo Gravity Park, and relax at the hot springs!
Immerse Yourself in Nature in Chichibu, Northwest of Tokyo
Forget the stress and noise of the concrete jungle in Tokyo and head out to Chichibu in Saitama Prefecture!
Just over an hour of travel, and you will be completely surrounded by mountains, fresh air, and greenery. Known for its many shrines and hiking trails, there is something for everyone in Chichibu.
You can visit the historical and powerful Mitsumine Shrine, have high-flying fun at Chichibu Geo Gravity Park, and unwind at Matsuri no Yu, the hot springs facility in front of Seibu Chichibu Station.
Below is our suggested itinerary, which starts off at Ikebukuro Station!
8:00 - Grab the Seibu 1-Day Pass at the SEIBU Tourist Information Center Ikebukuro
The fastest, easiest, and cheapest way to get to Chichibu is via Seibu Railway's brand new special express train Laview. Laview was opened in March 2019 and gets you to Seibu Chichibu Station as fast as 77 minutes.
Visitors from overseas can purchase the convenient SEIBU 1Day Pass, a discount transit pass for international travelers. All you need to do is show your passport at the counter. The SEIBU 1Day Pass costs just 1,000 yen and allows you to board any regular, semi-express, or express train operated by Seibu Railways (excluding the Tamagawa Line). Please note that special express trains like Laview require an additional seat reservation ticket.
First, head over to the SEIBU Tourist Information Center Ikebukuro (pictured above) located on the first-floor East Exit of Ikebukuro Station. Here you can purchase the Seibu 1-Day Pass as well as the additional express train ticket needed to board Laview.
The employees at the information center speak several different languages. English and Mandarin speakers are available every day, while speakers of German, Portuguese, and other languages come only on specific days. You can check which languages are available that day on their board.
Walk over to the platform, and be sure to leave yourself a few minutes to take photos of the uniquely designed train! Once inside, you may be surprised by the color scheme. The yellow seats create a homey and relaxing atmosphere.
8:30 - 9:51 -- From Tokyo to Chichibu: Take in the Views Aboard Laview
Relax, eat some breakfast, and enjoy the views as the scenery changes from city streets, to fields, and to mountains. Keep an eye on the left side -- if you're lucky, you may be able to catch a glimpse of Mt Fuji.
There is also free WiFi on board for those who wish to use the internet on the way.
At Hanno Station the direction of the train changes, so don't be alarmed if you are asked to turn your seat the other way. Please be considerate of other passengers when handling your seat.
10:05 - 11:40 -- Ride the Bus to Mitsumine Shrine
The bus to Mitsumine Shrine departs at 10:05 from platform 5 outside Seibu Chichibu Station. It tends to get quite busy on the weekends, so you may see a long line. Don't be discouraged, as they usually deploy an extra bus in this case. You can pay the 950-yen fare by IC card or cash, but be aware that they cannot take any bills larger than 1,000 yen. (The bus fee is not included in the SEIBU 1Day Pass.)
The bus ride over is absolutely breathtaking, with beautiful vistas and landscapes surrounding you the entire time.
After some twists and turns as the bus makes its way up Mt. Mitsumine, you will arrive at Mitsumine Shrine, located at the summit of the mountain.
11:45 - 12:30 -- Explore Mitsumine Shrine and Pray for Good Fortune
Mitsumine Shrine is known for its rich history and impressive wooden structures decorated with extremely detailed, colorful carvings. The shrine is said to bring good fortune to its visitors. It was allegedly founded by the legendary prince Yamato Takeru in 111 AD.
You will first enter through a rare three-part torii gate with golden detailing.
Note the stone wolves guarding the gate on each side. Usually, you would see stone dogs at shrine entrances. This is one of the few shrines that pays homage to wolves (okami), as they are considered messengers of the gods.
This shrine used to be a place of worship that combined Shinto and Buddhist religious views and practices. It features a blend of Shinto and Buddhist imagery, which explains why you will see "mon" (gates) that are typically found only at Buddhist temples.
You will reach a fork in the road once you get past the main torii gate. To the left is a large gate called Zuishinmon Gate (pictured above), which is also flanked by wolf statues. Walk through this gate to reach the main shrine.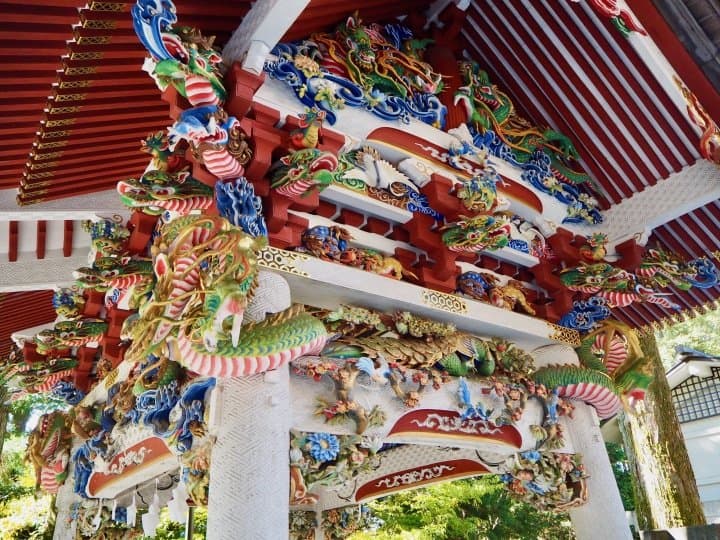 Once you arrive at the main shrine hall, wash your hands at the purification fountain, then walk up the stairs to the shrine.
When you reach the main hall, throw in a coin in the donation box, and make a prayer by bowing twice, clapping twice, and bowing once more.
To the left of the main hall you may see some people taking pictures of the floor. That is because there is a dragon-like image in the stone, which is said to have appeared suddenly in 2012.
Be sure to take your time looking at all of the detailed carvings on each of the buildings, as colorful carvings like these are quite rare at Japanese shrines. The picture above shows a spectacular wooden lantern with intricate carvings. This lantern is located right in front of the main hall.
There are also two large cedar trees in front of the shrine that are considered sacred trees. Visitors can touch these trees and make a prayer, as they are supposed to bring you good energy and fortune.
12:30 - 13:15 -- Enjoy Lunch near Mitsumine Shrine
Just outside the main torii gate of Mitsumine Shrine there are several souvenir shops and dining places. We recommend getting lunch at Ohshimaya, which makes fresh soba and udon noodles everyday. If it's a nice day, grab a seat outside overlooking the mountains below. In the fall, it is an especially spectacular sight with the changing autumn leaves.
If you're looking for an extra snack, there are stands in the same area that sell dango (rice cakes), grilled shiitake mushrooms, miso konjac skewers, and other delicious local specialties.
13:30 - 14:15 -- Take the Bus to Mitsumineguchi Station
The bus stop is right at the foot of the stairs toward the parking lot. Wait here for the 13:30 bus, which will take you back the same way you came. However, don't go all the way until the last stop. Get off at Mitsumineguchi Station. The ride costs 650 yen.
14:30 - 16:15 -- Zip-line across the Arakawa River at Chichibu Geo Gravity Park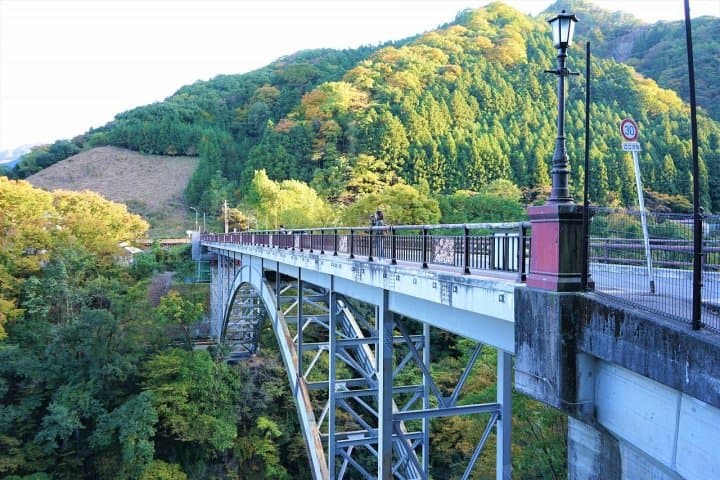 Once you get off at Mitsumineguchi, walk back the way the bus came. You should be walking on a slight incline. After 5 minutes or so, you'll reach a bridge. You may even see others zip-lining or walking across the suspended bridge in the distance!
Cross the bridge to get to the other side of the river. Turn right, and after a few minutes, you will reach the entrance to the Chichibu Geo Gravity Park.
Opened in March 2019, Chichibu Geo Gravity Park is a relatively new establishment located in the middle of Chichibu Geopark. Their activities are designed using natural materials, aiming to infuse nature with adventure.
Visitors can choose from a few options. The first is the basic plan, which includes a Canyon Walk Canyon Fly (3,000 yen). The Canyon Walk involves walking across a shaky wire bridge with large gaps between each plank, while the Canyon Fly is a zip-line ride across the river.
For the truly daring, there is the Canyon Swing option (11,000 yen). This activity is essentially an upright bungee jump, where you sit in a harness connected to a cord that releases you, sending you falling and swinging just above the river.
We went with the basic option, which was both thrilling and terrifying.
The Chichibu Geo Gravity Park staff ensure that you are safe and take extra precautions to keep you secured to the cables at all times, even when waiting for your turn.
If you have some time to spare, you can watch the fearless souls who chose to do the Canyon Swing. As you admire their courage, you may be tempted to try it yourself!
16:45 - 17:15 -- Make Your Way Back to Seibu Chichibu Station
Walk back towards Mitsumineguchi Station to catch the 16:45 bus. This will take you back to the train station in about 30 minutes.
17:20-18:15 -- Matsuri no Yu: Relax at the Hot Springs and Buy Souvenirs
Right next to Seibu Chichibu Station is Matsuri no Yu, a place for shopping and replenishment.
Here you can relax at the hot spring facility, which has several different baths such as silk and bedrock baths. There is also a Japanese restaurant in the onsen area that serves local specialties such as waraji katsudon (pork cutlet on rice) and soba noodles.
Admission to the hot spring area costs 990 yen on weekdays and 1,100 yen on weekends.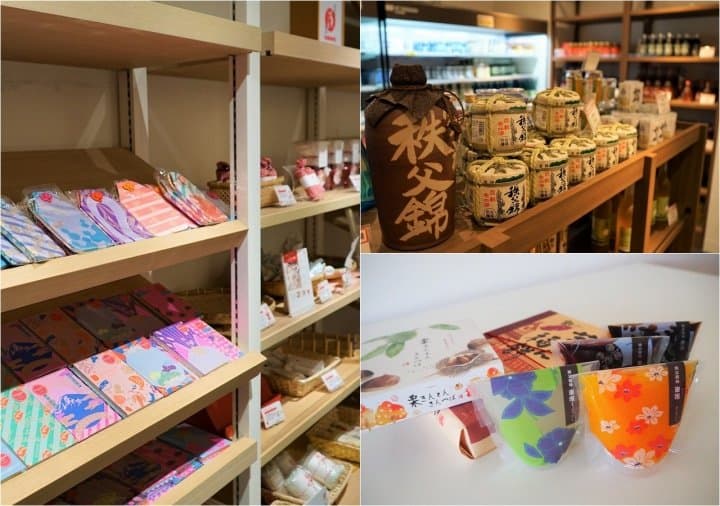 On the first floor is a long hall with souvenir shops on one end and a food court on the other. The souvenir market has a large array of products, from local wine and specialty tofu to silks, scarves, and cosmetics.
At this point, you might be feeling a bit hungry, so the food court is a great place for a quick bite. Here you can find ramen, gelato, yakiniku dishes, and rice bowls.
18:24 - 19:47 -- Back to Tokyo
Once you reach Seibu Chichibu Station, head over to the ticket office to buy an express ticket with your assigned seat for the way back. Enter the ticket gates using your SEIBU 1Day Pass.

We hope you enjoy this spiritual, beautiful, and action-packed day in Chichibu. Who knows, maybe the powers of Mitsumine Shrine will indeed bring you good fortune!

Route Summary
Ikebukuro Station → Seibu Chichibu Station → Mitsumine Shrine → Lunch nearby → Chichibu Geo Gravity Park → Matsuri no Yu → Seibu Chichibu Station → Ikebukuro Station

Expenses
Transportation: 4,640 yen (train 2,560 yen; bus 2,080 yen)
Lunch: around 1,000 yen
Activity at Geo Gravity Park: 3,000 yen
Matsuri no Yu - Onsen and Souvenirs: Around 2,000 yen

Discover other amazing destinations that can be explored using the Seibu 1-Day Pass on the following website: https://www.seiburailway.jp/railways/tourist/english/

The writer visited these facilities on October 31, 2020.

Supported by Seibu Railway

The information presented in this article is based on the time it was written. Note that there may be changes in the merchandise, services, and prices that have occurred after this article was published. Please contact the facility or facilities in this article directly before visiting.