Traditional Crafts, History, and Hot Springs! A Trip to Odawara and Hakone
Hakone and Odawara are two of the most historically and culturally rich cities that developed along the Tokaido, the historical road that connected Tokyo and Kyoto in the past. This day-trip itinerary from Tokyo introduces great places to visit, local specialties, traditional crafts, and more!
Explore Historical Routes in Odawara and Hakone
Hakone is one of the most popular travel destinations in Japan. Full of historical locations and stunning natural vistas, it's a great place to visit on a day trip from Tokyo. But Hakone is one of several stops along the Tokaido, the historical road that connected Kyoto and Edo (present-day Tokyo) in the past. Odawara, Mishima, and other places along this historical route are also rich with Japanese history and culture.
This article will outline a one-day itinerary that includes both Hakone and its neighbor, Odawara. This route full of history, nature, and traditional crafts makes a great day trip from Tokyo, or the perfect first-half to a two-day journey exploring the area known as Hakone Hachiri. Hakone Hachiri refers to the old Tokaido route that connects the historical post towns of Odawara, Hakone, and Mishima. This area has been designated a national heritage site of Japan.
8:57-9:30 -- From Tokyo to Odawara
From Tokyo Station, getting to Odawara is a breeze; by Shinkansen, the trip takes just over half an hour and costs 3,810 yen.
10:00-11:00 -- Experience the History of Odawara Castle
Once you arrive at Odawara Station, head out the east exit and turn right. Our first stop is Odawara Castle, which is about a ten-minute walk from the station. This castle, which was rebuilt in 1960, is surrounded by historical sites and captivating scenery. A visit here is like traveling back through time.
Past the series of gates, you'll find the castle courtyard. It's free to enter, and often hosts events like artistic flower displays and local festivals. When we visited, we were able to see a beautiful display of chrysanthemums.
Picture courtesy of Hakone Hachiri Kaido Tourism Promotion Council
In the center of the courtyard stands the Odawara Castle Tower. Entrance tickets cost 510 yen for adults or 200 yen for children under 16. Once you're inside, be sure to scan the audio guide QR code, which will allow you to access a multi-language guide to the history of Odawara Castle.
Each display also has English text, so it's easy to understand the significance of each piece of history related to Odawara Castle.
The castle's first floor is home to many historical artifacts from the city of Odawara, as well as models of the castle and town as they would have looked in their heyday around 400 years ago.
The second floor details the Hojo family, the historical rulers of the castle, and the climactic battle for Odawara Castle in the 1500s. The third and fourth floors show the history of the castle grounds themselves.
Finally, the fifth floor is the castle tower. This is the most important part of this structure, therefore an altar enshrining the guardian deity of the castle is located here. The observation deck offers a spectacular view of the ocean, mountainside, and down on Odawara Station. From here, it's easy to imagine the view that the castle owners from the old days used to enjoy.
11:30-12:00 -- Lantern Workshop at the Odawara-Juku Nariwai Exchange Building
Walk south from Odawara Castle for about 5 minutes and you'll reach a street that preserves the traditional atmosphere of Hakone Hachiri. Odawara-Juku Nariwai Exchange Building, a charming building originally constructed in the 1930s as a fishing net wholesale shop, is located here. This facility is now used for a number of community activities and cultural exchange programs.
One of the most popular is their Odawara lantern workshop, where a local will show you how to make your own collapsible paper lantern! This 90-minute activity costs 1,000 yen and is held two Sundays a month, all day.
While the community center has currently suspended the workshop, they plan to resume hosting it once domestic travel restrictions are lifted.
12:00-13:15 -- Tasting Odawara's Specialties on Kamaboko Street
Rounding the corner of the cultural exchange building and turning south, you'll find yourself on Kamaboko Street, named for the Japanese fishcakes famously sold here. Sitting right by the ocean, Odawara is renowned for its fish, and these shops are no exception.
Be sure to try a savory grilled kamaboko skewer on your way by!
This area is also packed with amazing restaurants. One of these is Seifuro, a local favorite that's actually been in business for more than 150 years. They're best known for their sashimi and eel dishes, but also have non-fish options like a delicious smokey teriyaki bowl or tempura bowl dishes.
13:30-14:15 -- Sweet Traditional Treats at Uirou
Once you've had lunch, head west from the cultural exchange building along the main road, and in 5 minutes you'll come to a building that looks like it came straight out of a historical drama; this is Uiro, a traditional sweets shop!
Established nearly 500 years ago, Uirou was originally a traditional medicine shop; now, they're better known for their Japanese sweets. This is the ideal place to pick up some souvenirs to enjoy their traditional flavors at home. The shop also includes a small Japanese café, so you can take a break while enjoying a cup of tea and seasonal sweets.
14:14-14:45 -- Heading to Hakone
Next, we're heading to Hakone! Right outside Uirou, you'll find the Hakoneguchi bus stop; there, you should board a bus for Hakone-Yumoto Station. Once you arrive at Hakone-Yumoto Station, about a 10-minute trip, take the Tozan bus to Hatajuku. This will take another 15 minutes.
15:00-16:00 -- Discover Traditional Japanese Woodcrafts at Hamamatsuya
Right across from the Hatajuku bus stop, you'll see Hamamatsuya, a woodcrafts store. This 100-year-old store sells items made in a woodcraft style called yosegizaiku, which is unique to Hakone. Different colored woods are assembled to form intricate patterns, then cut into thin sheets and used to cover wooden objects. Hakone yosegizaiku is an officially-recognized traditional craft of Japan.
The wood isn't dyed; instead, this artform showcases an impressive variety of natural wood coloration. The shop has a wide range of souvenirs that showcase this traditional craft, including kitchenware and interior items decorated with a thin, laminated sheet of the patterned wood.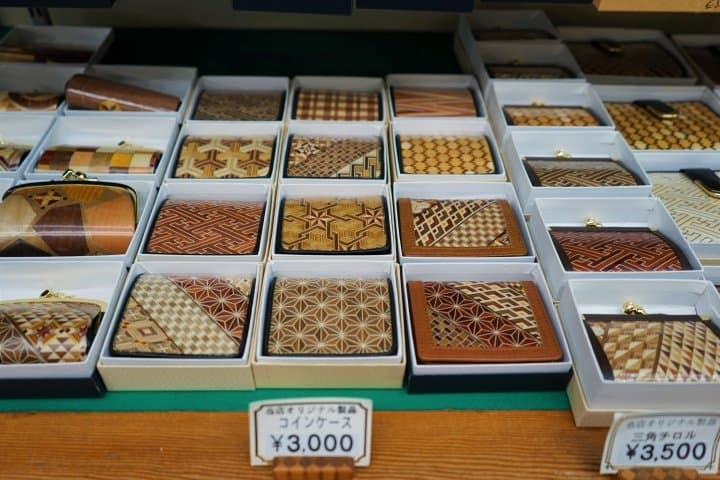 Hamamatsuya is the perfect place to find a gift unique to Hakone!
16:30-17:30 -- Back to Tokyo or on to the Hot Springs
If you're visiting Odawara and Hakone on a day trip, this is a good time to head back to Tokyo; simply take the bus back to Hakone-Yumoto Station, and from there go by train to Odawara Station. From Odawara Station, it's just a 30-minute ride on the Shinkansen back to Tokyo.
But there's a lot more to explore in Hakone, and many beautiful and historical hot spring inns to spend the night in.
Picture courtesy of Hakone Hachiri Kaido Tourism Promotion Council
One of the most charming local accommodations is Kansuiro Ryokan, located in Hakone. Kansuiro was established in 1614 in the Tonosawa district of Hakone as a hot spring health resort. In the Meiji period (1868-1912), the previous building with its beautiful traditional architecture was renovated into an annex.
The outdoor bah at Kansuiro. Picture courtesy of Hakone Hachiri Kaido Tourism Promotion Council
For a stay in the annex, the guests are only charged the room fee for a bed-and-breakfast-style accommodation. Dinner can be enjoyed at the adjacent Italian restaurant or at a facility nearby, introduced by the ryokan staff.
There are a total of 17 hot spring resorts in Hakone, including the Yumoto and Tonosawa areas. Another recommended accommodation is the historical ryokan Bansuiro Fukuzumi, a part of which was designated an important cultural asset of Japan.
Enjoying the History of Odawara and Hakone
Whether you visit for a day or stay and enjoy an amazing hot spring inn in the area, Odawara is a town rich with history and culture, and full of locals who are passionate about sharing it with everyone who visits!

For more information about the Hakone area, be sure to check out our companion article on more Hakone locations, and the neighboring city of Mishima! You can also find information on the official website of Hakone Hachiri: https://hakonehachiri.com/

Route summary
Tokyo Station → Odawara Station → Odawara Castle → Odawara-Juku Nariwai Exchange Center → Kamaboko Street → Uirou → Yosegizaiku Hamamatsuya → Ryokan Tenseien → Hakone-Yumoto Station → Odawara Station → Tokyo Station

Expenses
Transportation (day-trip): around 10,000 yen
Entrance fees, activities: about 1,500 yen
Lunch, snacks: about 2,500 yen

The writer visited these facilities on November 5, 2020.

Sponsored by Hakone Hachiri Kaido Tourism Promotion Council

The information presented in this article is based on the time it was written. Note that there may be changes in the merchandise, services, and prices that have occurred after this article was published. Please contact the facility or facilities in this article directly before visiting.