Exploring TOKYO mizumachi, a River Shopping District by TOKYO SKYTREE®
TOKYO mizumachi is a new shopping district spanning between Sumida River and TOKYO SKYTREE®. Visit this district for a fun day strolling along riverwalks, enjoying stylish desserts and sky-high views, and gazing at the night sky in a comfortable planetarium.
TOKYO mizumachi - Beautiful Shops along the River
TOKYO mizumachi is a waterfront shopping district that opened in 2020 along the TOBU SKYTREE Line connecting Asakusa and TOKYO SKYTREE Station. Along with Tokyo Solamachi, where TOKYO SKYTREE is located, this area is ideal for a relaxing day out exploring cute shops and cafes.
Our recommended itinerary includes scenic strolls along a river lined with elegant shops, views from TOKYO SKYTREE, one of the tallest buildings in the world, exciting exhibits at the Postal Museum, and fabulous nighttime sky views at a planetarium.
9:15 -- Depart from Asakusa Station
Depart from Tobu Asakusa Station and head over to SUMIDA RIVER WALK, located just north of the station. Walk along the river until you reach the entrance to SUMIDA RIVER WALK.
9:30 - 10:00 -- Cross the River on the SUMIDA RIVER WALK
Make your way across the river on the SUMIDA RIVER WALK, which will lead you directly to Tokyo Mizumachi.
You will have a gorgeous view of TOKYO SKYTREE, as well as Sumida Park and the buildings along the river.
10:00 - 10:30 -- Explore TOKYO mizumachi
Once you arrive on the other side of the river, you will find yourself in Sumida Park, with TOKYO SKYTREE standing tall in front of you and TOKYO mizumachi on the right.
TOKYO mizumachi opened in June 2020 and is located right under the TOBU SKYTREE Line railway. Here you can explore 14 different establishments, ranging from diners and breweries to a bouldering gym and a hostel.
TOKYO mizumachi is divided into west and east sides, and each shop has a number (e.g. W01) so it's easy to find the store you are looking for. You can choose to walk on either side of the tracks; one side runs along the Kitajukken River, a stream that flows into Sumida River, and the other side is connected to Sumida Park. The atmosphere truly harmonizes nature and city, making it the perfect place for a relaxing stroll.
10:30 - 11:15 - Take a Break at Ichiya
Ichiya is a beautiful Japanese confectionery and sweets shop located on the west side of TOKYO mizumachi. With their clean, white exterior and spacious interior, it is reminiscent of the meticulousness of Japanese cuisine.
You can choose to either sit inside or order take away and eat in the park or on one of the benches outside.
For takeaway, there are various types of daifuku (rice cake with sweet azuki bean filling), dorayaki (Japanese pancakes with sweet azuki bean filling), and warabi mochi (chewy dessert made from bracken starch) to choose from.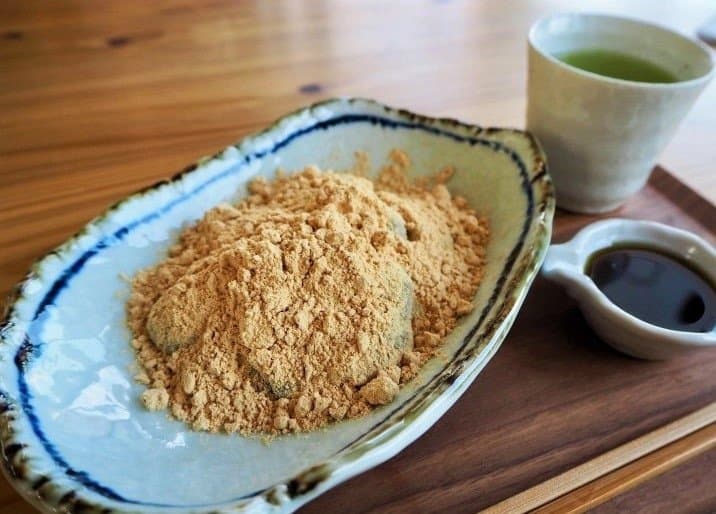 The eat-in menu is extensive, with options ranging from anmitsu (a jelly and fruit dish) and parfaits to warabi mochi and zenzai (sweet azuki soup with mochi rice cakes). The shop also offers many different types of tea and coffee beverages that are ideal for a mid-morning pick-me-up.
11:15 - 12:00 -- Head over to TOKYO SKYTREE
Once you feel refreshed and ready to take on a different part of town, it's time to walk to TOKYO SKYTREE TOWN, just 10 minutes away.
To get there, simply follow the same path along TOKYO mizumachi and you'll reach a large road. TOKYO SKYTREE will be right in front of you!
12:00 - 13:00 -- Get a Bird's Eye View of Tokyo
The escalators from street level will lead you to the main ticketing area of TOKYO SKYTREE.
Grab your tickets at the ticket counter; an adult ticket costs 3,100 yen on weekdays or 3,400 yen on weekends and holidays. Then, head up to the Tembo Deck, located 350 meters above ground. On days with clear weather, you can enjoy panoramic views of not just Tokyo but also of surrounding prefectures like Chiba, Kanagawa, and Saitama, as well as the mountains in the Kanto Region.
Once you feel ready to go even higher, you can take the elevator one hundred meters up, leading you to the Tembo Galleria. Here there's a sloped 110-meter corridor that makes you feel like you are in a futuristic space ship.
13:15- 14:00 -- Refuel at TOKYO Solamachi
Once you get off the elevators from your adventure in the sky, walk along the overhead pass on the fifth floor that will take to you to TOKYO Solamachi, the commercial complex at the base of TOKYO SKYTREE.
Here you can find a wide variety of options for lunch. The third floor is home to Food Court Solamachi Tabe-Terrace, while on the sixth and seventh floors you'll find the Solamachi Dining area with several restaurants. Whether you are in the mood for Japanese, Chinese, Italian, Korean, or Indian food, the options are endless.
14:15 - 15:00 -- Learn about the History of Japan's Impeccable Postal System
TOKYO SKYTREE TOWN is home to several exciting museums, a planetarium, and an aquarium. The Postal Museum Japan, located on the ninth floor, is a great place to learn about the history of Japan's postal service.
To get to the museum, take the elevator or escalator to the eighth floor. From there, change to the special elevator for floors 8 to 10 and get off on the ninth floor. There is also a staircase on the eighth floor if you would rather take the stairs. Entrance costs 300 yen for adults and 150 yen for children (high school and younger).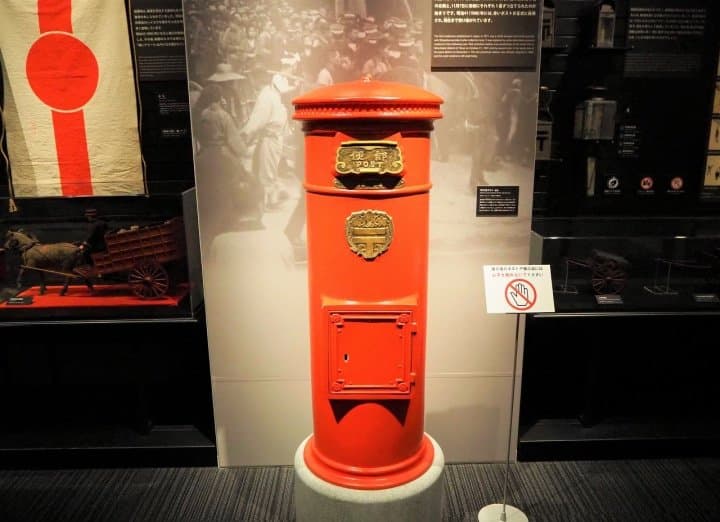 The Postal Museum Japan takes you on a journey through the history of Japan's postal service, which was established in the 19th century. You can see historical artifacts like the post boxes, uniforms, and delivery bags that have been used throughout the years.
There is also an impressive stamp collection that houses approximately 330,000 stamps from around the world. The stamps are a great way to get a glimpse into the histories and cultures of the countries where they were issued.
There is a special exhibition zone in the back whose content changes regularly, so please check the website of the Postal Museum Japan for more details.
15:20 - 16:20 -- Stargaze at the KONIKA MINOLTA PLANETARIUM "TENKU" in TOKYO SKYTREE TOWN®
Just under the Postal Museum, on the eighth floor, is the KONIKA MINOLTA PLANETARIUM "TENKU" in TOKYO SKYTREE TOWN®.
This planetarium first opened in 2012 and was fully renovated in 2017. It is currently used for both educational and entertainment purposes. Visitors can learn about the stars and cosmos while reclining and gazing out at the sky above.
The planetarium shows several programs each day, all of which are produced by Konica Minolta. Prices vary from 1,500 to 2,600 yen, depending on the show. You can check the full schedule and pricing details online.
Some of the programs are meant to be relaxing and feature less narration, while others feature music by famous Japanese artists, or have educational elements and thus more narration.
The Planetarium uses its own multifunctional technology, which integrates a projection system with video and camera equipment. There is also a unique 3D sound system, the SOUND DOME®, which you can experience at select screenings.
Some of the shows also offer free multilingual audio services for those who wish to listen to the content in English, Chinese, or Korean.
16:30 - 17:30 -- Souvenir Shopping in TOKYO Solamachi
Go down to the fourth floor for the ultimate souvenir shopping experience. If you want to get your friends and family unique Japanese gifts, this is the best place to find some!
You can find practical items such as stationery, travel accessories, and high-quality knives, as well as specialty items like plastic food replicas, building blocks, and figurines. There is even a Daiso 100-yen shop for anything else you may have missed.
17:30 -- Head Back to Asakusa Station
It's time to call it a day and head back to Asakusa Station. We suggest walking back and enjoying the lighting! TOKYO SKYTREE, the SUMIDA RIVER WALK, and the bridges across Sumida River are all beautifully lit up in the evening.
Picture courtesy of TOBU Railway Co., LTD.

At this point, you are probably ready to lie down for a good, long rest. For those searching for a place to stay, look no further than the brand new Asakusa Tobu Hotel, conveniently located just next to the station. The hotel rooms offer fabulous views of the city.

We hope you get a good night's sleep after a day full of new encounters in TOKYO mizumachi and Solamachi!

Route Summary
Asakusa Station → SUMIDA RIVER WALK → TOKYO mizumachi → TOKYO SKYTREE → Lunch at Solamachi → Postal Museum Japan → KONIKA MINOLTA PLANETARIUM "TENKU" in TOKYO SKYTREE TOWN® → Souvenir shopping at Solamachi → Asakusa Station

Expenses
Lunch and snacks: around 2,500 yen
TOKYO SKYTREE entrance fee: 3,100 yen on weekdays/3,400 yen on weekends and holidays (For details, please check the official website of TOKYO SKYTREE)
Postal Museum Japan: 300 yen
Konica Minolta Planetarium show: 1,700 yen
Souvenirs: around 2,000 yen

The writer visited these facilities on November 18, 2020.

Supported by TOBU Railway Co., LTD.

The information presented in this article is based on the time it was written. Note that there may be changes in the merchandise, services, and prices that have occurred after this article was published. Please contact the facility or facilities in this article directly before visiting.