Unique Art Museums in Saitama - Dolls, Bonsai, and Cartoon History
Discover the traditional arts and crafts of Japan on a day trip from Tokyo to Iwatsuki and Omiya in Saitama! Beautiful displays of traditional Japanese dolls, the secrets of bonsai art, and the roots of Japanese cartoon art will all give you deeper insights into Japanese culture.
Explore the Creative Side of Tokyo's Neighbor, Saitama!
Saitama prefecture is a popular destination for day trips from Tokyo. In addition to bustling cities like Omiya, Urawa and Saitama, it boasts beautiful nature spots and towns with traditional townscapes.
Saitama City offers excellent art museums and cultural facilities. This day-trip itinerary will introduce you to three museums in Saitama that showcase traditional arts with a twist!
9:00 - 9:48 -- Travel from Ikebukuro to Iwatsuki Station
Our itinerary starts at Ikebukuro Station in Tokyo. Take the 9:00 train on the Shonan Shinjuku Line heading to Koganei and change at Omiya Station for the Tobu Urban Park Line. It takes about 48 minutes to Iwatsuki Station. From there, Iwatsuki Ningyo Museum can be reached in about 10 minutes on foot.
10:00 - 11:00 -- Discover the Art of Japanese Doll Making at Iwatsuki Ningyo Museum
Doll making has a long tradition in Japan. The Iwatsuki Ningyo Museum, which opened in February of 2020, introduces traditional ningyo (dolls) from all around Japan, as well as how they are made.
The Ningyo Museum consists of three exhibition rooms, each with a different focus. The first room introduces the steps necessary to make a Japanese doll. The entire making process--from creating the head and the realistic-looking eyes to hair, costumes, and accessories--is introduced through pictures and authentic examples.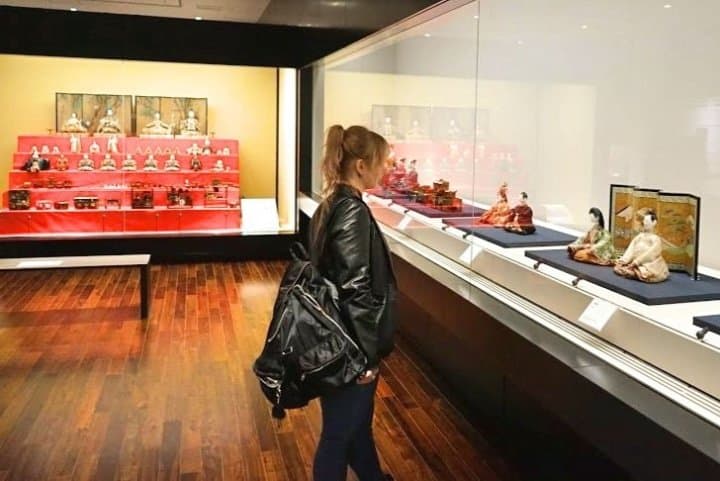 The second room shows a variety of traditional dolls created in the nineteenth century, as well as other historical examples. While most traditional dolls were created for display, such as the famous Hina dolls that can be seen at the Girls' Festival in March, others were actually made for children to play with them.
In recent years, people started to craft dolls with a variety of materials that were easier to acquire. Dolls made from wood, paper, thread or textiles can be found on display.
The last room is dedicated to special exhibitions. When we visited, we enjoyed an exhibition titled "Images of Childhood," which featured artistic dolls with extremely refined features.
11:00 - 12:00 -- An Organic, Delicious Lunch at Yoroken Caffe
Yoroken Caffe is located near the Iwatsuki Ningyo Museum, and is the perfect place for a delicious lunch in Iwatsuki. The cafe is operated by Saitama European Vegetables, a company that grows and introduces European vegetables to the Japanese market.
Their vegetable line-up includes fennel, colorful carrots and beets, as well as kale, which is still rather rare in Japan. Local vegetables, as well as handmade sweets and condiments, can be purchased in the shop adjacent to the cafe.
Their most popular lunch option is the Yoroken Vegetable Plate with Pork (1,400 yen before tax) and the Yoroken Curry (1,200 yen before tax). Both are delicious, fresh, and filling.
The cafe's special herb tea (600 yen before tax) goes well with the dishes, all of contain a generous quantity of fresh vegetables.
For dessert, we highly recommend their gelato, which is produced in Chichibu, a nature-rich area in Saitama. The gelato comes in several unique flavors such as chocolate with beets, peach and yoghurt, cafe latte, refreshing kabosu citrus, and others.
12:17 - 12:38 -- Travel to the Omiya Bonsai Art Museum
Let's walk back to Iwatsuki Station and take a train toward Omiya. Take a local train on the JR Line and get off at Toro Station. The Omiya Bonsai Art Museum is an 8 minute walk from here.
13:00 - 14:15 -- Omiya Bonsai Art Museum: Marvel at Living Works of Art!
Omiya Bonsai Art Museum is located in an area known as Omiya Bonsai Village.
Since the Edo period (1603 - 1868), gardeners living in the Bunkyo ward of Tokyo took care of the gardens of feudal lords and samurai.
In the Meiji period (1868 - 1912), some of these gardeners began to specialize in bonsai. The Great Kanto Earthquake of 1923, which destroyed much of Tokyo, forced these gardeners to find another place with suitable conditions to grow their bonsai; many of these plants were already centuries old.
As a result, a community of bonsai artists settled down in Omiya, laying the foundation of the Omiya Bonsai Village. Here, the locals custom of displaying bonsai trees helps share their beauty and unique nature with visitors.
The Omiya Bonsai Art Museum consists of two indoor exhibition areas and an outdoor display of bonsai. The main exhibition area introduces the art of growing bonsai, as well as how to appreciate these living works of art.
Outside, visitors ca see many different bonsai with various shapes. Spring and autumn are the best times to visit the museum, as its cherry and maple bonsai are a feast for the eyes with their blooms and foliage.
Many of the bonsai on display have an estimated age of over one hundred years. There are even trees with an age estimated at five centuries. Each one of them has distinctive traits and it's easy to understand why trees with unusual shapes were believed to be the dwellings of deities. Their beauty is almost surreal.
The museum's temporary exhibition area hosts special exhibitions showing documents and artwork related to bonsai culture. Check these out for a deeper understanding of this fascinating art that embodies the cooperation between people and nature.
14:30 - 15:45 -- Explore the Roots of Japanese Cartoon Art
The Saitama Municipal Cartoon Art Museum, just a short walk from the Bonsai Museum, is dedicated to the Japanese cartoonist Rakuten Kitazawa (1876 - 1955). In fact, this museum was built on the lot of Rakuten Kitazawa's former house.
Rakuten Kitazawa enjoyed drawing from a young age and later learned illustration from an Australian cartoonist. After working for a while as a newspaper illustrator, he founded "Tokyo Puck," the first Japanese cartoon magazine, which had a great influence on the beginnings of manga art. Kitazawa had several disciples that shared his ambition to create thought-provoking, expressive cartoons.
Objects owned or made by Kitazawa are also on display. The garden of the residence is beautifully maintained and reflects Saitama's seasonal charms.
There is a free reading room on the second floor with full collections of famous manga works. (*1)
*1... At the time of this coverage, the second-floor reading room was temporarily closed as a measure to prevent the spread of COVID-19 infections.
After 16:30 - Back to Ikebukuro Station
After visiting these museums, we suggest taking a walk around the Bonsai Village. Some bonsai gardens are open to visitors. (*Please note that in many cases, photography is not allowed.)
From Toro Station, you can ride a train on the Shonan Shinjuku Line that will take you to Ikebukuro or Shinjuku in Tokyo.
Find Inspiration in Saitama's Artistic Side
Saitama is always worth a visit, but getting to know the arts and culture of this area can be really inspiring. Embark on a day trip to see Tokyo's neighbor from a new perspective!

Find other great places to visit in Saitama using the following website: http://www.pref.saitama.lg.jp/chokotabi-saitama/eng/

Route summary
Ikebukuro Station → Iwatsuki Station → Iwatsuki Ningyo Museum → Yoroken Caffe → Iwatsuki Station → Toro Station → Omiya Bonsai Art Museum → Saitama Municipal Cartoon Art Museum → Toro Station → Ikebukuro Station

Expenses
Transportation: 1,460 yen
Entrance fees: 610 yen
Lunch, snacks: around 1,500 yen

The writer visited these facilities on November 20, 2020.

Supported by Saitama Prefecture

The information presented in this article is based on the time it was written. Note that there may be changes in the merchandise, services, and prices that have occurred after this article was published. Please contact the facility or facilities in this article directly before visiting.