Tsukuba - Japan's Creation Myths And Highest Technology In One Place!
Tsukuba is best known as Japan's "Science City" because of its many research facilities. But did you know that Mount Tsukuba has a deep connection to Japan's creation myths? This itinerary will allow you to explore both sides of Tsukuba in one day!
One of the fascinating sides of Japan is its image of being at the same time the home of millennial traditions and the birthplace of some of the most advanced technologies. Did you know that there is actually a place where you can experience both of these two extremes of Japanese culture on the same day?
That place is Tsukuba, widely known as Japan's "science city". Located northeast of Tokyo, in Ibaraki Prefecture, Tsukuba is reachable in no more than 45 minutes from Akihabara by the convenient Tsukuba Express!
Picture courtesy of Ibaraki Prefecture
What's amazing about this city is that it's the home of Mount Tsukuba, a mountain strongly connected to the two deities who, according to the national creation myth, created the Japanese archipelago at the beginning of time. At the same time, it is the place where facilities such as JAXA – Japan Aerospace Exploration Agency, Tsukuba University and its research centers, and many research and technology development facilities are located!
In this article, we suggest a one-day itinerary that will give you the chance to explore both to the mythical world surrounding Mount Tsukuba and the cutting-edge research centers in the city!
8:30 - Tsukubasan Kippu – A Convenient Round-trip Ticket to Mount Tsukuba!
The most convenient way to reach Tsukuba from Tokyo is to take the Tsukuba Express, a train line that will bring you directly from Akihabara to Tsukuba. The entrance to the Tsukuba Express Akihabara Station is right next to the JR Akihabara Station.
In order for you to make the most of your trip to Tsukuba, we recommend using the discount ticket called Tsukubasan Kippu. This ticket includes a round-trip to Tsukuba, a round-trip bus ride from Tsukuba Bus Center to the foot of Mount Tsukuba, as well as cable-car and ropeway rides to the mountain summit! This means that you can go directly from Akihabara to the summit of Mount Tsukuba and back with this one ticket!
If you would like to climb Mount Tsukuba, then we recommend choosing the discount ticket Tsukubasan Arukippu (3300 yen for adults, 1680 yen for children). This ticket covers the round-trip to Tsukuba and a round-trip bus ride from Tsukuba Bus Center to the Tsukubasan Jinja Iriguchi, which is the entrance to the two major hiking trails on Mount Tsukuba - the Miyukigahara Trail and the Shirakumobashi Trail.
This ticket can be purchased from the vending machines within the Tsukuba Express Akihabara Station on the day of your trip. Choose the English menu on the vending machine, then look for the "Discounted Tickets" button. The first option offered to you will be the Tsukubasan Kippu, priced at 4300 yen.
Buy the ticket and you're ready to go! If you take an express train, you will reach Tsukuba in just 45 minutes.
10:00 - Taking the Bus to the Foot of Mount Tsukuba
After you get off the train at Tsukuba Station head for exit no. 4, which will bring you directly to the Tsukuba Bus Center. The buses going to Mount Tsukuba leave from Platform No.1.
A direct Shuttle Bus for Mount Tsukuba leaves every 30 minutes or 1 hour from 8 o'clock in the morning. Please be aware that the last bus departs at 15:00 on weekdays in the summer and winter months and at 15:30 in the spring and fall months. The schedule of the last bus you can take to get back to the city also varies depending on the season, so please make sure to check it beforehand.
After a 36 minute ride, get off at Tsukubasan Jinja Iriguchi (the entrance to Tsukubasan Shrine). A magnificent torii gate marks the entrance to the shrine and to the mountain itself. This is where your visit to the myth-enshrouded Mount Tsukuba begins!
10:40 - 11:40 - Tsukubasan Shrine
Picture courtesy of Ibaraki Prefecture
Mount Tsukuba is regarded as a sacred mountain and Tsukubasan Jinja is a shrine dedicated to worshipping this mountain and all the deities protecting it. The Nantaisan peak (871 m) is regarded as the male deity Izanagi, while the Nyotaisan peak (877 m) is regarded as the female deity Izanami. These two deities are married to each other and, according to Japan's ancient myths, they are the parents of all the other deities in the Japanese pantheon and of all the islands in the Japanese archipelago.
Since ancient times, mountains have been the objects of religious worship in the Shinto tradition. This is why there are shrines and places marked as sacred on each and every mountain in Japan.
Tsukubasan Jinja is a large shrine located at the foot of the mountain. Dedicated to the two deities and boasting hundreds of years of history, this shrine is said to answer prayers regarding marital relationships and human connections.
The main building of Tsukubasan Shrine is an impressive structure with intricate woodwork designs that make it a captivating sight. Exploring the grounds of Tsukubasan Jinja is even more exciting when you think that this is actually one of the oldest shrines in eastern Japan!
View Information
Tsukubasan Shrine
| | | |
| --- | --- | --- |
| | Address | Ibaraki, Tsukuba, Tsukuba 1 |
| | WiFi | Not Available |
| | Accepted Credit Cards | Not Available |
| | Nearest station | Tsukubasan Jinja Iriguchi bus station |
| | Access | 36-minute bus ride from Tsukuba Bus Center on the Shuttle Bus to Mount Tsukuba. |
| | Religion | Shinto |
| | Telephone number | 029-866-0502 |
As you might guess, there are smaller shrines on each of the two peaks of Mount Tsukuba. There are hiking trails available, but if you wish to save your energy, take the cable car to the Nantaisan peak.
On your way to the cable car station, you will undoubtedly notice the souvenir stores lining the path. Everywhere you look, you'll see cute frog characters and frog-themed souvenirs. Why frogs? You might ask. Well, it just happens that frogs are the symbol of Mount Tsukuba. The key to the mystery behind Mount Tsukuba's frogs awaits you on the summit!
So let's take the cable car up the mountain. The Miyawaki Cable Car Station can be reached in an 8-minute walk from Tsukubasan Shrine. Remember that you don't have to buy an extra ticket, as your ride is covered by the Tsukubasan Kippu.
12:00 - 13:30 - Enjoy the View and Lunch on the Summit of Mt. Tsukuba!
Once you reach the summit of Nantaisan, take your time to enjoy the view and the small souvenir shops in the area. The Koma Observatory (shown in the picture above) is a facility that includes an observatory, a restaurant, and a souvenir shop. How about enjoying your lunch with the fabulous view from above?
You can choose among various types of local dishes - from delicious-looking soba and udon noodle dishes to luxurious set meals! Choose what you want to eat from the dishes on display, then search for the number of that dish on the meal ticket vending machine. Buy your meal ticket and bring it to the counter. Your meal will be brought to your seat after a few minutes.
We recommend this very tasty Tsukuba Oyakodon set (960 yen), which is made with Tsukuba's specialty chicken meat and other fresh ingredients. It comes with miso soup and pickles and it offers the stamina one needs for the hike.
After you finish your meal, how about exploring the area around the Nantaisan peak a little more before heading out toward Nyotaisan?
On the marked path leading to Nyotaisan, you'll see a mysterious-looking rock. Doesn't it look like a frog with its mouth open? It is said that if you have a wish, you should try to throw a small stone in its open mouth. If the stone lands in the opening, your wish would be granted! How about giving it a try?
This rock stands at the origin of the relationship between Mt. Tsukuba and the good-luck bringing frogs! Now that you know this, do consider taking back a frog-themed souvenir from Mt. Tsukuba.
Picture courtesy of Ibaraki Prefecture
After a 15-minute hike, you'll reach the highest point on Mount Tsukuba, Nyotaisan (877 m). The small shrine on the peak tells of the myths surrounding this place. And the view from above is simply breathtaking!
13:40 - 14:45 - Getting Back to the City
Picture courtesy of Ibaraki Prefecture
After the wonderful time spent on the summit of Mt. Tsukuba, take the ropeway down to the Tsutsujigaoka Station. The ride will take only 5 minutes and will allow you to enjoy some of the best sights of the mountain.
At the station, while waiting for the bus that will bring you back to the city center, how about enjoying some local sweets? You can get them at the Tsutsujigaoka Station Shop, a convenient store full of local products. We especially recommend their blueberry ice cream (400 yen), a specialty of the Mt. Tsukuba area.
The bus arrives at 14:00 and in about 40 minutes you'll be back to the Tsukuba Center Bus Station.
From here, take the bus heading for Arakawaoki station and, after a 10-minute ride, get off at the Busshitsu Zairyo Kenkyu Kiko bus station. This is the nearest station to our next recommended destination in Tsukuba: JAXA, the Japan Aerospace Exploration Agency.
15:00 - 16:45 - Explore the World of Space Research at JAXA!
Japan Aerospace Exploration Agency (JAXA) is the country's leading research facility in the field of space science, satellite development, and aeronautical technology research. At this facility, visitors can learn about the history of space exploration, as well as about the latest activities and achievements of Japanese and international space missions.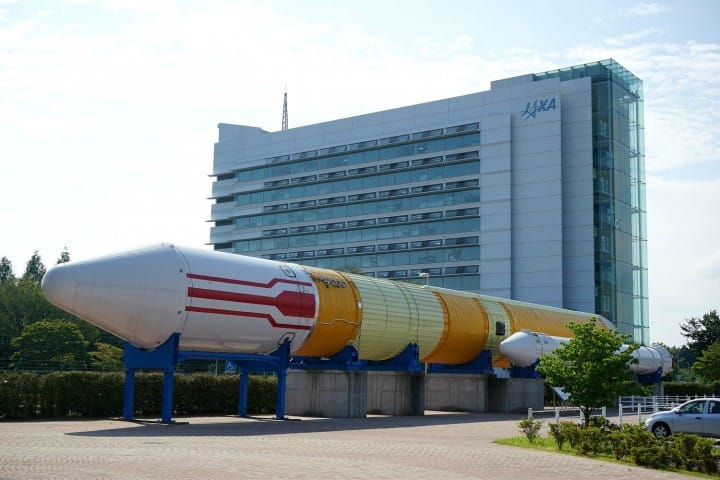 The first exhibit that will attract your attention is the rocket on display at the entrance. It is a real H-II Launch Vehicle flight model measuring 50 meters in length!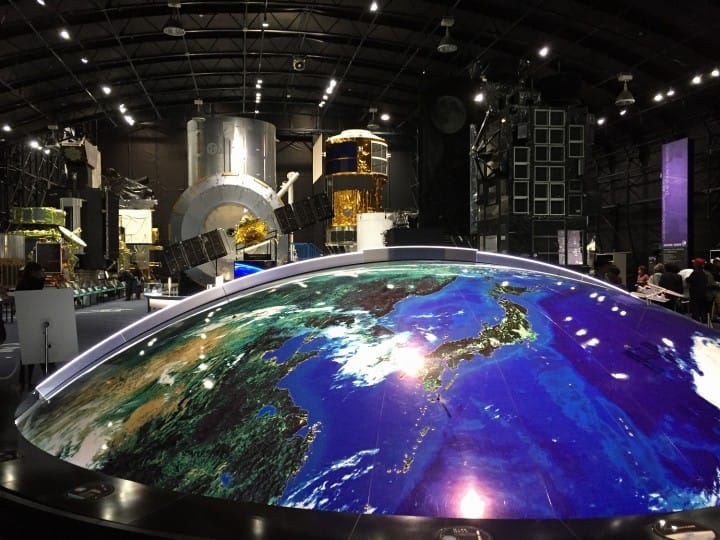 Picture courtesy of Ibaraki Prefecture
But wait to see what's on display in their main exhibition hall, the Space Dome! Starting from a 1/1,000,000 scale miniature of the Earth with some of the major artificial satellites surveying the planet, to displays of rockets, satellites developed and launched by JAXA and even a replica of the International Space Station, there are hundreds of amazing exhibits! If you've ever been fascinated by the idea of space exploration, the ultimate dream of humanity, the exhibits in JAXA's Space Dome are a must-see!
JAXA will be holding an "open to the public day" event on September 30th this year. On this day, visitors can enter many of the laboratories and research facilities that are usually off-limits and see with their own eyes what kind of experiments are performed and what kind of technology is developed at JAXA. If you're in the area around the end of September, do come to JAXA!
After enjoying the exhibits, don't forget to stop by the Space Center Museum Shop UNiBO to collect JAXA and space-related souvenirs.
We especially recommend the space food items like Space bread (650 yen/pack) and Space Curry (540 yen), which are authentic food items used by astronauts on space exploration missions.

View Information
JAXA - Japan Aerospace Exploration Agency
JAXA - Japan Aerospace Exploration Agency
View Map
| | | |
| --- | --- | --- |
| | Address | Ibaraki, Tsukuba, Sengen 2-1-1 |
| | Business Time | 10 AM - 5 PM |
| | Fixed holidays | Monday (irregular), year-end and New Year holidays (from December 29th to January 3rd), and facility maintenance day (irregular). Please check JAXA's opening days on the official website. |
| | WiFi | Not Available |
| | Accepted Credit Cards | Not Available |
| | Languages | Japanese, English |
| | Menu/Pamphlets in Other Languages | English language pamphlets available |
| | Nearest station | Tsukuba Station |
| | Access | 10-minute bus ride from Tsukuba Station (get off at "Busshitsu Zairyo Kenkyu Kiko") |
| | Price | No entrance fee. Guided tour for 500 yen per person (high-school students up to 17 years of age or younger: free). |
| | Telephone number | JAXA Tour Reception Desk 029-868-2023 (10:00 - 16:30). |
| | Website | http://www.jaxa.jp |
17:30 - 18:45 - Have Fun with Robots at Cyberdyne Studio!
For the second half of the afternoon, we recommend an incursion into the world of advanced technology and robots! The best place to find them is Cyberdyne Studio, which is located in iias Tsukuba, a department store near the Kenkyu Gakuen Station (one station away from Tsukuba Station on the Tsukuba Express line).
Cyberdyne Studio is a facility where visitors can interact with robots. This facility is run by CYBERDYNE, INC., a company famous for its achievements in the field of robot technology.
At Cyberdyne Studio, you can enjoy a display of robots that appeared in works of fiction, or robots that have been created for international exhibitions. You can even see an Edo era (1603 - 1868) automaton, a mechanical puppet that is thought to be the precursor of modern day robotics.
Cyberdyne is best known for developing the robotic suit HAL® (Hybrid Assistive Limb), a technology that assists the recovery of patients with brain-nerve-muscle diseases. In addition to the technology used in medical treatment, there are also HAL suits developed to support the activity of the human body to mitigate the risk of back injury.
You can find out all you would like to know about the HAL technology and other project of CYBERDYNE, INC. here at Cyberdyne Studio.
View Information
Cyberdyne Studio
| | | |
| --- | --- | --- |
| | Address | Ibaraki, Tsukuba, Kenkyu Gakuen 5-19 iias Tsukuba 2F |
| | Business Time | 10 AM - 9 PM |
| | WiFi | Not Available |
| | Accepted Credit Cards | Not Available |
| | Nearest station | Kenkyu Gakuen Station |
| | Access | 5-minute walk from Kenkyu Gakuen Station |
| | Price | Entrance is free. Guided tours of the facility are available (prior reservation required). |
| | Website | https://www.cyberdyne.jp/english/studio/index.html |
In Closing
Tsukuba, Japan's "Science City", is also a place that has a deep connection to the country's ancient myths. By using the Tsukubasan Kippu, a ticket that allows you access to the city itself and to Mount Tsukuba, you can experience both sides of this amazing city in one day.

If you come on weekends or on a public holiday, you can also use the convenient Science Tour Bus. This service can be used by purchasing a Science Tour Bus Ticket for 500 yen, which allows you to use the bus how many times you wish in order to tour several research facilities and museums in one day. Please keep in mind that this service is only available on Saturdays, Sundays and public holidays.

Do take the next opportunity and visit Tsukuba!

Mount Tsukuba - JAXA - Cyberdyne Studio route summary
From Akihabara to Tsukuba: 45 minutes (one way)
Tsukubasan Kippu Discount Ticket (round trip to Tsukuba, round trip bus fare to Mount Tsukuba, cable-car and ropeway fare all included): 4300 yen
Other expenses (lunch, souvenirs, transportation within the city): around 2500 yen

Supported by Ibaraki-Chiba Joint Promotion Council of Themed International Tourism

The information presented in this article is based on the time it was written. Note that there may be changes in the merchandise, services, and prices that have occurred after this article was published. Please contact the facility or facilities in this article directly before visiting.