STEP INTO GREATER TOKYO - A Brand New Travel Information Site!
STEP INTO GREATER TOKYO is a new travel information site offering tips on recommended itineraries in Tokyo and its surrounding areas. The website has been released on October 1st!
STEP INTO GREATER TOKYO - A New Travel Information Site!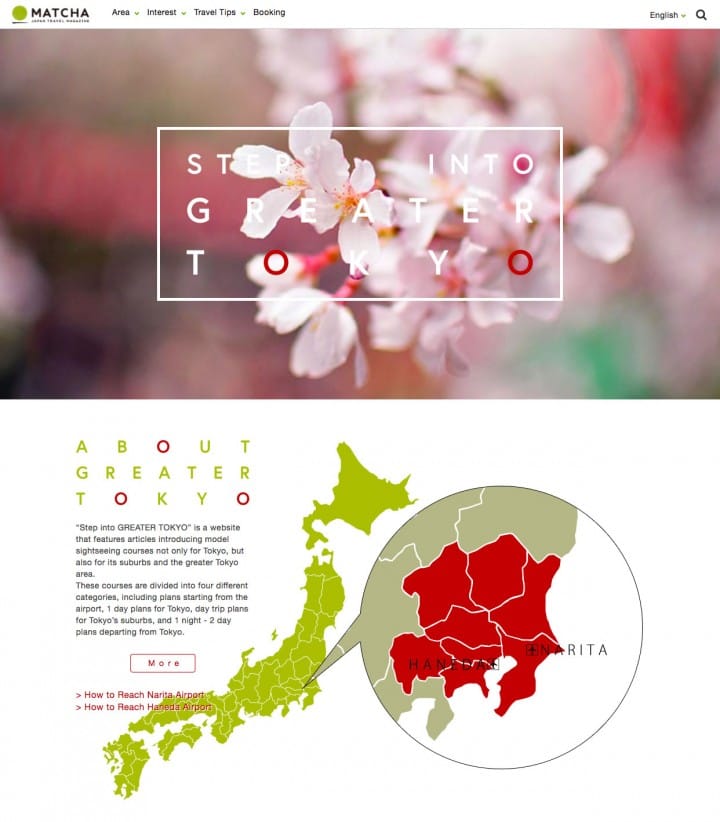 The special site STEP INTO GREATER TOKYO features articles introducing model sightseeing routes not only for Tokyo, but also for its suburbs and the greater Tokyo area.
The itineraries are divided into four different categories: Tours Starting from the Airport, One Day Tokyo Tours, Day Trips to Tokyo's Suburbs, and 2-Day Trips from Tokyo.
All the articles on this collection are written by the writers and the editorial staff of MATCHA with on-location research.
The articles include details regarding travel time, transportation expenses and an estimate for the meals, so the readers can refer to them when they take the same route.
Information about free tickets available to visitors from abroad, sightseeing information, delicious local dishes and souvenirs are also included.
Details which may be difficult for first time visitors, such as how to buy tickets and getting on and off trains and buses, are also explained thoroughly in the articles.
Sightseeing Itineraries in the Tokyo Area
The GREATER TOKYO site introduces appealing model sightseeing itineraries such as:
Downtown Tokyo sightseeing tours using trains and buses.
Inexpensive tours using free tickets.
Tours that include visiting traditional festivals of shrines and temples.
Walking tour of old towns, during which you can dress up in a kimono and experience Japanese culture.
Details on access and transit tours from the airport to the urban areas.
The places introduced in these articles are already featured on the special site. The articles are sure to make the readers want to visit those spots!
Get the Latest Travel Information on the Greater Tokyo Area!
The site has been launched, and we keep on updating the new articles constantly, so click the button below, and bookmark the special page of STEP INTO GREATER TOKYO.
If you favorite MATCHA's Facebook page, you'll be able to check out the latest information of the "STEP INTO GREATER TOKYO" site, as well as the latest articles!

Supported by the STEP INTO GREATER TOKYO Project Team