Great For A Family Trip! Nasu - Enjoy An Exciting Day In Tochigi
Accessed in less than one hour and a half from Tokyo, Nasu in Tochigi Prefecture is a great destination if you want to relax in the heart of nature. The area offers exciting activities that can be enjoyed by children and is ideal for a family trip.
Nasu is one of the hidden gems of Tochigi Prefecture, less-known to visitors to Japan, but very popular as a day trip destination among the Japanese living in the Kanto region. What makes this area so special and sought-after is its beautiful natural surroundings.
Picture courtesy of Tochigi Prefecture
Nasu is an area with many farms and is famous for the quality of the dairy produced here, as well as of the vegetables and fruit. This makes it a great choice for spending a leisure day out in the nature enjoying some of the best food in Japan, made with fresh local ingredients.
The route suggested in this article covers some of the most exciting places to visit and activities to enjoy in Nasu. Okashi no Shiro ("Sweets Castle"), Minamigaoka Dairy Farm, Nasu Kogen Yuai no Mori, or Nasu Stained Glass Museum are just some of the many modern facilities in the area that cater to the needs of visitors who want to spend a pleasant day out, and are especially recommended for families traveling with children.
7:44 - 8:58 -- Depart from Tokyo Station and Arrive at Nasushiobara Station
In order to make the most out of your time in Nasu, it's recommended that you depart early, taking the 7:44 shinkansen heading to Sendai. Get off at Nasushiobara Station at 8:58. The bullet train ticket costs 5910 yen for one person.
From Nasushiobara Station, you'll be taking the local bus (Toya Bus) from platform No.3 located right in front of the train station. After a 25 minute ride, get off at Okashi no Shiro bus station, which is located in front of the first facility we recommend you visit in Nasu: Okashi no shiro.
9:40 -- Okashi no Shiro - Enjoy Sweets and Blueberry Picking
Okashi no Shiro ("Sweets Castle"), also known as Nasu Heartland, was originally a factory specializing in pastries and sweets. Out of the desire to show the visitors how the sweets are actually made, it was reformed into a complex that includes the factory, a sweets shop and additional facilities where visitors can enjoy patisserie workshops, blueberry and strawberry pickings, and other leisure activities.
As soon as you enter the building, you'll notice the factory separated from the shop through a glass panel. You'll be able to see how their signature sweets, the soft "Goyotei no tsuki", are made and packaged.
Goyotei no tsuki are called like this because they resemble the shape of the moon ("tsuki" in Japanese). These round, soft cakes filled with custard cream are made with the high-quality ingredients that Nasu is famous for - fresh milk and eggs.
Save souvenir buying for later and enjoy first some of the activities available at the Nasu Heartland complex. Hana To Taiken No Mori, located right behind the Okashi no Shiro, is a facility designed especially for leisure activities.
Little Patissier Studio is corner where groups and families can enjoy making sweets under the guidance of professional patissiers. Visitors can also register for other fun activities such as making cute plastic sweets, flower candles and other decorative objects using dried flowers and craft kits provided by the facility.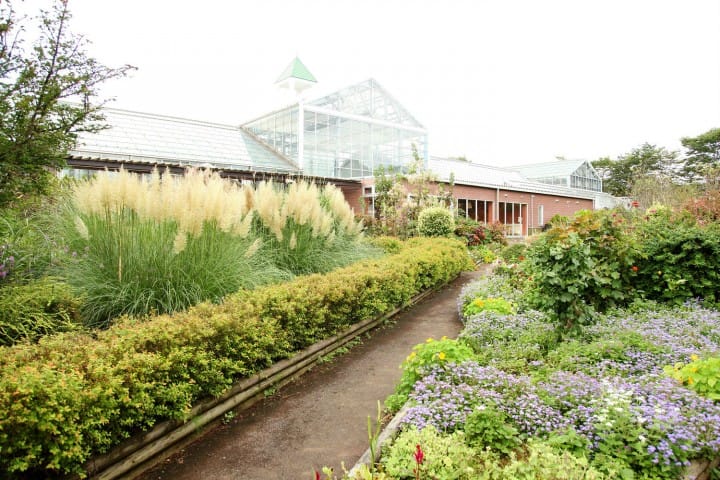 The facility has a beautiful garden with seasonal flowers which the visitors can stroll through freely. You'll be surprised by the variety of vibrant colors and fragrances that you can enjoy here.
A wooden path connects the garden with the woods and with the blueberry fields, where visitors can enjoy fruit pickings. If you wish to go on a 30-minute blueberry picking adventure, ask the staff stationed at the entrance. For a 800 yen fee, you can enjoy picking as many blueberries as you wish.
If you've never been to a blueberry field before, you'll be amazed at the sight of the branches heavy with fruit just waiting to be picked. The fruit is 100% organic so, if you can't wait to taste it, feel free to eat it on the spot.
Not only the wonderful taste of the fresh blueberries but the experience itself of being in the heart of nature will brighten your spirits, making you look forward to everything else that Nasu has in store for its visitors.
11:36 -- Board the Kyubi-go Bus
A very convenient way to travel around Nasu is to take the Kyubi-go Loop Bus, which stops at all the major leisure facilities in the area.
You can purchase a One-Day Free Pass to use on this sightseeing bus from the reception desk within the Okashi no Shiro. A One-Day Free Pass (1000 yen/adult, 500 yen/child) on the Kyubi-go allows you to board the bus how many times you want, from any of the stations on its route. Together with the ticket, you will receive a flyer with the route map and the timetable of the bus.
Beginning with Okashi no Shiro, all the exciting places we will be introducing below feature on the route of Kyubi-go, and we recommend it as the fastest direct way to go from one facility to another. Please be aware that the Kyubi-go doesn't stop at regular bus stops, but only right in front of the facilities themselves.
Picture courtesy of Tochigi Prefecture
After a 13-minute ride, you'll reach Michi-no-eki Yuai no Mori, a leisure complex with restaurants, shops and even a local craft museum.
The Kyubi-go Bus is easy to recognize. The mascot of Nasu, the cute little nine-tailed fox called Kyubi, is featured on the design of the bus. Kyubi was born out of a local legend regarding a nine-tailed fox with sacred powers, which is said to be watching over the Nasu area as a messenger of the gods. During your stay in Nasu, you'll most surely find souvenirs and objects featuring this cute little fox.
11:50 - 12:50 - Lunch at Nasutoran in Yuai no Mori
Picture courtesy of Tochigi Prefecture
Nasutoran is a dining place located within the Yuai no Mori complex. Established 10 years ago, this restaurant has been cherished by the locals for its delicious dishes, carefully prepared with fresh ingredients.
Nasutoran is one of seven restaurants where customers can enjoy Nasu-ben (1300 yen), a rich and well-balanced lunch set, made with the best local ingredients.
This meal includes two rice balls, vegetable soup, a soft beef hamburger steak, salad, pickles, a glass of fresh milk (which shouldn't be left out when it comes to Nasu cuisine) and pudding for dessert. Take the time to enjoy each flavor and you'll understand right away why many people living in the surrounding cities come all the way to Nasu just to enjoy this meal.
You might want to stay longer in Yuai no Mori, strolling around the park, but our recommendation is to board the Kyubi-go bus at 13:00 and head to the next exciting destination on our route - Minami ga Oka Farm.
13:25 - 14:10 -- Minamigaoka Dairy Farm
Picture courtesy of Tochigi Prefecture
Minamigaoka Farm is an established brand of dairy products. Part of the farm is open to the public as a leisure facility where visitors can enjoy horse-riding, fishing, feeding the animals, and even petting rabbits or taking them for a stroll.
While you're here, don't forget to taste their fresh dairy products. We especially recommend the premium soft vanilla ice cream (500 yen), which is so good that it sets new standards for what ice cream should be like.
At the souvenir shop, you will find a wide variety of dairy products, pickled vegetables, and sweets made on the farm premises. Their signature milk jam which comes in various flavors might be a great souvenir to take home.
A Kyubi-go bus will depart from the parking lot in front of the entrance to the farm at 14:10, and the next one at 14:55. In order to make it in time to the last destination on our Nasu route, we recommend you take the 14:10 bus.
14:30 -- Nasu Stained Glass Museum
Nasu Stained Glass Museum is a facility that allows its visitors to relish the beauty of stained glass artwork. The museum incorporates a church used for weddings and pipe organ music concerts.
The highlights of the permanent exhibition are the large stained glass windows with scenes from the Bible, which hint at the European origins of stained glass art.
Visitors can sit on comfortable sofas and gaze at the soft light filtered by the beautiful windows. Each room has also exquisite Tiffany lamps on display, the items that have brought stained glass the status of a modern art.
In the museum shop, you can find stained glass lamps in various sizes, as well as many other souvenirs made with stained glass that will make wonderful keepsakes of your visit here.
After relaxing for a while in the charming world of stained glass art, let's get back to our first destination - Okashi no Shiro, to pick up souvenirs from Nasu. A Kyubi-go bus departs from Nasu Stained Glass Museum at 15:59 and will reach Okashi no Shiro in 22 minutes.
16:21 -- Back to Okashi no Shiro for Souvenirs
When it comes to Nasu souvenirs, anyone would recommend Okashi no Shiro. You can choose from the great variety of sweets that are made here within the premises.
Goyotei no tsuki is no doubt their most popular confectionery, and it will most surely bring joy to anyone who receives it as a gift.
Alternative Route - Ride the Nasu Ropeway
If you'd like to see more of the Nasu area during your day trip, how about a ride on the Nasu Ropeway up to the summit of Mt. Chausu?
Nasu Ropeway is around 20 minutes away by car from the Nasu Stained Glass Museum. Although it can be reached by bus, in order to make it to the last gondola which departs at 16:00, you might want to take a taxi which is the fastest way to reach the Ropeway. If you finish your museum visit before 15:15, do consider going to the Ropeway.
From Nasu Ropeway station, you would reach the summit of Mt. Chausu (one of the three peaks of Mt. Nasudake) in about 5 minutes. A round-trip ticket for an adult costs 1800 yen, and one for a child - 900 yen.
A wonderful view of the surrounding area awaits. On a clear day, you can see as far as Sendai. The view from above is impressive at all times of the year, but it's especially beautiful in the spring and in the autumn.
18:02 -- Arrive at Nasushiobara Station and Back to Tokyo
If you stick to the original route, take the local Toya bus headed to Nasushiobara Station from the stop in front of Okashi no Shiro at 17:08. You will reach the train station at 17:40, just in time to catch the 18:02 shinkansen for Tokyo.
Please be aware that, if your day trip is on a weekday, it's safest to purchase a shinkansen ticket with a reserved seat, as the train tends to get crowded with commuters in the evening.
Enjoy Your Trip to Nasu!
If you want to refresh and recharge by spending a day in green surroundings and enjoying leisure activities, Nasu is the best destination for you. You'll appreciate this area even more if you're traveling with the kids, as it provides fresh air, delicious food and plenty of fun activities that you can enjoy together.

Nasu Route Summary
Tokyo Station → Nasushiobara Station → Okashi no Shiro (Sweets Castle) → Lunch at Michi-no-eki Nasu Kogen Yuai no Mori (Nasutoran) → Minamigaoka Dairy Farm → Nasu Stained Glass Museum → Okashi no Shiro → Nasushiobara Station → Tokyo Station

Tokyo Station to Nasushiobara Station (round-trip fare): 11820 yen
Bus fare from Nasushiobara Station to Okashi no Shiro (one way): 700 yen
Kyubi-go Loop Bus One Day Free Pass: 1000 yen
Lunch, entrance fees, and other expenses: around 5000 yen

Supported by Tochigi Prefecture

The information presented in this article is based on the time it was written. Note that there may be changes in the merchandise, services, and prices that have occurred after this article was published. Please contact the facility or facilities in this article directly before visiting.