Convenience And Comfort At Haneda Airport International Terminal Station
The Haneda Airport International Terminal Station offers travelers the chance to do duty-free shopping, to purchase discount train tickets for the Tokyo area, and even to taste award-winning ramen. Let's explore the terminal.
Haneda International Airport is the only airport located within Tokyo. With Haneda being the gateway to Japan's capital, if you'll be using the airport, you'll be taking a train or bus right from the airport to get into the city. The train station at Haneda Airport is extremely convenient and offers several types of services that make it possible for travelers to enjoy a pleasant and hassle-free trip.
This article introduces some of the services available at the Haneda Airport International Terminal Station, which travelers can make use of either upon their arrival in Japan or before their departure.
1. Upon Arrival into Haneda Airport
After any flight, the last thing you want is to lose precious time trying to find your way out of the airport. To make your entrance into Tokyo more smooth, after exiting the Arrivals Lobby, walk straight up for 30 meters and, on your right, you will see the Keikyu Tourist Information Center.
Keikyu Tourist Information Center - Your First Contact in Tokyo
Located on the 2nd floor of the airport, the Keikyu Tourist Information Center offers services daily from 7 AM to 10 PM. Thousands of passengers come and go through the airport each day, mainly from China, Taiwan, South Korea, and North America. Their most common question is regarding how to get to their accommodation.
The concierges at the Keikyu TIC are ready to welcome you with their smiles, offering the information you need. Besides Japanese, they also offer services in English, Mandarin, Korean, and Cantonese. It's no wonder that the Japan National Tourism Organization awarded their services the highest rank.
In addition to route information on your first destination in Japan, feel free to ask the concierges for recommendations on sightseeing and dining places, as well as for advice on cash withdrawal or currency exchange. They will guide you to the nearest facilities.
WELCOME! Tokyo Subway Ticket
Keikyu offers six types of discount tickets which allow access into the city from Haneda Airport via the Keikyu Line and all the subway lines in Tokyo (Toei Subway + Tokyo Metro). These very convenient tickets are available in the 24, 48 and 72 hours variants.
By using the Keikyu Line, you'll be able to reach popular destinations in Tokyo such as Shinjuku (30 minutes with transfer), Asakusa (40 minutes, direct) and Ginza (35 minutes with transfer).
The red ticket is the one-way type while the blue ticket is the round-trip type. The red 24-hour ticket costs 1200 yen for an adult and 600 for a child, while the blue is 1500 yen for an adult and 750 yen for a child passenger.
How to Buy and Use the WELCOME! Tokyo Subway Ticket
Simply present your passport at the Keikyu Tourist Information Center when you buy the ticket. You will receive two tickets, a long one (A) and a small one (B). To use, first present Ticket A to the staff at Haneda Airport (don't put it through the automatic ticket gates). This will give you quick access from Haneda Airport to Sengakuji Station. Upon transferring from the Keikyu Line to another line, use Ticket B which will give you access to all the subway lines in Tokyo. Please note that you cannot use this pass on JR (Japan Railway) train lines.
Baggage Delivery Service at the Haneda Airport International Terminal Station
Arriving early into Tokyo and planning to go right away on a day trip but you don't want to lose time dropping your luggage at your hotel? The solution for you is the service available on the right side of the Keikyu Tourist Information Center.
This low-priced baggage delivery service allows tourists to send per suitcase for 1716 yen to anywhere in the Kanto area (Tokyo, Chiba, Kanagawa).
Send your heavy luggage before 11:00 a.m. to receive it at your hotel after 6:00 p.m. to 9:00 p.m., otherwise it will arrive the next day.
As each train goes to a different destination, be sure to read the signboards well. If in doubt, ask a station staff. Have a safe and fun journey in Tokyo!
2. Before Your Departure from Haneda Airport
If you're leaving Tokyo via the Haneda International Airport, once you step out of the Keikyu Line train, grab a free trolley for your luggage, show your ticket at the gate then take the elevator up to the 3rd floor.
Wing airport HANEDA - Shopping, Dining and other Convenient Services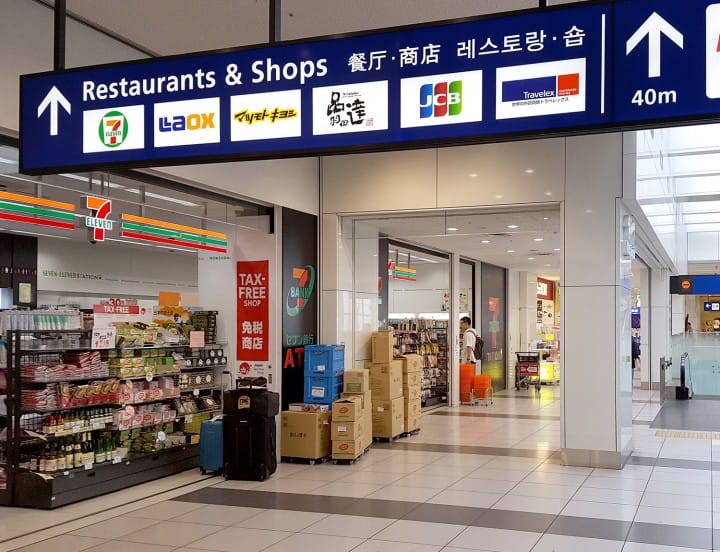 Once you reach the 3rd floor, you will enter Wing airport HANEDA, an area with various shopping facilities, dining places and other convenient services.
1. Shopping - Tax-Free Souvenirs
Have you forgotten to buy souvenirs for your friends? Don't worry as there are three stores at Wing airport HANEDA where you can shop for gifts. The first one you will see when the elevator doors open is Matsumoto Kiyoshi, a popular drugstore that sells health and beauty products at regularly discounted prices.
Some of the Japanese-made products available at Matsumoto Kiyoshi that enjoy great popularity among foreign travelers include the Zeitaku Jelee (588 yen), a rich gel-like face pack that balances the moisture level of your skin leaving it feeling luxurious, or the bath salts called Roihi-Tsuboko (1058 yen), which are praised for their muscular pain-relieving effects.
At Laox, you can buy various types of sweets which make great souvenirs for your loved ones. The top three products are Tokyo Banana (1429 yen), a custard cream-filled soft cake, Tokyo Cup de Cheesecake and other Japanese-style confectionery for about 500 yen per pack.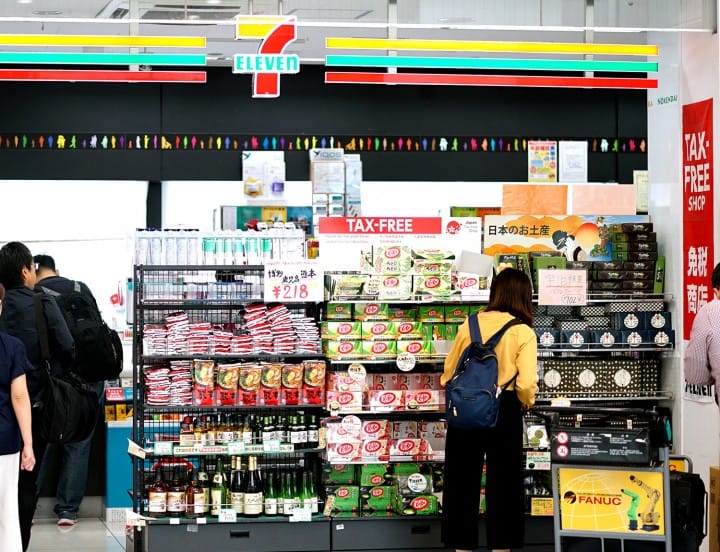 The 7-Eleven convenience stores are so convenient that it's hard to imagine life in Japan without them. The 7-Eleven store in Haneda Airport sells tax-free souvenirs.
Which Kit Kat would you choose? Exclusive only to Japan are flavors you may have never heard of, such as melon, wasabi and cherry blossom with green tea. These flavors are a reflection of Japan's diverse and unique cuisine and would make great souvenirs from your trip.
2. Dining - Ramen Food Court Shinatatsu
"Ramen – Japanese Soul Food". This is the motto of the small ramen food court Shinatatsu, which is run by its two owners, Piao Hongguang and Keisuke Kita, who work side by side to serve Haneda passengers ramen varieties that are rich, tasty and guaranteed to satisfy.
The ramen food court consists of three brands that have one common goal - serving tourists the favorite comfort food of the Japanese.
According to Mr. Piao, all the ramen dishes are served within 5 minutes after receiving the order. Only the tsukemen dishes take 6 minutes to make because they need to be cooled. The roast pork used in the ramen made here is cooked at low temperature to ensure tenderness.
At first glance, you may think it's hard to choose which ramen to order but the three vending machines have English menus with photos. If you want to know more details about the dishes before ordering, the friendly staff are ready to help.
The following three ramen dishes are the most popular at Shinatatsu.
For 1150 yen, the Miso Ramen Mega Special is for those with big stomachs. The three pieces of rich roasted pork belly swimming in the misozakura, a dark reddish miso base with a strong, sweet flavor, has won numerous awards including the 1st place at the Tokyo Ramen Show.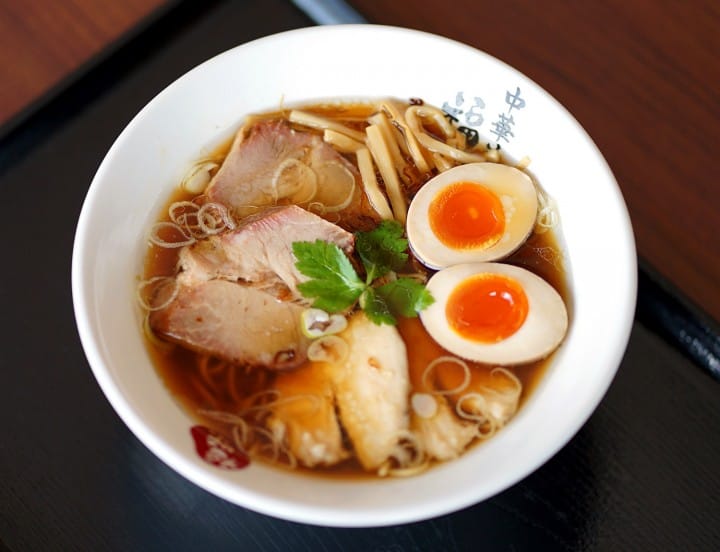 Produced by famous shop Ramen Setagaya, this Special Soy Sauce Ramen for 1150 yen has chicken instead of the usual roast pork.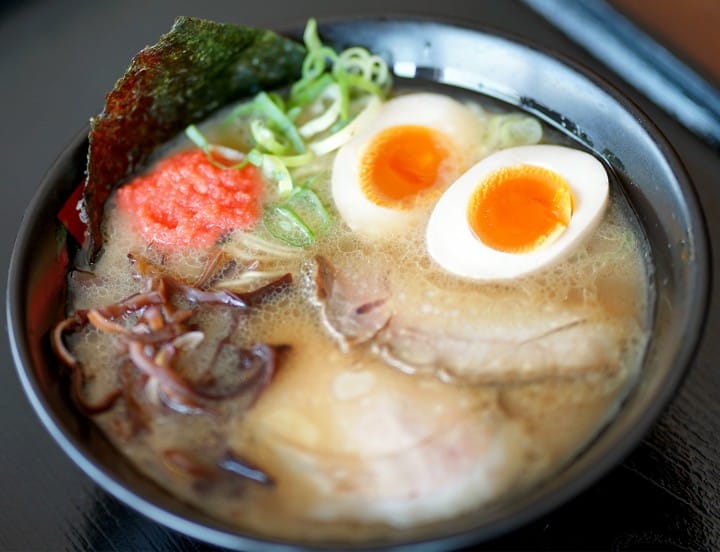 The Hakata Tonkotsu Waraibuta (1000 yen) is the star dish of this dining place. The reason for its popularity is the rich tasting soup and the various toppings that make a great combination with the noodles.
Mr. Kita, the chef in charge of making the Hakata Tonkotsu ramen, loves to smile and joke. "This ramen is 1100 yen, but I am cheaper - only 1000 yen", he says. You too will be smiling once you try this all time favorite.
For more information on the dishes available at the Ramen Food Court Shinatatsu, please visit shinatatsu.com (Japanese only, automated translation available.)
The International Departures Lobby
Once you leave the Ramen Food Court, full and happy, walk past the Travelex Currency Exchange, Laox and 7-Eleven on your right, then turn left to enter the departure lounge before flying.
Wing airport HANEDA is a convenient place to do last minute eating and shopping. Prices are reasonable and the shops cover all possible needs. If you still need to do more shopping or perhaps try other food, there are several other shopping facilities on the 4th and 5th floors.
Enjoy the Services of the Haneda Airport International Terminal Station!
Upon arriving at Haneda Airport and before departure, do make use of the very convenient services offered by the Keikyu Tourist Information Center and the Haneda Airport International Terminal Station. In addition to information useful for your trip, you can find here discount transportation tickets, use the baggage delivery service, and even dine or shop for souvenirs.

Make the most out of the time you spend in Tokyo with the services provided by the Haneda Airport International Terminal Station.

WELCOME! Tokyo Subway Ticket
Keikyu Line one-way
24 hours: Adults 1200 yen, Children 600 yen
48 hours: Adults 1600 yen, Children 800 yen
72 hours: Adults 1900 yen, Children 950 yen

Keikyu Line round trip
24 hours: Adults 1500 yen, Children 750 yen
48 hours: Adults 1900 yen, Children 950 yen
72 hours: Adults 2200 yen, Children 1100 yen

Supported by Keikyu Corporation

The information presented in this article is based on the time it was written. Note that there may be changes in the merchandise, services, and prices that have occurred after this article was published. Please contact the facility or facilities in this article directly before visiting.