Enjoy Tokyo's Charming Old Town With The Discount Shitamachi Biyori Pass
There's so much to see and do in Tokyo but have you ever visited its old downtown areas? With the Keisei Shitamachi Biyori Ticket, you can visit beautiful parts of downtown Tokyo such as Ueno and Nippori. Today's route will introduce these areas!
Today I decided to stick somewhere closer to home - Tokyo's shitamachi, or old downtown areas, and see some of the sights that really make this area special.
There's a convenient ticket for exploring this part of Tokyo. It is called Shitamachi Biyori Pass and is issued by Keisei Railway. In addition to great discounts on transportation fees, this pass includes coupons that can be used at several partner facilities and dining places. Let's see what a day trip using this ticket would look like.
9:40 -- Arrive at Keisei Ueno Station and Purchase the Shitamachi Biyori Pass
Ueno Station can be accessed by the Keisei lines, JR lines, Tokyo Metro, and Toei Subway lines.
There are two ways to get to Keisei Ueno Station from Ueno Station: you can head out the Yamashita Exit and turn left, then walk for eight minutes, or you can walk through the handy underground tunnel, which directly connects the two stations. This is your best option on rainy days or if you are carrying any heavy luggage.
When you reach the ticket floor of Keisei Ueno Station, you will see a bank of machines where you can purchase an exceptionally useful all-day ticket: the Shitamachi Biyori Pass, a ticket that allows you all-day use of Keisei line trains, from Ueno to Edogawa and Kanamachi to Oshiage stations.
Best of all, this ticket only costs 500 yen for adults and 250 yen for children! It's easy to buy too. Just head over to the ticket machines, select English, then coupon, then tap the Shitamachi Biyori Pass and pay. Then you'll get a ticket just like this.
10:00 -- Check Out the Shitamachi Museum!
Just a short walk from Keisei Ueno Station will bring you to the Shitamachi Museum, which stands in this elegantly styled building right across from Shinobazu Pond in Ueno Park.
If you show the Shitamachi Biyori Pass at the entrance, you'll get a discount on the entrance fee - from 300 yen to 200 yen.
A recreation of a typical mid-Showa era (1926-1989) living room and kitchen.
Here you can learn all about the history of Tokyo's old downtown through historic recreations of local shops, photographs of the city (some dating back 100 years or more), and interactive displays.
Kendama, like in the photo above, have been a popular toy around the world in recent years, but this Japanese take on the classic French bilboquet have been popular since the 1800s. If you want to see the Tokyo of your grandparents or even great-grandparents age, the Shitamachi Museum is a must!

11:30 -- Stroll Through Historic Yanaka Ginza Shopping Street
After seeing the history of Tokyo, I took the Keisei Line from Ueno to Nippori, the next station and heading out the North Exit, up the hill to left towards Yanaka Ginza Shotengai (shopping street).
Before you reach the shopping street itself though, you'll come to this staircase, which gives you a bird's eye view of the shopping street, and over the neighborhood itself. This view gets even better at sunset too.
Yanaka Ginza is a popular shopping street where you can find a little of everything; Japanese cosmetics, deli foods, clothing, utensils, traditional arts and crafts. There's even a fortune teller's shop here!

12:30 -- Head to Yabu in Yotsugi
After my stroll I was feeling pretty hungry, so I hopped on the train once more, and switched trains at Aoto Station, to reach Yotsugi Station.
Although it's a bit of a walk (but in mostly a straight line!), Yabu is an amazing Japanese restaurant that only serves handmade, fresh soba, tempura, and tonkatsu (breaded roast pork) dishes. This location was fully renovated and reopened in September, but Yabu has been in business for many years.
Everything on their menu is made fresh to order - even the grated ginger and daikon toppings are made on the spot. I ordered their Ten-seiro tempura lunch set (1000 yen), which comes with tempura shrimp, fish, and three seasonal vegetables, and cold soba served in a seiro, a special type of wooden dish. It was wonderful!
Remember to show your Shitamachi Biyori Pass at Yabu. You will receive a 50 yen discount on any dish you order.
14:00 -- Visit the Shibamata Taishakuten Sando
Feeling invigorated, I decided to head for Shibamata Station on the Keisei Kanamachi Line, to check out a town that Japanese old movie buffs are sure to recognize. Shibamata Station is home to Tora-san, from the "Otoko Wa Tsurai Yo" film series, and there is a touching statue tribute located just outside the exit of the station.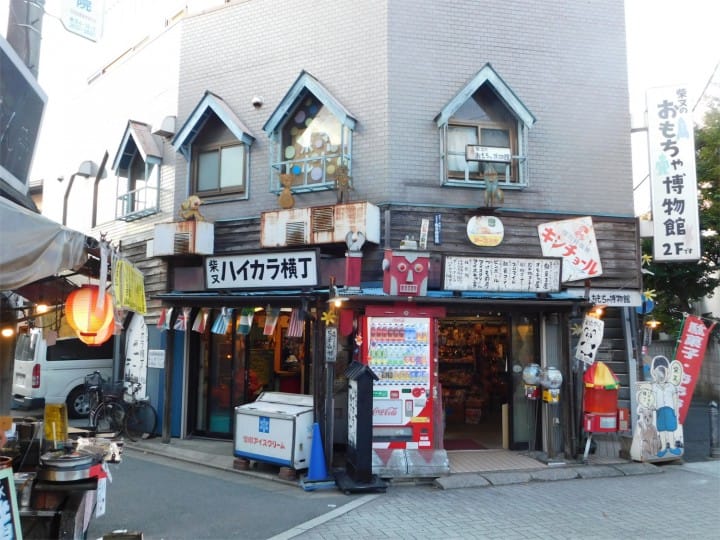 As you walk along the Shibamata Taishakuten Sando road from the station towards the temple, you will encounter this curious store. Dagashi Shibamata Haikara Yokocho is a candy and toy shop that sells dagashi, or traditional Japanese penny candy and toys.
Every wall is covered in posters, shelves filled with treats, nostalgic toys, and cute stationery too. There are even old video game machines in the back. Space Invaders, Super Mario, pinball machines - this shop has a little bit of everything, and is sure to make your inner child squeal with delight.
In fact, they have a museum on the 2nd floor! By showing your Shitamachi Biyori Pass, you get to visit it for only 100 yen! (The regular entrance fee is 200 yen.)

After playing some Space Invaders, I headed out back along the Shibamata Taishakuten Sando and came to a very busy wagashi, or traditional Japanese sweets shop called Takagiya.
Takagiya is a highly recommended wagashi shop - many of their regular customers were telling me about their great dango as I waited outside in fact! What makes this shop so amazing is that it's actually split across both sides of the street: on one side is a restaurant where you can enjoy light meals and sweets, and on the other is the souvenir shop and office.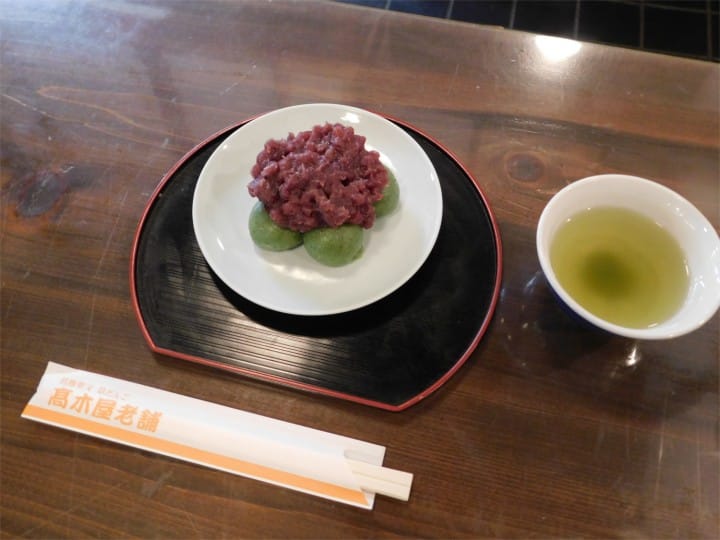 Their most recommended dish are their kusa dango (five for 350 yen), or grass dumplings (made from Japanese mugwort), topped with sweet red bean paste and served with a cup of green tea. The fresh dango have a vibrant, refreshing taste to them that matches well with the rich sweetness of the red bean paste. This is a very filling treat, and one that suits the retro atmosphere of this shopping street.
What's best, by showing your Shitamachi Biyori Pass at the counter, you get a 5% discount on the souvenirs you buy from Takagiya, so do check out their selection of wagashi.

15:30 -- Head to Shibamata Taishakuten Temple
Shibamata Taishakuten is an incredible temple complex located at the end of the Shibamata Taishakuten Sando, that is also mentioned in some of the Tora-san movies. Founded in 1629, Shibamata Taishakuten has been a central spot for the locals ever since. There are so many things to see in this complex that you can easily lose track of time as you wander through, but here are the highlights.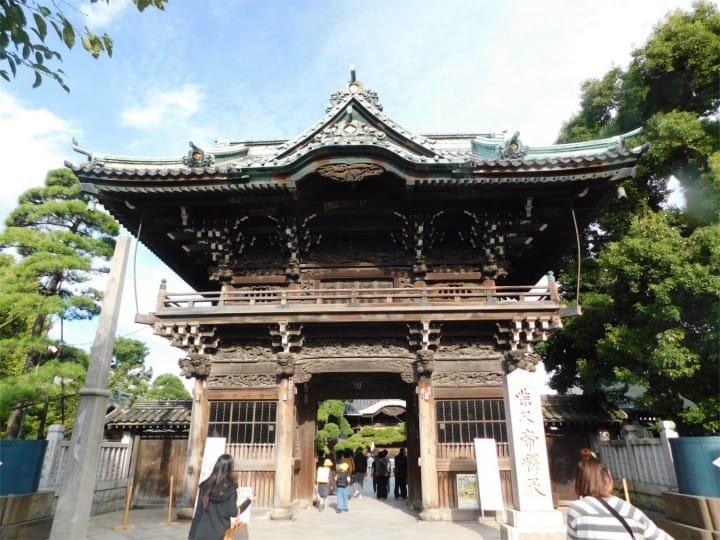 Nitenmon Gate, the main gate of the temple. Built in the late 1800s, this fully carved wooden structure not only withstood the 1923 Great Kanto Earthquake, but also the bombings and fires during the Second World War, and other natural disasters ever since.
The Zuiryu-no-matsu pine tree. According to legend, this tree, whose branches extend in the cardinal directions, each of which is said to resemble a dragon in flight, inspired the founder of the temple to build on this spot. It was recognized as a natural monument in March 2016.
The picture above shows the main temple itself. After taking off your shoes, entering the building, and offering your prayers, follow the wooden pathway to the right and you'll come to a ticket window.
For 400 yen, you can enter a special glass-enclosed space and see the breathtaking carved wooden panels of the temple building up close. Each panel represents a part of the Lotus Sutra, and was painstakingly carved from a single piece of wood. With the Shitamachi Biyori Pass, you get a 100 yen discount on the ticket, so you can visit the gallery for 300 yen!
This ticket also allows you to see Suikeien, a Japanese garden famous as a scenic spot, located in the back of the temple complex.

17:00 -- Head to Oshiage for Sunset Views of Tokyo Skytree and Solamachi
Having thoroughly enjoyed my history filled tour of Shibamata, I suddenly found myself wanting to see more of modern Japan - and what is more modern than Tokyo Skytree at Oshiage Station?
The tower and Solamachi entertainment and shopping facility are always bustling with people, but at sunset, the area really seems to come to life. After craning my neck upwards and taking in the view, I headed inside to see what souvenirs and special events they had to offer in this ever-changing, modern marvel.

What a Day!
I think I saw a little bit of everything that the shitamachi area has to offer today - not only did I get to see Japan's history right before my eyes, but I also learned a lot about the city and its lesser known spots too, all on the Keisei Line. If you want to know more about Tokyo's history, then the Shitamachi Biyori Kippu is definitely the way to go!

So, my whole journey today was:
Keisei Ueno Station → Shitamachi Museum → Keisei Ueno Station to Nippori Station → Yanaka Ginza → Nippori Station to Yotsugi Station → Yabu → Yotsugi Station to Shibamata Station → Shibamata Taishakuten and Taishakuten Sando → Shibamata Station to Oshiage Station → Tokyo Skytree → Oshiage Station to Keisei Ueno Station

From Keisei Ueno Station to every station: 500 yen (Keisei Line, using my Keisei Shitamachi Biyori Ticket)
Lunch, souvenirs, etc: about 2500 yen for the whole day!

Supported by Keisei Electric Railway Co.,Ltd.

The information presented in this article is based on the time it was written. Note that there may be changes in the merchandise, services, and prices that have occurred after this article was published. Please contact the facility or facilities in this article directly before visiting.