Beautiful Fall Roses - See Retro Tokyo On The Toden Arakawa Line!
Want to see all that the fall in Tokyo has to offer? Using the convenient and very affordable Toei Streetcar One-day Pass, hop on the retro-cute Toden Arakawa Line streetcar and take in the fall roses, shrines and temples, and more!
The Toden Arakawa Line is a tram line that was once part of the vast Tokyo Toden streetcar system that covered the city before subways and other train lines took over. Since the spring of 2017, it is also known as the Tokyo Sakura Tram because of the cherry trees and roses that go in bloom in the spring along the railway in some parts of the city. Now this charming single car train runs through some of Tokyo's more established neighborhoods, covering some 30 stations including Waseda, home to the famed Waseda University.
Along this tram line you'll find a number of little known temples, shrines, shopping streets and other attractions that will really give you a glimpse into the daily life of the Japanese, as well as show you some of the history of Tokyo itself too.
Not only that, but while this line is known for its amazing sakura views in spring, along parts of the tracks are some of the most amazing fall roses you'll find in Tokyo! With hundreds of varieties to see at various stations along the way, taking a rose inspired tour of Tokyo is a great way to get out and see the city in the fall.
There is a convenient ticket called Toei Streetcar One-day Pass available for only 400 yen, which allows unlimited rides on the Toden Arakawa Line streetcar for one day. Let's take a look at a model route for a day tour of Tokyo using this ticket.
9:00 -- Arrive at JR Otsuka Station and Head to the Arakawa Line
The departure point for today's journey was Otsuka Station on the JR Yamanote Line. We bought our Toei Streetcar One-day Pass at the ticket office found on the platform of the Otsuka-ekimae stop which is in front of Otsuka Station (400 yen adults, 200 yen for children).
You can buy the Toei Streetcar One-day Pass in the tram itself, at the central office of the Arakawa Railway or from the ticket office at Otsuka-ekimae Station. If you depart from another stop that Otsuka-ekimae, we recommend purchasing the ticket on the tram.
This ticket grants you unlimited rides on the Toei Streetcar (Toden) Arakawa Line. If you want to visit a wider area, though, the Toei One-day Pass (Toei Marugoto Kippu) (700 yen for adults, 350 yen for children) offers unlimited use of the Toei Subway, Toei Bus, Toden Arakawa Line, and Nippori-Toneri Liner for the day and can be purchased via ticket machine.
When you purchase your ticket, if you get the paper type, they will scratch off the date of your journey on the one side, and on the other side, you'll find a handy line map, showing you all the stations that the Arakawa Line travels to. Please keep in mind though, these are mostly unmanned stations and that if you want to change directions, you will have to cross the tracks to get to the opposite side.
To ride the Toden Arakawa tram, get on through the front door and show your Toei Streetcar One-day Pass to the driver. Just like when riding a bus, to get off at the next station, push the "Stop" button. Get off the tram through the back door.
The Arakawa Line is a single car tram, so the number of seats are limited, plus there is a large priority seat section for elderly, injured or pregnant passengers, so you will most likely be standing for the majority of your trip. Don't worry though - the view from the windows is amazing!
9:15 -- Head to Zoshigaya Kishimojindo Temple
Our first stop is as the Kishibojimmae Station which is close to an impressive temple.
Zoshigaya Kishimojindo Temple is a popular temple where Kishimojin, the goddess of safe birth and child rearing, is worshiped. First founded in 1561, Zoshigaya Kishimojindo Temple's main worship hall is a National Designated Cultural Property. The symbol of this temple is the pomegranate, and you will find the motif throughout the grounds, and even on the omamori (talismans) sold here.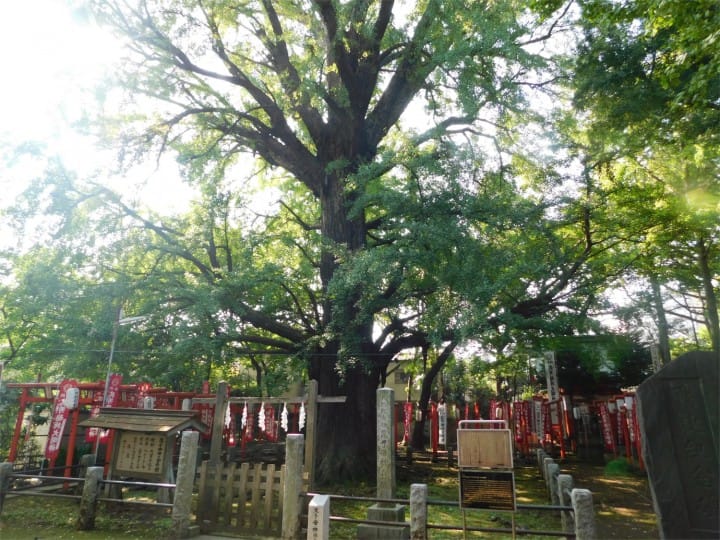 There is a lot to see within the precincts, but one thing you cannot miss is the massive Kishimojin no Itcho, the second largest gingko tree in Tokyo, whose trunk is an amazing 6.63 meters around! This gingko, said to grant fertility luck, is also recognized as a Tokyo Designated Natural Monument as well.

10:10 -- Stroll Through Zoshigaya Cemetery
After visiting the temple, you should follow along the tram tracks until you reach the next station, Toden zoshigaya Station. From here, you will soon see a massive cemetery spreading out before your eyes. This is Zoshigaya Cemetery, one of the largest in the Tokyo area, which was established in 1874 by the Tokyo Metropolitan Government of the time.
What makes visiting this cemetery so interesting for me is the number of talented and internationally known Japanese people that are buried here. Within the grounds of this cemetery lie famed novelist Natsume Soseki (1867-1916), novelist and kabuki play author Izumi Kyoka (1873-1939) (best known abroad for his Japanese Gothic Tales), Shunro Oshikawa (1876-1914), the pioneer of science fiction (film adaptations of his works include Atragon and Super Atragon), and Ginko Ogino (1851-1913), the first licensed and practicing female physician of Western medicine in Japan. And, this is where Lafcadio Hearn, the international author and scholar on Japan, best known for Kwaidan and In Ghostly Japan, is buried as well.
Anyone interested in Japanese literature and history should consider stopping by to pay their respects here.

11:00 -- Early Lunch in Mukohara at Toden Table
Walking about can really make you work up an appetite, so my next stop was Mukohara Station, just two stations away from Toden Zoshigaya Station. From here, it's only a two minute walk across the street and to the left to reach Toden Table, a simple and modern Japanese restaurant on the second floor of the Royal Annex Building.
What makes this restaurant stand out is their menu: everything, each ingredient used from fish to rice, is domestically produced and shipped fresh to the restaurant, which means that you can be certain that you're enjoying seasonal dishes and drinks at their very best. While their menu is written fully in Japanese and does not have any pictures, their staff are very helpful and can communicate in simple English, so there's nothing to worry about when ordering here.
Doesn't that look amazing? I had a hard time choosing which set lunch to pick, but settled on the vegetarian-friendly agedashi tofu set, which came with rice, white miso soup, and three kinds of seasonal vegetables (on that day, green beans with miso sauce, stewed burdock, and stewed eggplant). This set, and many of their other lunch courses, only cost 1000 yen, and was very filling! You can really taste the care and attention to detail that this restaurant puts into its dishes.
12:30 -- Feel Like a Kid Again at Arakawa Amusement Park
Feeling energized after my healthy lunch, I hopped on the train again to Arakawa Yuenchimae Station, which is 12 stations away from Mukohara.
As soon as you step off the train here, you'll find yourself facing a park, and, if you follow along the rose lined road, you will soon come to Arakawa Amusement Park, a municipal entertainment facility that first opened in 1922. Entrance to this play land costs only 200 yen for adults, and 100 yen for elementary and middle school students on weekends. If you visit on weekdays, children get in for free.
However, if you have the Toei Streetcar One-day Pass, you get to enter the park for free!
One of the first things that will catch your eye upon entering the park is the Ferris wheel. Standing some 32 meters tall, on a clear day, you can see all the way to Mount Fuji from the top. There's also a family coaster, which is a small roller coaster famous for being Japan's slowest roller coaster, tea cups, and my personal favorite, the merry-go-round. This merry-go-round is a bit special; you might think that riding in the carriages is dull, but these carriages go up and down just like the horses do!
This park not only has rides, but also a mini zoo with cows, birds, and meerkats (who inspired the cute characters around the park), and a petting zoo area, where you can visit with rabbits, guinea pigs, goats, and sheep, go on pony rides too. There's even a fishing pond, where you can catch real fish using bamboo fishing rods. This is a spot that will really have you feeling carefree in no time, and it's even more fun if you're visiting with kids!
14:00 -- Learn the History of the Arakawa Line at the Omoide Hiroba
Walking back from the park, I took a stroll back one station to Arakawa shakomae Station, where the Toden Omoide Hiroba (Toden Memorial Square) stands. This is a unique park which is only open on weekends and national holidays, dedicated to showing the incredible history of the Toden Arakawa Line and its predecessors, whose history spans back well over 100 years ago.
In the square stand two of the original trains from the Arakawa Line: the white and red Unit No. 5501 streetcar, which now houses replicas of the town and old trains, as well as tickets and other Arakawa and tram line memorabilia, and the orange and green Unit No. 7504, which has photographs of the trains, the town, and is where you can sit in the driver's seat and learn all about the tram.
Here, I was able to take part in a really interesting talk from a former driver/conductor on the Arakawa Line, Mr. Tsutsumi. During his time on the Arakawa Line trams, Mr. Tsutsumi worked in a two man system, where there was one driver, and one conductor who was responsible for selling all the tickets within the streetcar itself. I got to try my hand at punching the tickets using the old metal punches, and boy, it must have been hard getting to everyone in a timely fashion while keeping your balance on a moving streetcar! I also got to sit in the driver's seat and see what it was like driving a tram like this. There are so many things to focus on!
Although only open on the weekends and national holidays, the Toden Omoide Hiroba is a must for anyone who wants to see what life was like during the tram age in Tokyo, as well as the perfect place for kids and train fans of all ages to see and experience "driving" a train for themselves.
15:00 -- Take in the Retro Charms of Joyful Minowa Shopping Street
From learning all about the line, I checked out one of the oldest parts of the track, Minowabashi Station, the terminal near what was once Edo's (old Tokyo's) red light district of Yoshiwara. This area has a small station, but one of the most amazing sights were all the different types of roses! I counted about 25 different varieties just on the right hand side of the tracks alone, and the sight of the tram with the roses seeming to grow up around it was really cute.
After spending some time looking at all the different roses here, I took a very short walk and came to the covered shopping street, Joyful Minowa Shotengai. This shopping street has existed for decades, and has a very Showa period (1926-1989) feel to it. There are daily goods stores, greengrocers, a fishmonger, butchers, deli shops, and much more to see here - plus a cute little park that you can sit down and relax in too.
While there were a number of shops to see here, one that immediately caught my attention was this: Papa Noel, a coffee seller and cafe that features its own Toden Blend coffee (available in whole bean, ground, and drip coffee packs). Although I'm not a big coffee drinker, the smell of the beans as they were being freshly roasted was so enticing, I just had to check it out. The special Toden Blend falls on the slightly bitter side of coffee, but it's also quite refreshing tasting, and goes great with the handmade jams that the shop also sells. If you like coffee and want a unique way to remember your trip along the Arakawa Line, then you might consider picking up some of the coffee as a souvenir.
17:00 -- See the Skies of Tokyo at Sunset from Hokutopia
Now that I had my coffee and seen all the roses on both sides of the tracks, I headed back down the line from Minowabashi to Oji-ekimae Station, which is 15 stops away.
While learning about the history of the Arakawa Line, and its fame as the Sakura Tram, I heard about a place in Oji that offers some pretty spectacular views of the sakura and Tokyo itself. Hokutopia, an office and entertainment complex, is about an eight minute walk from Oji-ekimae Station. In the area here, you will find plenty of restaurants and shops, but if you are looking for something a bit more upmarket, this is the place to go. Hokutopia is where you will find learning centers, ballrooms, art displays, a theater, and the Tenbo Lobby (Viewing Lobby), on the 17th floor of the building.
The windows of the viewing lobby stretch from floor to ceiling and wrap around three sides of the building. Unfortunately for me, the skies grew cloudier the closer it came to sunset, but I did manage to catch a glimpse of the Skytree amid the clouds before it disappeared. On sunny days, you can see the Chichibu mountains, Mount Akagi, Mount Tsukuba's peak, and on days with very clear skies, even Mount Fuji. This is also a great place to see the cherry blossoms in Oji's Asukayama Park from, as well as the shinkansen trains too.
After your visit to Hokutopia, you can end your streetcar day tour of Tokyo by returning to Oji Station, which gives you access to the JR Keihin-Tohoku Line and the Tokyo Metro Namboku Line.
So Many Roses!
What do you think? Isn't the Toden Arakawa Line fun? For fans of Japanese history and rose lovers, the Toden Arakawa Line is an ideal way of sightseeing around Tokyo, and a cute tram line that is sure to make you smile no matter what. You can see all these sights, and much more, all for just 400 yen with the Toei Streetcar One-day Pass. What are you waiting for?

So, my whole journey today was:
Otsuka Station → (walk) Otsuka ekimae Station - Kishibojimmae Station → Zoshigaya Kishimojindo → (walk) → Zoshigaya Cemetery → Toden Zoshigaya Station → Mukohara Station → Toden Table → Arakawa-Yuenchimae Station → Arakawa Yuen → Arakawa shakomae Station → Toden Omoide Hiroba → Minowabashi Station → Joyful Minowa Shopping Street → Oji-ekimae Station → Hokutopia → Oji-ekimae Station

From Otsuka Station to every station: 400 yen (Toden Arakawa Line, using my Toei Streetcar One-day Pass)
Lunch, souvenirs, etc: about 3000 yen for the whole day!

Supported by Toei Transportation.

The information presented in this article is based on the time it was written. Note that there may be changes in the merchandise, services, and prices that have occurred after this article was published. Please contact the facility or facilities in this article directly before visiting.