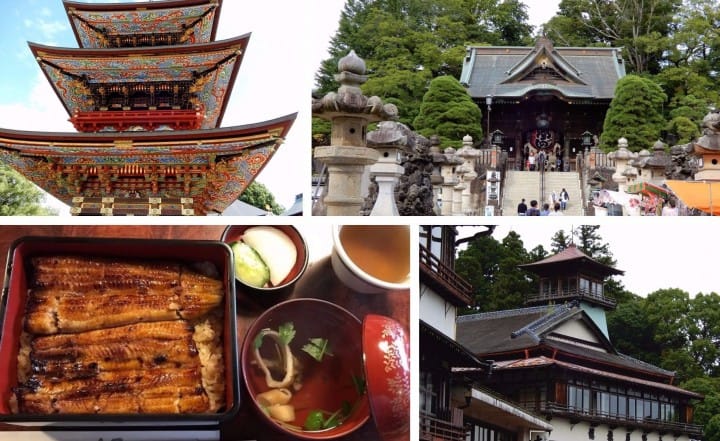 Enjoy The Sights And Delicious Foods Of Narita! A Day Trip Itinerary
Save transportation costs and receive discounts in Narita using Keisei Railway's Narita-Kaiun Pass! Visit the beautiful Naritasan Shinshoji Temple, taste the local delicacy eel, and tour a calligraphy museum, as well as a Japanese garden.
Narita, in Chiba Prefecture, is probably best known for being the home of Narita Airport, the first international airport in the Tokyo area. However, Narita is a history-rich city with charming traditional town streets and old temples, the most famous of them being Naritasan Shinshoji Temple. A visit to this temple will allow you to learn more about Narita and its fascinating history.
In fact, you can spend a whole day in Narita's traditional town, enjoying the beautiful sights around the temple, as well as delicious local specialties such as unagi eel dishes.
Using Keisei Railway's Narita-Kaiun Pass for this day trip is an excellent way to save on transportation and receive discounts at participating stores and restaurants. The pass can be purchased at the Keisei Narita Station, but also at stations such as Keisei Ueno Station or Narita International Airport Station.
From Ueno, it's just 66 minutes and 1450 yen, while from Narita Airport it takes only 10 minutes or less to Narita and costs 480 yen. For those visitors having a layover at Narita Airport, this is an excellent and convenient way to experience and learn more about Japan's culture and history.
In this article, we will introduce a model sightseeing route around Narita using the Narita-Kaiun Pass.
9:30 AM - Purchasing the Narita-Kaiun Pass at Keisei Ueno Station
If you're staying in Tokyo, the easiest way to reach the city of Narita is to depart from Keisei Ueno Station. One can easily purchase the Narita-Kaiun Pass from the automatic ticket vending machine by simply selecting "English", "Coupon", "Narita Kaiun Pass" and inserting the payment.
Ensure you do not purchase a ticket for either the Skyliner or access express trains since these do not stop at Narita Station.
By the way, the word "kaiun" used in the name of the discount pass means "good fortune" and was selected because Shinshoji Temple's talismans and amulets are well-known for bringing good fortune, success, and protection.
Take the 9:56 train toward Narita Station. You will reach the destination at 11:01.
11:01 - 12:30 -- Scroll Omote-Sandō and Visit the Narita Tourist Pavilion
When leaving Keisei Narita Station, take a right and an immediate left and cross over the red "Fortune Bridge" leading toward 800-meter long, winding Omote-Sandō, the traditional name given to the pathway leading to a major temple or shrine.
Many of the 150 or more shops along the winding (some say in the shape of an eel) Omote-Sandō have retained or been restored to Edo period style architecture thanks to efforts of the local Merchant Association. The association was also instrumental in having telephone poles and overhead power lines buried. You'll get a sense of how it must have been in Edo times for worshipers traveling this street on their pilgrimage to Shinshoji Temple.
Located shortly before you come to the main gate of Naritasan Shinshoji Temple, the Narita Tourist Pavilion gives you an opportunity to view three of the oldest and most gorgeous floats used in Narita's Gion Festival.
There is also an exhibition on the 2nd floor (with English translations) on the historical development of transportation in Chiba. A friendly staff (English speaker available) is eager to be of assistance and there is a plentiful supply of multilingual tourist information on not only Narita but Chiba prefecture. There are also rest facilities and an outside plaza. If you happen to be visiting on a Thursday, attend the free introduction to the Japanese tea ceremony.
12:30 – 13:30 Taste Narita's Specialty: Grilled Eeel! Lunch at Kawatoyo Unagiya
Picture courtesy of Kawatoyo
The extremely popular and a must experience spot is the Kawatoyo unagi (eel) restaurant located directly across from the Narita Tourist Center. In business since 1910, Kawatoyo has been serving the most delicious eel in Chiba and probably the Kanto region.
Originally a wholesaler of freshwater unagi and carp caught in the Tone River and Inba marsh, in 1925 Kawatoyo expanded into the retail business and in 1967 opened the current restaurant along the Omote-Sandō in Narita. The present restaurant is in a Taisho-era (1912-1926) building that was originally a Japanese inn.
According to Managing Director Kosumi Itoh (3rd generation), on an average day, the restaurant may serve two hundred unagi and much more on weekends. To meet these demands, they purchase unagi from Kagoshima, Miyazaki and Aichi prefectures.
Softness and fatty content are two major qualities that determine good unagi. The key to Kawatoyo's delicious unagi is also its 100-year old secret sauce recipe in which the unagi is dipped three times while being cooked over an open charcoal fire.
Picture courtesy of Kawatoyo
Kawatoyo serves "Unajuu" dishes, which consist of grilled unagi on a bed of rice served in a lacquer box and accompanied by a clear Kimosui soup (with unagi liver) and pickled vegetables. For seasoning, most people sprinkle "sansho" powder which has a peppery-lemon flavor.
Between 11:30 – 13:00 on weekends, lines queue up for lunch. You can pass the time and watch the chefs out front on the large wooden table preparing unagi by splitting it down the belly, gutting, placing the unagi liver aside, cut it into square fillets for skewering, and dipping it in a sweet basting sauce. The unagi is then grilled over hot charcoal which is specially made for Kawatoyo.
At Kawatoyo, they have English speakers on the staff and a multilingual menu. Don't forget to show your Narita-Kaiun Pass. You will be able to enjoy the soup in the Unaju set for free!
13:30 - 16:00 Tour Shinshoji Temple Complex, Naritasan Calligraphy Museum, and Naritasan Park
Naritasan Shinshoji, the "victory temple", was founded over one thousand years ago in 940 by the high priest Kancho and is dedicated to Fudomyo-o, one of the guardian deities of Buddhism. The temple was named like this to memorialize the victory of Imperial forces over a minor rebellion in 939 started by Kanto regional forces lead by Taira no Masakado.
Shinshoji is one of the top-three ranked temples of the Kanto region and many of its structures are designated important cultural or historical properties.
The main entrance to the temple is the Somon Gate which is constructed of beautiful native zelkova wood and recently built in 2008 to commemorate the 1070th year of the temple's founding. Passing through this gate you'll see the imposing Niomon Gate constructed in 1830 and designated a national historical property.
On the giant lantern is written "Uogashi" meaning "waterfront fish market". It was presented to Shinshoji in 1968 by members of the Tokyo Tsukiji Waterfront Fish Market. Make sure you don't miss seeing the magnificent golden dragon at the bottom of the lantern.
After ascending the steps from Niomon Gate, you'll reach the precincts of Shinshoji Temple with the Great Main Hall directly in front of you and the three-storied pagoda to your right.
Constructed in 1968, the Great Hall houses the image of Shinshoji's principal deity, Fudomyo-o, carved by Priest Kukai.
The 25-meter high, 305-year old three-tiered pagoda, a designated important cultural property on which restoration work was recently completed, is a magnificent example of Edo period architecture, especially the stunning clouds and waves design on the eaves.
Located along the path leading to the Museum of Calligraphy and Naritasan Park, is the splendid 58-meter, five-tiered Great Peace Pagoda built in 1984. Its design was based on a pagoda at Shingon Buddhist sect's temple complex on Mt. Koya in Wakayama Prefecture.
Situated on a hill in Naritasan Park and a short walk from Shinshoji is the Naritasan Museum of Calligraphy which has on display various collections of Japanese calligraphy dating back to the late Edo period (1603-1868) to present day along with examples of ancient Chinese calligraphy. Calligraphy in Japanese is referred to as "shodō" or "shūji", literally meaning "the way of writing", and it refers to artistic writing of Japanese kanji or kana. There are various styles such a block and cursive writing.
There are six to seven special exhibitions held every year at this museum.
While some displays have explanations in English, others simply have only the title of the work in English or only Japanese. Sometimes you don't need to understand Japanese to interpret the feelings of the writer. Boldly written characters and gently, flowing and soft characters can convey the writer's mood.
The museum itself is pleasing such as the hanging light fixtures in shape of a Japanese "fude" or calligraphy brush. The visit here was both an enjoyable and educational experience.
The 40-acre (about 3 times larger than Tokyo Dome) Naritasan Park, located behind Shinshoji Temple, comprises the features of a traditional Japanese garden and includes three ponds, waterfalls and pleasant hiking paths.
While its splendid Japanese garden is a pleasure to visit year round, it is especially worth visiting in the spring when the cherry (sakura) and plum (ume) trees blossom and late October to late November when it is enshrouded by the colorful fall foliage.
16:00 - 17:00 -- A Relaxing Break at Cafe Kohian
After your visit to Shinshoji and its surroundings, take a relaxing retreat at the traditional Japanese café Kohian. Actually, the name in Japanese means "coffee retreat".
The menu is very reasonable and offers a wide assortment of coffee, light sandwiches, and cakes. Try the Japanese chestnut hotcake with a drink for only 900 Yen. It is an ideal refreshment after the stroll around the temple complex.
17:00 – 18:00 -- Revisit Omote-Sandō for Souvenir Shopping
Before heading back to the Keisei Narita Station, how about visiting the shops along Omote-Sandō in search of souvenirs from your trip?
There's a wide assortment of souvenirs and local specialties being sold such as the popular yokan (a thick, jellied dessert made of red bean paste, agar, and sugar), senbei rice crackers, various bamboo handicrafts, custom-made chopsticks, and local sake.
An excellent memory of your visit to Narita and Japan would be the beautiful tenugui (hand towels) with the four seasons sold by Hasegawa, a shop located near the entrance to Shinshoji. If you make a purchase of more than 2000 yen, show your Narita Kaiun Pass at the counter, and you will receive a 5% discount.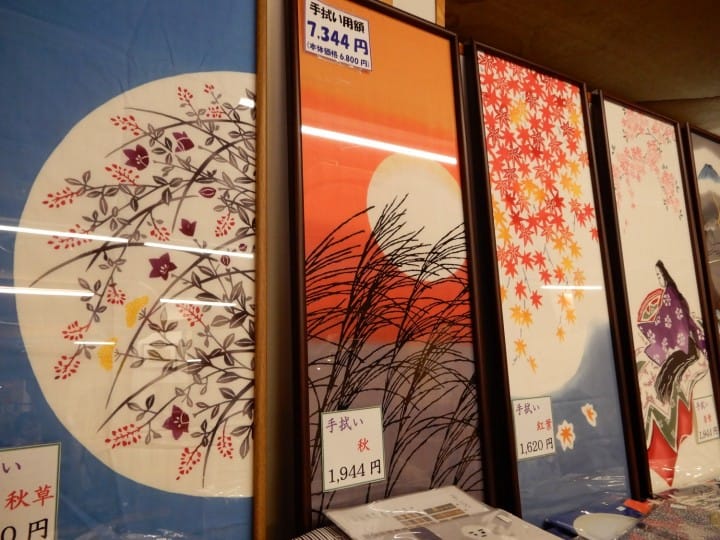 You might also consider purchasing locally brewed sake from Chomeisen, a sake shop which offers a wide variety of sake, as well as the opportunity to the taste various brands before buying. Its brewing factory is directly behind the shop.
Along the way you'll also encounter many shops displaying or selling Unari-kun, Narita City's mascot, which is an eel (unagi) in the shape of an airplane.
If you arrive at Keisei Narita Station around 18:00, you'll be able to board the 18:18 train back to Ueno. You'll be back at the Keisei Ueno Station in about 66 minutes.
Enjoy Your Day Trip To Narita!
We hope you have a great time visiting Naritasan Shinshoji Temple and the sightseeing spots in the area. Remember to show your Narita-Kaiun Pass to the shops you're visiting and benefit from the discounts available.

Narita Route Summary
Keisei Ueno Station → Keisei Narita Station → Narita Tourist Pavilion → Kawatoyo → Naritasan Shinshoji Temple → Naritasan Calligraphy Museum → Naritasan Park → Cafe Kohian → Omote-Sando → Keisei Narita Station → Keisei Ueno Station

Transportation expenses: 1450 yen (Narita-Kaiun Pass)
Lunch, souvenirs etc.: around 4000 yen

Supported by Keisei Electric Railway Co.,Ltd.

The information presented in this article is based on the time it was written. Note that there may be changes in the merchandise, services, and prices that have occurred after this article was published. Please contact the facility or facilities in this article directly before visiting.