Fun Activities And Tasty Treats! Making The Most Of The Seibu 1Day Pass
Venture around the western suburbs of Tokyo along the Seibu Line to discover amazing places, unique local treats, and fun activities! Available for only 1000 yen, the Seibu 1Day Pass allows unlimited train rides in Tokyo and Saitama for one day.
Have you ever wanted to get a closer look at the Japanese lifestyle, or even to experience aspects of Japanese culture? If yes, we advise you to venture away from the famous sightseeing spots in Tokyo at least for one day and explore the city's suburbs.
If you'd like to enjoy delicious local treats and learn more about Japan's tea culture, for example, how about spending a day in western Tokyo and Sayama, a town in Saitama Prefecture renowned for its tea production?
A very convenient way to travel to the west of Tokyo is using the Seibu 1Day Pass, a discount ticket available for only 1000 yen that allows unlimited rides on the Seibu Line trains for a day.
To illustrate just how many things you can enjoy on a leisurely day trip in the west of Tokyo, we put together a model itinerary using the Seibu 1Day Pass.
9:20 -- Purchasing the Seibu 1Day Pass from Seibu Shinjuku Station
Our journey will be along the Seibu Shinjuku Line, so we recommend you purchase the Seibu 1Day Pass at Seibu Shinjuku Station. Please be aware that Seibu Shinjuku Station is a separate building from Shinjuku Station. It shares the same building with Shinjuku Prince Hotel and a shopping mall.
The Seibu 1Day Pass can be purchased at the Seibu Shinjuku Station's ticket office. This pass is available only for visitors to Japan and can be purchased only by the holders of a foreign passport.
There is detailed information on the area and validity of the ticket in English, Chinese, and Thai, displayed on the window of the ticket office.
The Seibu 1Day Pass costs 1000 yen is valid for one day on all the Seibu Lines, including the Seibu and Chichibu Line. It also comes in the variant called Seibu 1Day Pass + Nagatoro (1500 yen), which allows you to travel all the way to the picturesque Nagatoro Gorge in Saitama Prefecture.
The Seibu 2Day Pass (2000 yen) and Seibu 2Day Pass + Nagatoro (3000 yen) are also available for travelers who wish to take their time and enjoy all the beautiful sights of Saitama Prefecture. You can go as far as Kawagoe, the city famous for its traditional, Edo period (1603 - 1868) townscape, or Chichibu, a popular travel destination for those who want to enjoy nature and exciting leisure activities.
Now that we have our Seibu 1Day Pass, let's board a local train on the Seibu Shinjuku Line. We'll take advantage of the fact that we can enjoy unlimited rides, so we'll make a few stops in western Tokyo before embarking on a longer trip to Sayama in Saitama Prefecture.
We took the 9:45 local train bound for Shintokorozawa.
10:00-10:30 -- Treasure Hunt at Gifuya, a Local Candy Store in Nakano
Our first stop is at Araiyakushimae Station, only 8 minutes away by local train from Seibu Shinjuku Station.
The reason why we got off here is Gifuya, a famous local candy store, located only 2 minutes walk away from Araiyakushimae Station. This store is very popular among the locals for its collection of objects from the Showa period (1926-1989) such as old radios, figurines, and manga, as well as for its amazing variety of dagashi, simple sweets that are sold for 10 yen or 15 yen a piece.
Surrounded by hundreds of types of candy, you'll feel like a child again, marveling at each and every thing you see. Nothing is more fun than picking up some of these sweets. While most of them cost anything between 10 yen and 50 yen, the more elaborate ones might cost around 100 yen.
Before you even know it, you are experiencing one of the joys that are dearest to the Japanese. Picking up candy from a dagashi store is an activity that brings nostalgic feelings to anyone who grew up in Japan.
The friendly owner of Gifuya has many stories to tell about the objects in his antique collection, which is on display around the store. In fact, from the moment you step in, you realize Gifuya is much more than a candy shop. It is a place filled with memories of postwar Japan.
Hop on the 10:33 local train and get off at the next station, Numabukuro, for the next destination on our itinerary.
10:35-11:10 -- Pray for Good Fortune at the Numabukuro Hikawa Jinja Shrine
After a 2 minute walk from Numabukuro Station you'll reach Numabukuro Hikawa Jinja, a branch of one of Japan's prominent shrines, Hikawa Jinja, headquartered in Omiya, Saitama Prefecture.
You'll most surely be impressed by the dignified atmosphere of this shrine's grounds. Numabukuro Hikawa Jinja is a very popular choice for Hatsumode, the first visit to a shrine in the new year, as it is believed to grant prayers for prosperity and good luck in relationships.
To the left side of the main shrine hall, you will see a tall pine tree with an unusual shape. This is the famous "Sanbon negai matsu", the sacred pine that listens to the prayers of those who have a deep and pure wish. It is said that, after offering your prayers here, you just have to wait ("matsu") for your wish to come true.
Another element that makes Numabukuro Hikawa Jinja a very special shrine is the Nakano Shichifukujin, the ensemble of the seven deities of good fortune. Usually, each of these seven deities is enshrined separately in a shrines or temple of its own, and one would have to tour them in a small pilgrimage called Shichifukujin meguri.
But here at Numabukuro Hikawa Jinja, you can pay your respects to all the seven deities at once! It's a great chance to pray for good fortune.
After your shrine visit, come back to Numabukuro Station and board the 11:15 local train headed to Hon-Kawagoe. Get off at the next stop, Nogata Station, where we'll go for a stroll through a lively shotengai (shopping street) and taste some great ramen!
11:30-12:30 Lunchtime - Taste the Famous Ramen of Mashiro in Nogata
The Nogata area in Tokyo's Nakano ward is renowned for its old shopping street, Nogata Shotengai, founded in 1928. The many various shops lining the streets of this area cater to the daily needs of the locals. What makes them even more special, is that the products they sell - from vegetables to sweets, clothes, and appliances, are priced lower than in supermarkets or stores.
In addition to this, Nogata has become increasingly popular among ramen fans, thanks to its excellent ramen shops. One store that was highly recommended to us was Mashiro, a shop specialized in ramen with savory, thick broth.
We chose the representative dish of Mashiro, the Noko tori shirayu (thick broth ramen with a topping of fried chicken slices) priced at 750 yen. It looks great and, believe us, it tastes great! The aroma of the thick broth has just the right intensity, being perfectly balanced with the amount and taste of noodles and toppings. What's best, it's not too fatty, so health-conscious persons will love it!
Mashiro has a fashionable exterior and the signposts with images of ramen dishes make it easy to spot.
12:30 - 13:30 -- Enjoy Local Sweets in Nogata Shotengai
After lunch, how about taking a stroll through the shopping street? There is no better place to witness the authentic Japanese lifestyle than in a shotengai. You can see what people buy for daily use and how much they value the freshness of the products or their area of origin.
Among the many shops in the shotengai, there is a sweets shop that stands out through its originality. Hinasakudo is specialized in obanyaki, savory cakes made with batter and filled with sweet red bean paste.
The obanyaki at Hinasakudo distinguish themselves through their cute frog design, as well as through the variety of flavors. The frog, called Kero, is the beloved mascot of the shop.
Each of the obanyaki types has a different flavor mixed with the red bean paste, such as chestnuts, caramel, matcha green tea, and others! One piece costs 140 yen.
Starting from the summer months until in November, they also offer various types of shaved ice (kakigori). The star of their shaved ice desserts is undoubtedly the Shirokuma ("White Bear"), an incredibly cute and tasty dessert made with shaved ice, ice cream, brown sugar syrup and fruit (640 yen).
While the obanyaki cakes are only for take away, the shaved ice desserts, along with other sweets and drinks can be enjoyed in the cafe space of the shop. If you're visiting Nogata, do stop by Hinasakudo! You'll love this shop for the wonderful taste of the sweets and for the cuteness of their mascot character - Kero, the frog.
13:37-14:23 -- Traveling from Nogata Station to Sayama, Saitama's Town of Tea
Around 13:30 make your way to Nogata Station in order to embark on the journey to the town of tea, Sayama. If you take the local train departing at 13:37, get off at Saginomiya Station, which you will reach in 5 minutes. At Saginomiya, take the express train headed to Hon-Kawagoe from the opposite platform. You will reach Sayamashi Station at 14:23.
From the bus stop in front of the station, take bus No. 31 headed to Sayama-dai Danchi, which departs at 14:30. (These buses depart every 15 minutes.) You'll need to get off at the Sayama-dai Minami bus stop and then walk along the road straight ahead for about 10 minutes in order to reach the tea store Miyanoen.
15:00-16:20 -- Discover the World of Japanese Tea at Miyanoen in Sayama
Miyanoen is a tea store with a long tradition, having been established in 1870. As one of the largest producers of Sayama tea, Miyano-en has its own tea cultivation areas, making all the various types of teas: sencha, hojicha (roasted tea), and even matcha.
In order to help spread the knowledge about tea among both the locals and the visitors to Japan, Miyanoen offers tea picking activities, and even a matcha workshop, where the participants can learn what green tea is and how to prepare a cup of delicious matcha tea.
The tea picking activity starts with the participants changing into "work clothes", a cute kimono ensemble that ensures you don't get your own clothes dirty while in the tea field.
You'll receive detailed explanations on how to pick the tea leaves so that they result in a cup of good quality tea.
In fact, you will learn how to prepare the fresh leaves so that they become tea. The whole tea leaf picking experience costs 1500 yen (clothing included).
Visitors can also choose to take part in a Matcha workshop, which consists in grinding tea leaves so that they become powdered tea (matcha), as well as preparing a cup of matcha tea. All the necessary utensils are lent to the participants on the spot. The participation fee for the Matcha workshop is 2500 yen. (Please be aware that both workshops require prior registration by e-mail or phone.)
At both workshops, Mr. Miyano, the manager of Miyanoen, will share his knowledge about tea with you. There is no better way to find more about the depth of Japan's tea culture than listening to the explanations of an expert.
Those who take part in the tea picking activity can even learn how to make tea leaf tempura! You make a simple batter with water and flour, then dip each tea leaf in it and fry them one by one. It results in an extremely tasty snack that can only be enjoyed if you have a source of fresh tea leaves nearby. It will most surely make you want to visit Miyanoen again!
17:10-17:40 -- Green Tea Flavored Sweets at Matcha Station Araien Honten in Tokorozawa
After your visit to Miyanoen, return to the Sayama-dai Minami bus stop and take the bus for Sayamashi Station. This time, take a train headed for Seibu Shinjuku. In around 11 minutes, you'll reach Tokorozawa Station. Get off here for one more special experience for the day.
Right by the West Exit of Tokorozawa Station there is Matcha Station Araien Honten, a shop selling green tea flavored drinks and sweets.
Run by a famous local tea brand, Araien, Matcha Station offers an incredible variety of green tea flavored parfaits, ice cream, and desserts, as well as drinks such as matcha latte (350 yen) or even pure matcha tea (250 yen).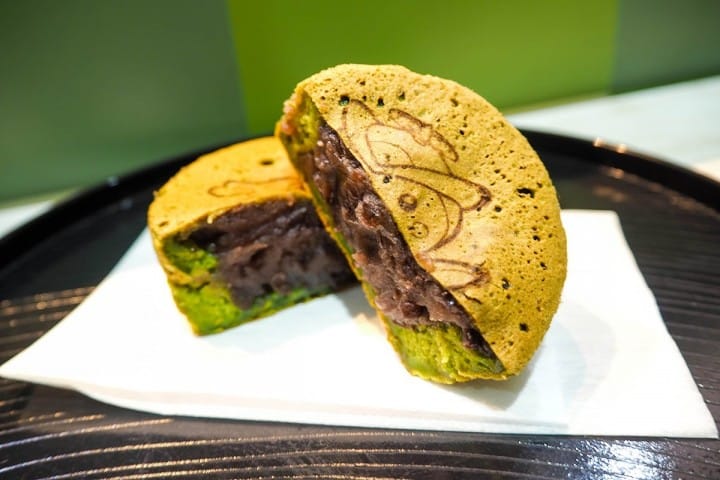 The latest addition to their menu is a variety of matcha obanyaki, green tea flavored cakes with various fillings. We especially recommend their classic matcha obanyaki, made with green tea flavored dough and sweet red bean paste, a very savory and filling treat that will show you just how well do the flavors of green tea and red bean paste go together.
When visiting Tokorozawa, do stop by Matcha Station Araien Honten. You will be amazed at the variety of green tea flavored sweets they offer!
Around 18:00 -- Back to Tokyo
The area around Tokorozawa Station is very lively and it's sure worth taking a walk and exploring the surroundings. When you wish to return to Tokyo, use your Seibu 1Day Pass to get from Tokorozawa Station to either Seibu Shinjuku Station (38 minutes by express train) or Ikebukuro Station (24 minutes by express train).
Enjoy Your Trip along the Seibu Line!
Introduced above is a model route for a day trip using the Seibu 1Day Pass. Remember that you can go on and off local and express trains of the Seibu Line as many times as you want for a day, so feel free to customize your route according to your own preferences.remember to pick up your Seibu 1Day Pass each time you insert it into the ticket gates!)

Have a great time exploring the western part of Tokyo and the exciting destinations in Saitama Prefecture!

Western Tokyo - Sayama - Tokorozawa Route Summary
Seibu Shinjuku Station → Araiyakushimae Station (Candy Store Gifuya) → Numabukuro Station (Hikawa Shrine) → Nogata Station (Ramenya Mashiro, Nogata Shotengai) → Sayama Station (Miyano-en Tea Store) → Tokorozawa Station (Matcha Station Araien Honten) → Seibu Shinjuku Station or Ikebukuro Station

Transportation expenses: Seibu 1Day Pass (1000 yen), local bus in Sayama (roundtrip: less than 500 yen)
Tea picking workshop: 1500 yen
Matcha tea workshop (grinding tea, making tea, tea leaf tempura etc.): 2500 yen
Other expenses (lunch, snacks, souvenirs etc.): around 3000 yen

Supported by Seibu Railway

The information presented in this article is based on the time it was written. Note that there may be changes in the merchandise, services, and prices that have occurred after this article was published. Please contact the facility or facilities in this article directly before visiting.