A Day In Tochigi - Stroll Around The Old Town Wearing A Kimono
Tochigi city's Kuranomachi is an area where old storehouses built centuries ago are preserved and still in use. Make the most out of a day trip to Tochigi by wearing a kimono while strolling around town and enjoying Japanese culture.
If you'd like to enjoy a first-hand experience of Japanese culture, how about spending a day in Tochigi, one of the cities where Japan's traditional culture is preserved best? In fact, rather than being "preserved", in Tochigi, traditional culture is a living part of the city and of the everyday life of the citizens.
We will introduce a model route with departure from Tokyo, which allows you to spend a day in Tochigi's traditional town - the Kuranomachi area. Here, you can rent a kimono, try your hand at making delicate Japanese sweets, go on a riverboat cruise, taste the famous local foods, and, overall, enjoy a wonderful day while experiencing some of the most beautiful aspects of Japanese culture.
8:00 -- Depart from Tobu Asakusa Station and Reach Tochigi
Tochigi can be reached in about an hour from Tokyo. Take Tobu Line's Kinu limited express departing from Asakusa Station at 8 AM. Tickets can be bought on the day from the ticket vending machines at the station. In addition to the train ticket, you will need to pay the fare for the reserved seat, so the ride will cost approx. 2100 yen.
You will reach Tochigi at 9:08 AM. Upon arrival, please stop by the Tourist Information Center near the North Exit of Tochigi Station. Here you can pick up a very useful walking map of the old downtown area and other informational materials regarding Tochigi.
The first destination on our recommended route is the Yokoyama Local Culture Hall. It can be reached in 15 minutes by foot from Tochigi Station or by taking the loop bus from the bus stop in front of the station and getting off after a 5-minute ride at Kankokyokai-mae bus stop (in front of the "Tourist Association").
9:45 - 10:45 -- Put on a Kimono! Yokoyama Local Culture Hall
Tochigi city has thrived in the Edo (1603-1868) and Meiji (1868-1912) periods as a merchants town thanks to its excellent access to the major commercial routes that lead to the capital. The boats carrying goods loaded up in Tochigi would go down the Uzumagawa and Tone rivers, reaching Edo (or Tokyo) by the Arakawa River.
Many of the old storehouses ("kura") can still be seen today in the heart of Tochigi. This area, called Kuranomachi, has been preserved to keep the atmosphere of the old townscape. The traditional architecture of the storehouses provides the visitors with the opportunity to enjoy a slip through time back to the Edo and Meiji eras.
Picture courtesy of Tochigi City Tourism Department
Yokoyama Local Culture Hall is one of the beautiful storehouses in Kuranomachi. The building belonged to Yokoyama Sadasuke, a prosperous merchant from the Meiji era. Originally the owner of a successful hemp business, Yokoyama founded the first bank in Tochigi. His residence is now a museum and a culture hall.
When we visited, we found an impressive display of Tsurushi-bina dolls at the entrance. These dolls can usually be seen in March, around the Hina Doll Festival (March 3rd), but in Tochigi, they are displayed also in autumn.
The building is a museum, displaying cultural artifacts from the Edo and Meiji times. In addition to the office that once functioned as a bank, there are Japanese style rooms with objects that once belonged to the Yokoyama family. The beautiful inner garden, full of greenery, is also worth seeing.
One of the cultural activities available at Yokoyama Local Culture Hall is renting a kimono. For 3000 yen, you can dress up in a kimono and go out for a stroll around the town wearing it. Please note that a prior reservation should be made at least a week before your arrival and that the kimonos have to be returned the same day by 16:30.
You will be amazed at the number and variety of kimonos you can choose from! These kimonos have all been donated to the Yokoyama Local Culture Hall by members of the local community.
The colors and patterns of the kimonos are in tune with the atmosphere of each season. After you find the one that you like best, you'll be helped to put it on by kimono professionals.
After you're all dressed up, how about having your picture taken? With the garden of the culture hall or with the traditional townscape in the background, a picture of yourself wearing a kimono will be a wonderful keepsake from your trip to Tochigi.
10:55 - 11:45 -- Make Japanese Sweets! Yamamoto Sohonten
Yamamoto sohonten is a famous confectionery store in Tochigi. Their specialty is wagashi, the delicate Japanese sweets that go so well with green tea.
At Yamamoto sohonten, you can take part in a sweets making workshop. For 1500 yen, you get to learn how to make two types of wagashi. In order to register for the workshop, please make a reservation at least two days before your arrival.
You will be shown how to use the base material - anko (sweet bean paste) - in order to make small confections. With only a few basic tools, you'll find yourself creating shapes that mimic the ones found in nature. It is an art that has been perfectioned over the centuries.
The two confections we made were inspired by two autumn motifs: a chrysanthemum and autumn leaves. A microcosm reflecting the great changes in nature, wagashi sweets are extremely delicate, and it will be an amazing experience to actually make them yourself.
When visiting Tochigi, do stop by Yamamoto sohonten to learn more about Japanese traditional confectionery.
11:50 - 12:30 -- Go on a Boat Cruise on the Uzuma River
Picture courtesy of Tochigi City Tourism Department
One of the most exciting activities to enjoy in Tochigi is going on a leisure boat ride on the Uzuma River. During the 20 minute ride, you'll be able to hear the story of Tochigi and how it thrived as the capital city of Tochigi prefecture in the Meiji period (1868-1912).
The riverboat cruises are a great chance to examine the features of the old storehouses from close.
The boatman will entertain you with stories about the town and about Uzuma River, which connects Tochigi with Tokyo. In the old days, the boatmen would travel a whole day down the river to the capital, transporting goods. The memories of those days can be traced in the humorous stories of the river cruise boatman.
Going on a river cruise is a chance to get to know Tochigi and the story of its fascinating storehouses.
13:00 - 14:00 -- Enjoy a Great Lunch at Parlour Tochigi
After a morning full of exciting activities, we recommend stopping for lunch at Parlour Tochigi, a restaurant located within walking distance from the Yokoyama Local Culture Hall and the Kuranomachi Riverboat Cruise harbor.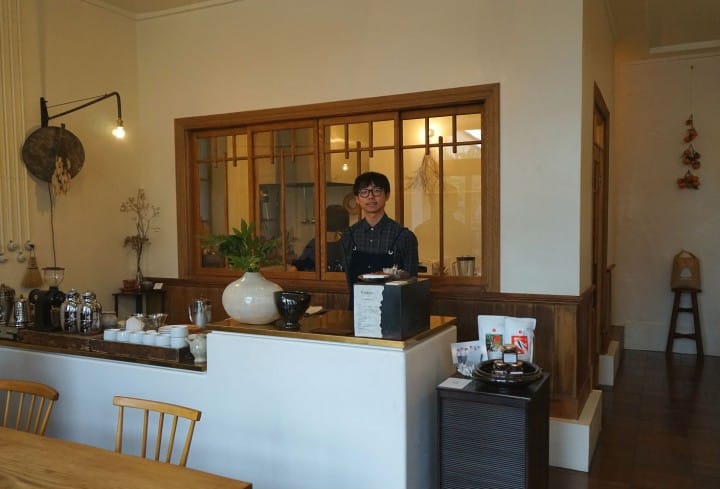 At Parlour Tochigi, you will be able to notice how the traditional side of Tochigi is treasured and revived through a contemporary sensibility. The restaurant itself is new, but its interior keeps the warmth of a traditional home.
In fact, the area beyond the dining space is an authentic Japanese-style room, while the second floor serves as a gallery. Thanks to the way it combines traditional elements with the contemporary style, Parlour has a very cozy atmosphere.
Their exquisite dishes made with local ingredients are another reason to visit. We tried their curry rice set meal (1300 yen), which was full of fresh vegetables and simply delicious.
More than just a dining place, Parlour Tochigi is a space where you'll be able to see how Tochigi's past naturally flows into its present.
14:30 - 15:00 -- Abuden Miso Dengaku - A Tasty Traditional Snack
After lunch, we recommend taking a walk to Abuden Miso, a well-established miso (fermented bean paste) store, located in one of the oldest buildings in Tochigi's Kuranomachi.
In the Edo period (1603-1868), this building used to stand on the side of the road that connected Kyoto and Nikko. When the feudal lords from the west would come to pay their respects at the Nikko Toshogu Shrine, they would pass by the front of this house.
Abuden Miso is specialized in producing various types of miso bean paste. They run a dining place called Abuden Dengaku, which preserves the atmosphere of the old days. Here they serve tea and miso dengaku, a local snack which this store is famous for.
Miso dengaku consists of tofu, potatoes and konjac that are fried over the fire and covered in a sweet miso sauce. It is an extremely tasty and filling snack that has been loved by the locals for centuries.
When visiting Tochigi, do stop by Abuden Miso to taste the miso dengaku and learn more about Tochigi's history.
15:00 - 16:00 -- Walking around the Old Town
Picture courtesy of Tochigi City Tourism Department
It is well worth just strolling around Tochigi's Kuranomachi area for a while and enjoying the unique townscape. There are actually very few areas in eastern Japan where Edo-style buildings are preserved and still in use. There is something new to discover at every corner, so how about exploring the town?
Please remember to return the kimono by 16:30 to the Yokoyama Local Culture Hall.
16:00 - 16:30 -- The New Ginger Museum
To add a humorous twist to you visit to Tochigi, consider stopping by the New Ginger Museum, a facility dedicated to promoting the health benefits of new ginger.
In addition to exhibitions related to new ginger, the facility also houses a cafe that offers dishes made with the ingredient, as well as a souvenir store where all the items are ginger-themed.
In addition to its health benefits, new ginger also a distinctive sweet and soothing aroma. How about getting a souvenir that's a bit out of the ordinary at the New Ginger Museum?
17:05 - 18:36 -- From Tochigi back to Asakusa Station
After an exciting day spent in Tochigi, take the Tobu Line limited express Revaty to get back to Tokyo. You will reach Asakusa Station in about an hour and a half.
Experiencing Japanese Culture in Tochigi's Kuranomachi
A day in Tochigi city's Kuranomachi area gives you the chance to learn more about Japan and how it developed during the Edo and Meiji eras. Renting a kimono and taking part in Japanese culture activities such as making wagashi and going on a riverboat cruise will enhance your experience of visiting this unique city. We hope you enjoy your time in Tochigi!

Tochigi Kuranomachi Route Summary
Asakusa Station → Tochigi Station → Yokoyama Local Culture Hall → Yamamoto Sohonten (Sweets Workshop) → Kuranomachi River Boat Cruise → Lunch at Parlour Tochigi → Abuden Miso (Miso Snack) → Walking around the Old Town → New Ginger Museum → Tochigi Station → Asakusa Station

Transportation expenses: Asakusa Station to Tochigi Station roundtrip 4200 yen
Kimono rental: 3000 yen
Japanese sweets making workshop: 1500 yen
Kuranomachi Yuransen riverboat cruise: 700 yen
Lunch, souvenirs, other expenses: around 2500 yen

Supported by Tochigi Prefecture

The information presented in this article is based on the time it was written. Note that there may be changes in the merchandise, services, and prices that have occurred after this article was published. Please contact the facility or facilities in this article directly before visiting.