Reds, Oranges And Golds - Come Relish The Fall Colors In Ibaraki!
Autumn in Ibaraki is breathtaking - there's so much color all around to enjoy, and by visiting Hitachi-Daigo and Fukuroda stations, you can also see some of the most brilliant autumn colors that Japan has to offer.
8:00 -- Departing on a Tour of Ibaraki's Famous Fall Spots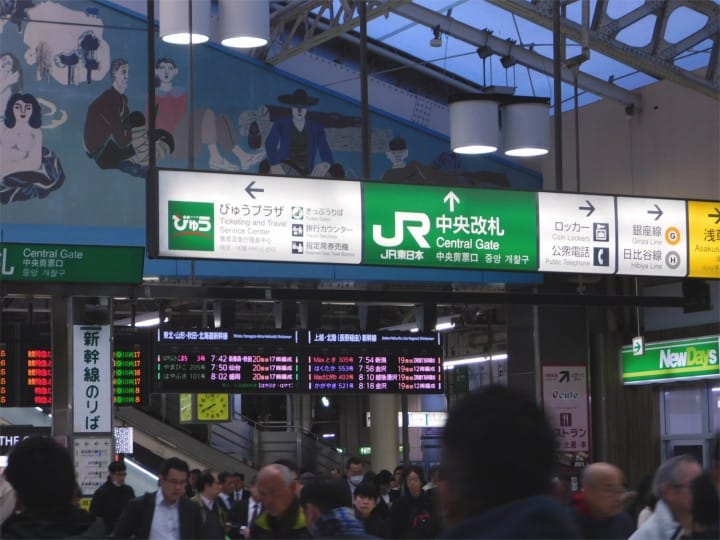 Today I departed from Ueno once again, and headed off to visit Ibaraki, a prefecture full of amazing natural landscapes, historic temples and shrines, and many wonderfully kind people.
While Ibaraki is a fantastic place to visit all year round, autumn in Ibaraki, especially in the Okukuji area (an hour away from the capital city of Mito), is simply stunning. You won't believe your eyes when you see the sights that Hitachi-Daigo and Fukuroda have to offer.
9:30 -- Taking a Train on the Suigun Line
After changing to the Suigun Line at Mito Station, I was pleasantly surprised by having a conductor in the train itself. On this line, at some of the stations, rather than having to buy your ticket at the station before heading through the gate, you can tell the conductor where you are headed, and can experience the system of paying for your ticket inside the train instead.
The ride on the Suigun Line takes about an hour and fifteen minutes and you get to see many of Ibaraki's picturesque places along the way.
After my train pulled in to Hitachi-Daigo Station, I was ready to check out the sights on foot. Following the crowds of elderly tourists I met on the train, I walked across this bridge and then along the riverside to my first destination, Eigenji Temple.
10:45 -- Eigenji Temple and Fall Colors
Founded in 1446, Eigenji is a temple that belongs to the Soto school of Zen Buddhism, whose main object of worship is a statue of Shakyamuni, or the historical Buddha. Most of the temple was lost during the Tenguto Rebellion in 1864, but was reconstructed in 1953, and now the temple serves as one of the largest cemeteries in the area.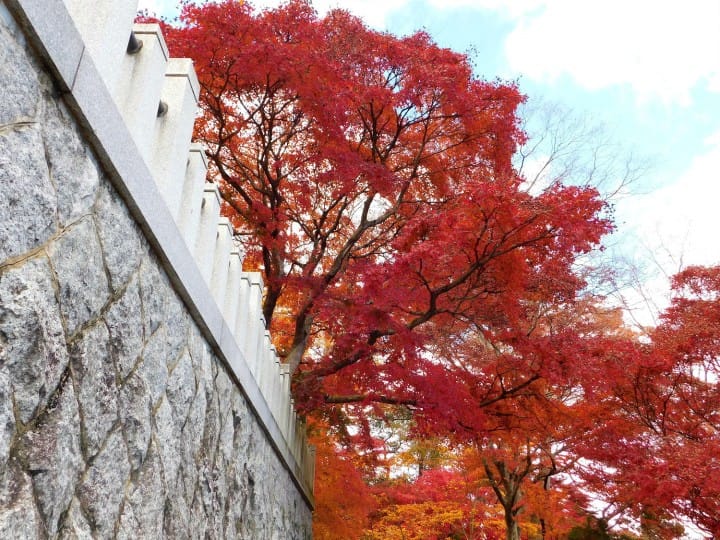 What makes this temple stand out, however, is the literal mountain of maple trees that surrounds it. The fiery red leaves of the maple trees are called "momiji" and are very much loved by the Japanese. In fact, Eigenji Temple is often called the Momiji Temple, because of how many red maples cover its precincts each fall.
Here you will also find a beautiful statue of Benzaiten, one of the Shichifukujin (Seven Gods of Good Fortune), and many, many Jizo statues as well, lounging in the fallen leaves.
During the fall, this temple can get a little busy, but if you are lucky, you will also find fruit stands selling one of the most popular products in this area: apples. The crisp autumn air and the scent of the apples were almost more than I could bear, and I found myself buying an apple to enjoy later.
12:00 -- Daigo Cafe - Lunch and Souvenirs
After visiting the temple and taking in all the incredible shades of red and orange that have colored the countryside, it was time for a warm meal.
Located on a corner down the main road from the station, Daigo Cafe is a charming antique style cafe built in a 100 year old Japanese home. Here you can see it from the side street. Isn't it amazing?
The interior is just as stunning; complete with a small shrine that has been there since the house was first built, the cafe has old radios, photographs, and even an old TV that plays black and white movies and programs too.
The menu in the cafe features three main dishes and three desserts, all made from fresh local ingredients. My travel partner and I decided to try two of the meals, and one dessert.
This is their Spicy Chicken Curry (980 yen). Made with an original spice blend and fresh local vegetables, this curry is just spicy enough to warm you up on a chilly fall day. My travel partner said that this was one of the best chicken curries she's ever had, and that the spice level was just right.
Here is their omuraisu, or Omelette Rice, dish (980 yen). This dish is made with brown rice and a fresh scrambled egg omelette (made from Okukujii chicken eggs, one of Japan's premium brands of poultry), and topped off with a generous serving of hayashi stew (hashed meat in a tomato and onion based sauce). It was amazing!
We couldn't go without trying one of the delicious desserts here too - not after seeing one brought out to another table. This is their Yume Miru Ringo (Dreamy Apple) dessert plate (450 yen, 850 yen with a drink). Isn't it cute?
The little apple is actually a small cake, made similarly to other traditional Japanese sweets; in the middle is an apple cream cheese, with chunks of apple around that, and a mildly flavored cover of mashed sweet potato around that. This is something that I've never seen before, and a dessert that I really want to try again!
Daigo Cafe also has a souvenir corner, where locally made drinks and liqueurs, teas, apple candies, fabrics and other items can be purchased as well, so if you are looking for some of your own apple-based treats to take home, this is the place to check.
13:00 -- Appreciating the Arts at Kijian Lacquerware Studio and Shop
Now that my stomach was full, I took a stroll on the main street of the town of Daigo and came upon this historical building, which is about a three minute walk away from Daigo Cafe.
This is the Kijian Lacquerware Studio and Shop, where you can find authentic Daigo lacquerware, produced in their studio, for sale. Opened in June 2010, this studio has a beautiful interior that perfectly sets off each piece on display. It almost felt like I were in a museum rather than a shop.
The lacquerware isn't just meant to be displayed though, each piece is sturdily made and can be used in your daily life as well. Daigo lacquerware is known for its hardy finish that, while it may lose some of its shine, will not fade as easily as other types of lacquerware may (these items can only be hand washed, however).
These bowls (6480 yen) come in black and red lacquer finishes, and would make the perfect souvenir of a trip to Hitachi-Daigo, don't you think?
14:30 -- Viewing Fukuroda Falls and the Shops
My next must-see place was Fukuroda Falls, which can be reached from Fukuroda Station on the Suigun Line. It only takes four minutes and costs 190 yen by train to reach Fukuroda Station. From the station you can take the bus to Fukuroda Falls (210 yen one way).
The route from the bus stop to the falls is a bit of a walk, but thanks to all the maple trees, it doesn't seem all that bad. When you get off the bus, just turn left at the corner and walk straight ahead, and after about ten to fifteen minutes, you will find yourself outside a bustling shopping street full of really interesting souvenir shops and cafes. There's even a fascinating antique store here too that caught my eye, and lots of shops selling freshly grilled fish and dumplings.
Just follow the river and you will eventually come to a slope, leading up to the entrance to the Fukuroda Falls viewing platforms. It only costs 300 yen for adults, and 150 yen for children to enter the falls viewing areas. In 1990, the Fukuroda Falls were selected as part of the 100 Most Beautiful Waterfalls in Japan, and are also considered one of the Three Great Waterfalls of Japan, along with Kegon Falls in Tochigi prefecture and Nachi Falls in Wakayama prefecture.
When I visited, the inside of the tunnel was lit up with disco ball lights, which made it both a cute and fun stroll. This illumination was part of a limited period event held in November 2017.
One of the first stops within the tunnel was the Lover's Sanctuary, a special spot within the tunnel dedicated to couples and a power spot said to help bring success in love to those visiting it. The maple leaves and view of the mountains here are really impressive, but there are more amazing sights to take in further down the tunnel.
What do you think? This is the view of the falls from the first viewing deck. The falls themselves stand 120m tall, 73m wide and run over four massive stone steps. In the winter, the waterfall may sometimes freeze solid, turning into a wall of ice, while in the spring and summer, it becomes a lush green paradise.
After the Lover's Sanctuary and the first viewing deck, you'll come to the elevators. Just get in line and soon you'll be on your way up to the second and third observation decks.
From the second deck, you can get a better appreciation for the sheer size of Fukuroda Falls, and from the third deck, the view out and across the mountains, with the falls in the foreground is something that will take your breath away.
When you head back down in the elevator, you will come out in the same tunnel that you started from, but stick to the left and you will walk out onto a pathway that leads to this suspension bridge. Follow along this path, and you'll come out back in the town, in perfect timing to do a little shopping before walking back to catch the bus.
The return bus stop is the same as where you were dropped off. Please be aware that the last bus of the day departs at 16:00 from April 1st to November 30th. I made it to the bus with a few minutes to spare and could enjoy the view of the town, the mountains and the early sunset while I waited.
Ibaraki Is Full of Autumn Delights - Don't Miss Out!
The sheer beauty of the landscape and charms of the area almost made me sad to return home to Tokyo. At least I could still see some of the sights from the windows of the Suigun Line back to Mito Station.

If you are looking to really get away from it all and see the natural side of Japan, then a trip to Ibaraki is a must! You won't regret it.

So, my whole journey today was:
Ueno Station (JR Ltd Express Hitachi 3) → Mito Station (switch to Suigun Line) → Hitachi-Daigo Station → Eigenji Temple → (walk) → Daigo Cafe → (walk) → Kijian → Hitachi-Daigo Station → Fukuroda Station → (taxi or bus) → Fukuroda Falls → (bus) → Fukuroda Station → Mito Station (switch to JR Ltd Express Hitachi 24) → Ueno Station

Total Transportation cost: 8250 yen
Lunch, souvenirs, etc: about 3000 yen for the whole day!

Supported by Ibaraki - Chiba Joint Promotion Council of Themed International Tourism

The information presented in this article is based on the time it was written. Note that there may be changes in the merchandise, services, and prices that have occurred after this article was published. Please contact the facility or facilities in this article directly before visiting.