EDO WONDERLAND - Have Fun Exploring The Roots Of Japanese Culture
Edo Wonderland Nikko Edomura is a cultural theme park that recreates the atmosphere of Edo (pre-modern Tokyo). Become an Edo citizen for a day and explore the roots of Japanese culture through the amazing activities available in Edo Wonderland.
Anyone planning a trip to Japan who did a bit of research on what to visit in Nikko must have heard of Edo Wonderland, an area that recreates the atmosphere of Edo (pre-modern Tokyo).
Also known as Nikko Edomura, Edo Wonderland is a cultural theme park with museums, theaters, dining places and many other facilities where visitors can have a firsthand experience of how people in Japan used to live during the Edo period (1603 - 1868).
In Edo Wonderland, you are encouraged to become an Edo citizen for a day! There is no better way to learn about the roots of Japanese culture while having fun. This article will introduce some of the activities that would make your day in Edo unforgettable.
8:00 - 10:30 -- Traveling from Asakusa to Edo Wonderland
If you depart from Tokyo, we recommend taking the 8:00 Tobu limited express train bound for Kinugawa Onsen from Tobu Asakusa Station. Your stop is Kinugawa Onsen Station, which you'll reach in two hours.
At Kinugawa Onsen Station, stop by the Tourist Information Center within the station to buy a bus ticket for going to Edo Wonderland. You can also purchase your entry ticket to Edo Wonderland here, so please ask the staff for advice.
You will receive a roundtrip bus ticket (820 yen) which you can use to go to and back from the facility. The bus departs from platform No. 3, which is located right in front of Kinugawa Onsen Station.
If you prefer using the JR lines, then the most convenient way to access Edo Wonderland is from the JR Nikko Station. There is a free shuttle bus running from the JR Nikko Station to Edo Wonderland. To see the bus timetable, please check the information available on the Edo Wonderland website.
10:30 -- Welcome to Edo Wonderland! Let the Adventure Begin
The moment you step in Edo Wonderland, you'll feel as if you slipped through time back to the Edo era (1603 - 1868). The townscape, with its wooden buildings, narrow streets, beautiful arched bridges, and people clad in historical costumes, is a realistic recreation of an Edo period town.
The Edo era started in 1603 when the country was unified under the rule of shogun Tokugawa Ieyasu. In stark contrast to the previous era, the so-called Sengoku jidai, or Warring States period, the Edo era was a time of peace. This allowed for unprecedented economic growth and technological developments.
The lifestyle of the citizens (samurai, merchants, craftsmen, and peasants) also improved greatly. In fact, most aspects of Japanese culture as we know it today developed in the Edo period. The museums and facilities within Edo Wonderland offer insights into this historical era, helping the visitors deepen their knowledge about Japan.
During your explorations of Edomura, you might be greeted by friendly townspeople inviting you to check out their trade. They are all staff of Edo Wonderland doing their best to make everyone feel welcome. Be a good citizen and answer to their greetings with a simple "Konnichiwa" ("Hello"). This will make you feel at home in Edo.
To make the illusion of a time slip even more real, how about dressing up as an Edo citizen yourself? At Jikuu, the store dedicated to transforming the visitors into Edo citizens, you can choose from a wide variety of costumes and kimonos. Men and boys can choose to transform into samurai, ninja, policemen or lords, while women and girls can choose to dress up as samurai daughters, kunoichi (ninja girls), geisha or townswomen.
After considering a glamorous geisha kimono and a ninja girl attire, the author of this article settled for a samurai daughter kimono. Although it may look like a regular kimono, it actually has accessories and details that used to exist only in the Edo period.
Now that we transformed into an Edo citizen, let's start our exploration of the city. Introduced below are some of the exciting activities that can be enjoyed in one day at Edo Wonderland.
Beni Workshop at Beni-ya
Girls should check out the store called Beni-ya to have their lips painted red using beni, a traditional red lip color made with an extract of safflower.
Beni is a natural cosmetic that was invented in the Edo era. During the workshop, you will learn more about how it is made and get the chance to try it on. A very precious cosmetic, beni is said to fit anyone, as the red pigment naturally combines with the color of one's lips, resulting in a hue that looks good on the wearer.
This workshop is being held with the support of Isehan-Honten, the only manufacturer and distributor of beni at present. If you like how the beni stays on you, you can consider purchasing it as a souvenir! Beni products are available at the Edo Wonderland souvenir shop.
Try Playing the Shamisen
Next, how about trying your hand at playing the shamisen? A traditional string instrument, the shamisen was developed in the 16th century and became popular in the Edo period. You will be amazed at the wide range of sounds that can be obtained with only three strings!
During the 30-minute workshop, you will learn to play a simple song. If you're not very confident in your musical skills, don't worry. The sensei is extremely patient and happy to show you how to take the notes. There's nothing more rewarding than being able to play a song by yourself at the end of the workshop!
Modern Edo-Tech Museum - Learn about Traditional Japanese Crafts
The Modern Edo-Tech Museum is a facility dedicated to some of the Japanese crafts that originate in the Edo period. You will be able to see here items made for daily use that are being produced even nowadays using the traditional methods inherited from the Edo craftsmen.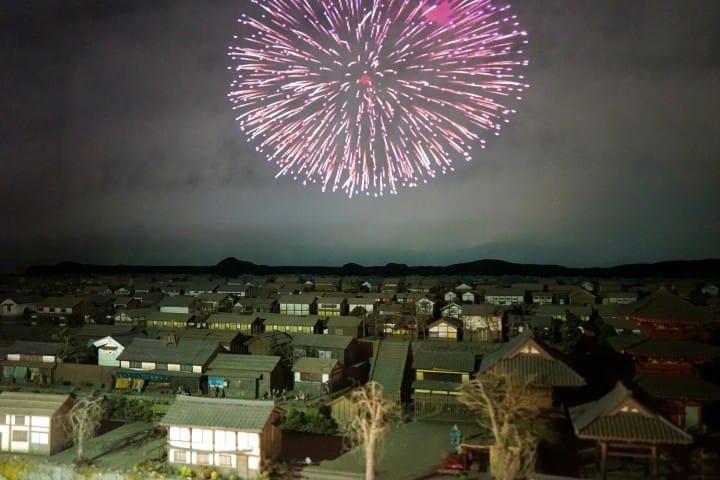 For example, by seeing the exhibit dedicated to Edo fireworks you will be able to imagine how marvelous must have the fireworks been as they exploded on the Edo night sky. No wonder that these colorful flowers of light are so loved by the Japanese nowadays too.
This display allows you to learn more about the traditional fireworks which stand at the origin of modern fireworks.
A whole exhibit is dedicated to the precious Edo Kiriko glassware, a craft that has gained worldwide appreciation recently. You can take a look at the sophisticated patterns decorating the glass and learn more about this amazing craft.
What's best, Edo Kiriko glassware is available for purchase at the souvenir shop of Edo Wonderland! Before leaving, how about taking a look at the items available? You might find just the right souvenir from your visit to Japan and Edo Wonderland.
Another impressive display is the one dedicated to traditional combs. You will be impressed at how fine they are designed. In addition to being a tool for daily use, these combs were also used as hair accessories by the beauties of Edo.
Yet another amazing display will shed light on the connection between Japanese swords and everyday use items such as scissors and nail clippers. When the age of the samurai was over, the sword craftsmen were constrained to use their skills to make other items than swords, which were now no longer needed. Their skills gave birth to a wide range of cutlery that is being used in Japan and all over the world today.
There are many other fascinating displays at the Modern Edo-Tech Museum. All the crafts are exhibited using modern displays that are engaging and beautiful to watch. This facility is the ideal place to learn about the technology and crafts that stand at the roots of Japanese culture.
If you encounter an item that you like, remember to look for it later at the souvenir shop. Most of the handmade items displayed at the Modern Edo-Tech Museum are available for purchase and make great souvenirs.
13:00 - 13:30 -- Watch an Amazing Ninja Show!
After a museum visit, how about enjoying an exciting ninja performance? The Grand Ninja Theater hosts performances four times a day. These shows are full of action and contain stunning displays of ninja skills.
Each show lasts for about 30 minutes and the story is kept simple and easy to understand. All the light and sound effects enhance the power of the performance. The amazing ninjas will take your breath away with their speed of movement and precision.
Photography is not allowed during the show, but at the end of the performance, you can have your picture taken together with the ninjas!
Enjoy an Edo-style Lunch at Yabu
There are several dining places in Edo Wonderland. If you'd like to taste traditional dishes that originated in the Edo period, we recommend having lunch at Yabu, a store specialized in soba and udon noodle dishes.
We tasted their hot udon with tempura, a delicious dish that comes in a set with soup and pickles. The udon noodles have just the right texture and the tempura (deep fried battered vegetables) was heavenly!
At Yabu, the customers can choose between regular table seats and tatami seats. The atmosphere inside helps one imagine how Edo period eateries must have looked like, so it's worth taking the time to check out the details of the interior.
Hair Accessory Workshop at Aizome-ya
Girls will be glad to hear that the cute hair accessories that they get to wear together with their Edo-style kimono are handmade and that they can even try making them! If you visit on weekends, stop by Aizome-ya, a store that hosts accessory workshops. For the fee of 500 yen, you get to make a flower-shaped hairpin to take home as a souvenir! Beautifully dyed, precious Japanese cloth is used for making these charming accessories. It's a very fun and relaxing activity.
At Aizome-ya, you'll be able to see various handmade objects on display, from accessories to toys and items used for celebrations and festivals. Most of them are made by Ume-san, the friendly owner of the store and manager of the workshops. The cute, colorful items are lovely and provide an insight into what young women in the Edo era used to do for fun in their free time.
Archery, Shuriken, and More! Play in the Ninja Village
Those who wish to experience the world of samurai and ninja should head straight for the Ninja Village. At the archery dojo, you can learn how to use the Japanese bow. After receiving instructions from the sensei, you get to shoot three arrows and practice your archery skills.
It seems that it's not a simple task to hit the target, so if you do, you'll most surely want to practice even more!
If you like ninjas, how about trying your hand at throwing shuriken? There are various levels of difficulty and you can really get into it. Even this samurai daughter thought she should dress up as a ninja girl next time she visits Edo Wonderland.
While in the Ninja Village, do stop by the Ninja Kai Kai Tei, the amazing trick house. It's a structure that challenges your senses. You won't believe how hard it is to simply stand up on your feet in here!
Enjoy the Oiran Parade
At 15:15 every day, all the citizens gather in the center of the town to watch the Oiran Parade. The most beautiful girl in Edo's pleasure quarters was called "oiran" and was regarded as an idol. On special occasions, the wealthy lover of an oiran would sponsor a parade during which the citizens would be able to marvel at her beauty.
As you'll be able to see in Edo Wonderland, the procession is impressive and the oiran has a magnetic presence. You wouldn't tell that the gorgeous kimono she's wearing weighs 20 kilos!
Mizugei-za - Enjoy a Traditional Performance Involving Water
One of the unique theaters within Edo Wonderland is Mizugei-za, a venue dedicated to a traditional type of illusion performance involving water. Believed to have originated in the Nara period (710 - 794), this type of performance used to amuse the Edo citizens. You'll be surprised to see water rushing from the most unexpected places on the stage! It's a very entertaining show that can only be seen here in Edo Wonderland.
Before Leaving, Stop by the Souvenir Shop
After spending a fun day in Edo Wonderland, remember to stop by the souvenir shop on your way out. In addition to consumable goods such as sweets, snacks, local foods or sake, you will find here a wide variety of crafts and handmade items meant for daily use. Most of the exquisite traditional objects you saw in the Modern Edo-Tech Museum can be found here.
You can also consider the exclusive Edo Wonderland themed goods which will be wonderful keepsakes of the day you spent here as an Edo citizen.
Closing the Day
After an exciting day spent in Edo Wonderland, you can choose to stay overnight in Kinugawa Onsen or Nikko and enjoy sightseeing in the area the next day. Or you can return to Tokyo by taking the Tobu limited express departing at 18:36 from Kinugawa Onsen Station. Either way, you'll be left with great memories of this area where you encountered the spirit of the Edo era.
If you plan to stay a few days in Tokyo, do visit Edo Wonderland! Your entire experience of Japanese culture will be enhanced by your visit to this amazing place.
Edo Wonderland Nikko Edomura Route Summary
Asakusa Station → Kinugawa Onsen Station → Edo Wonderland Nikko Edomura → Kinugawa Onsen Station → Asakusa Station
Transportation expenses (round-trip): around 6000 yen
Edo Wonderland admission ticket: One Day Pass - Adults 4700 yen, Children 2400 yen
* Dressing up as an Edo citizen and some of the prize games and workshops require separate fees. However, most of the activities and experiences available at Edo Wonderland, including the museums and theaters, are free.
Supported by EDO WONDERLAND Nikko Edomura

The information presented in this article is based on the time it was written. Note that there may be changes in the merchandise, services, and prices that have occurred after this article was published. Please contact the facility or facilities in this article directly before visiting.