A Day Trip To Mashiko - Visit Pottery Studios And Make Your Own Souvenir!
Mashiko, located in Tochigi Prefecture, is a town famous for its pottery production. Visitors can visit pottery studios and even try making pottery themselves, as well as indigo dyeing, sake tasting, and even riding a steam locomotive train.
Mashiko is a lovely town located in the Haga district of Tochigi Prefecture. Though famous for its long tradition of making pottery, Mashiko also offers plenty of other choices for fans of art and nature. One day cycling around this beautiful town is a great occasion to learn more about traditional Japanese pottery, a craft that has deep roots in Mashiko.
This article will introduce a model course for a trip to Mashiko from Tokyo. We will recommend a cycling course and some options for you to make the most out of the time you spend in this town.
8:20 -- Depart from Akihabara Station Bus Terminal
Mashiko is around 100 km away from Tokyo's city center, and the most convenient way to reach the town is by using the bus called Kanto Yakimono Liner run by Ibaraki Transportation, which departs from Akihabara heading to Kasama and Mashiko.
The earliest bus departs at 8:20 from Akihabara Station Bus Terminal and an advanced reservation is required. Especially during the weekend, the line is very popular and the seats can be filled soon so don't forget to book your ticket as soon as possible on website of Ibaraki Transportation. One way costs 2,000 yen but a roundtrip is only 3,500 yen.
The bus terminal is located outside JR Akihabara Station's Central Exit, opposite from Yodobashi Camera. You can find the stop for the Kanto Yakimono Liner in front of the Tsukuba Express line exit. The whole journey will take two hours and a half and you will reach Mashiko Station at 10:50.
Personally, in autumn I would recommend paying attention to the scenery outside at least during the last 30 minutes when the bus is passing through layers of colorful mountains sparkling under the sun.
Inside Mashiko Station, you will find the bicycle rental service at the right side of the entrance. The fee for the first 2 hours will be 400 yen and each hour after that will add 100 yen to the bill. Otherwise, you can rent a bicycle for the whole day for 800 yen. Please be advised that if you plan to go back by bus, the last bus from Mashiko Station will depart at 16:00, which leaves you 5 hours to explore the town.
All the places introduced below are located close to one another, at distances that require from 3 minutes to 8 minutes at most by bicycle.
11:00 - 11:40 -- Tonoike Sake Brewery
With a tradition of sake brewing spanning over 80 years, Tonoike Sake Brewery is welcoming hundreds of visitors per year, and has become a famous tourist spot in Tochigi Prefecture. Here you can participate in a wide variety of workshop-based tours: sake label making, sake tasting, or even sake rice planting or harvest.
The tour can be taken in English but it is better to book beforehand by contacting the company using this inquiry form.
Their shop is also a must-visit place inside the facility. Here you can purchase their famous sake Sanran which was awarded the 1st place in the All Japan Hot Sake Contest. You will also find there many other kinds of sake, sweets and even cosmetics made of sake rice.
At the gallery café Waku, you can enjoy sake and coffee made with water used in sake production. The lighting, furniture and colors used in the café create a nostalgic atmosphere of an old Japanese tavern.
11:40 - 12:10 -- Higeta Indigo Dyeing Studio
There was a time in Japan's history when the majority of the people used to wear indigo-dyed clothes. The art of using indigo plants and other vegetables to dye clothes has become a part of Japanese traditional culture. At Higeta Indigo Dyeing Studio, a two-century-old studio, the tradition is inherited, maintained and introduced to visitors from all over the world.
This special color has become a trademark of Japan and it is often called "Japan blue". Through the products available in the gallery and the shop, you will notice the wide variety of shades and patterns that have been created from only one color by the Japanese since ancient times.
Except during lunchtime, from 8:30 -17:00, you are welcome to watch the Higeta Studio artists perform their daily dyeing tasks here.
12:10 - 13:10 -- Lunch at Café Restaurant Erika
This little cozy café is owned by a very attentive old lady who welcomes her guests with a smile. It is said that the taste of the food here remains unchanged even though 37 years have passed by. This is the kind of place we travelers always hope to find when visiting a new area: a local restaurant with traditional homemade food.
Erika specializes in deep fried food. You can choose from pork, chicken or fish. However, what have created the reputation of this restaurant are the pork cutlet meals, especially their famous pork cutlet sandwich. One set includes a vegetable salad, a drink and dessert. It may not look like it, but the set is quite voluminous. Do take your time and enjoy it.
13:10 - 14:10 -- Shoji Hamada Memorial Mashiko Sankokan Museum
When talking about Mashiko pottery, the first personality who needs to be mentioned is the potter Shoji Hamada, who in 1955 became the first person to be designated a National Living Treasure. The museum was originally created as a reference place regarding pottery for craftsmen and the general public.
Visitors can see here exhibitions of works by Hamada himself, as well as of two of his close friends and other items which have influenced Hamada's style. You will also see the typical noborigama (chambered climbing kiln) that the locals are using in order to make pottery.
This facility used to be Hamada's residence, so you will find a complex of houses and workshops in traditional style lying in a serene area surrounded by rich nature. This place will be of interest not only to pottery lovers, but also to those who are interested in Japanese architecture, history, or anyone who enjoys art and nature.
The admission fee is 800 yen for adults, 400 yen for junior high school and high school students (10 - 18 years old), and free for elementary school students and under.
14:10 - 15:40 -- Mashiko Pottery Street
Along Jonaizaka-dori Street there are around 30 pottery shops. This is also the liveliest street in the area of the town, where visitors come to buy Mashiko ware, to experience pottery making or dine in pottery-themed restaurants.
Yamani Otsuka is one of the facilities that holds pottery classes. Here, the visitors can learn to make pots, cups or vessels by using a potter's wheel and coloring the vessels before glazing them in the kiln.
The workshop usually takes around one hour and the vessel you made will be sent to your address afterwards. The best thing about this workshop is that you receive instructions from the craftsmen here. It is a very fun experience suitable for both children and adults.
Take a look at this Mashiko Pottery Experience Map to find other pottery classes which might be of interest to you.
For souvenirs, there are plenty of shops nearby which offer a wide range of pottery items in traditional or modern styles. Furthermore, in front of Yamani Otsuka on the left there is the Tent Square where hundreds of local products are sold every day.
15:50 -- Prepare for Your Way Back
The last direct bus to Akihabara will depart at 16:00 from Mashiko Station, so be sure to head back early to return your bicycle and make it to the bus stop. The bus is scheduled to arrive at Akihabara Station at 19:00.
Create Your own Tour of Mashiko!
One day will not be enough to visit all the beautiful places in Mashiko. If you come by car or plan to stay for at least one night in town, there are some nearby attractions we would like to recommend.
A Ride on the Majestic Steam Locomotive Train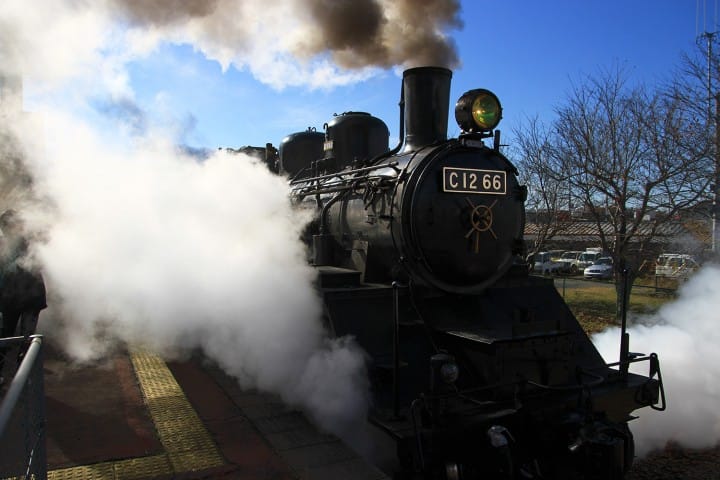 The SL (steam locomotive) is one of the most popular attractions in Mashiko. This beautiful old-style train is operated by Moka Railway and runs between Shimodate and Motegi every weekend and on public holidays. Twice a day, the SL train will arrive at Mashiko Station at 11:28 and 15:01. One ride costs 500 yen.
Feel the Generosity of Nature
The town is surrounded by beautiful forests that are easy to access. You can take a self-guided walking tour in Mashiko Forest or Mt. Amamaki, visit Saimyoji Temple or go and watch waterfowl and plants at Sudagaike Pond. Astronomy enthusiasts can also visit the Astronomical Observatory in Mashiko Forest and enjoy the vast and clear sky of the mountain.

Mashiko holds many hidden gems waiting for you to discover them. If a day trip here is not enough, how about visiting this lovely town again soon!

Mashiko Route Summary
Akihabara Station → Mashiko Station → Tonoike Sake Brewery → Higeta Indigo Dyeing Studio → Lunch at café restaurant Erika → Shoji Hamada Memorial Mashiko Museum → Mashiko Pottery Street → Mashiko Station → Akihabara Station

Transportation expenses: Akihabara Station → Mashiko Station (roundtrip) 3500 yen
Bicycle rental, workshops, lunch, souvenirs etc.: around 5000 yen

Supported by Mashiko town tourist association

The information presented in this article is based on the time it was written. Note that there may be changes in the merchandise, services, and prices that have occurred after this article was published. Please contact the facility or facilities in this article directly before visiting.