A Day Trip To Itako, The Charming Waterway City Of Ibaraki
Itako, located close to Tokyo in Ibaraki prefecture, is a charming traditional city with a network of canals that used to be an important route connecting Edo and northern Japan. Make the most out of your visit to Itako with this suggested itinerary!
Itako is a city located in the south of Ibaraki Prefecture, looking out to Chiba Prefecture through Tone River. Sandwiched between two lakes - Lake Kasumigaura and Lake Kitaura, the city has a convenient network of canals.
During the Edo period (1603-1869), this network was used as the main transportation route within the city, as well as between Tohoku (northern Japan) and the capital. Nowadays, it is still used widely by both locals and tourists.
Thanks to these features, Itako is attracting over 800,000 tourists every year to its Iris Festival, when the magnificent local bride-boarding boats are taken out. Summer is a popular time to visit Itako as well. In fact, each season has its own charm here, and during off-peak seasons, a very different face of Itako will be revealed: the antique and tranquil side of the city.
In this article, let me introduce to you a convenient route to get around the most beautiful places in Itako. I visited there on a windy late autumn day.
8:40 -- Depart from Tokyo Station
To avoid changing trains three times, I took the JR Express Bus from Tokyo Station to go to Itako.
First, the 8:40 bus heading to Kashima Jingu from bus stop No. 1 at Tokyo Station's Yaesu exit will take you to the Suigo Itako Bus Terminal in about 80 minutes. There are several ways to purchase tickets: you can book online here, buy at convenience stores or at the express bus office inside Tokyo Station, or simply pay with your IC card when boarding the bus.
At Suigo Itako Bus Terminal, you will see the platform for buses headed to Narita Airport on the right. This is also the platform for buses going to Itako Station. The 10:15 bus will take you to Itako Station within 10 minutes. Please note that there is only one bus per hour so don't miss this one.
To get around the city center, cycling is very convenient, so do consider renting a bicycle at the Tourist Information Center located right outside Itako Station. Bicycles can be rented from 9:00 to 17:00 for a 500 yen fee.
10:40 – 11:50 -- Aiyu Sake Brewery
Our first destination is Aiyu Sake Brewery, which can be reached in 8 minutes from the station by bicycle. The road to the factory ran along the riverlet of Hitachitone. Honey-like golden sunlight was pouring down through a big gap in the middle of a thick cloud, covering the countryside scenery in a typical warm shade of autumn.
Aiyu Sake Brewery is a complex of traditional buildings reflecting the architecture and atmosphere of the Edo period. Ever since it was established in 1804, Aiyu Sake has several times received the first prize in national and local sake competitions.
If you make a reservation on their website, you can tour the facilities, learn about the history of Aiyu Sake Brewery and about the brewing process, and even enjoy a sake tasting. Local rice and the pure water from the divine spring located on the grounds of a shrine nearby are being to brew sake here, resulting in a gentle and exquisite flavor.
At the tasting, you get introduced to various kinds of sake: from high-quality fruity liquor, which is made exclusively for Kashima Shrine, to the common sake which can be found at izakayas.
Visitors can enter the brewery facilities during the winter months: from November to March. A tour takes around 40 minutes and it is totally free!
12:00 – 13:00 -- A Scrumptious Eel Meal at Unagi Kinsui
Unagi (eel) had always been at the top of my list of favorite Japanese foods, so for lunch, I chose a restaurant specialized in unagi located near the bank of Hitachitone River. Unagi Kinsui is a small and cozy restaurant with the capacity of around 18 people (14 tatami seats and 4 counter seats).
The counter is decorated with a wooden roof and three yellow light lanterns, giving out the atmosphere of a yatai (out-door food stall), which is very popular in Japanese food culture.
Sitting at the counter, I had a great time talking with the owners of Unagi Kinsui. They told me that in winter, fish, including unagi, keep fat in their bodies to help them tolerate low temperatures. Indeed, their unagi was tender and very juicy, melting away in my mouth.
The meal was served in the traditional lacquerware, together with miso soup, pickles, dessert, and tea. This set meal cost 2,700 yen.
13:00 – 13:50 -- A Boat Tour of the Twelve Bridges in Itako
The "twelve bridges" of Itako are the structures built across the waterway running through the residential area of the city. The Itako Yuransen Kumiai located very close to Unagi Kinsui offers four different courses, with a length from 40 to 70 minutes, and a price range from 5,000 to 7,000 yen per boat tour.
I took the 40 minute course which focused on the narrow canal with the twelve bridges connecting the houses on both banks. Here and there, there were small stairs coming down to the water surface, used by boat passengers or for the transportation of goods from the approaching boats.
During the Iris Festival from late May to late June, the platform on the left is being used by locals who sell sweets, tea or souvenirs to the people on board. The day we visited, this area was quiet, resting after a busy season, and the landscape was given back its peaceful and nostalgic feeling.
The tour ended with an old local song performed by the helmsman, a friendly lady who owned a strong and beautiful voice.
14:00 – 14:30 -- Homemade Rice Crackers at Nishikura
Nishikura is a special shop where senbei (rice crackers) are baked by hand. The shop has been in business for 50 years and it is well loved by both locals and tourists.
The senbei are baked on red hot coal and the bakers need to flip them several times until they reach a nice brown color. In the end, they are dipped into soy sauce and packed. Visitors get the chance to try their freshly baked senbei while they are still hot and crunchy.
The heat from the stove might be a bit uncomfortable during the summer, but on chilly days, it is a really pleasant experience to watch how the senbei are being baked and even to try making some yourself!
14:40 – 15:10 -- Choshoji Temple
Choshoji is a famous temple built by Minamotono Yorimoto, the shogun who established the first military government in Japan. The temple's copper bell is an important cultural property of Japan.
Located in front of Inariyama Park, Choshoji Temple is surrounded by a vast green area. The temple itself has an elegant garden, with the trees being right at the peak of changing colours before the icy breath of winter arrived.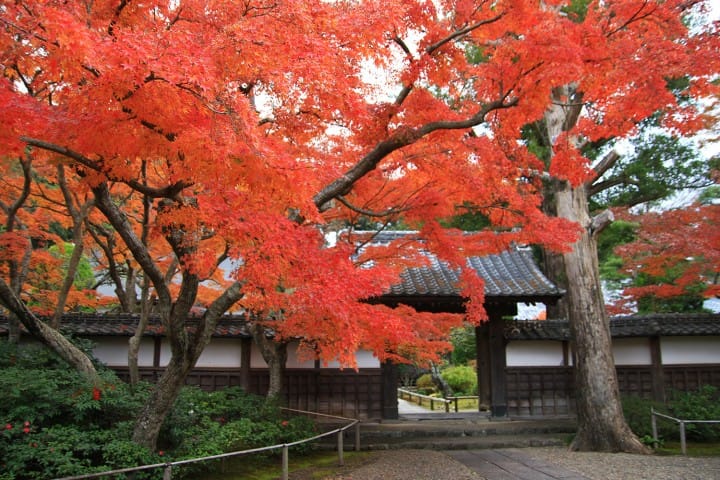 In contrast to the solemnity of the sacred buildings, the garden was sparkling with liveliness, making me hold my breath in astonishment and admiration.
15:10 – 15:40 -- Cycling around Itako
Very different from a busy summer day when the streets are stirred with heat and excitement, Itako on the threshold of winter made me think of Japan of the Edo period.
I decided to take a short cycling tour around the area, to breathe in the scent of harvested fields, to admire the vastness of the sky, and to take a good look at the lovely townscape where people were living in harmony with nature.
16:00 – 16:30 -- A Cup of Coffee before Heading Back
After returning my bicycle at the station, I decided to rest a little at a cute café named "Kasa" located in front of the East Exit of Itako Station. It was recommended by the Tourist Information Center as a place where you could "enjoy real coffee".
Welcoming me was a charming old lady in kimono. What immediately caught my eyes was the shelf behind her: it contained a collection of 60 cup sets in various shapes, colors and materials. "I choose a cup for each of my customers depending on that person's atmosphere" she said.
On the lower shelf, there was a dozen of different kinds of coffee from all over the world. Classic music was gently running in the background, filling the room with an elegant and relaxing atmosphere.
This lovely café made me consider coming back to Itako someday soon.
16:44 - Taking the Train Back to Tokyo
To get back to the city, I took the 16:44 JR train from Itako Station to Sawara Station (platform No. 1). The 17:05 bus departing from bus stop No. 3 at Sawara Station's North exit took me back to Tokyo Station which I reached at 18:54.

With easy access from Tokyo, Itako is a great destination for a day trip, especially for those who appreciate the beauty of traditional Japan and the tranquillity of the countryside. Regardless of the season, this beautiful land will be sure to offer you the best travel experience. So how about visiting Itako next time you're in Tokyo?

Itako Route Summary:

Tokyo Station → Suigo Itako Bus Terminal → Itako Station → Aiyu Sake Brewery → Unagi Kinsui → Junikyo boat tour → Nishikura Homemade Rice Crakers → Choshoji Temple → Café Kasa → Itako Station → Sawara Station → Tokyo Station

Transportation expenses:
Tokyo→Suigo Itako→Itako: 2,030 yen
Itako→Sawara→Tokyo: 1,960 yen
Bicycle rent fee: 500 yen
Boat tour of the Twelve Bridges: 5,000 yen

Lunch, snacks, souvenirs, etc: around 3,500 yen

Supported by The Three Cities in the Suigo district(Katori, Kashima, Itako)

The information presented in this article is based on the time it was written. Note that there may be changes in the merchandise, services, and prices that have occurred after this article was published. Please contact the facility or facilities in this article directly before visiting.