Travel Economically By Highway Bus To Matsumoto, Takayama And Shirakawa-go!
The Three-Star Alps Unlimited Ride Shinjuku Pass is a convenient highway bus pass which you can use to travel to world-famous sightseeing spots such as Matsumoto, Takayama and the Shirakawa Village! We introduce here a model course using this pass.
The coldest but most brilliant time of a year in here! During the winter in Japan, everything is covered in thick and fluffy snow, and the sun is shining brightly on a sky that couldn't be clearer.
If you are sulking about the fact that there is no snow in Tokyo and you'd like to make a short escape outside of the metropolis but are worried about the transportation costs, then this article is for you! We will introduce to you the Three-Star Alps Unlimited Ride Shinjuku Pass, a very convenient and economical pass that allows you to travel from Tokyo as far as Matsumoto in Nagano prefecture and Takayama in Gifu prefecture! We will also provide a 4-day model course with tips and suggestions for your trip. This 4-day model course will be published in two installments, with this article being the first part, covering the first two days. You can read the second part, which introduces the last two days of the model course, here.
The Three-Star Alps Unlimited Ride Shinjuku Pass is a 7-day bus pass that offers direct access to Matsumoto, Takayama and many other places in between. Moreover, you will be provided a 4-day unlimited ride within the range of Matsumoto and Takayama, that is, including Shirakawa-go, Hirayu and other famous tourist spots. Now let's see how four days traveling with this pass can look like.
Model Route - Day 1
9:00 -- Central Honshu Information Plaza in Keio Shinjuku
The Three-Star Alps Unlimited Ride Shinjuku Pass can be purchased directly at the Central Honshu Information Plaza in Keio Shinjuku inside the Keio Mall, which is located at the South Exit of Shinjuku Station.
The pass can be acquired for 19,900 yen for the period from April 1st to November 30th, and for 18,000 yen for the winter season from December 1st to March 31st. Compared to normal transportation expenses, these prices are approximately 30% cheaper! However, please be advised that during winter, due to heavy snow, the buses to Norikura and Kamikochi Highland are suspended.
As it is necessary to book in advance the return ticket from Shinjuku, please do reserve your seats at the Information Plaza. There are also many free pamphlets and information about central Japan in several languages, feel free to take them with you.
9:30 – 13:20 -- Heading to Matsumoto
You will take the 9:55 bus to Matsumoto from Shinjuku Bus Terminal, which is located beside the JR Shinjuku Station New South Exit. The departure platform is on the 4F and you can see the Expressway Bus Information screen as soon as you enter the room. Please check the information for your bus here and follow the instruction signs to your platform.
The whole journey will take roughly 3 hours and 20 minutes, and you will arrive at Matsumoto Bus Terminal at 13:13. Once you have arrived, please find the ALPICO group office on the left side of the bus terminal and exchange your Shinjuku Pass to the Alps Wide Free Passport. You will need to show this passport every time you get on and off any buses within the free ride area and the Shinhotaka Ropeway. You don't need to reserve your seat in this area.
13:30 – 14:30 -- Soba Kurabu Sasaki
At lunchtime, let's take a lunch break at Soba Kurabu Sasaki Restaurant, located near Matsumoto Castle. Matsumoto is very famous for soba (buckwheat noodles) and this restaurant applies a very unique process of making the noodles which might brings a new experience to you.
The buckwheat seeds are grained together with its skin so if you look closely, you will see some black dots scattering on the noodles. This method helps preserve the purest taste as well as the aroma of soba. The noodles prepared this way taste the best when they're being served cold.
Furthermore, here you can also try having soba with a special spice called "red salt". Do try to see how differently it enhances the taste of soba compared to the traditional shoyu sauce. This tororo soba set costs 1,100 yen.
Another remarkable dish in their menu is the "smoked meat". Five different kinds of meat are smoked together with various herbs and spices. Venison (deer meat) is not on the menu but if you are lucky enough to come at the time the restaurant gets a supply, then I'm sure the taste will impress you. This set is 1,000 yen (with venison) or 800 yen (without venison).
14:40 – 16:30 -- Matsumoto Castle
Matsumoto Castle is one of the oldest castles in Japan, being built in the early 16th century. The black exterior makes it famous by another name: the "Crow Castle". This castle is on the Alps Wide Free Passport's discount list so don't forget to show your pass at the ticket office, to get pay only 550 yen for the entrance instead of 610 yen.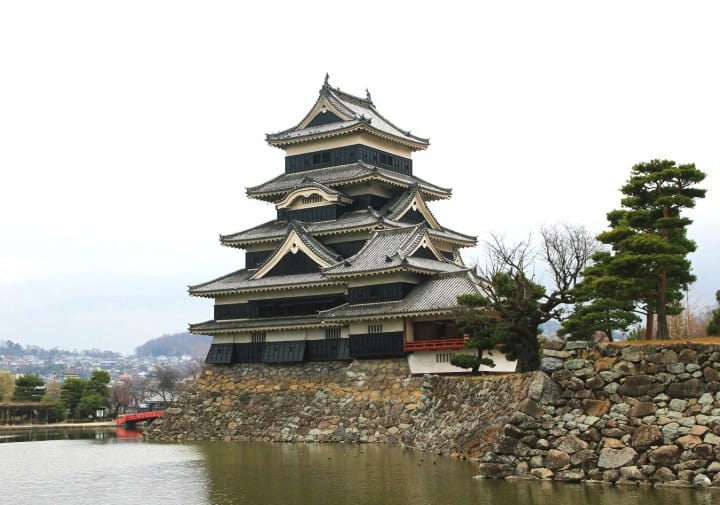 If your luggage is large and heavy, we would recommend you to leave it at the souvenir shop right near the entrance. The fee is 100 yen.
The first floor of the castle expresses a tense atmosphere of battle. The wooden pile formation was designed so that samurai with their bulky armors could move around quickly, and holes on all four walls were for firing arrows and bullets to defend the building. The second floor features a weapon and armor exhibition.
In contrast with the heat of the fight depicted on the first two floors, the Moon Viewing Wing is an area of peace and relaxation, which you can find on the upper floor. This special room can be found at only two castles: Matsumoto and Okayama Castle. Don't forget to stop here for a little while to appreciate the feeling of calmness in the middle of the merciless wartime.
From outside, the castle appears to have five floors, but did you know that it actually has six floors? There is one hidden floor for the samurai to gather and protect themselves during the war. Can you guess where it is located?
17:05 - 19:40 -- Heading to Takayama Green Hotel
17:05 is the last bus to Takayama city so please go to Matsumoto Bus Terminal early to make sure you won't miss the bus. Your bus will depart from platform No. 10 and you will arrive Takayama Nohi Bus Center at 19:30.
Takayama Green Hotel is located only 10 minutes away walk from the bus center. This luxurious resort hotel has more than 200 rooms in both Japanese and western styles, with a wide range of accommodation plans for couples, families, groups of friends, and solo travelers.
After check-in, do consider having a light meal at their elegant café Ki no Ka on the first floor. On weekends and sometimes during the week in the tourist peak season, there are live piano performances in the evening. You can enjoy the wonderful music while relaxing on the soft and comfortable sofas in the lobby.
And if you come around Christmas, you will see the hotel is brilliantly decorated up with Christmas trees, ornaments, and candles, which bring a romantic yet holy atmosphere to your stay.
Model Route – Day 2
6:00 – 7:40 -- Outdoor Onsen Bath and Breakfast
One of the most pleasant experiences while staying at Takayama Green Hotel is the refreshment you will feel at their natural onsen, especially in the spacious outdoor bath.
We would recommend you to take a bath early in the morning to feel the pleasurable contrast between the cold air and hot water. At this time, you can watch the dark blue curtain of the night gradually curl up, revealing a bright and sunny day to come.
Breakfast will be served from 7:00 – 9:30. However, if you want to see one of Takayama's famous attractions – the morning market, do consider finishing your meal at around 7:40, to check-out and take the 7:45 free shuttle bus from Green Hotel to Takayama Jinya.
When you get off, you will see a large red bridge on your right. Turn left after crossing it and follow the river road until you see the signboard of Miyagawa Morning Market (Miyagawa Asaichi). The market is open every morning, from 7:00 in the summer or 8:00 in the winter to 12:00, providing a wide variety of local food, fresh ingredients, household goods and so on.
8:15 – 10:00 -- Explore the Historic District of Kami-Sannomachi
Now let's head back to the road you've come to find the Kami-Sannomachi area – one of Japan's treasures! It is known as Takayama's old town and is the best-preserved traditional area of the city with many old houses, shops, and sake breweries from Edo period.
The famous Funasaka Sake Brewery can easily be spotted by its large sugidama (cedar ball) hanging above the entrance. Sake brewers here hang this ball outside their shops to signal that fresh sake has been produced.
The original building from 200 years ago is still preserved beautifully and has been renovated to accommodate the shop, the brewery, a restaurant and a bar.
Funasaka Sake Brewery is well-known not only for their high quality products but also for their hospitality. They always take the customers' opinions into account and adjust their products to satisfy their needs. Visitors are invited to try their samples and English-speaking staff will help you choose the most suitable sake. Don't forget to check out their bar if you want to have a drink before going on to the next destination.
Mikomaya Sanmachi Senbei Shop is another shop that is representative for the Kami-Sannomachi area - small and somehow very homey. This 40-year-old shop provides an abundant choice of senbei (rice crackers), from the traditional specialties of Takayama (shio-senbei, tamari-senbei) to the more modern ones like flower or apple senbei.
In addition, here you can also find Gifu Prefecture's famous Gohei-mochi. To flavor these snacks, instead of using miso sauce like most of the shops, this place uses sesame. If you have around 30 minutes time, you can try grilling senbei on their terracotta stove for a fee of 500 yen. You get to take with you the senbei you bake yourself!
10:30 – 15:00 -- Visit Shirakawa Village, a World Heritage Site
In order to go to the famous village of Shirakawa (or Shirakawa-go), you will need to come to the Takayama Nohi Bus Center (in front of Takayama Station) and take the bus from platform No. 4. This line is often very crowded, especially during the weekends. To ensure a comfortable seat for yourself, do arrive at the bus center at least 20 minutes earlier. The 10:50 bus will take you to the fairytale village of Shirakawa-go within 50 minutes.
Shirakawa-go is a small village on the highest peak of Mount Haku, Gifu Prefecture. The unique architectural style called Gassho-zukuri (referring to the shape of the roofs) and the surrounding forests make this village look like it's coming out from an old folk tale. Since 1995, the village has been recorded as a UNESCO World Heritage Site.
The Tenshukaku Observatory
Our first destination in Shirakawa-go is the Tenshukaku Observatory, also known as the Shiroyama Observatory Deck or Ogimachi Castle Observation Deck. This place has the best view over the whole village lying quietly under the spell of the winter.
The observatory is part of the dining and souvenir shop Tenshukaku which is located on a plateau a little distance away from the gassho-zukuri village. The access to the observatory is free. From here, you can enjoy the view of the picturesque Ogimachi village, as well as that of the impressive Shiroyama Mountain range.
Lunch at Hakusuien
On the way down from the observatory, you will find the restaurant named Hakusuien located near the Wada House. Its long, one-storey structure makes it stand out among the other multi-storey Gassho-zukuri houses around.
At Hakusuien, we recommend you try the Hida beef Hoba-miso set meal (1,780 yen). This set includes many famous dishes from the Hida region: Hida beef, grilled miso on top of a dried magnolia leaf, soba noodles and other local ingredients like fish and vegetables. You will only be able to taste these specialties here so don't miss this chance!
Gasshozukuri Minkaen Outdoor Museum
After lunch, you will have approximately one hour and a half to explore the rest of the village. If you want to see a landscape that's a little different from the view you have seen at the observatory, then you will love the Gasshozukuri Minkaen Outdoor Museum! Located on the other side of the river, this museum features 26 Gassho-zukuri houses, among which nine are designated as important cultural properties of the prefecture.
The Free Pass will allow you to buy the museum entrance ticket at the discounted price of 500 yen, and you are free to explore the whole vast area, with residence houses, temples, shrines, parks and so on. In general, it's less crowded inside the museum than around the main part of the village.
Myozenji Museum
If you would like to research deeper into the process of making and maintaining a house built in this style and to see how people live inside, then we recommend you visit the Myozenji Temple Museum.
Located within the grounds of Myozenji Temple, here you can visit both the main hall of the temple, as well as the house. This five-storey Gassho-zukuri house is the largest in Shirakawa-go and is one of the rare houses that have the hearth still in use. As you go up to the attic, you will feel the smoke from downstairs squirming its way through the gaps on the floor. Also, don't forget to pay attention to how the view changes as you move from one floor to another.
17:30 - 18:35 -- Going Back to Takayama
In order to go back to Takayama, please arrive at the Shirakawa-go Bus Terminal before 17:30. The bus headed to Takayama Nohi Bus Center (located in front of Takayama Station) departs at 17:30 and arrives in Takayama at 18:35.
Only two days to visit both Matsumoto and Takayama are surely not enough! If your schedule allows you to stay one or two more days in the area, then do check the second part of our recommended 4-day model course which will take you on an exciting trip around Hida Takayama. It will give you details about other attractions in the free ride area.
If You Want to Return to Tokyo after Two Days
To be able to get on the last bus heading to Tokyo (which you have booked the previous day), you will have to take the 15:15 bus from Shirakawa-go (platform No. 3) to Takayama. After arriving at Takayama Nohi Bus Center at 16:05, you will have 55 minutes to stretch your body and refresh yourself with a snack and drinks before taking the 17:00 bus from platform No. 3 back to the Shinjuku Bus Terminal.

In the winter, the last bus departing for Shinjuku is at 16:00. For this reason, we would recommend you to go visit the Shirakawa-go Village right after the Morning Market. If you take the bus departing at 9:50 from Takayama, you'll be reaching Shiragawa-go Village at 10:40. Here you can visit the Tenshukaku Observatory, the Minka-en Museum, Myozenji Temple, and also enjoy lunch. At 13:15, take the bus for Takayama. You'll be reaching Takayama at 14:05 and you can visit Funasaka Brewery and Mikomaya. In this way, you can make it in time for the bus departing at 16:00 from Takayama to Shinjuku.

Before starting your trip, don't forget to take with you warm clothes, gloves, and a charger for your phone (as the battery will run out much faster when it's cold!). Stay safe and have fun!

Matsumoto-Takayama Route Summary:

Day 1: Shinjuku Bus Terminal → Soba Kurabu Sasaki Restaurant → Matsumoto Castle → Takayama Green Hotel

Day 2: Takayama Green Hotel → Miyagawa Morning Market → Funasaka Sake Brewery → Mikomaya Sanmachi Senbei Shop → Shirakawa-go: Tenshukaku Observatory, Hakusuien, Gassho-zukuri Minka-en Outdoor Museum, Myozenji Museum → Takayama Bus Terminal

Expenses:

Three-Star Alps Unlimited Ride Shinjuku Pass: 19,900 yen (summer), 18,000 yen (winter)

Accommodation: Takayama Green Hotel *Room prices vary depending on the season and the accommodation plan chosen.

Lunch, snacks and other expenses: around 8,000 yen

Supported by Keio corporation

The information presented in this article is based on the time it was written. Note that there may be changes in the merchandise, services, and prices that have occurred after this article was published. Please contact the facility or facilities in this article directly before visiting.