A Fun And Convenient Highway Bus Trip To Hirayu Onsen And Hida Takayama
The Three-Star Alps Unlimited Ride Shinjuku Pass is a convenient discount highway bus pass valid for 7 days, which allows you to explore areas in Matsumoto, Takayama and Shirakawa-go. We introduce an exciting model course in Hida Takayama using it.
The Three-Star Alps Unlimited Ride Shinjuku Pass is a convenient highway bus pass that offers a round-trip from Shinjuku to Matsumoto and Takayama (within 7 days) and four days of unlimited bus rides within the Matsumoto-Takayama area.
In our previous article - Travel Economically By Highway Bus To Matsumoto, Takayama And Shirakawa-go! - we have introduced the first half of a 4-day model course which included Matsumoto, Takayama and Shirakawa Village. This time, we will introduce the second part of the 4-day model course, focusing on the amazing attractions and activities available in Hirayu Onsen and the area around Hida Takayama.
The Three-Star Alps Unlimited Ride Shinjuku Pass can be purchased directly at the Central Honshu Information Plaza in Keio Shinjuku located in the Keio Mall (Shinjuku Station South Exit). If you intend to depart early in the morning, please visit the office at least one day in advance to buy the pass and book your round way bus tickets.
Model Route – Day 3
Off to Mountains and Hot Springs of Hirayu Onsen!
If you stayed in Takayama overnight, then we recommend you take the 8:40 bus from the Takayama Nohi Bus Center (located in front of Takayama Station) toward the Shinhotaka Ropeway. You will reach the entrance to Shinhotaka Ropeway at 10:16.
If You Depart from Shinjuku
On the other hand, if you depart from Shinjuku, in order to go to Hirayu Onsen, you'll need to take the bus towards Matsumoto which departs at 6:05. Please go to the fourth floor of the Shinjuku Bus Terminal (right next to JR Shinjuku Station New South Exit) to check the information of your bus on the Expressway Bus Information screen and follow the instruction signs to your platform.
The bus will arrive in Matsumoto at 9:23. Here, you will need to take the bus departing for Hirayu Onsen at 9:55. For information on sightseeing spots in Matsumoto, please refer to our article introducing the first half of this suggested 4-day model course, which is focused on Matsumoto, Takayama and Shirakawa-go.
The bus will reach Hirayu Onsen at 11:20. Here at the Nohi Hirayu Bus Center, please find the bus office and exchange your Shinjuku Pass for the Alps Wide Free Passport. Then take the 11:40 bus towards Shinhotaka Ropeway and you will find yourself at the foot of the Japan first double deck ropeway after 30 minutes.
Shinhotaka Ropeway - Enjoy the Mountain Landscape from Above!
Located at 2156 m above sea level, Shinhotaka Ropeway was established in 1970 and as of 2011, the total number of passengers had exceeded 15 million, turning this rural area into one of the leading attractions in the Chubu region.
To reach the mountain summit, you will ride both Ropeway No. 1 and No. 2. Show your Alps Wide Free Passport at the ticket office to receive the boarding pass, take the 13:00 ropeway to Nabedairakogen Station and change to Ropeway No. 2 here. The double-decker cabin of Ropeway No. 2 will take you to the summit, which you will reach at 13:30.
Summit Observatory Deck
Located on the fifth floor of the same building with the ropeway station is the Summit Observatory Deck, looking out to the stunning Northern Japan Alps, which stretch through Nagano and Gifu. With the major peaks mostly over 3,000m, the whole mountain range is covered in thick snow during winter.
From the observatory, visitors can get a close look at Mount Kasa. The horizontal striped pattern running across this mountain tell us the history of its formation as a caldera volcano.
Lunch and the Snowy Park
Looking from afar is nice, but I know you want to touch the real things: the cold snow, the rough tree skin, the dry falling leaves. Then we should descend to the fourth floor and go to the park.
But before that, a hot and tasty lunch at Mount View Restaurant, located also on the fourth floor, will warm you up and give you more energy to play. Let's stop here first.
You will have to buy food and drink tickets at the ticket machine on the left as you enter, then present the tickets at the counter to get a number. Wait 10-15 minutes for your number to be called. This is the only restaurant on the mountain peak, and its big glass window allows you to enjoy the spectacular view over the Sengokuenchi Nature Park while having lunch.
The door at the other side of Mount View Restaurant is the entrance to Sengokuenchi Nature Park. During winter, small paths are made by removing snow from a portion of the ground. In fact, this is a real "snow corridor" that's 240 m long, with walls that are almost 3 m high! Intentionally or not, don't get lost in this pure white maze!
Advance a bit further inside and you will see a small hut on the left. This is the entrance to the mountain hiking trail. From this point on, only fully equipped hikers who have submitted the Mountain Climbing Notification can enter. If you plan to hike here, do follow the procedures and make sure you are properly equipped.
15:15 -- Hot Spring Bath at Okuhida's Largest Onsen
Get on the 15:15 ropeway to head back to Shinhotaka Onsen Station where the bus stop is located. You will have 15 minutes before the bus headed to Hirayu Onsen arrives, so do take this chance to try the unique wasabi-flavored ice cream (*1) at the souvenir shop inside Shinhotaka Onsen Station. Then, get on the 15:55 bus and you will reach Hirayu Onsen at 16:28.
*1 Wasabi... Japanese green horseradish.
Okuhida is a region in Gifu Prefecture that is famous for onsen (hot springs), especially for its outdoor baths facing the surrounding Northern Japan Alps. Among the five onsen towns in this region, Hirayu is the oldest and largest one, with natural spring water that is said to improve the symptoms of neuralgia, sensitivity to cold and skin disease.
View of the Nohi Hirayu Bus Center from the direction of Hirayu no Mori
At Hirayu no Mori, one of the best accommodation facilities in Okuhida Onsen, visitors can choose to use the hot springs and spa facilities only, or stay over for the night. Their spring water contains many healthy chemical compounds such as calcium, sodium, and bicarbonate, which help balance acids and bases in your body, improve the symptoms of various illnesses and relax your muscles.
The facility offers a wide array of accommodation plans, with or without breakfast, or including two meals a day. It is a hotel where you can enjoy a cozy stay while taking full advantage of their excellent hot springs.
With an entrance fee of only 500 yen, visitors will be surprised by the vastness of the bathing area. Outside, there are hot spring pools with different temperatures, allowing the visitors to enjoy various views of the landscape.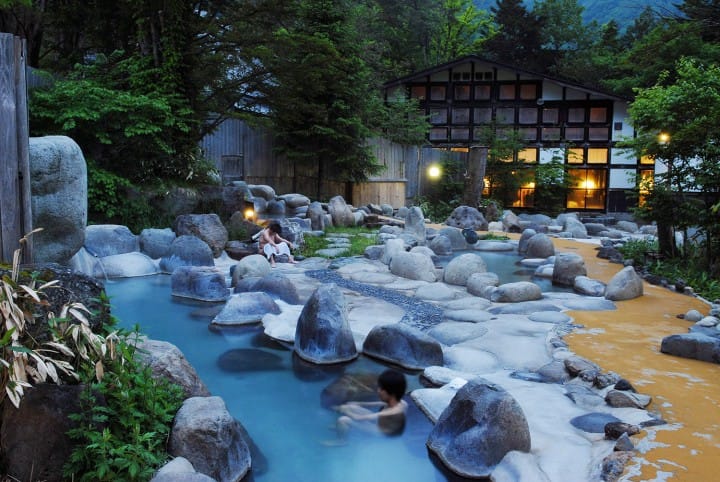 Picture courtesy of Hirayu no Mori
If you come to enjoy the hot springs at Hirayu no Mori, it's best to spend about one hour and a half here so that you can make it to the 18:40 bus to go to Takayama. However, if you want to head to the hotel right away to rest, the earlier bus is at 17:30. The journey will take approximately 50 minutes.
From 20:00 -- A Lovely Evening at Takayama Green Hotel
From Takayama Nohi Bus Center, go along the track to the south and turn right at the second traffic light. Takayama Green Hotel is on the left side of the road and it is easy to recognize, as it is the largest building in the neighborhood.
The hotel has 207 rooms, spacious onsen baths and a good number of recreational and entertainment facilities such as a karaoke room, a massage area, spa and others.
In the evening, they hold a light party. The hotel suddenly springs to life with rows of lit up windows and corridors, large Christmas trees and hundreds of colorful lights covering the façade of the hotel and the garden.
If you are lucky enough, you can even take part in their marvelous candle night when the dark front yard sparkles with numerous twinkling dots, giving the impression that you yourself are floating in the middle of a bright and active universe. Don't forget to check the hotel's activities before deciding when to come, and turn your stay into an unforgettable time of your life!
If you want to buy souvenirs for your family or your friends, do visit the hotel's shopping street. Here you will find many shops selling a great variety of local goods and food. Besides sweets and local food, don't forget to take back with you one or two of the cute Sarubobo, the symbol of Takayama. The Sarubobo amulets come in various colors and each has a different meaning, Do ask the staff for assistance in choosing the best Sarubobo for you.
Model Route – Day 4
6:00 – 8:30 -- A Hot Bath and a Healthy Breakfast
Nothing can chase drowsiness away as fast as a nice hot bath in the cold morning air. While soaking in Takayama Green Hotel's outdoor bath, you can actually watch the sunrise, an experience you can only enjoy when staying over.
Between 7:00 and 9:30, breakfast will be served on the first floor (or, on some days at the restaurant located on the 9th floor). Upon booking your stay, you can choose the type of meal you wish: a Japanese set meal or an all-you-can-eat buffet.
If you are a fan of healthy Japanese cuisine, or if you want to try Takayama's famous dishes, then this set meal is our recommendation. It contains a shabu shabu dish made with Hida pork, and several other delicious side dishes among which there is one containing Hida beef (a popular local dish called Shigureni). All the ingredients used in these dishes are freshly taken from nearby farms and selected carefully before reaching your table.
Before getting on the 8:45 shuttle bus to Takayama Jinya, please check out and leave your luggage at the reception counter. You can come back to retrieve it later. The shuttle bus is provided by Takayama Green Hotel and, of course, it is totally free of charge. You will arrive at Takayama Jinya at 8:55.
9:00 – 13:30 -- Higashiyama Walking Course
Located on the east side of Takayama Station, the Higashiyama Walking Course is a route connecting many large temples, shrines, graves of historical figures, and the Takayama Castle ruins. This area developed in the times of Kanamori Nagachika (1524 – 1600), a medieval warlord who loved Kyoto so much that he decided to recreate it right here in Takayama. Walking around this area is a great way to learn about the history and culture of the city.
The total course is 4 km long and it is quite impossible to visit all the attractions on the way in just one morning, so we will pick up two of the most remarkable temples for your reference.
Unryuji Temple
Unryuji Temple is located at the starting point of the Higashiyama Walking Course in Teramachi ("temple town"). It was built in 720, and is one among the 33 temples of the Kannon Pilgrimage Road.
The Shoromon Gate is believed to have been moved from its original location inside Takayama Castle. Its historical value and special structure have made this gate into an Important Cultural Property of Takayama city. From here, visitors can enjoy a superb view of the city downhill. Pay attention to how the range of the landscape encompasses both old small houses and skyscraper buildings.
Visitors are welcome to enter the Japanese garden of the temple, as well as the Shoromon Gate and the graveyard.
Soyuji Temple
Soyuji Temple was built in 1632 and is a temple of the Rinzai sect of Zen Buddhism containing a multilayered monastery. Tesshu Yamaoka, who during Meiji Restoration mediated between Takamori Saigo and Kaishuu Katsu to arrange a bloodless capitulation of Edo Castle, is said to have learned and practiced Zen at this temple.
The main hall of Soyuji Temple is built atop a platform, following an architectural style named zenshu. The stone pavement flooring and three open walls exude a strong and solemn presence.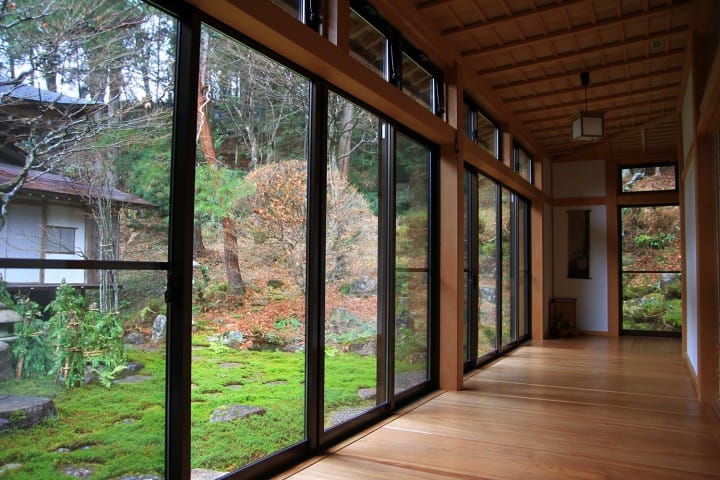 The hall is sometimes closed to public. Please visit the office building to check for further information.
14:00 – 15:00 -- Lunch at Kyoya, a Top-Rated Restaurant
Hida Takayama Kyoya is a family-owned restaurant lying on a quiet street lined with traditional houses and shops. The beautiful wooden building has been well maintained for 160 years and since 40 years ago, it has become the Kyoya that we know today.
Being rated as "excellent" by the majority of visitors on TripAdvisor, Kyoya is one of the top must-visit restaurants in Takayama.
The high ceiling and spacious dining room is filled with Japanese traditional decorations and equipped with charcoal stoves at each table, creating a homey and friendly atmosphere. They have menus in English and most of their staff can speak English well, so don't hesitate to ask for their recommendations.
Their most famous dish is no other than Hida beef. There are several combinations of meat grades for you to choose from. This 3,000 yen Gyudoraku Set Meal combines two types: loin and fillet. The different compositions of fat in each type create different tastes and textures. The meat is very juicy and tender while the vegetables are fresh and pleasantly sweet. Of course, the traditional Hoba-miso is also on the menu.
15:00 – 21:30 -- Heading Back to Shinjuku
It will take five hours and a half to reach Shinjuku Station, so we would recommend taking the 16:00 bus which will bring you to the destination at 21:30. After lunch, don't forget to go back to Takayama Green Hotel to take your luggage and head to the Takayama Nohi Bus Center. As you have already booked your ticket on the first day, there is no need to line up too early, but make sure not to miss the bus. Your bus will depart from platform No. 3 of the bus center.
Customize Your Trip
Please refer to our previous article for suggestions on places that are worth visiting in the Hida Takayama and Matsumoto areas. If you decide to stay longer than two days in Takayama, we would recommend you to save the journey to Shinhotaka and Hirayu to the second day. This way, you will have around four extra hours to explore the area, as the travel time to Shinhotaka from Takayama is four hours shorter than from Shinjuku. Customize your trip and enjoy to the fullest!

Hida Takayama Route Summary

Day 3: Shinhotaka Ropeway → Summit Observatory Deck, Restaurant Mount View, Sengokuenchi Nature Park → Hirayu Onsen → Takayama Green Hotel

Day 4: Takayama Green Hotel → Higashiyama Walking Course → Hida Takayama Kyoya → Shinjuku

Expenses:

Three-Star Alps Unlimited Ride Shinjuku Pass: 19,900 yen (summer), 18,000 yen (winter)

Accommodation: Takayama Green Hotel *Room prices vary by season and accommodation plan.

Lunch, snacks and other expenses: around 10,000 yen

Supported by Keio corporation

The information presented in this article is based on the time it was written. Note that there may be changes in the merchandise, services, and prices that have occurred after this article was published. Please contact the facility or facilities in this article directly before visiting.