Gorgeous Floats And Shrines! Visit Kanuma And Its Amazing Autumn Festival
Kanuma is just over an hour away from Tokyo and boasts a long history. On my trip I discovered festival floats from the Edo period, featured in the annual UNESCO-recognized autumn festival. The rest of my day was filled with shrine visits and exploration.
Kanuma is a small city in Tochigi prefecture. Although it is perhaps a lesser-known sightseeing area in Tochigi compared to Nikko and the big city of Utsunomiya, it has much to offer visitors.
Kanuma is readily accessible from Tokyo via express train. It is also equipped with buses and public transportation, making it an ideal spot for traveling at a relaxed pace and experiencing a different side of Japan.
Upon arriving in Kanuma, I was surprised to learn about its rich history and legacy of craftsmanship. Here you will have much to see and explore, from bountiful nature to traditional floats which debut in Kanuma's UNESCO Intangible Cultural Heritage-designated Autumn Festival.
This article documents my one day trip, using trains and buses to travel to and around Kanuma!
8:00 -- Head to Kanuma from Tokyo
Wanting to spend a full day in Kanuma, I left on the 8:00 train from Tobu Asakusa Station, riding the Tobu Limited Express Kinu 107. The train arrived at Shin-Kanuma Station, the train station serving Kanuma, at 9:23. The ride took just under an hour and a half.
The station is small, so it is easy even for first-time visitors to navigate. After that, I walked over to Machi No Eki Shin-Kanuma Juku (post station).
Shin-Kanuma Juku is a ten-minute walk down the street from Shin-Kanuma Station. Here you can find travel information and guidance, shop for Kanuma-specific souvenirs as well as fresh produce, and enjoy a meal or snack.
One thing I found adorable was this monaka (a Japanese confectionery consisting of a wafer with a sweet filling), shaped like the famous wooden floats in Kanuma. You can find this for sale for 750 yen (8 pieces).
10:00 -- Intricately Carved Artwork at Kanuma Yatai Float Center
My first main destination was Kanuma Yatai Float Center, which is just a stroll away from Shin-Kanuma Juku. At this center you can learn about the history, expert construction, and artistry of Kanuma's traditional yatai, or wooden floats. These floats are taken out and appear in the city's world-renowned autumn festival.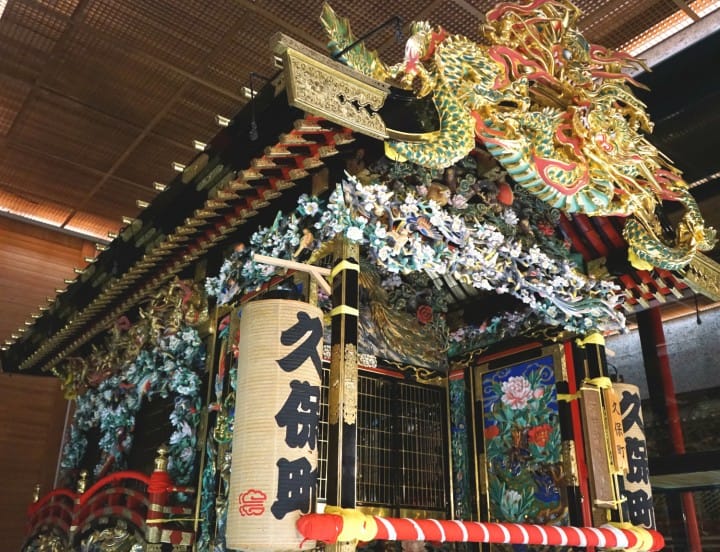 After paying 200 yen for admission, I saw some of Kanuma's wooden carved floats built in the Edo period, during the early 19th century. The sheer beauty of the construction and the intricate engravings on each float is truly phenomenal. A visit here is necessary to truly appreciate these works of art!
Through the guide's explanation, I learned that building each float was a gargantuan task, involving a multi-person, multi-level process. Creating such beautiful works demands the highest level carpenters, wood carvers, painters, and other artists.
In fact, these floats were built by the disciples and descendants of the craftspeople who worked on the famous Nikko's Toshogu Shrine. This history is rightfully a source of pride for the people of Kanuma. Many of the descendants of these workers still reside in this area, continuing to construct floats and lead in Japanese woodworking and crafts.
At the Kanuma Yatai Float Center, you can view a video about the floats (in Japanese), browse through historical documents, and see materials of the floats. There are some English descriptions and explanations available throughout the museum as well.
Directly outside the center you will find a souvenir shop, as well as a charming Japanese garden with a tea house.
10:55 -- Imamiya Shrine and Kanuma Autumn Festival
The next spot is Imamiya Shrine, a Shinto shrine close by. Kanuma Autumn Festival, a celebration honoring the local deities enshrined at Imamiya Shrine and in the city, is held in this area each October. Imamiya Shrine is accessible by foot and is beside a building where other wooden floats are kept in storage.
Imamiya Shrine has a rich history, with its founding dating back to 1534 in the Sengoku period. During this era, this shrine had close ties to Nikko's ancient Futarasan Shrine, and the area of Kanuma supported Nikko with its wood carvers and expert craftsmanship.
The shrine design here is known as gongen-zukuri, an architecture style also featured in the famous Nikko Toshogu Shrine. Pictured above is the honden (main hall where the deity is enshrined).
Before leaving, I found out more about the Kanuma Autumn Festival that occurs each year here in October. 20 or more floats representing different areas of Kanuma are brought out and gather at Imamiya Shrine. A group of floats assemble by the shrine and face off against each other, competing through various musical and artistic performances.
This year (2018) the main festivities will occur on October 6 and 7. The festival is described as being very lively. It is an exciting and traditional event, so when you come to Tochigi prefecture, be sure not to miss this!
Out-of-town visitors can participate in the event on the second day by wearing a Kanuma tenugui (Japanese cotton handkerchief-like cloth), available for purchase at the float center. You can find out about the festival by visiting the official website (Japanese).
11:30 -- A Bus Ride with Beautiful Landscape
Afterwards, I went to Shin-Kanuma Juku to catch the Re Bus, the local bus, to the next destination.
All buses in Kanuma stop at this easy-to-find bus stop, located right in front of the building. Take the number 7 bus bound for Furumine Shrine on the Kobugahara Line for around 60 minutes to the last stop. To get on the bus, use the middle door. The bus fare is 400 yen and should be paid before getting off.
On the ride you will get a glimpse of the beautiful natural landscape in Kanuma. As my visit was during summer, the fields, trees, and surrounding hills were painted bright green. In the autumn the scenery supposed to be especially stunning with crimson and golden leaves.
From the stop, Furumine Shrine is just a short walk up the path.
12:33 -- Furumine Shrine - A Shrine Retreat in the Mountains
Furumine Shrine is located in the mountainous area of northwest Kanuma. The shrine welcomes all types of visitors, from monks, to elementary school students, to out-of-town visitors. The shrine itself is expansive, containing many rooms dedicated to holding ascetic training, housing various events, and lodging overnight guests.
You can also experience sanro (an overnight stay at a shrine) here by phone reservation, but it is recommended to bring someone who speaks Japanese with you!
First, I enjoyed a relaxing lunch in a huge tatami room. One wall of the room contains windows that overlook the shrine and surrounding area, so I had a magnificent view as I ate.
This deluxe meal comes with rice, tempura, grilled fish, yuba (tofu skin) and konyaku (potato starch), as well as tofu and fu (wheat gluten), and vegetables in a citrus marinade.
You can also savor lunch in this tranquil setting when you come to Furumine Shrine. Upon arriving, go to the front desk and request a meal. There are three different sets (1080 yen, 1620 yen, and 2160 yen) offered. With the exception of the 2160 yen menu, the meal sets require no advanced reservation. Pictured above is the 1620 yen option.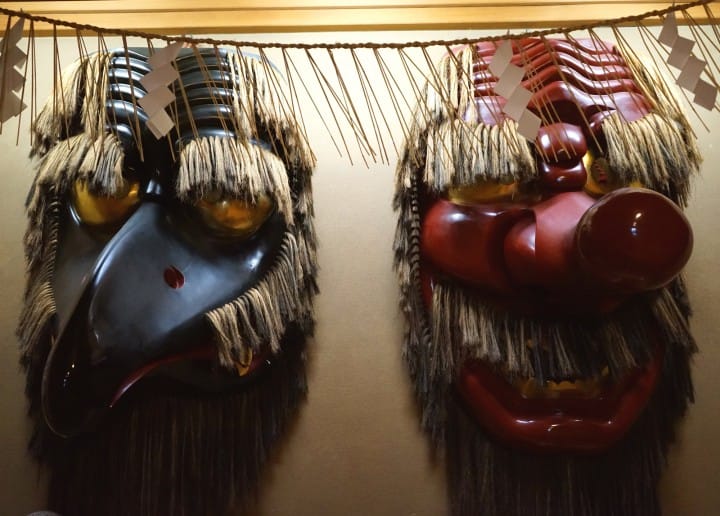 This pair of massive tengu faces are around 400 years old.
After the tasty meal, I explored inside the shrine. I was fascinated by the large number of tengu, long-nosed mountain goblins from Japanese folk-lore, here. After speaking with the shrine master, it seems like these tengu-related items have been donated by visitors to the shrine.
Furumine Shrine also offers goshuin (stamp collecting) near the front desk at the shrine. At shrines and temples in Japan, you can collect the "signatures" or marks of shrines. Here there are unique tengu-themed goshuin available, which would make great memorabilia.
Kohoen Garden in autumn. Picture courtesy of Kanuma City
Also in the shrine grounds is Kohoen, the large, traditional Japanese garden, which has a 300 yen admisson fee. The garden is nothing short of breathtaking.
The pathway to the garden leading from the shrine is surrounded by sugi, Japanese cedars, as well as flowers. When I went, it was bright green and dotted with violet-colored hydrangeas, which were still in bloom despite it being late in the season.
Visitors come here throughout the year, but the garden is reported to be especially stunning in the autumn. Additionally, the flowers in bloom change each month or every two months, adding yet another reason to visit.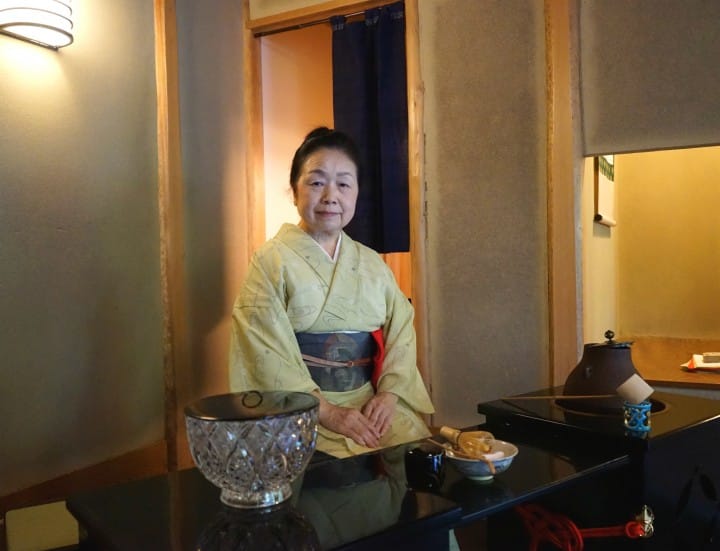 Before leaving, one must stop at the adorable tea room located close to the entrance. Here you can have matcha made for especially for you, presented with wagashi (Japanese sweets) for 600 yen. When receiving matcha, eat your wagashi first, and enjoy your tea afterwards to appreciate the balance between the sugary confectionery and deep matcha flavor.
You can also enjoy a light meal or snack at the tea house in the garden down the path.
To get to our next destination, return to the bus stop and take the 14:35 Re Bus toward Machi No Eki, on the Kobugahara Line.

15:35 -- Make Kumiko - Traditional Woodcraft Experience
My final stop was the "Wood Hometown" Traditional Crafts Museum, a 9-minute walk from the bus stop at Shin-Kanuma Juku. As a city with such a rich history in wood working, no trip to Kanuma would be complete without a visit here.
Here I did the traditional kumiko making activity, which cost 1,200 yen. Kumiko is a type of woodcraft where you create designs by fitting together wood strips without using nails or adhesive. This activity is fairly simple, although you need to pay attention to the way each wood strip fits together! I had some assistance from a friendly employee to finish.
More elaborate and delicately-designed kumiko are often seen in traditional Japanese interior, like lanterns and doors. At the center you can learn more about kumiko and woodcraft in Japan and Kanuma.
Here you will find another carved wooden masterpiece, the Ishibashi float, decorated elaborately with lovely chrysanthemums and a floral design. This colorful float was constructed during the Edo period. Mr. Nemoto, the friendly and outgoing director here, will be glad to give you a thorough explanation.
I was also very entertained by the miniature versions of wooden floats and woodcrafts for sale, which I wanted to take home as a souvenir.
16:20 -- Goodbye for Now, Kanuma! Back to Tokyo
Kanuma Autumn Festival. Picture courtesy of Kanuma City

Unfortunately, my Kanuma day trip ends here. After a full day of activities, take a walk back to Shin-Kanuma Station to make your train back to Tokyo. I definitely hope to make the trip back to Kanuma for the Autumn Festival in October, and to explore more during the beautiful autumn season.

I took the Tobu Limited Express train which left at 16:51, and arrived at Asakusa at 18:15.

My Kanuma Trip Itinerary
Tokyo (Tobu Asakusa Station) → Tobu Shin-Kanuma Station → Machi no Eki Shin-Kanuma Juku → Kanuma Yatai Float Center → Imamiya Shrine → Machi no Eki Shin-Kanuma Juku → Furumine Shrine → "Wood Hometown" Traditional Crafts Museum → Tobu Shin-Kanuma Station → Tobu Asakusa Station

One-Way Train Ticket Fare: 2,230 yen (1,130 yen fare + 1,200 seating charge) (1 hour, 23 minutes)
One-Way Bus Ticket Fare to Furumine Shrine: 400 yen
Food and Activity Expenses: around 4,500 yen

Recommended website: Tochigi Prefecture's Official Tourist Website - Visit TOCHIGI

Supported by Tochigi Prefecture

The information presented in this article is based on the time it was written. Note that there may be changes in the merchandise, services, and prices that have occurred after this article was published. Please contact the facility or facilities in this article directly before visiting.