Kawagoe Day Trip - Local Culture And 5 Must-Try Sweet Potato Treats
In Kawagoe, you can have fun all day exploring the charming streets lined with traditional houses, shops, and cafes. The city is famous for its local sweet potato treats! We introduce a route that includes five of the best sweet potato snacks to try!
Kawagoe - A Treasure Trove of Japanese Culture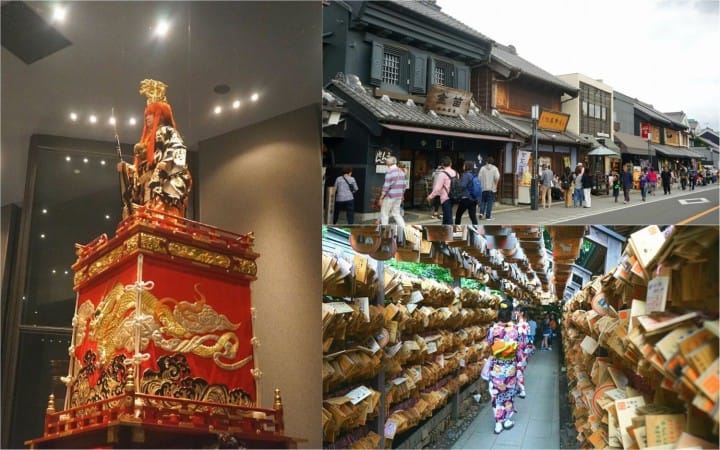 Kawagoe, located very close to Tokyo in Saitama Prefecture, might be best known for its Kurazukuri Street, an area with century-old traditional Japanese houses and shops, and for the impressive Kawagoe Festival held every October, which features gorgeous traditional festival floats.
In addition to its historical atmosphere, what makes this city irresistible to visitors is the wide range of local treats on offer. Kawagoe is especially famous for food and desserts made with sweet potato. Satsuma Imo, as the sweet potato is called in Japanese, has a rich texture and a gentle aroma that makes it ideal as a sweet treat.
In this article, in addition to the exciting Kawagoe Festival Museum, we'll introduce five extremely popular restaurants and cafes where you can taste excellent treats made with Kawagoe's sweet potatoes.
9:00 -- Depart from Ikebukuro Station
Kawagoe is an easy 30-minute train ride from Ikebukuro Station. Take the Tobu Tojo Line bound for Kawagoe and it will bring you directly to Kawagoe Station.
From Kawagoe Station, to reach Kurazukuri Street you can either take a 25-minute walk or take a bus from platform 1 or 2 located in front of the station's East Exit.
You'll definitely know when you've reached this street! Suddenly, all the buildings around you share the same Edo period architectural style, with black tiles that have stood the test of time. You'll notice that there are no power lines in this area, which is great news for those who want to take beautiful pictures!
10:20 - 10:50 -- Let's Get on to the Sweets! Kasho Umon's Imokoi Buns
Kasho Umon's Bell Tower Store is located just by Kawagoe's famous landmark, the Bell Tower. This shop's most popular product is Imokoi, a bun made with sweet potato, which is something that you just have to taste when coming to Kawagoe! From the distance, you will see steam elegantly dancing out from the wooden steam trays used to warm up the Imokoi.
Since its opening in 1996, Umon has been producing sweets made with Satsuma-imo all-year round.
The Imokoi bun tastes best when eaten on the spot, right away after buying it! It has a perfectly thick, chewy skin, which contrasts with the mushy red bean paste and yellow sweet potato cream inside.
If you would like to take home souvenirs from this store, consider their other signature sweet, Imo-pote, which is just as delicious and has a longer shelf life.
12:00 – 13:00 -- Sweet Potato Variety! Lunch at Café TOROCCO
Café TOROCCO, a dining place with an elegant, distinctive Japanese atmosphere, is one of the most popular cafes in Kawagoe.
You can find the cafe at the back of the pottery shop called Yamawa, which is located on the main Kurazukuri street. The facility also has a studio that offers one-hour pottery workshops.
The "Sweet Potato Mini Kaiseki" set meal (1900 yen) contains a variety of ten small dishes that use sweet potatoes in vastly different ways. One of the unique dishes you'll notice is the satsuma imo potage soup, which is so creamy and smooth that it just slides down your throat. The sweet potato croquette balls, on the other hand, have a soft center and are wrapped in crispy deep-fried dried noodle pieces.
My personal favorite was the sweet potato tea. The natural sweetness of the tea put a smile on my face as soon as I took the first sip.
After your lunch, how about taking a look at the pottery objects in the shops? You might find a nice item to take home as a keepsake from your trip to Kawagoe!
13:15 - 13:45 - Take a Walk around Kashiya Yokocho, the "Sweets Alley"!
An area that allows you to discover firsthand the real appeal of Kawagoe is Kashiya Yokocho, an alley located right behind Cafe TOROCCO and the buildings surrounding it. This street is lined with small local shops selling sweets and souvenirs.
Seeing the amazing variety of treats they have here, you'll understand the reasons behind the popularity of this area. All the sweets look so good that you'll want to try them all!
Small shrines and sacred statues that you'll rarely see in other places, such as this good luck bringing chameleon, can also be found at every corner of this alley. It's a great place to get to know the authentic side of Kawagoe.
13:45 - 14:40 – Discover the Vibrant Local Culture at Kawagoe Festival Museum
Kawagoe Festival, which takes place every year in October, is one the largest events in the city. The main attraction of the festival is the procession of beautifully decorated floats created and maintained through the efforts of all the citizens of Kawagoe. Measuring around 8 meters in height and decorated with motives and themes taken from Japanese mythology, these floats are the pride of the city.
If you can't make it to Kawagoe on the days of the festival to see the parade with your own eyes, then visit the Kawagoe Festival Museum, a whole facility dedicated to this festival.
In addition to interactive exhibitions and detailed information on the festival, visitors can actually see two of the festival floats that are displayed there. The sheer size of these floats and their intricate carvings and decorations will leave you breathless! Besides, you'll definitely understand why at least one hundred people are needed to pull such a float during the parade.
The exhibition shows some of the devices and mechanisms that put the wooden dolls on top in motion, making these floats a real engineering wonder! These mechanisms date back to the end of the Edo period, which makes these floats even more amazing.
Feel free to watch the 10-minute video featuring scenes from past festivals. It's a really impressive footage that will make you wish you could come to see the festival with your own eyes.
15:00 - 15:50 – Coffee Break at Kawagoe Art Café Elevato
After exiting the Festival Museum, head to the right, in the direction of the station. In about 10 minutes you'll reach Kawagoe Art Café Elevato, a cafe where you can take a well-deserved break and enjoy some exquisite treats too.
Though it looks like a Western-style building, the interior has a very cozy, welcoming Japanese atmosphere. On the second floor, they have some beautiful antiques. In the adjoining building on the first floor, there is also a sushi restaurant.
The dish I came to try at Elevato was their sweet potato pudding. This dessert comes with black sugar sauce and vanilla ice cream on top. The sweet and refreshing taste of these two balance off the subtler, grainy sweet potato flavor excellently.
At Café Elevato you can also taste seven types of delicious craft beer. Some of them are also made with sweet potato!
16:15 - 16:45 – A Snack on the Go! Try the Sweet Potato Tarts of Kawagoedo
Kawagoedo is a well-established tartelette shop located on the Taisho Roman Yume-dori Avenue, which is parallel to the Karazukuri Street but is considerably less congested.
The shop is best known for its exquisite tarts which come in five flavors: egg, sweet potato, chocolate, raspberry, and cheese. This time I went for the sweet potato tart. Let me tell you that it was the perfect choice after a day of walking around the city. With its soft texture and rich flavor, it was a very soothing treat.
What's more, at this shop you can even find coffee that pairs well with each of the tart types which differ in richness, bitterness, and sourness. It's a combination well worth trying!
View Information
Kawagoe Tartelette Parlour (Kawagoedo Taisho Roman Yume-dori Store)
Kawagoe Tartelette Parlour (Kawagoedo Taisho Roman Yume-dori Store)
View Map
| | | |
| --- | --- | --- |
| | Address | Saitama, Kawagoe, Renjakucho 12-8 |
| | Business Time | 11:00-17:00 (The store may close earlier if it runs out of stock.) |
| | Fixed holidays | None |
| | WiFi | Not Available |
| | Accepted Credit Cards | Not Available |
| | Languages | Japanese |
| | Nearest station | Kawagoe Station |
| | Access | 18 minute walk from Kawagoe Station |
| | Telephone number | 049-222-2280 |
| | Website | http://www.kawagoedo.com/ (Japanese only) |
17:15 - 17:45 – Let's Try a Classic! Daigaku Imo - Glazed Sweet Potatoes at Kawagoe Iwata
Daigamo imo (glazed sweet potatoes) are a snack that's a longtime favorite in Japan. In Kawagoe, the shop to go for this treat is Kawagoe Iwata.
The owners of Iwata have been making daigaku imo in Kawagoe since 2010. In fact, they have expanded their range of products in time, offering two types of daigaku imo and other sweets made with Kawagoe potatoes such as dry candies and cakes. While daigaku imo tastes best on the day it's made, the other types of sweets have longer shelf lives and make great souvenirs.
To make daigaku imo, the sweet potato pieces are first deep-fried, then glazed with honey. The glazed surface is sweet and crispy, while the inside is soft. It's a very aromatic, delicious treat. Pictured above are fresh Koedo Sticks, made with Kawagoe sweet potatoes (380 yen/200g).
18:26 - 19:02 – After a Great Day in Kawagoe, Back to Tokyo
On the way back, I took a loop bus from Kurazukuri Street to Kawagoe Station, where I hopped on a train bound for Ikebukuro on the Tobu Tojo Line.

If you would like to go back to Tokyo via Omiya in Saitama and head to stations such as Ikebukuro, Shinjuku and Shibuya, take the JR Saikyo Line from Kawagoe Station.

The Seibu Shinjuku Line Hon-Kawagoe Station, located only 15 minutes away by foot from Kurazukuri Street, is also very convenient if you're heading to Shinjuku.

It was a good day walking along the charming Kurazukuri Street in Kawagoe, but all the delicious sweet potato sweets made the day a really great one!

Route Summary
Ikebukuro Station → Kawagoe Station → Kasho Umon → Café TOROCCO → Kawagoe Matsuri Museum → Kawagoe Art Café Elevato → Kawagoe Tartelette Parlour (Kawagoedo Taisho Roman Yume-dori) → Iwata → Kawagoe Station → Ikebukuro Station

Expenses
Travel expenses (train, local bus): 1280 yen
Lunch: 1,900 yen
Sweets, souvenirs, other expenses - total: around 2000 yen

For more information on fun things to do in Kawagoe and its surroundings, visit this website: http://www.pref.saitama.lg.jp/chokotabi-saitama/eng/index.html

Supported by Saitama Prefecture

The information presented in this article is based on the time it was written. Note that there may be changes in the merchandise, services, and prices that have occurred after this article was published. Please contact the facility or facilities in this article directly before visiting.