Watch The Sunset From The Beach! A Rewarding Day Trip To Hayama
Hayama, located by the sea south of Tokyo, offers great views of the sea and of the sunset, as well as exciting marine activities. Explore this area using the convenient Hayama Excursion Ticket, which includes transportation, a meal, and even souvenirs!
Hayama - The City of Beautiful Sunsets
Hayama, a relaxing beach town located south of Tokyo in Kanagawa Prefecture, is becoming more and more popular as a day-trip destination. And no wonder! The wide seascapes, the incredibly beautiful sunsets, and the overall laid-back atmosphere of this town make it ideal as an escape out of the bustling city.
A trip to Hayama is best on days when the blue sky extends limitlessly. Taking a stroll on the beach on such a day sounds like the perfect pastime. Those of you who like surfing or windsurfing can expect to find many like-minded individuals in Hayama.
The most pleasant way to travel to Hayama is by using the convenient Hayama Excursion Ticket. Priced at only 3,000 yen, this one-day ticket covers a roundtrip from Shinagawa Station to Shinzushi Station in Hayama, free bus rides for the whole day in Hayama, as well as a meal at a restaurant of your choice, and even a set of souvenirs that you can receive from a featured store!
This time, I went on a trip to this beautiful area using the Hayama Excursion Ticket. Here's how it all went!
9:28 -- Departure from Shinagawa Station
Picture courtesy of Keikyu Corporation
The Hayama Excursion Ticket can be purchased at the ticket office of the Keikyu Shinagawa Station and several other stations on the Keikyu Line. For details, please check the information available on the KEIKYU official website.
It is recommended that you arrive at least 15 minutes earlier at the station so that you have enough time to purchase your ticket.
When buying the Hayama Excursion Ticket, you'll receive three tickets:
- Ticket A is your transportation ticket covering all train and bus rides to and from Hayama.
- Ticket B is the meal ticket which allows you to enjoy lunch at one of the 20 participating restaurants.
- Ticket C should be exchanged for a set of souvenirs at one of the 11 featured stores.
In order to take the train for Hayama, insert Ticket A into the ticket gates and don't forget to pick it up again as you go through the gates.
To reach Hayama, take the 9:28 train heading to Misakiguchi and change trains at Kanazawa-bunko, taking the Airport Express for Shin-zushi Station. (*1) The whole trip takes about 48 minutes.
*1... The departure time mentioned here corresponds to the weekend and holiday time table. The times differ on weekdays.
10:38 - 10:42 -– From Shin-zushi Station to Hayama Marina
From Shin-zushi Station, take the bus from platform no. 2 (located in front of the station). When boarding the bus, please show your Hayama Excursion Ticket A to the driver.
In about four minutes, you'll reach Hayama Marina bus stop so please get off here.
11:00 - 11:45 -- View the Beach from the Sea! Hayama Marina Cruising
Hayama Marina is a complex that includes a center for sailing and other marine sports, as well as shops, restaurants, a hair salon, and a gallery.
Picture courtesy of Keikyu Corporation
Hayama Marina is also the departure point of the Hayama Marina Cruise, a bay cruise that takes you along the coast as far as Enoshima Island.
There are three cruises per day at 11:00, 13:30, and 15:00. Up to 50 persons can board the boat so make sure you reserve your cruise ticket in advance, especially if you plan to go during the weekend.
Users of the Hayama Excursion Ticket benefit from a discount to the ticket price. The adult ticket, priced at 3,240 yen, can be purchased for 2,160 yen!
Picture courtesy of Keikyu Corporation
Once you're on board, enjoy the breeze and the beautiful views of the sea while appreciating the intriguing rocks that can be seen along the coastline. On clear days, you can even see Mt. Fuji in the horizon!
11:50 - 12:20 -- Take a Walk around Hayama Marina
If you're not one of the lucky ones to live in a place near the sea and enjoy its sight on a daily basis, then you'll be thrilled by the views in Hayama. After the boat cruise, you may want to take a walk and explore the surroundings. The sea, the coastline, and the boats are great material for some beautiful pictures, too!
12:30 - 12:40 -- Pick Your Souvenirs! Quality Cosmetics from Tricca Balcony Hayama
You can exchange Ticket C for souvenirs from eleven participating stores located in Hayama.
In Hayama Marina, there are two places where you can exchange your ticket for souvenirs. You can either choose original Hayama Marina towels or cookies from the souvenir shop on the first floor or make your way up to the second floor to Tricca Balcony Hayama, where you can choose from three types of hair cosmetics: hair milk, hair mist or balm.
Tricca Balcony is a hair salon, which, in addition to hair styling, also provides nail services. If you have 30 minutes to one hour at your disposal, how about getting your nails done here? Making a reservation beforehand is recommended.
13:15 - 14:00 -- Lunch at Umibe Cafe
It may be tough to decide where to use your meal ticket, as most of the participating restaurants offer appetizing menus made with fresh local ingredients.
I chose Umibe Cafe, a book lover's heaven located close to the beach.
Opened in May 2014, this cafe was designed as a living room for people to sit back and relax while reading the books available on the shelves, all of which belong to the owner. The cafe is quiet so friends can hang out enjoying long, relaxing chats.
At Umibe Cafe, you can enjoy a set meal that includes delicious fish curry rice and a drink. The type of fish in the curry is different every week. It is extremely soft and boneless, blending well into the curry sauce that is very smooth and tasty.
Dessert is not covered by your ticket but if you would like to eat something sweet after your meal, try the baked apple slices with vanilla ice cream, a specialty of this cafe.
14:30 - 15:40 -- Enjoy Art by the Sea! The Museum of Modern Art, Hayama
To reach our following destination, the Museum of Modern Art, Hayama, we took the 14:16 bus from Fujimi Bridge bus stop and got off at Sangaoka bus stop after an 11-minute ride.
Located right next to the ocean, the Museum of Modern Art, Hayama is a place where art and nature are harmoniously combined. Take a stroll around the museum and you'll find plenty of sculptures exhibited outdoors in the surrounding gardens.
The museum has a permanent exhibition of works by Japanese and international artists from the musem collection, as well as temporary exhibitions. When we visited, the theme of the permanent exhibition was "Buildings in Pictures".
The special exhibition at the time of our visit was titled "Alvar Aalto - Second Nature" and included works by Alvar Aalto, a leading Finnish architect of the 20th century who created objects with a design inspired by nature.
The last exhibition area was a showroom full of furniture designed by Aalto. It was really fun to sit on the chairs and armchairs in the room and experience the features of Aalto's design.
The museum shop has a wonderful selection of art-related goods that can become great souvenirs. In fact, the Hayama Excursion Ticket C can be exchanged here for a small tote bag and a set of mini color pencils. If you love art, these souvenirs are a great choice!
15:45 - 16:30 -- Take a Rest at Restaurant ORANGE BLEUE
ORANGE BLEUE, a restaurant that is adjacent to the museum, is the ideal place to take a rest while recollecting the beautiful art exhibits you just saw. Featuring full height glass windows, this restaurant rewards visitors with boundless ocean views.
Outside the restaurant, there is a garden with pathways that lead to a lookout to the beach below. It's a really wonderful place to take in the views and recharge.
16:40 - 17:10 -- View a Beautiful Sunset at Isshiki Beach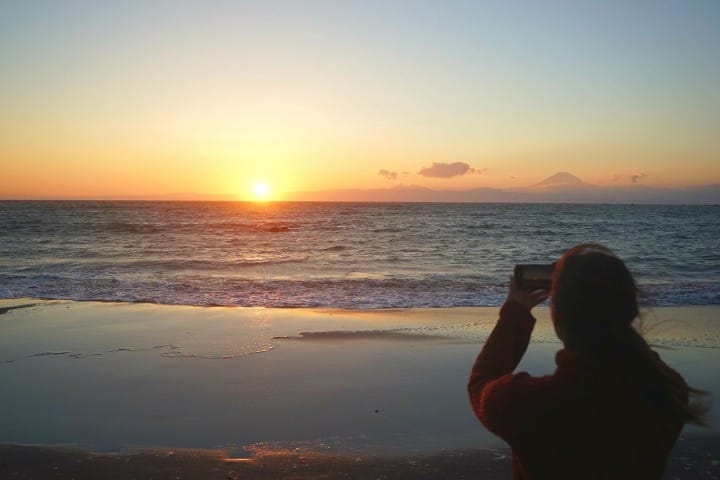 The highlight of any day trip to Hayama is undoubtedly watching the sunset at Isshiki Beach, which is only a 4-minute walk from the art museum. This beach is busy with surfers during the day, but when the sun goes down, the surroundings become more serene. As you might notice, Mt. Fuji is also visible in the distance.
Depending on the season, the time of the sunset differs, so try to find out this information beforehand. Also, because it can get quite windy on the beach in the evening, you might want to bring a jacket with you. It'd also be nice to bring a sheet to sit on. Witnessing the sky get tinted with a gradient of orange hues is a wonderful experience.
To get back to Shin-zushi Station, you can take the bus from Isshiki Kaigan bus stop, which is about 3 minutes away from the beach.
After 17:30 -- Going back to Tokyo
Being back in Tokyo may feel surreal as you've spent a whole day feeling ocean breezes in Hayama. However, hopefully, the souvenirs you got will always serve to bring you fond memories from this day.

Route Summary
Shinagawa Station → Shin-zushi Station → Hayama Marina → Umibe Cafe → The Museum of Modern Art, Hayama → Restaurant ORANGE BLEUE → Isshiki Beach → Shin-Zushi Station → Shinagawa Station

Expenses
Transportation: Hayama Excursion Ticket (3,000 yen)
Lunch: included in the Hayama Excursion Ticket
Boat cruise, museum entrance fee, and other expenses: 4,200 yen

For more information on sightseeing in Hayama or other exciting places along the Keikyu Line, please visit the following website: http://www.haneda-tokyo-access.com/en/

Supported by Keikyu Corporation

The information presented in this article is based on the time it was written. Note that there may be changes in the merchandise, services, and prices that have occurred after this article was published. Please contact the facility or facilities in this article directly before visiting.