Welcome To Japan! Day 1: Japanese Culture And Food In Narita, Chiba
Dive deep into Japanese culture right from Narita Airport! On your first day here, take a tour of the historically-rich sightseeing areas in Chiba Prefecture such as Narita, where you can visit temples, wear a kimono and taste delicious local food.
Explore Japan Starting from the Airport!
Day 1: Japanese Culture and Food in Narita, Chiba Prefecture
Right after landing at Narita Airport that serves the Tokyo area, travelers can start their explorations of Japan by visiting the historically-rich sightseeing areas in Chiba and relaxing with hot springs and scenic views in nearby Ibaraki.
This time, we'll introduce a two-day recommended itinerary that includes the sightseeing landmarks of Chiba and Ibaraki.
On the first day of my tour, I went to Narita City, walked through centuries-old townscape in a kimono, visited Naritasan Shinshoji Temple, and enjoyed delicious local Japanese treats. In the evening, I traveled to Tsukuba in Ibaraki, where I spent the night at an excellent ryokan (Japanese inn) located at the foot of Mt. Tsukuba. To see the second part of this itinerary, please check the article below.
8:30 - Depart from Narita Airport! Travel Light by Utilizing the GPA Baggage Delivery Service
The green-colored counter of GPA Baggage Service
First, take your luggage and head to the GPA Baggage Delivery Service counter on the first floor of the arrivals halls in Terminals 1 and 2. This easy-to-use delivery service allows you to send your bags directly to your lodging that evening so you can spend your first day traveling luggage free.
The employees will assist you with the mailing slip and confirm your luggage is sent to the correct address. Delivery costs vary by size, weight, and destination of your luggage.
Same-day delivery is available until 10:30 for accommodations in specific regions (*1) of Japan. If you come to the counter after this time or are staying in Kyoto, Osaka, or another area Japan, your luggage will come on the following day. (*2) GPA Baggage Delivery Service utilizes Yamato Transport, a major delivery service company.
With your luggage out of the way, you can start enjoying your trip straight away. You can also use this service for your returning flight to smoothly transport your baggage from your accommodation, Yamato Transport office, or even convenience store back to Narita Airport.
*1... Chiba, Ibaraki, Tokyo, Kanagawa, Tochigi, Gunma, Saitama, Yamanashi.
*2... For more details, refer to the official website.
9:00 - Join a Tour from the Narita Airport Transit & Stay Program
After sending off your luggage, walk down to the Narita Airport Transit & Stay program counter on the first floor of the International Arrival Lobby. There are counters in both terminals 1 and 2 marked clearly in English.
The friendly employee at the counter will tell you which tours are available that day and will also confirm your travel plans. These tours usually begin in the morning at 9:00 and are therefore ideal if your flight lands in the morning. If you have just have a layover in Japan, they will ask for your connecting flight information to ensure you will make it on time!
You can choose from up to eleven different tours, which introduce close-by sightseeing areas of Chiba Prefecture. The English-speaking tour guides will help you get a better understanding of the significance and history of what you see in Chiba, and for the rest of your trip, too.
Most tours require around three hours. There is also a bus tour (around 4.5 hours needed) and self-guided tours you can take. For more information, please refer to the official Narita Airport Transit & Stay website.
This time, I went to Narita to visit the famous Naritasan Shinshoji Temple and the Edo Period-style townscape. This tour starts at 9:00 and is around three to four hours. After signing up, I met my guide and we took the Keisei train together from Narita Airport Terminal 2 Station to Narita Station.
We purchased the Narita Kaiun Kippu, a special round-trip train ticket that also provides discounts at participating shops in the Narita area (from Narita Airport to Kesei Narita Station, 480 yen including tax).
9:30 - Explore the Streets of Narita in Kimono!
Upon arriving at the station, we headed towards the omotesando, the main approach to the temple, lined with many local shops. Our first destination was Kimono Studio HANABI, a kimono rental shop that allows you to pick out kimono, take photos, and walk along the streets and to nearby Naritasan Shinshoji Temple. This is an option you can add on to this tour.
The staff here are familiar with international visitors. They will make you feel comfortable, even if it is your first time trying on a kimono. First, choose the kimono and obi (sash) you like. The staff will then help you get dressed properly. You can wear your shirt underneath, as a layering fabric will cover your top.
For shoes, I chose a soft pair of sandals that are easy to walk in. To complete the look, you can have your hair done, too!
Chatting with the guide about Narita, we searched for photo spots to capture the old atmosphere of the main street. I found it very easy to take photos as this area is not as crowded as Asakusa or Kyoto.
You will find many souvenir shops along the street. Pictured above is what you can find at Kyomasu Souvenir Shop, which includes traditional gifts and Unarikun merchandise, a Chiba Prefecture mascot. He is an eel in the shape of an airplane (upper-right).
We also passed by several shops specializing in sweets of all kinds, including peanut-based treats, as the prefecture produces the most in Japan.
10:30 - Visit the Impressive Naritasan Shinshoji Temple
Naritasan Shinshoji Temple, known throughout Japan, is located at the end of the 800-meter long main street. Historically, travelers going to and from Edo (present-day Tokyo) would stop in the town Narita and pray at this temple.
The temple also has ties to performing arts, as the first generation of Ichikawa Danjuro, a famous family of kabuki actors, came here to pray for the birth of a male successor in the Edo period. This wish was granted, and the family has since then actively contributed to the temple.
The vast grounds of the temple are filled with things to see, including the Three-Storied Pagoda (pictured above), the Great Pagoda of Peace, and a stunning park. Make sure to tour inside the Great Pagoda of Peace and take in the intricate artwork and statue of Fudo-myoo, the Buddhist deity worshipped here.
We also walked around the park just below the towering pagoda. The scenery here reflects the seasons. When we visited at the end of January, the plum trees were just starting to bloom. In spring the cherry blossoms turn the park into delicate shades of pink. Summer brings lush greenery, and fall is gorgeous with red and golden foliage.
With all its flora, a stroll here is an ideal way to see nature and take some lovely pictures.
12:00 - Dig into Narita Specialties and Japanese Dishes
The tour continues during lunch, when you can try the delicious regional cuisine. Unagi (eel) is a well-known delicacy in Narita. Several restaurants along the main street selling unagi flavored with a sweet and savory glaze, placed on top of rice.
The smells of this dish fill the streets as you are walking around. Your guide will let you know which restaurants sell truly tasty unagi!
If you want to try something else, note that the destination for lunch is free to tour participants to decide. We settled on Ramen Bayashi, a noodle shop with English menus and English-speaking staff.
My guide and tour partner chose the Lemon Ramen (upper-right) and Mixed Miso Ramen (lower-left) (around 1,000 yen each including tax). Ramen Bayashi was able to accommodate my vegetarianism. I enjoyed some delicious stir-fried vegetables and rice (around 900 yen including tax).
13:30 - Relax with Coffee and Airplanes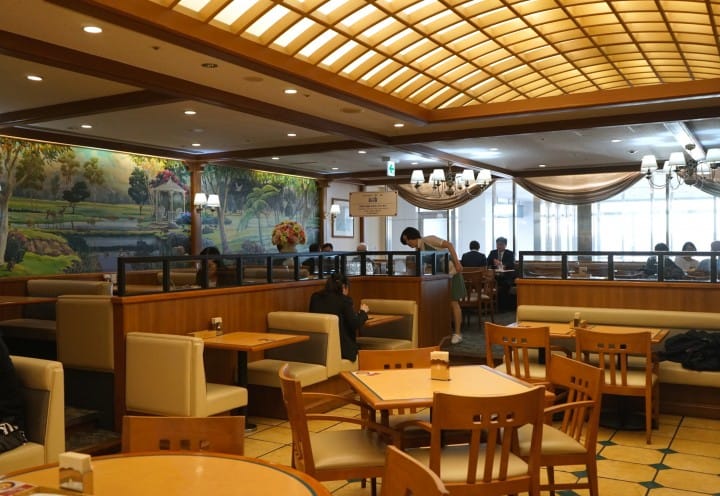 Once the tour in Narita ends, you'll take the train back to the airport. After parting with the tour guide, I headed to Narita Yo Zen Ya Royal, a cafe with a view of the runway on the 4th floor of Terminal 1.
The menu is clearly labeled with English and allergens in each of the dishes are well-marked. The employees are also very friendly.
I ordered the drink bar, which includes unlimited beverages, including coffee, tea, and soft drinks. This is an ideal place to unwind at after the exciting tour of Narita. I spent my time quietly sipping some coffee and watching the airplanes coming and going.
16:00 - Travel from Narita to Tsukuba
The lodging we recommend for your first night in Japan is just north of Narita, in Tsukuba, Ibaraki Prefecture, which is famous for its beautiful night views. To get there, buy a ticket for the 16:00 Kantetsu bus to Tsukuba Center (2,200 yen including tax) at the ticket window on the first floor of Terminal 1 and step outside.
The bus stop is just outside the doors of the ticket counter. Don't worry if you don't read Japanese, as the platforms are clearly labeled in English.
18:00 - Settle in at Tsukubasan Edoya, a Traditional Japanese Inn
Picture courtesy of Tsukubasan Edoya
After a relaxing ride, I got off at Tsukuba Center and took a taxi to Tsukubasan Edoya, a traditional Japanese inn on Mt. Tsukuba.
I was very impressed by the serene atmosphere of the inn and the service of the employees. My Japanese and Western-style room was very spacious and overlooked the city of Tsukuba, twinkling at night.
Edoya boasts excellent onsen (hot springs) you can try. I recommend trying the outdoor bath, which overlooks the nature of Mt. Tsukuba.
Picture courtesy of Tsukubasan Edoya
For dinner, you can indulge in a traditional Japanese meal. Edoya also serves breakfast, made with fresh ingredients and a buffet with vegetables and natto (fermented soybeans), which Ibaraki Prefecture is known for.
19:00 - Stroll Under the Stars and End the Night
Picture coutersy of Tsukuba Scenic Railway CO.,Ltd.
Mt. Tsukuba is in a rural area, making it a great place to see the beautiful night sky. Between September and February during weekends, you can enjoy the Stardust Cruising event on the ropeway and mountain. Actually, the ropeway platform for the Stardust Cruising is located very close to Edoya.

On clear nights you can see Mt. Fuji and even Tokyo Skytree in the distance. There are also special events periodically held, including educational lectures on astronomy and food stalls. This is a unique way to end the evening and enjoy nature.

After an evening under the starry night sky, I made the short walk back to the inn and ended the night feeling very satisfied with the sights and experiences I had enjoyed during the day.

Day 1 Route Summary
Narita Airport → Narita Station → Naritasan Omotesando → Naritasan Shinshoji Temple → Ramen Bayashi → Narita Station → Narita Airport → Cafe ROYAL → Tsukubasan Edoya → Tsukubasan Ropeway → Tsukubasan Edoya

Expenses
Travel: 480 yen (Narita Kaiun Kippu), 2,200 yen bus fare, 5,000 yen taxi fare
Kimono Rental: 3,218 yen (two hours)
Souvenirs and Snacks: 1,000 yen
Lunch: 900 yen

For more information on the places to visit and exciting things to do in Chiba and Ibaraki, please refer to these websites:
Chiba Prefecture: http://japan-chiba-guide.com/en/index.html
Ibaraki Prefecture: http://english.ibarakiguide.jp/

Supported by Ibaraki-Chiba Joint Promotion Council of Themed International Tourism

The information presented in this article is based on the time it was written. Note that there may be changes in the merchandise, services, and prices that have occurred after this article was published. Please contact the facility or facilities in this article directly before visiting.