A Day Trip From Tokyo - Itako's Iris Festival And Kashima Jingu Shrine
Itako and Kashima are two cities with fascinating traditional culture located just two hours from Tokyo. Enjoy the famous Iris Festival, a visit to Kashima Jingu Shrine, and wonderful local cuisine on a day trip from Tokyo.
Itako and Kashima - Two Charming Cities Northeast of Tokyo
Only 30 minutes from Narita -- or two hours from Tokyo -- lie three water towns Katori, Itako and Kashima that are historically connected to each other. Together they are called Suigo Santo. Katori and Kashima are each accessible conveniently from Itako by train within 10 minutes.
Katori is in Chiba prefecture while Itako and Kashima are part of Ibaraki prefecture nowadays. All three towns are famous for their beautiful waterways.
This time we will explore Itako and Kashima on a day-trip route.
Every year from late May to late June, Itako is visited by around 800,000 people for its famous iris festival called "Ayame Matsuri." This event is not only a festival for admiring irises of more than 500 varieties but also a display of the traditional aspects of Itako life in the old days such as wedding-related customs.
Kashima, on the other hand, is visited all-year-round for its legend-filled grand shrine Kashima Jingu and soccer stadium. In fact, Kashima is home to local soccer team Kashima Antlers FC and is also the place where the national soccer team has triumphed time after time!
8:23 - Departure from Tokyo Station
The easiest way to get to Itako from central Tokyo is to use the special train Ayame Matsuri Go that runs only on weekends and public holidays during the period of the Iris Festival. First, hop on either Yamanote Line or Keihin-Tohoku Line from Tokyo Station for four minutes to reach Akihabara Station.
Once you're at Akihabara, go to platform 6 of the Sobu Main Line to take the express train bound for Itako. The express train Ayame Matsuri Go departs at 8:35 from platform 6.
Be careful that, as this train is seasonal, its name may not appear on any signboards until 10 minutes before departure. If you're hesitant, feel free to ask the JR staff for confirmation.
10:29 - Arrival at Itako Station
After two hours of beautiful rural scenery showcasing rice paddies and mountains lining the edge of Tokyo city, you'll arrive at the retro-looking Itako Station.
10:40 - Arrival at the Suigo Itako Ayame Garden
Suigo Itako Ayame Garden, where the Ayame Matsuri is held, is only a 3-minute walk from the station.
If you time it right, you'll be able to catch a glimpse of a bride and her parents on a rickshaw ride to the venue.
As the rickshaws proceed, locals will line both sides of the path and congratulate the family on the marriage, as this bride is either a newlywed within one year or will get married within one year.
You may get distracted once the rickshaws reach the Ayame Garden -- food stalls giving out delicious smells of okonomiyaki, karaage, yakisoba (fried noodles), french fries, and whatnots are waiting to welcome you!
At multiple times on Saturdays, Sundays, and Wednesdays during the course of the festival, the bride will parade through the park with her parents, then take a boat ride to WaiWai Fantasia -- a symbolic water fountain for couples -- where the groom awaits the bride.
This part of the festival is called Yome-iri-bune and is a re-enactment of how brides used to be received in their new families by boat. This custom used to exist in Itako up until the 1960's as the city mainly relied on water transport until then.
12:29 - From Itako to Kashima Jingu
It only takes 10 minutes to get from Itako Station to Kashima-Jingu Station by train. Make sure to buy a paper ticket at the vending machines at Itako Station. A ticket costs 210 yen. Insert the money, press the button for "1 adult", and the ticket will be issued. Just show it to the staff at the gates to enter the train platform.
12:38 - Arrival at Kashima Jingu Station
Follow a specially tiled path from the Kashima Jingu Station for 10 minutes to get to the Omachi street, which is the entrance to Kashima Jingu Shrine. This street is lined with souvenir shops, cafes, and dining places.
At the Museum Kokoshika, you can rent a bicycle for 500-800 yen a day.
13:10 - A Reasonably-Priced Japanese Lunch at Shikitei
A visit to Kashima is not complete without trying its delicious seafood and pork. Most locals will probably tell you their favorite restaurant is Shikitei, where seasonal produce is generously used in its kaiseki (traditional Japanese meal course) and other menu options.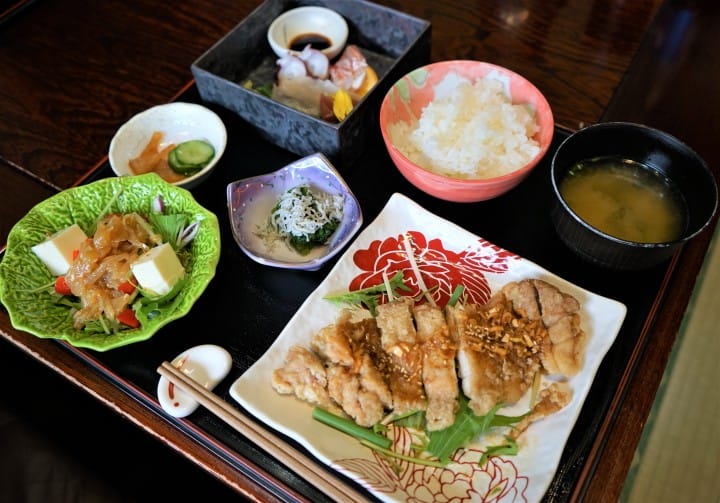 We recommend the Kaiseki Lunch menu. You'll get to choose to have either fish or pork as the main dish, with sashimi, pickles, jellyfish salad, miso soup, and a choice of white rice or homemade tuna paste-mixed rice on the side.
Enjoy this reasonably-priced local menu in a tatami room with an overview of the peaceful garden outside. There's even Wi-Fi available - how thoughtful!
14:30 - Visiting the Sacred Kashima Jingu Shrine
The 10-minute walk from the restaurant to Kashima Jingu Shrine will lead you to the remarkable 10-meter high torii gate.
According to legend, Kashima Jingu Shrine was founded in 660 BC and has been a symbol of might, strength, and victory. As a result, many athletes, businessmen, expecting mothers, and students visit this shrine to wish for success and good luck.
Foreign visitors may want to consider getting in contact with Kashima Furusato Guide in order to have a personal English guide for a tour of the shrine grounds.
The buildings within the shrine complex are beautifully decorated with wooden carvings and many of the halls are registered as Important Cultural Heritage of Japan. Most of them have curvy roofs made from cypress bark, which contributes to their ancient atmosphere.
Past the main hall is the Okusando, a wide procession route lined by 70 hectares of forest. More than 800 kinds of protected and rare plants call this forest home. This pathway is especially popular during the summer as visitors love to come here to feel the spiritual energy of the place.
Another attraction is definitely the deer garden. Get a box of carrots from the store nearby and you'll be the deers' favorite person for a hot minute!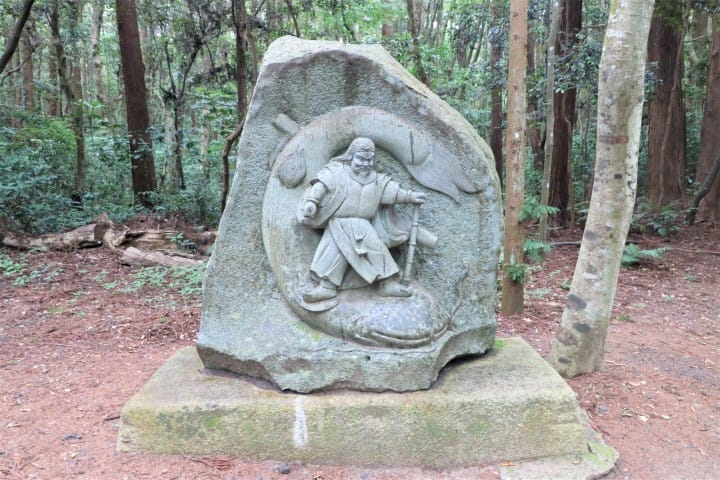 Other interesting checkpoints include the Catfish Stone depicting a god spearing the head of the earthquake-inducing demon catfish, and Kanameishi, a sacred stone that is said to mark the place where deities descended from heaven.
Kashima Jingu is famous for its beautiful goshuin (shrine seals) and many visitors get a seal stamp in their notebook at the shrine. How about starting collecting shrine seals during your visit?
Also, many people enjoy visiting Kashima Jingu along with Katori Shrine (Katori City) and Ikisu Shrine (Kamisu City), as it's considered that such a tour brings good luck.
15:45 - Afternoon Tea at Ola Blue Cafe
You'll probably want to take a short break after walking around the grounds of Kashima Shrine. We've got you covered. Only a 3-minute walk from the shrine entrance is Ola Blue Cafe, a Hawaiian-themed cafe featuring trending desserts such as Hong Kong-originated egg waffle ice cream, puppy-shaped ice cream, and s'more pizza.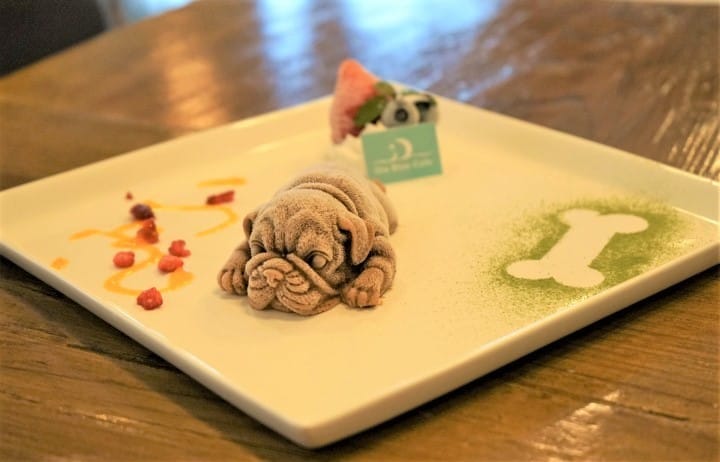 Their signature drinks include the "Jingu Drink," a drink made with sweet adzuki beans topped with a torii gate-shaped cookie, and the "Ola Blue Cream Soda" where the blue cream soda and sweet tofu at the bottom resemble dreamy Hawaiian beaches.
Local tip: Kashima is famous for melon, so make sure you try the melon waffle -- the owner's recommendation!
17:10 - Take the Bus back to Tokyo
Getting back to Tokyo cannot be easier: simply hop on the highway bus that stops in front of Kashima Jingu Station every other 10 or 20 minutes. You'll need to buy the ticket worth 1,950 yen as you board, and in two smooth hours, you'll find yourself back in Tokyo Station Nihonbashi Exit!

We hope you enjoy your trip to Itako and Kashima, two cities northeast of Tokyo with a fascinating local culture and beautiful sights.

Route Summary
Tokyo Station → Akihabara Station → Itako Station → Suigo Itako Ayame Garden → Kashima Jingu Station → Shiki-tei Restaurant → Kashima Jingu Shrine → Ola Blue Cafe → Kashima Jingu Station → Tokyo Station

Expenses
Travel expenses: 5,960 yen
Lunch: around 2,000 yen
Sweets, souvenirs, other expenses: about 1,500 yen in total

Find out other beautiful places to visit in Itako and Kashima on the official tourism website of the Suigo district: http://www.suigosanto.com/en/index.html

The writer visited these facilities on June 22, 2019.
Supported by The Three Cities in the Suigo district (Katori, Kashima, Itako)

The information presented in this article is based on the time it was written. Note that there may be changes in the merchandise, services, and prices that have occurred after this article was published. Please contact the facility or facilities in this article directly before visiting.