Nikko Day Trip From Tokyo: Cafe Tour And History Walk
Nikko, famous for its World Heritage sites like Nikko Toshogu Shrine, has charming cafes with excellent coffee and sweets. This itinerary includes Nikko Coffee, Hongu Cafe, and Nikko Pudding Tei, as well as a visit to the elegant Nikko Tamozawa Imperial Villa Memorial Park.
Relax at Nikko's Charming Cafes
Nikko is best known for its World Heritage sites and beautiful nature. However, the city boasts excellent coffee and unique local treats that make it worth visiting on a casual day trip from Tokyo.
Our day trip itinerary includes two of Nikko's best cafes, a visit to the Tamozawa Imperial Villa, as well as a sweets shop that offers excellent desserts and refreshments. We recommend this itinerary to cafe lovers, friends traveling together or solo travelers who wish to enjoy Nikko casually.
8:28 - 10:14 -- Travel from Tokyo Station to Nikko
Japan Rail Pass or JR TOKYO Wide Pass users can easily travel from Tokyo Station to JR Nikko Station. Take the Shinkansen to Utsunomiya, then change to a local train that goes from Utsunomiya to Nikko departing from platform no. 5.
Once you reach JR Nikko Station, walk along the road to the right to get to the city center. The retro atmosphere of the city will steal your heart and you'll find yourself taking photos all the way.
10:45 - 11:30 -- Nikko Pudding Tei - Refresh Yourself with Delicious Pudding!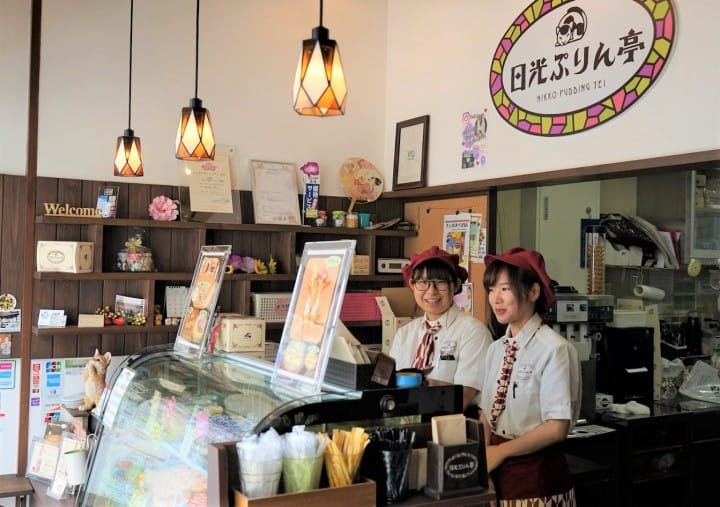 Nikko Pudding Tei opened in 2017 with the mission to help revive the city through tasty desserts made with local ingredients.
The store has beautiful Nikkobori wood carvings on its facade and interior. This type of wood carving is a local craft that Nikko is famous for. The logo of the store is created in the image of the Sleeping Cat (*1), one of the symbols of the city.
The Sleeping Cat... A carving found on the precincts of Nikko Toshogu Shrine.
They offer several types of desserts. Pudding, their iconic product made with milk and from the local Ozasa Farm, comes in five flavors: classical, caramel, strawberry, mitarashi (sweet soy sauce glaze), and coffee. Seasonal flavors, such as sakura, pumpkin or matcha green tea, are also available for a limited time.
We tried the classic Nikko Pudding (351 yen before tax). It was incredibly soft and creamy, and so refreshing and highly recommended.
These puddings make a great souvenir from Nikko for friends or family. But if you eat the pudding on the spot and return the glass, you receive 10 yen back.
The Half Pudding Soft Cream (388 yen before tax) is also a fabulous dessert. The base consists of classic Nikko pudding while the top is very flavorful vanilla ice cream. Soda drinks in various flavors are also available. The one in the picture above is made with Tochi Otome strawberries, for which Tochigi Prefecture is famous.
In addition to a small eat-in space inside, there is a bench in front of the store where you can sit and enjoy your dessert.
Walk by Shinkyo Bridge to Reach HONGU CAFE
Our recommended dining place for lunchtime is HONGU CAFE, which is about 230 m away from Nikko Pudding Tei. When crossing the Daiya Rver, you'll be able to take photos of the beautiful red Shinkyo Bridge, a symbol of Nikko.
Just walk in the direction of Nikko Toshogu Shrine climbing the stone stairs shown in the picture above. A signboard will show you the way to HONGU CAFE.
12:00 - 13:00 -- Famous Nikko Cuisine! Lunch at HONGU CAFE
HONGU CAFE is located by the entrance to the World Heritage sites area. It occupies a renovated Japanese building and has a nostalgic atmoshere.
The interior of the cafe is very spacious. It even has terrace seats that are ideal in the summer. From some of the seats, you can actually gaze at the Shinkyo Bridge and Daiya River.
The cafe offers a wide variety of Japanese and western-style dishes that can satisfy every taste.
We especially recommend their iconic Clam Chowder (1,200 yen before tax). It is made with royal bread made based on a recipe invented by Kanaya Hotel of Nikko, one of the first lodgings to open its doors to international visitors in Japanese history. The center of the bread is replaced with chowder soup. The chowder contains mushrooms, onions, and ham, and is topped with maitake mushrooms and Nikko yuba (tofu skin). This very tasty and filling dish also looks impressive in photos.
The traditional desserts of HONGU CAFE such as zenzai (sweet bean soup with mochi rice cakes, 650 yen before tax), matcha pudding (550 yen before tax) or the cream anmitsu and matcha set (1,200 yen before tax) are also definitely worth trying out.
13:30 - 14:45 -- Visit the Nikko Tamozawa Imperial Villa Memorial Park
The Nikko Tamozawa Imperial Villa Memorial Park can be reached in about 15 minutes on foot from Shinkyo Bridge. The Tamozawa Imperial Villa is a monument of architecture that reflects the history and culture of Nikko.
It was built in 1899 as a summer residence for Imperial Prince Yoshihito, who later became Emperor Taisho (reigned 1912-1926). Built on the foundations of a villa that belonged to a branch of the Tokugawa family, the Tamozawa Imperial Villa has the Western-style architectural elements that entered Japan during the early years of the modern era. The structure thus reflects the architectural styles of three different eras in Japanese history: Edo (1603-1868), Meiji (1868-1912), and Taisho (1912-1926).
While visiting the rooms where Emperor Taisho and his family used to stay, you'll be able to catch glimpses of the beautiful inner garden.
The exhibition area features the local traditional crafts - Nikkobori carvings, painting, lacquering, and others - that were employed in constructing and decorating the villa.
The skill of the local artisans is really impressive. This display helps you understand why is the Tamozawa Imperial Villa such a special monument.
The features of the Japanese rooms you'll be visiting leave a lasting impression. Through a perfectly round window like the one pictured above even the rain looks beautiful.
The paintings decorating the sliding doors, the carved ornaments, as well as the garden that can be seen from almost each of the rooms - all these details allow you to feel the dignified elegance and history of the villa.
Remember to stop by the gift shop. From edible souvenirs to craft items specific to Nikko such as carved objects, embroidery, and traditional textile items, there is a wide selection of products to choose.
15:00 - 15:45 -- Take a Break at Nikko Coffee
Nikko Coffee (also spelled NIKKO COFFEE) can be reached in about 4 minutes by foot from the Tamozawa Imperial Villa using the eastern exit of the park. It occupies a renovated wooden Japanese house with a beautiful inner garden.
The specialty of this store is Nikko coffee (600 yen before tax), an original blend with a mild and pleasant flavor. There are five types of coffee blend named after the mountains surrounding Nikko. The water for this coffee is taken from these mountains and is thought to be one of the secrets of its excellent taste.
We also tried their kakigori (900 yen before tax), a shave ice dessert made with natural ice. The topping syrup can be made of Tochi Otome strawberries, peach, apple, ume plums, mikan oranges from Nagano, or pineapple. We were very satisfied with the Tochi Otome kakigori, which allowed us to enjoy the aromatic taste of local strawberries.
The Nikko Coffee blends are available for sale and make a great souvenir from your cafe tour in Nikko. In addition to drip coffee, they also sell coffee beans in packs of 150 g (900 yen before tax) or 250 g (1,500 yen before tax), which the staff can grind for you on the spot.
16:28 - 18:16 -- JR Nikko Station - Tokyo Station
It's about a 30-minute walk from Nikko Coffee to JR Nikko Station, so you'll be able to enjoy a stroll through the retro townscape.

If you take the 16:28 JR Nikko line train for Utsunomiya, you'll make it in time to catch the Shinkansen leaving for Tokyo at 17:20 from JR Utsunomiya Station. If you're using a travel pass issued by JR (Japan Rail Pass, JR EAST Pass or JR TOKYO Wide Pass), you can ride the Shinkansen for no additional fees.

The day trip itinerary introduced above allows you to discover a different side of Nikko than its World Heritage sites. Nikko also boasts beautiful artisanal crafts, a modern history that still lingers in its retro atmosphere, as well as delicious treats made with utmost care and dedication. We hope you enjoy this casual side of Nikko at its excellent cafes.

Route Summary
Tokyo Station → JR Nikko Station → Nikko Pudding Tei → HONGU CAFE → Tamozawa Imperial Villa Memorial Park → Nikko Coffee → JR Nikko Station → Tokyo Station

Expenses
Transportation: 11,160 yen roundtrip (or 10,000 yen for three days for JR TOKYO Wide Pass users)
Lunch: 1,200 yen before tax
Tamozawa Imperial Villa entrance fee: 509 yen before tax (550 yen with tax)
Snacks, coffee, others: around 2,000 yen

For more information on places to visit in Nikko and Tochigi Prefecture, please visit the following website: https://travel.tochigiji.or.jp/en/

The writer visited these facilities on July 31, 2019.
Supported by Tochigi Prefectural Government

The information presented in this article is based on the time it was written. Note that there may be changes in the merchandise, services, and prices that have occurred after this article was published. Please contact the facility or facilities in this article directly before visiting.