KEISEI SKYLINER & TEITO TAXI - Direct From Narita Airport To Your Hotel
This article introduces the advantages of using KEISEI SKYLINER & TEITO TAXI, a discount ticket that allows you to travel in comfort from Narita Airport to your hotel in Tokyo. Stop for sightseeing on the way, check in at your hotel, then go on enjoying your first day in Tokyo.
Only 5,000 Yen! Travel in Comfort from Narita Airport to Your Hotel in Tokyo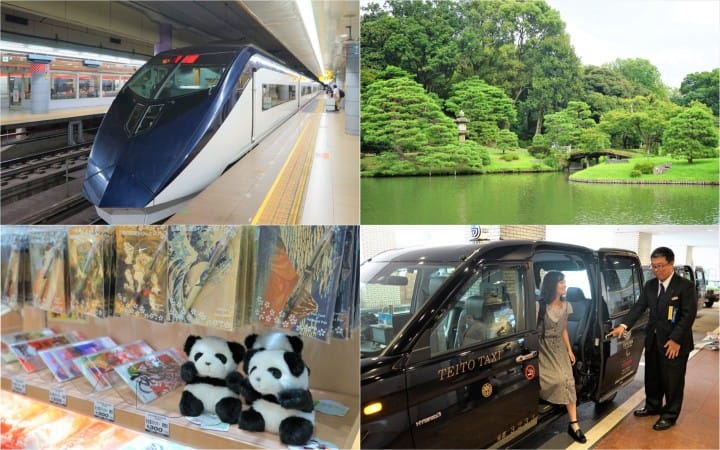 After a long flight to Tokyo, many will feel a mix of physical exhaustion and excitement to see the city. This article introduces a recommended itinerary for your first day in Tokyo using the KEISEI SKYLINER & TEITO TAXI, a discount ticket that allows you travel fast and in comfort directly to your hotel in Tokyo for as little as 5,000 yen for one person. (*1)
On your first day in Tokyo, how about enjoying a mixture of traditional and contemporary cityscapes? This itinerary features Ueno, a famous old downtown Tokyo area, dining in the entertainment neighborhood of Ikebukuro, and a visit to Rikugien, one of Tokyo's most prominent Japanese gardens.
*1 The KEISEI SKYLINER & TEITO TAXI ticket is available from 5,000 yen for one person. The price differs depending on the number of persons and the location of your hotel in Tokyo. Please check the price details on the Keisei official website.
9:00 - Purchase a KEISEI SKYLINER & TEITO TAXI Ticket
Once you've landed at Narita Airport and gotten your bags, head to the SKYLINER AND KEISEI INFORMATION CENTER, which sells discount transportation tickets, WiFi, and also has a currency exchange. It is also a one-stop information center with free maps and travel pamphlets. There is a center on the basement first level of Narita Airport Terminal 1 and Terminal 2 (open from 7:00 to 21:00).
A comfortable ride from the airport to your lodging is key to a great start to a trip. The Keisei Skyliner is a fast, convenient option for riding from Narita Airport into Tokyo; it takes only 41 minutes from Narita Airport to Ueno Station on this train.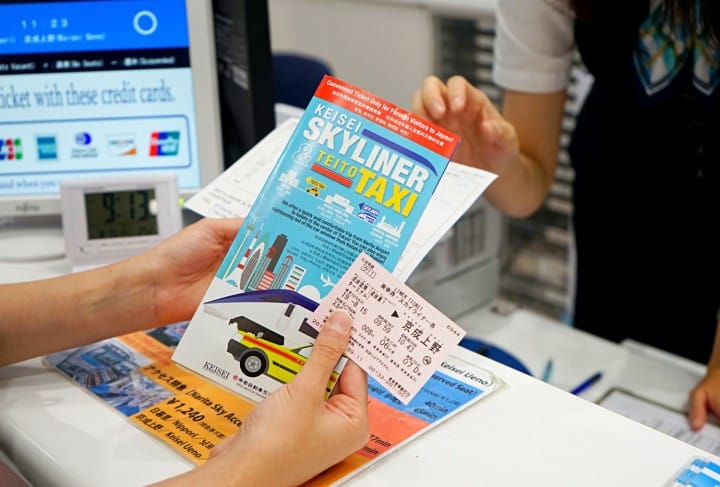 Use the KEISEI SKYLINER & TEITO TAXI combination ticket, which allows you to take a private taxi from Keisei Ueno Station to your lodging. This is a no-hassle ticket that will save you time and money, as booking a separate taxi ride in Tokyo can be expensive and takes up time. The ticket includes the fare for the Skyliner ride, designated seat, and the taxi ride. You will get a receipt voucher and a train ticket--be sure to hold onto both.
The Keisei staff will give you a form to sign with information on your accommodation and will also ask you for your passport. The price of the ticket depends on the location of your lodging. I went to Sunshine City Prince Hotel in Ikebukuro; the total ticket was 5,000 yen with tax (one adult, pay in cash).
You can consult with the staff at the counter about the train and taxi times. It is also possible to arrange to meet your driver later if you wish to explore the Ueno Station area after the Skyliner gets in.
To get to the correct train, go through the Keisei Railway ticket gate at either Narita Airport Terminal 1 Station or Narita Airport Terminal 2 Station. The platform for the Skyliner is clearly marked with English signage in orange colors; the Skyliner leaves from Narita Airport Terminal 1 on platforms 4 and 5.
9:59 - 10:43 -- Enjoy a Scenic Skyliner Ride to Ueno
You will pass by a myriad of different scenery on the ride from Narita Airport to Ueno Station. The first part of the ride will show you green fields and farming towns, and the latter half gives you a glimpse of more urban parts of Tokyo.
There is also free WiFi on the train and power outlets by the seats.
10:45 - Store Your Luggage at Keisei Ueno Station
After arriving at Keisei Ueno Station, have your bags held at the station at the Baggage Service counter for a flat fee of 900 yen. It is a simple and convenient way to take care of your bags while you explore the surrounding areas until you're ready to check-in to your hotel. The counter is open between 9:00 and 18:00.
Keisei Ueno Station also has a travel information center and a gift shop where you can find pamphlets and local souvenirs, including special Ueno Coca Cola. Be sure to pick up an item if you see something to your liking!
11:00 - 12:00 -- Explore in Ueno and Shop for Panda Everything
The Ueno area of Tokyo, the neighborhood of Ueno Park, Japan's first municipal park, and Ueno Zoo, is a nice neighborhood to see older Tokyo firsthand and go shopping. Ueno Park is accessible directly from Keisei Ueno Station and is ideal for a short walk.
Those interested in shopping can wander through Ameya Yokocho or Ameyoko for short. This is a well-known bustling shopping street where you can find bargains on souvenirs and snacks.
Green tea and panda Xiang Xiang-themed rice crackers bought from Ameyoko.
Ueno Zoo is famous for its pandas, like the adorable Xiang Xiang. As a result, the entire area has panda motifs and themes, including souvenirs and snacks. It will be hard to resist purchasing an item or two.
12:00 - 12:30 -- Take a Taxi to Sunshine City Prince Hotel in Ikebukuro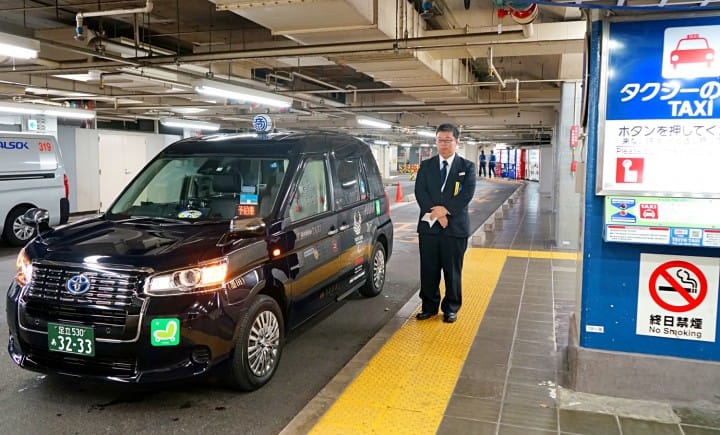 After exploring the Ueno area, it's time to check-in at your lodging. Pick up your luggage from the counter, and meet your driver just outside the main ticket barrier within Keisei Ueno Station.
They will be holding a sign so that you recognize them. Present your receipt and they will take you to the taxi stop just steps away. With no need to try to hail a taxi outside and the flat pricing system of the ticket, this is the ideal, stress-free way for getting to your lodging at a reasonable price.
The ride from Ueno Station reveals a charming view of downtown Tokyo. The driver will take a scenic route along the way that you will not normally see when traveling on foot or by train.
On the route to Ikebukuro, where the Sunshine City Prince Hotel is, we passed by Yushima Tenmangu Shrine, a prominent Shinto shrine, and Tokyo Dome. Routes to the Shibuya and Shinjuku areas will give you views of Akihabara and the National Diet Building. *
Depending on traffic conditions and the location of your lodging, it takes around 20 to 35 minutes to reach the hotel. Upon arrival, the taxi driver will let you off right in front of the lobby and help you with any luggage before departing.
Please note the route of the taxi may change depending on traffic conditions and other unforeseen complications.
12:40 - 13:00 -- Sunshine City Prince Hotel - Leave Your Baggage at the Hotel and Explore the City
Sunshine City Prince Hotel is a comfortable hotel, known for its excellent service and elegant rooms.
Guests here can choose from Western-style rooms, rooms with tatami mat flooring, and high-rise rooms with panoramic views of the city.
The convenient location is another great aspect of the hotel. Sunshine City 60, a high-rise entertainment and shopping complex with an observatory, is one minute away, and Ikebukuro Station and its surrounding shop and restaurants are very close by.
Check-in starts at 14:00 but you can leave your baggage at the hotel and go explore the city for a few hours.
13:30 - 14:30 -- A Tasty Lunch at AIN SOPH.soar
For a delicious and comfortable lunch in Tokyo, dine close by at AIN SOPH.soar, a stylish, glamping-themed restaurant a 5-minute walk from Sunshine City Prince Hotel. An English menu and English-speaking staff make it easy to order and enjoy a relaxing meal.
The menu at AIN SOPH is entirely vegan and full of flavorful dishes with lots of vegetables and color. Pictured above is the ripple Cheese Burger (1,700 yen before tax), a satisfying vegan cheeseburger topped with avocado, Aurora sauce, and other condiments. It comes with french fries and pickles. It is voluminous and an ideal choice after a long day of travel.
For a beverage, I chose an iced Soy Hojicha Latte (700 yen before tax), which has a deep roasted green tea flavor that pairs deliciously with the light sweetener and rich soymilk.
The parfaits at AIN SOPH are also plant-based. I ordered the Matcha Parfait (1,350 yen before tax), a lavish dessert with green tea and vanilla ice cream, soy cream, shiratama (mochi), azuki, crunchy brown rice flakes, and other flavorful accents. It is rich, creamy, and very tasty. Please note that the parfait menu is seasonal and changes throughout the year.
15:00 - 16:00 -- Stroll through Rikugien Garden
After lunch, head to Rikugien Garden, one of the most highly-regarded traditional Japanese gardens in Tokyo. From JR Ikebukuro Station, take the Yamanote Line to Komagome Station (6-minute ride; 160 yen). Rikugien Garden is about a seven-minute walk from the south exit.
At the front gate, pay the 300 yen admission fee and take a pamphlet (available in English), which has different route suggestions to explore the large garden.
The history of Rikugien Garden goes back to the beginning of the 18th century.
The garden is designed after scenes from historical waka poems. Visitors can enjoy strolling through each part of the garden and observe the changing landscape and fine details.
In the summer, the garden is lush with green, which contrasts gorgeously with the sky above and reflecting on the pond. The garden is also very popular in fall when vivid crimson and gold paint every corner of the grounds; the garden is also open in the evenings during this period and the foliage is illuminated.
16:30 - Wind Down at a Local Cafe and Return to Your Lodging
The neighborhood surrounding Rikugien, called Komagome, is suburban but has several cute cafes ideal for a cup of coffee. A few places are along the main road back towards Komagome Station, and there is also a side street just past the station along the railway with a couple of unique cafes.

After a satisfying beverage, head back to the hotel to relax for the evening in comfort.

Route Summary
Narita Airport → Keisei Narita Station → Keisei Ueno Station → Ameyoko → Keisei Ueno Station → Sunshine City Prince Hotel → AIN SOPH.soar → JR Ikebukuro Station → JR Komagome Station → Rikugien Garden → JR Komagome Station → Sunshine City Prince Hotel

Expenses
Travel Costs: around 5,320 yen
Food, Dessert, and Snacks: around 4,000 yen
Shopping: around 1,000 yen
Rikugien Admission: 300 yen

For more information on other discount tickets offered by Keisei along with Tokyo travel information, please visit this website: http://www.keisei.co.jp/keisei/tetudou/skyliner/us/

The writer visited these facilities on August 15, 2019.
Supported by Keisei Electric Railway Company and TEITO MOTOR TRANSPORTATION, CO., LTD.

The information presented in this article is based on the time it was written. Note that there may be changes in the merchandise, services, and prices that have occurred after this article was published. Please contact the facility or facilities in this article directly before visiting.